Tips and Trends
|
December 28, 2022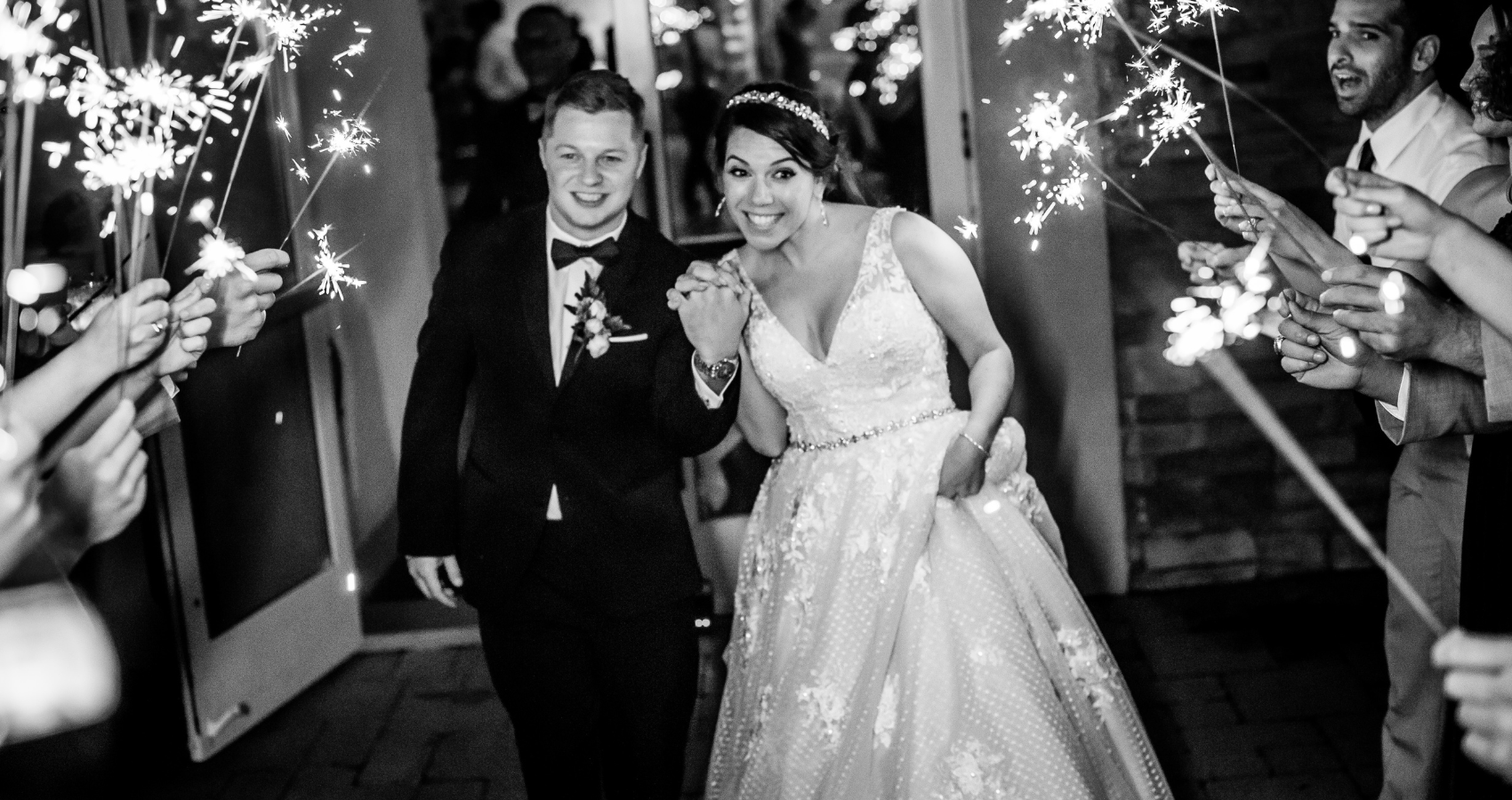 The new year is usually a time for reinventing yourself and deciding how you want to get a fresh start (new year, new me right?). While New Year's resolutions are largely individual, there's no reason why you can't share the fun with your spouse! Especially if this is your first new year together as a married couple, this is the perfect time to set some goals as newlyweds. Setting resolutions with your partner can strengthen your relationship and can give you more things to work toward. Not sure what should be on your list? At Maggie Sottero we came up with a few good New Year's resolutions for couples. Here's to ringing in 2022 as newlyweds!
To get started, sign up for Maggie Sottero's exclusive text messages for all the tips, tricks, and wedding expertise.
Learn Your Partner's Love Language
PC: Anna Delores Photography
A great way to start your new year is to learn and nurture your partner's love language. Not sure what that is? Basically, a love language is how each person gives and receives love. Since we all have different personalities and preferences, not all acts of love have the same impact on everyone. The five different love languages are physical touch, acts of service, receiving gifts, quality time, and words of affirmation (a few we've covered already).
Usually, people show their partners love in their own love language rather than their partner's, so learning their preferences can help you make a lasting and genuine impression on your spouse! Learning this about each other can help you connect on a deeper level and shows that you truly care. I mean, what's better than your partner personalizing their romantic gestures toward your needs? Sounds like heaven to us! Your love language can also translate into your communication skills and can help you better express your feelings and understand the root of your conflicts. You might even learn something new about each other as well.
While this might seem like one of the simpler new year goals, a lot of work goes into this partner education! Believe us though, once you master your partner's love language, the rest of your new year's resolutions will be easy!
Focus on Mental Health
If mental health hasn't been a priority for you in 2022, it should be on the top of your list for 2023! Our suggestion on where to start? Focus on learning how to express your feelings to your partner. Mastering open communication is key to a successful, long-term relationship.
To start, try to find ways to communicate more and understand your partner's feelings. Actively listen to each other and be honest even when the conversation gets difficult! Being open about your feelings and not holding back your emotions from your partner can help you both avoid confusion or frustration down the line (we've all been there). Especially when these feelings may be negative, expressing your true emotions is key for resolving any issues or conflict. If you don't know what's wrong, you can't fix it, right? Just be honest!
Other ways to focus on your mental health (and helping your partners) are:
Looking into therapy.
Increasing your fitness regime to increase your endorphins.
Track your gratitude.
Get more sleep.
Reconnect with your family and friends.
Take a social media and phone cleanse.
To learn more about how to take care of your mental health as your wedding day approaches, make sure to read our blog for the best tips and tricks!
Improve Your Finances
PC: Sarah McPherson Photography
Finances can be stressful to manage by yourself, let alone with someone else. According to Business Wire, 73% of married couples say that financial decisions are a source of tension in their relationship. Yikes, right? Improving and organizing your finances is one of the top New Year's resolutions for couples to prevent unnecessary stress on your relationship.
Although being freshly married is exciting, don't rush into too many financial responsibilities and overspend with excitement. For instance, you don't immediately need to buy a new car or purchase your dream house, no matter how tempting it is. However, these are good goals to keep in mind for the future, and you should even make more! Make both short and long-term financial goals and create a plan to achieve them. If you want to have kids, move to a new city, or buy a house, these are all things you'll need to budget and save up for.
You should also create a monthly budget for your finances to give yourselves a spending limit. Sure, splurging on dining out and other activities is fun (we do them too), but try to do them in moderation. Take some time to look at your joint income and expenses and create a realistic budget to live on. You should also delegate financial tasks such as paying bills, balancing your checkbook, or keeping track of additional expenses. Along with a budget, it's smart to start an emergency fund. This is in case any unforeseen issues come up like losing a job, getting into an accident, etc. We always think it's better to be safe than sorry.
Improving your finances is also a great first step to wedding planning! Weddings can be tricky and expensive so it's smart to have your finances in check before the big day.
Curious about some ways to save? Make sure to look at Maggie Sottero's affordable wedding dresses so you can catch a break on some of the pricier items for your wedding day.
Spend Quality Time Together
We've gone through words of affirmation, now let's talk about another love language: quality time. After you say I do, it's easy to bask in each other's presence and spend every minute together with your spouse. But as work and other responsibilities pile up, it can be difficult to find the time to connect. If you and your spouse have been feeling distant, prioritizing quality time together is something you should work on. Even though you live together, quality time is much more than seeing each other in passing. Remember, your partner isn't just some random roommate you met in college. You should cherish your time together!
How To Improve Quality Time
PC: Jessica Jones Photography
This doesn't have to be anything over the top! Even just planning a weekly date night can help you reconnect and switch up your daily routine. Doing something special like this can also make a big difference in your overall connection and bond. If you're both indecisive (we're looking at you, Libras), there are ways you can make the decision-making process easier. For example, writing down different date options on popsicle sticks and choosing them randomly for a sense of spontaneity. However, if you two are more homebodies you can also spend quality time together at home by watching a movie, cooking, or just relaxing.
Along with dates, also try a new hobby to find common passions and interests with your spouse. Finding activities, you both enjoy can make quality time much more fun and can give you something new to bond over. You might even be able to check off some of these hobbies from your own personal good New Year's resolutions! Doing something you've both never done before can make spending time together more exciting. No matter what you do, make sure to be emotionally present to make this time count. Unplug from work and other responsibilities to savor the moment!
Get a Head Start on Wedding Planning
PC: Marianne Lucas
For engaged couples, the best and most useful New Year's resolution is to get a head start on wedding planning!
Tip 1: Work on your mental health. You should know beforehand, that planning a wedding is no easy feat. That's why we recommend reading our blog to get the best tips for staying stress-free while wedding planning.
Tip 2: Decide on your wedding date. Picking your wedding date is one of the most important decisions you can make because it affects everything else for your wedding! Seeing as you need to buy your wedding dress around 9-12 months before your wedding day, you will want to pick your wedding date to accommodate that. Don't worry though, if you need to have a shorter engagement look at our collection of Quick Ship gowns for our brides on a deadline.
Tip 3: Figure out your wedding budget! Find your priority items and make sure you have the budget to have the wedding of your dreams with all your must-haves.
Tip 4: Shop for your wedding dress. As we said above, you will want to get your wedding dress about 9-12 months before the big day. To get started, take a look at our collections, and make an appointment with one of our Authorized Retailers to find your dream wedding dress. Psst… If you're unsure of your style, browsing our Pinterest boards is a great place to start!
Tip 5: Budget your time. Ordering your wedding dress is just one part of the wedding timeline! You also need to make sure you have enough time for fittings and alterations, mailing invitations, hiring vendors, etc.
Tip 6: Do your research. Wedding planning is a lot of work and the best way to start is by gathering all the must-have information! Our suggestion? Reading our blog full of expert knowledge and unique tips.
Don't worry though, we won't leave you hanging! Take a look at some of our wedding dresses below to get a head start on your wedding dress shopping:
The new year is an exciting time for many reasons and sharing it with your partner makes it even more special! Setting goals and achieving them together will do wonders for your marriage and can ensure you're ready for long-term happiness. With these good New Year's resolutions for newlywed couples (and some expert wedding planning tips), you'll both have lots to work on and look forward to in 2022!
For more must-have info, sign up for our exclusive newsletter and read some similar blogs below!
Blogs Like This:
12 Tips for Before and After Your Engagement
The Best Bridal Accessories And Styling For A Maggie Bride
7 Creative Engagement Party Ideas For The Fun and Fabulous Couple