Tips and Trends
|
December 17, 2021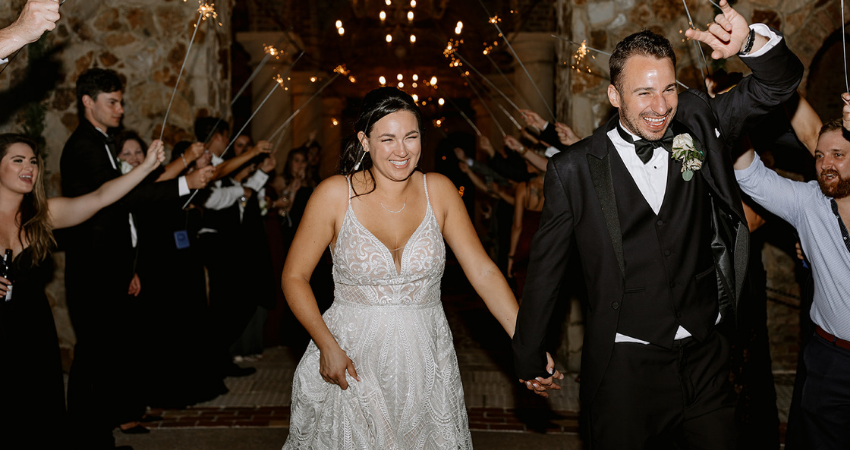 The new year is usually a time for reinventing yourself and deciding how you want to get a fresh start (new year, new me right?). While New Year's resolutions are largely individual, there's no reason why you can't share the fun with your spouse! Especially if this is your first new year together as a married couple (yay!), this is the perfect time to set some goals as newlyweds. Setting resolutions with your partner can strengthen your relationship and can give you more things to work toward. Not sure what should be on your list? At Maggie Sottero we came up with a few good New Year's resolutions for couples. Here's to ringing in 2022 as newlyweds!
Good New Year's Resolutions: Learn Your Partner's Love Language
PC: Cassi B Films
Another goal to work on in 2022 is to learn and nurture your partner's love language. Not sure what that is? Basically, a love language is how each person gives and receives love. Since we all have different personalities and preferences, not all acts of love have the same impact for everyone. The five different love languages are physical touch, acts of service, receiving gifts, quality time, and words of affirmation (a few we've covered already).
Usually, people show their partners love in their own love language rather than their partner's, so learning their preferences can help you make a lasting and genuine impression on your spouse! Learning this about each other can help you connect on a deeper level and shows that you truly care. I mean, what's better than your partner personalizing their romantic gestures toward your needs? Sounds like heaven to us! Your love language can also translate into your communication skills and can help you better express your feelings and understand the root of your conflicts. You might even learn something new about each other as well.
Focus on Open Communication
PC: Eric and Jamie Photography
Don't leave all the lovey-dovey words at the alter! Expressing your feelings can be tough, but as a couple it's important to master open communication for a successful, long-term relationship. Although you might be in the honeymoon phase, working to improve communication should be one a TOP New Year's resolutions. Though the language of love might be universal, it doesn't always come naturally to everybody!
To start, try to find ways to communicate more effectively and understand your partner's feelings. Actively listen to each other and be honest even when the conversation gets difficult! Being open about your feelings and not holding back your emotions from your partner can help you both avoid confusion or frustration down the line (we've all been there). Especially when these feelings may be negative, expressing your true emotions is key for resolving any issues or conflict. If you don't know what's wrong, you can't fix it, right? Just be honest!
As a married couple you should never feel scared to tell your partner what you think and you should both value honest communication from each other. If an argument does come up, be respectful and fight fair! Avoid name-calling, attacks on each other's physical features, and don't bring past issues into the current argument. Developing strong communication skills early on in your marriage will help you overcome any conflict or hardships. By doing this, you ensure you're both on the same page moving forward. Being mindful of each other's mental health is also important which is why we compiled a list of mental health tips and mindfulness for couples. It can be hard to find your groove, but it's for the best!
Good New Year's Resolutions: Improve Your Finances
PC: Elizabeth Burgi Photography
Finances can be stressful to manage by yourself, let alone with someone else. According to Business Wire, 73% of married couples say that financial decisions are a source of tension in their relationship. Yikes, right? Improving and organizing your finances is one of the top New Year's resolutions for couples to prevent unnecessary stress on your relationship.
Although being freshly married is exciting, don't rush into too many financial responsibilities and overspend with excitement. For instance, you don't immediately need to buy a new car or purchase your dream house, no matter how tempting it is. However, these are good goals to keep in mind for the future, and you should even make more! Make both short and long term financial goals and create a plan to achieve them. If you want to have kids, move to a new city, or buy a house, these are all things you'll need to budget and save up for.
You should also create a monthly budget for your finances to give yourselves a spending limit. Sure, splurging on dining out and other activities is fun (we do them too), but try to do them in moderation. Take some time to look at your joint income and expenses and create a realistic budget to live on. You should also delegate financial tasks such as paying bills, balancing your checkbook, or keeping track of additional expenses. Along with a budget, it's smart to start an emergency fund. This is in case any unforeseen issues come up like losing a job, getting into an accident, etc. We always think it's better to be safe than sorry.
Devoting A Discussion To Debt
Lastly, let's talk about debt. Debt is something everyone wants to avoid, but this is unfortunately something you can't put off. Especially if both you and your partner have debt, the new year is the perfect time to pay it off! Payments for student loans or other high-interest debt like credit cards can make a huge dent in your overall budget and financial goals. While tackling your debt may seem intimidating, there are ways to make the process more manageable.
To start, you can find creative ways to decrease your monthly expenses so you can dedicate the extra cash for debt repayment. For instance, you can try to pack lunches instead of eating out, make your own coffee (we know giving up your Starbucks addiction can be tough), or cancel any unused subscriptions. This might not seem like a lot, but small amounts add up! You can also find ways to consolidate your debt if you have multiple payments, and can get an extra job if needed. If you and your partner are homeowners, you can also leverage your home equity for debt repayment. Although this financing option would technically be another loan, equity loans have lower interest rates than personal loans or credit cards and give you the money in one lump sum. In other words, you can immediately start paying off high-interest debt that may be ruining your credit and stalling your goals!
For a more in-depth idea of how to manage your finances as newlyweds, get some necessary tips and tricks through us!
Spend More Quality Time Together
PC: Margan Photography
We've gone through words of affirmation, now let's talk about another love language: quality time. After you say I do, it's easy to bask in each other's presence and spend every minute together with your spouse. But as work and other responsibilities pile up, it can be difficult to find the time to connect. If you and your spouse have been feeling distant, prioritizing quality time together is something you should work on. Even though you live together, quality time is much more than seeing each other in passing. Remember, your partner isn't just some random roommate you met in college. You should cherish your time together!
How To Improve Quality Time
This doesn't have to be anything over the top! Even just planning a weekly date night can help you reconnect and switch up your daily routine. Doing something special like this can also make a big difference in your overall connection and bond. If you're both indecisive (we're looking at you, Libras), there are ways you can make the decision-making process easier. For example, writing down different date options on popsicle sticks and choosing them randomly for a sense of spontaneity. However, if you two are more homebodies you can also spend quality time together at home by watching a movie, cooking, or just relaxing.
Along with dates, you can also try a new hobby where you can find common passions and interests with your spouse. Finding activities you both enjoy can make quality time much more fun and can give you something new to bond over. You might even be able to check off some of these hobbies from your own personal good New Year's resolutions! Doing something you've both never done before can make spending time together more exciting. No matter what you do, make sure to be emotionally present to make this time count. Unplug from work and other responsibilities to savor the moment!
Good New Year's Resolutions: Be More Affectionate
PC: Stine Heyerdahl Photography
When you and your partner have busy schedules, physical intimacy and affection are often put on the back burner. However, these are important parts of a healthy relationship that can help maintain and boost your connection with each other! As newlyweds you might not have this issue yet. Therefor, it's a good idea to continue making affection a priority in your relationship (we're being proactive!).
Affection doesn't have to be anything big either – this could be as simple as kissing, holding hands, snuggling on the couch while you watch a movie, or giving each other a hug after a long day of work. Small intimate actions like these can show your partner that you appreciate them and can remind them that you care. Even words of encouragement and appreciation can be forms of affection as well! For instance, telling your partner that you're grateful for how supportive they are or that they cleaned the house can be just as impactful as a physical action. No matter how you decide to be affectionate, keeping this feeling alive in your relationship can strengthen your bond together long term.
The new year is an exciting time for many reasons and sharing it with your partner makes it even more special! Setting goals and achieving them together can do wonders for your marriage and can ensure you're ready for long-term happiness. With these good New Year's resolutions for newlywed couples, you'll both have lots to work on and look forward to in 2022!