Dress Spotlights
|
May 22, 2018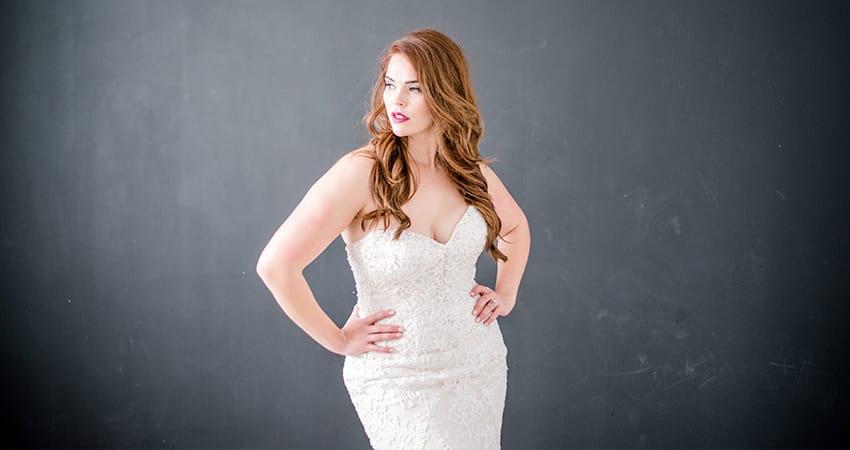 When it comes to shopping for your dream wedding dress, there are few things more exasperating than falling in love with a style you see online, tracking it down, trying it on, stepping in front of the mirror, and realizing it does absolutely nothing for your natural figure. (Bizarre puckering at the waistline, anyone?) But lucky for you, we're obsessed with fit and construction at Maggie Sottero Designs, and we've got a few favorites that are virtually guaranteed to look and feel like magic in the fitting room. Keep scrolling for our lineup of flattering wedding dresses for curvy brides from past and current collections, plus tips for prepping and perfecting your overall look for your big day.
Experience the perfect fit with Maggie Sottero's flattering wedding dresses for curvy brides!
Prep Tip:
Before you head to a boutique, get in that open-mindedness kind of mindset. There are so many options when it comes to flattering silhouettes and fabrications—the one for you just might be a fabulous surprise.
Fit Tip:
The right neckline is key to enhancing your proportions. A sweetheart neckline is universally flattering; illusion and embellishments play up a smaller chest; and straps and cap sleeves offer support for bustier brides.
Fit Tip:
If you love the look, don't shy away from sexy. We have plenty of sleeved and modest gowns, but don't treat these as your only option—our brand-new lineup of "Curve" styles are optimized for curvy brides without sacrificing the "ooh la la" factor of illusion details and plunging necklines.
Prep Tip:
Before you head to a boutique, treat yourself to a manicure and a smoothie. You'll be in a far better mindset to say "Yes!" if you're feeling pretty and comfy. More shopping tips in the link.
Fit Tip:
Study up on undergarments. We've compiled our bras-to-shapewear rundown here.
Fit Tip:
Accentuate that waistline! It's one of the easiest ways for brides of any shape to feel sexy, confident, and comfortable on their big day.
Prep Tip:
Start shopping early, and plan on alterations. When it comes to finding the perfect fit, truancy = sabotage. Read more on this in a post from our plus-size bride and fashionista here.
You got this!
Head to an Authorized Retailer to find "the one!" this weekend.