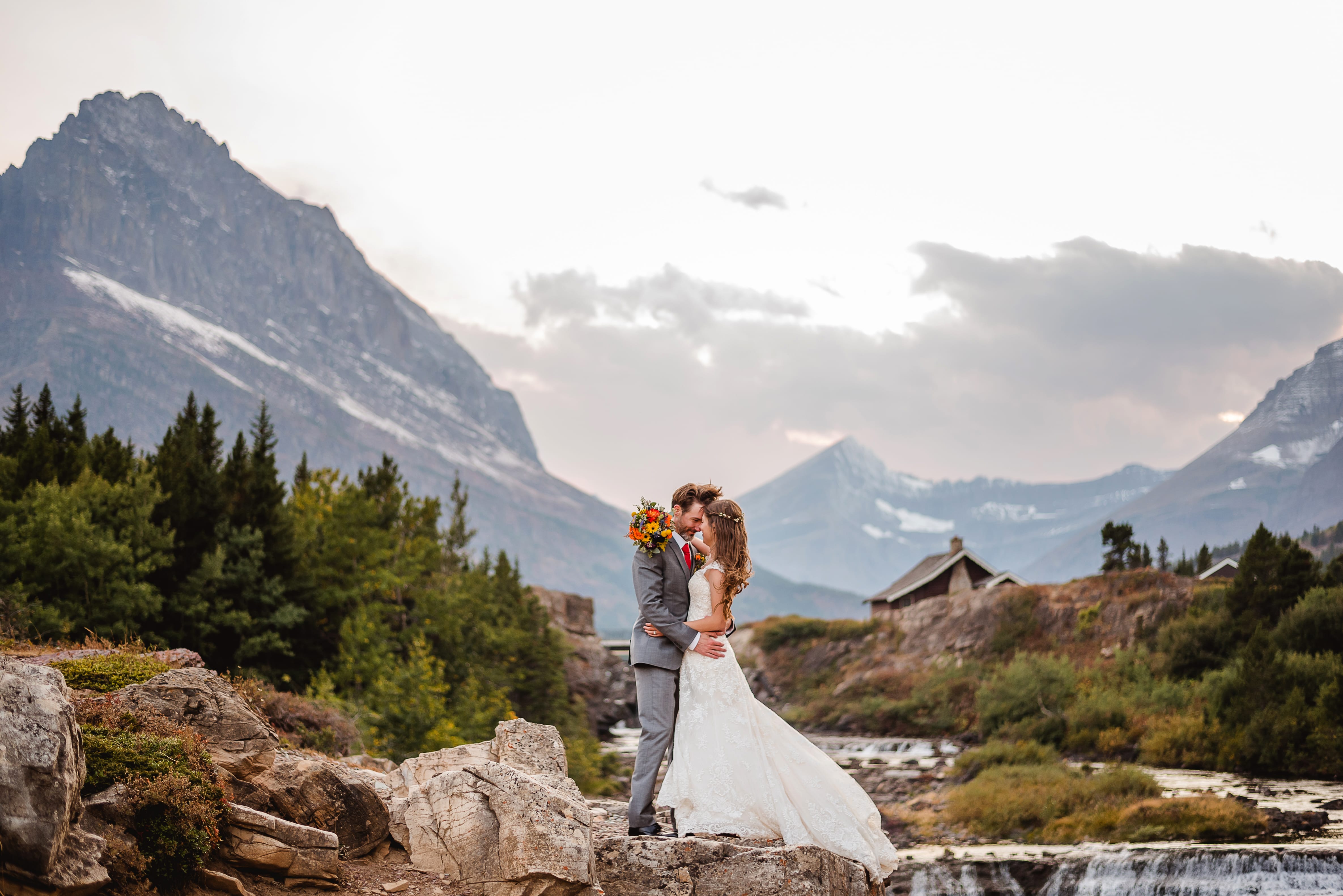 Big weddings not your thing? Fixing to elope? You'll love this intimate ceremony at Glacier National Park, featuring wildflowers, stunning vistas, and woodsy-chic décor. Keep scrolling for the full gallery and love story, featuring images by Marianne Wiest Photography.
Love this bride's chic and elegant lace gown? Try on Tabrett by Maggie Sottero at an Authorized Retailer near you!
Tell us a little about you and your sweetheart. How did you two meet?
Our first date was a blind date, the result of a setup by mutual friends. They had been bugging us for months to meet. I was in Africa at the time, and Ryan was traveling the world for work. We finally had our first date at Oktoberfest in Utah. Come to find out we grew up less than two miles from each other. We very quickly became two peas in a pod from that first date.
What was the moment you knew you had fallen in love?
For me, I don't think there was one single moment. My love for him grew a little each day. However, I do remember sending a text message to a friend that said, "I think I'm falling in love," as I watched Ryan working on my car out the front window of our house a few weeks after meeting him.
How did he propose?
Fast forward four years, almost to the day, from our first date—Ryan proposed to me in Muir Woods National Monument. We were hiking when he got down on one knee on a redwood tree that had fallen over a bubbling river. It was perfect. We got married one year to the day from his proposal!
What was the first thing you checked off your wedding-planning list?
First on our list was location. We quickly decided on a destination wedding. Both Ryan and I are major fans and supporters of the National Parks. Many of our vacations are planned around visiting our nation's parks, and we have a goal to visit them all! Plus, we became engaged in a National Monument. I had visited Glacier National Park on a family vacation growing up and have decided it is the most beautiful place on Earth. It was an easy sell to knock Glacier off Ryan's to-do list and get married in the most beautiful place on Earth.
When you started shopping for wedding dresses, what did you have in mind?
The first time I tried on dresses I had only a vague idea of what I wanted. I tried on a variety of silhouettes and materials. That first experience helped me to narrow it down: I liked sheaths, lace and open backs.
Who did you invite to help you shop for gowns?
My immediate family were there for me: mom, dad, and sister!
Which Maggie Sottero Designs gown did you choose?
Tabrett by Maggie Sottero, purchased at Bridal Closet in Utah.
How did you create the "look and feel" of your wedding?
I wanted everything to be simple. We eloped to a National Park for the beauty of our surroundings. No need to dress that up.
What was the most magical part of your wedding day?
Marrying Ryan. Second best was the weather cooperating. In the weeks leading up to our wedding Montana was experiencing a horrible wildfire season. The day before our wedding the eastern portion of Glacier National Park was closed by ice and snow, while simultaneously the western portion was closed due to wildfires. Miraculously, the day of our wedding it had stopped snowing, and the snow from the day before had cleared the smoke from the skies. It was freezing (pretty sure I was my something blue), but it was beautiful!
What do you think your guests loved most about your wedding day?
We only had eight guests at our wedding: our parents, and a sibling each with their significant other. We rented a cabin and spent a week exploring Montana. I hope they enjoyed the vacation and the time getting to know each other. It meant the world to Ryan and me to have that time with them.
What advice do you have for brides overall?
Do what makes you happy. Your wedding should make you happy, not stressed out. Try not to worry about the things out of your control (weather, wildfires). Keep the people you love the most around you. On your wedding day keep your focus on your partner and your marriage.
Vendors:Express Suits / McKay Diamonds and Jewelry / Fern Films Videographer / The Party Store Rentals