Tips and Trends
|
May 25, 2021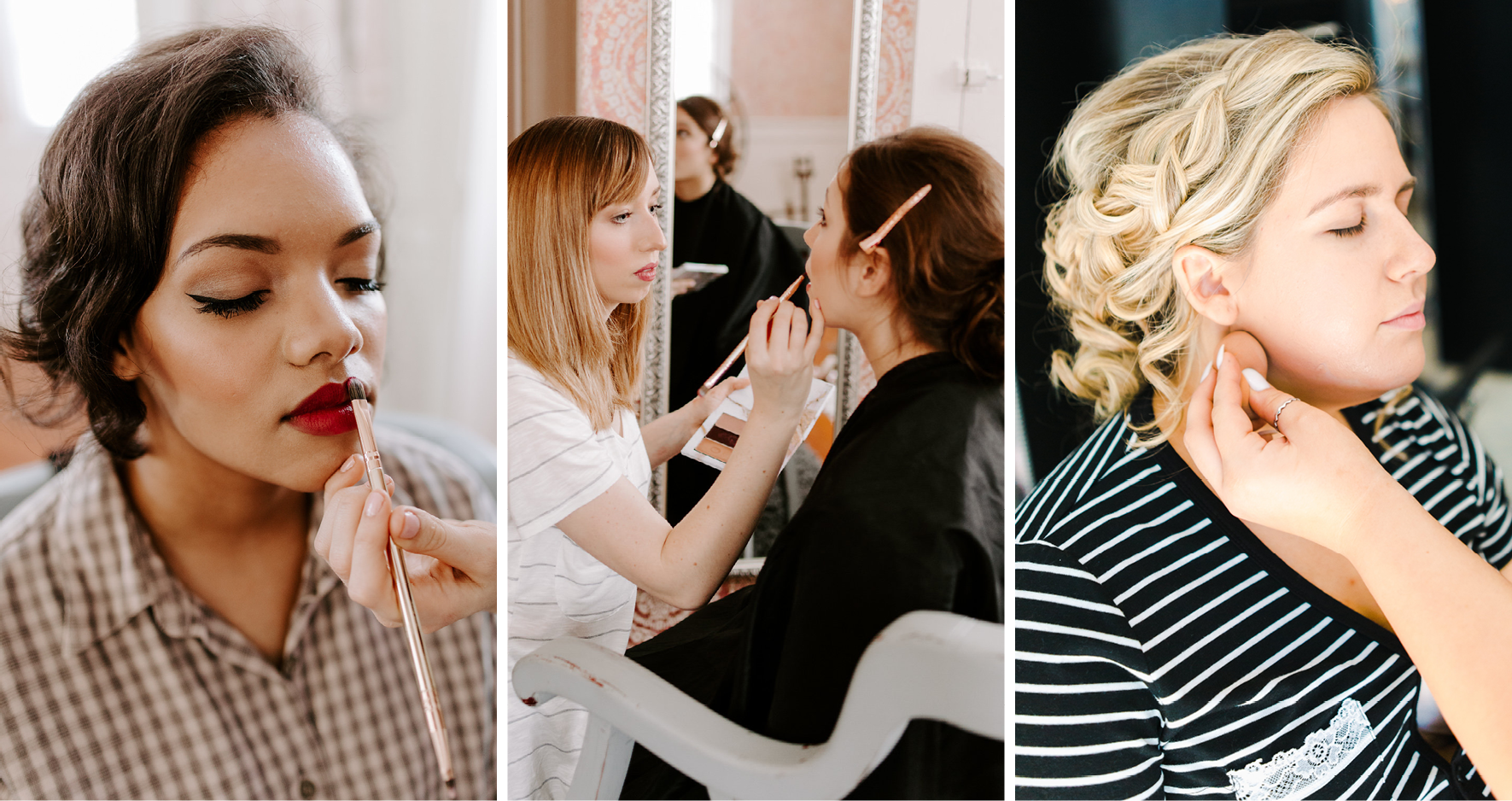 One of the most important (and hopefully most enjoyable!) parts of your wedding to-do list is to figure out your bridal makeup strategy. With variables like seasonality, skin tone, style, and budget to consider, we've rounded up 7 pro tips to satisfy three of your bridal-beauty non-negotiables: 1) Your makeup lasts from ceremony to reception; 2) It photographs beautifully; and 3) It makes you feel like the "best version of yourself" for your best day ever. Ready to get started? Scroll on!
1. Decide on Your Wedding Vibe and Vision.
PC: Christina Bernales Photography
Your wedding vision may be full-blown or fledging; either way, it helps to gather some initial inspo before booking your first beauty trials. We recommend starting with our Find Your Style quiz to help you gather bridal gown ideas, browse real weddings, and curate your beauty aesthetics.
A detailed wedding vision will help you focus your shopping, communicate with bridal makeup artists clearly and efficiently, and create a look that is truly yours.
A few aesthetics to get you started on your wedding makeup journey:
Classic wedding visions are all about timeless details and pretty flourishes.
Glamorous wedding aesthetics rely on showy accoutrements and red-carpet glitz.
Woodsy or rustic celebrations are all about natural textures and romantic details.
A beachy wedding vibe calls for graceful lines and soft embellishments that stand up to the elements.
Vintage bridal aesthetics play with nostalgia and storytelling. The vibe is theatrical, moody, and a little glamorous.
A sexy or vampy wedding style plays up your favorite features with bold and sensual details.
Princess bridal looks are all about classic details with a regal or fairytale flair.
2. Consider What Season You're Getting Married In.
PC: Jessa E Photography
Before you set your heart on one specific bridal makeup aesthetic, think about which cosmetics will work best for your season and venue conditions. A garden party in the summer, for example, calls for a very different set of products than a cozy, low-lit evening in a snowy mountain lodge. Consider the following:
Warm outdoor conditions call for light foundations, so work with your natural complexion to avoid a makeup meltdown. Temper oily skin with an oil-free moisturizer; treat dry skin with a glowy moisturizer; limit your concealer to spot treatments; and set everything with a light and luminous powder.
Indoor venues are a bit more forgiving on HAMU concoctions, but prep and strategy still matter. For best results, stick to liquid eyeliner, waterproof mascara, a shade-matched foundation + creamy concealer, layered lip colors, and a trusty setting spray.
Spring and summer weddings are all about luminous complexions, light shimmer, and soft contouring. These are intended to work for all the seasonal variables of your wedding: outdoor photography, high temps, gusty or humid atmosphere, and a bright and blooming summer palette.
Fall and winter weddings are the perfect backdrop for moody hues, jewel tones, heavier foundation and contouring, and bold accessories. An indoor venue gives you license to play with dramatic bridal makeup details and a head-to-toe glamour treatment.
3. Pick a Bridal Makeup Look that Complements Your Wedding Colors.
PC: Rachel Laxton Photography
If you've chosen a reception palette or know the venue and season you're working with, it's only natural to match your wedding makeup to your colors and surroundings. Here are a few palette and beauty combos we're loving for the 2020s:
Black-tie venues work beautifully with red lips and bold contouring.
A moody winter venue gives you the perfect excuse to wear a smoky grey eye and nude lip.
Summer venues with bright colors are a gorgeous backdrop for stained cheek and lip palettes.
Peach and copper colors are super versatile—a lovely choice for all seasons.
Shell, coral, and rosy wedding makeup is picture-perfect for spring watercolors and blush-hued palettes.
Jewel tones make a chic and irresistible statement for cooler seasons. Think wedding colors in deep blue, burgundy, emerald, and copper.
Bronze and pink color combos look incredible with beachy backdrops.
Plums and raspberries offer a moody and dramatic complement to jewel-toned bouquets and formal venues.
4. Get Bridal Makeup Inspiration from Social Media and Celebrities.
PC: Nicole Aston Photography
Social media is a great place to cull bridal makeup inspo; just don't let yourself be swamped with selection (i.e., the temptation to buy nonsensical products in ultra-stylish packaging).
Instead of shopping influencer sponsorships and luxe beauty brands, treat Instagram and TikTok as resources for inspiration, methodology, and "pro hacks"—all of which you can tweak and personalize to your own bridal beauty regimen.
Another thing to consider when browsing social media: Just because a beauty influencer looks incredible on your tiny little iPhone screen doesn't mean you'll love their product recommendations IRL. Adjust your bridal makeup look to your venue, season, complexion, and unique style. There's no "one size fits all" formula to social media advice—no matter how many views and shares it may have.
5. Choose Bridal Makeup that Works with Your Complexion and Skin Tone.
PC: Brittany Martorella Photography
Don't let a mismatched foundation or bad contour sabotage an otherwise impeccable wedding portrait. Instead, treat foundation, concealer, powder, and setting spray as your most precious beauty investments for flawless photography. Here are some top tips from the pros:
Start with your best skin possible. Follow a beauty and wellness timeline that gives you plenty of rest, hydration, and self-care. Treat yourself to 3-4 facials in the months leading up to your wedding and make time for regular exfoliation the month before.
If you're doing your wedding makeup yourself, test out your shades or get a professional shade match. Apply in natural light and squint at yourself in the mirror; if the color matches, it should disappear.
Choose a cream-based formula for foundation and concealer. It's the best all-around for venue conditions, season, and photo ops.
Use a rounded foundation brush to blend and buff your foundation and a small, fluffy brush for applying concealer on blemishes and imperfections.
Prep your skin with a primer for optimal hold, finish, and application.
Mix foundation with a little water or a few drops of luminous gel highlighter to give yourself a glow without adding excess oil.
And when it comes to matching your colors to your skin tone, know that certain palettes work better than others. For example:
A cool undertone (purple or blue veins) complements different colors than a warm undertone (veins appear green) or neutral undertone (veins appear blue-green). Your skin tone, on the other hand, is usually what cosmetics refer to on their label: fair, medium, or dark.
Dark skin pairs beautifully with plums, burgundies, and mauves. It's important to treat your dark skin as dimensional; it typically has more than one hue and should be complemented with two different foundation shades.
Tan skin looks lovely with metallics like gold and copper.
Look to neutral colors to complement a medium skin tone.
Light skin with cool undertone should avoid orange hues in their foundation, eyeshadow, and lip color.
Ultra-light skin tones should stick to light pinks and beiges.
6. Do a Wedding Makeup Trial.
PC: Brittany Martorella Photography
Three words: test, test, TEST! Whether you're going pro or DIY with your wedding makeup, your big day should not be the maiden voyage for your selected products.
Be sure to book a professional makeup session or ask your MOH to help you with a trial run well before you make your final selection and purchases.
7. Go with Your Gut.
PC: Cafe y Estilo Photography
Wedding makeup should always make you feel like the "best version of yourself." Trust your instincts:. If you don't wear a lot of makeup day-to-day, you only need to turn it up a little for your bridal beauty look. If you love makeup and want to try something chic and stunning on your big day—go for it, but give yourself a couple of trials beforehand. The most important thing is to create something functional, season-appropriate, and totally you!
Want to keep this bridal makeup inspo rolling? Get inspired with these Wedding Makeup Looks Inspired by Real Brides and Their Weddings and what your wedding dress style says about your personal style in the links. You'll love these fab trends from our real brides and industry professionals!