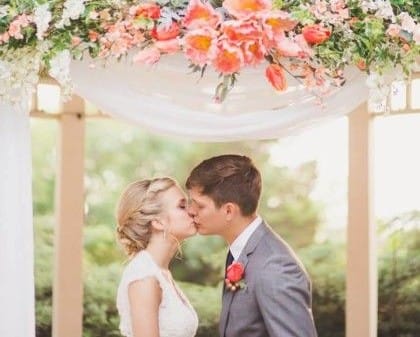 In the spring time, the only pretty ring time,

When birds do sing, hey ding a ding, ding;

Sweet lovers love the spring.

-William Shakespeare
---
Ahh, spring. Such a bounty of metaphors and inspiration. The air feels hopeful and exuberant, and the aesthetic possibilities are endless. It's the time to appreciate warm afternoons and crystalline skies, reenergize your mood and creativity, and foster new growth. And what better way to do that than with a celebration of love! We've put together a gallery of inspiration for April and May nuptials based on our favorite spring weddings. Keep scrolling for a breezy lift!
Girly-girl glam and pretty pastels are perfect for a May wedding!
Spring is the season of contrasts! These bright peonies and ranunculus look chic and striking against an ivory gown.
Cute-wedding-dog alert! Spring is the return of warmth and adorableness to the world.
Let the light in! All that sunshine makes you feel giddy and buoyant.
Look to the natural world for inspiration for your spring wedding!
These winged stilettoes gave this wedding a major lift.
---
Planning a spring wedding? You'll love an airy, whimsical gown by Maggie Sottero, or a gorgeous blush or floral gown by Sottero and Midgley. See Griffyn and Kira to get inspired!