Wedding Inspo
|
September 6, 2023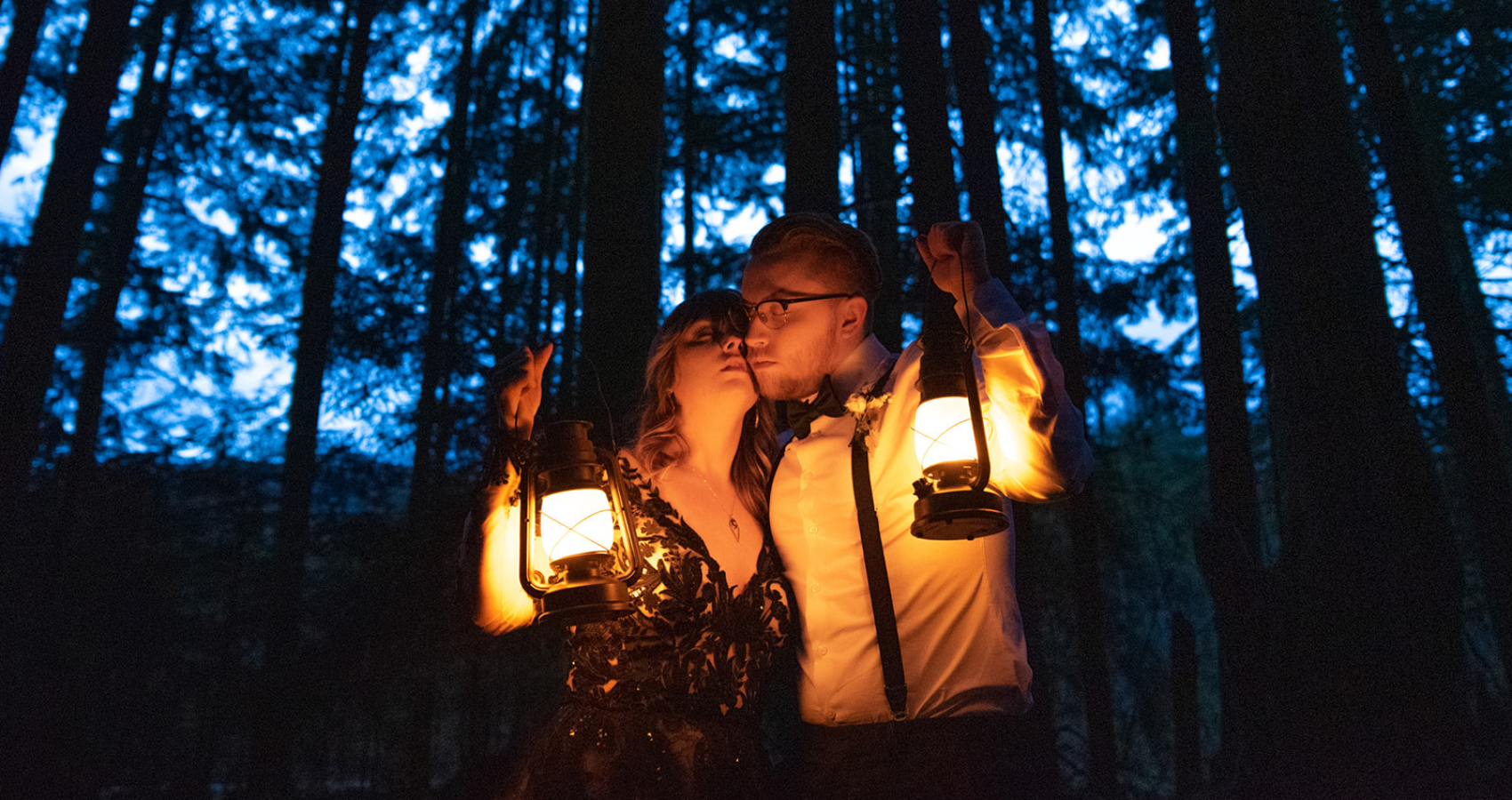 Fall weddings — they're sophisticated, they're romantic, and they're chock full of chic styling potential! With cooler temps approaching, there are plenty of reasons to adore the season… from luxe and personalized venue options to delicious food, gorgeous photo backdrops, and (of course!) dreamy fall wedding dresses. To get you started on the latest and greatest shopping trends, we've curated unique and stylish wedding ideas for your perusal below… Be sure to bookmark this article for your next planning sesh!
Fall Wedding Venues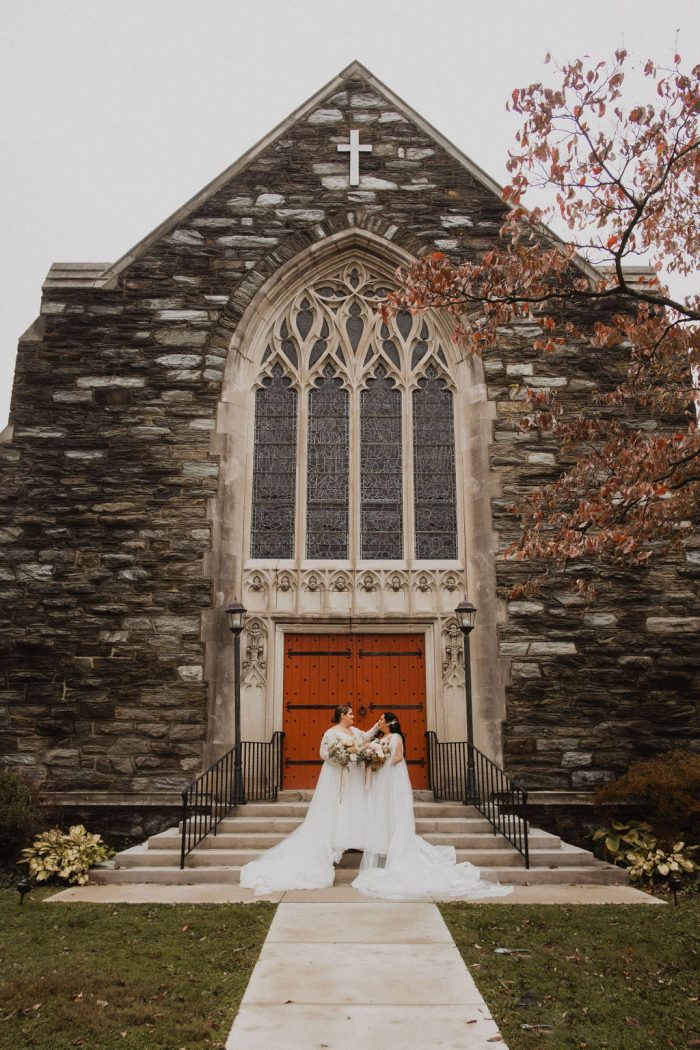 We'll start with an essential part of your wedding vision: the venue! Indoor or outdoor, formal or rustic, local or international — you've got plenty of gorgeous options to bring on the fall vibes in style. Here are a few ideas to get started…
Vineyard or Winery: A clear frontrunner — a rustic winery provides a stunning backdrop for photos, vows, and all-night partying! Rows of grape vines? Changing fall colors? Full harvest enchantment? Charming details and natural beauty make for a picture-perfect fall setting.
Barn or Farm: Rustic barns and farms offer a cozy atmosphere for an autumn wedding… Changing leaves and open fields provide a scenic backdrop; you'll likely have lovely food and drink options from local vendors; and the unique architecture offers charming backdrops for photos. (To enhance the "seasonality," consider decorating with hay bales, pumpkins, and fall foliage!)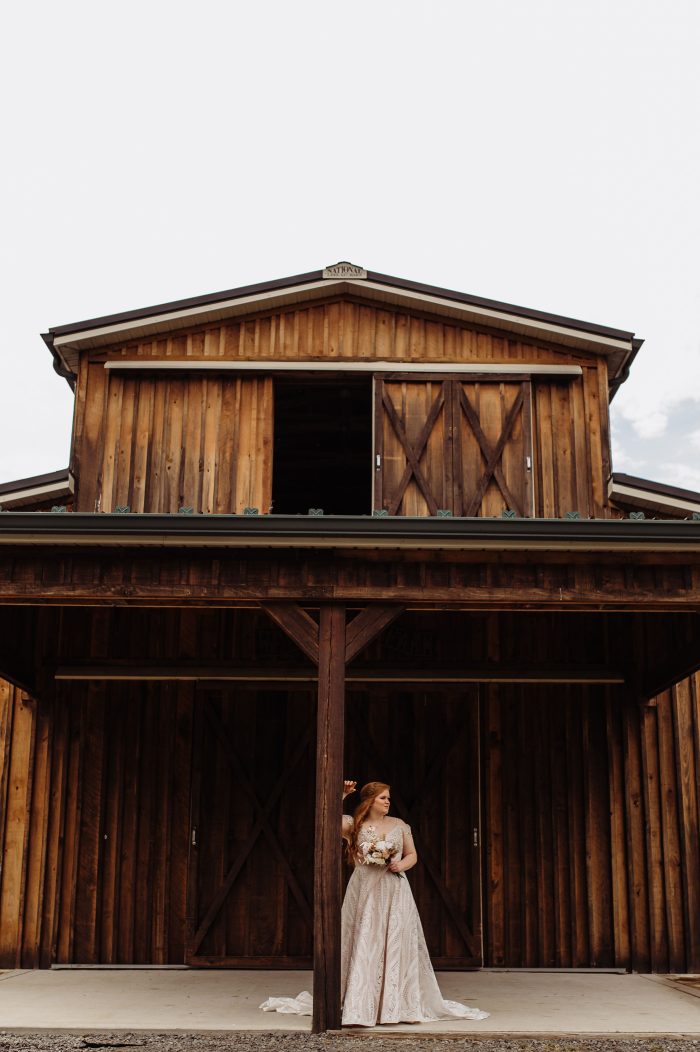 PC: Karena Schroeder
Mountain Lodge: Looking for breathtaking views of autumn foliage and cooler weather? Book a mountain lodge and curate a woodsy-chic wedding theme! Crisp air and cozy interiors create a warm and inviting atmosphere for your ceremony and reception, and woodsy details provide endless inspo for food, drinks, decor, and wedding attire.
Historic Manor or Estate: Choosing a historic manor or estate allows you to embrace the elegance of the season. These venues often have well-maintained gardens and architecture that complement the autumn aesthetic. The combination of vintage charm and fall foliage can create a memorable backdrop.
Bed & Breakfasts or Inns: A bed & breakfast is a chic and effortless choice for wedding celebrations — just consider the weather before booking something with an outdoor setting. If you envision part of your wedding on a patio, garden, or lawn outside of the venue, check to see if your venue team supplies outdoor tents or allows rentals. When the sun goes down and temperature drops, bring out the space heaters and cozy blankets for your guests!
Explore more beautiful wedding venue ideas in our gallery of real bride inspo!
Autumn Wedding Decor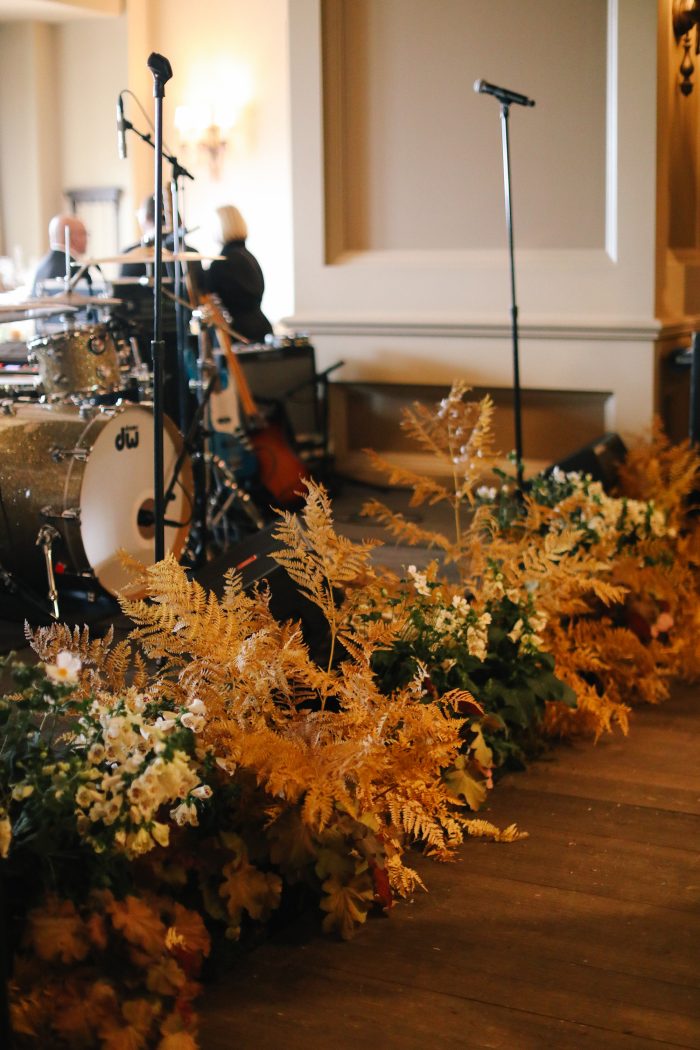 PC: Lucy Cuneo | PC: Wilma Towell Photography
Once you've booked your dreamy fall venue, look to theme and decor! These chic and romantic accents take your celebration from classic to unforgettable…
Fall Foliage: bring the color palette of leaves to spruce up your table settings, line your aisle walk, and add to your floral arrangements.
Pumpkins and Gourds: Carve them, paint them, or use them as natural accents in your centerpieces or aisle markers!
Candles and Lanterns: Warm and cozy lighting is the ultimate ambiance! Use autumnal colors for the candle holders and scatter them throughout the venue for an intimate glow.
Rustic Wooden Elements: Bring in wooden details like farm tables, wooden crates, and tree slices to make "mountain chic" your picture-perfect (and perfectly seasonal) theme.
Burlap and Linen: These fabrics make table runners, chair sashes, or napkin ties a breeze.
Mason Jars: Use mason jars as vases for your floral arrangements. Wrap them with twine or lace for a charming rustic look.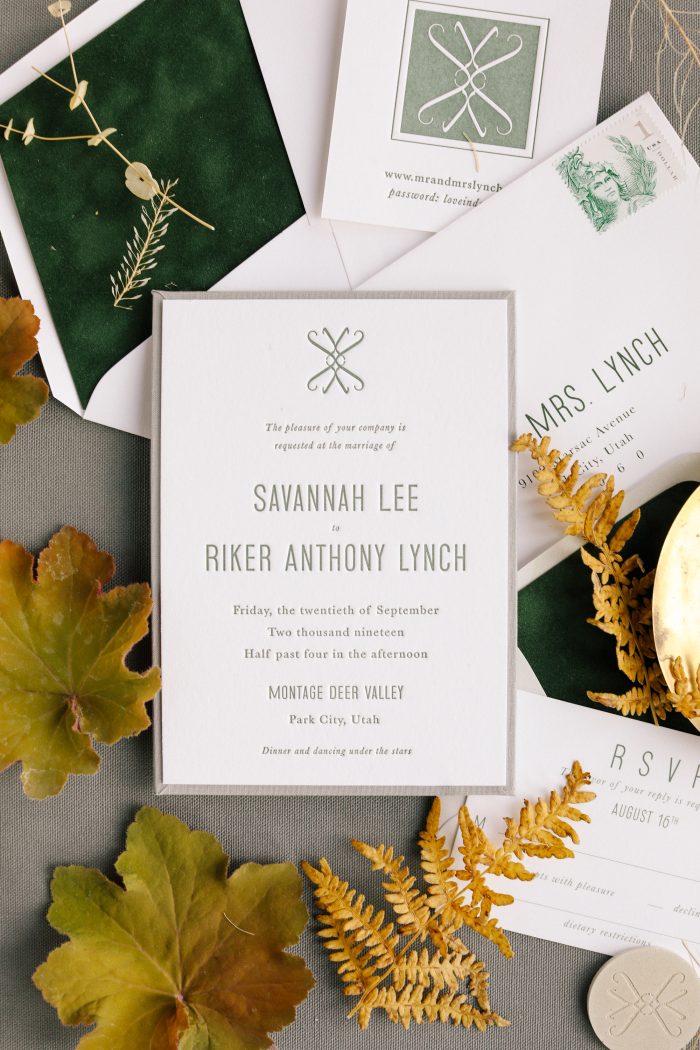 PC: Lucy Cuneo
Fall Flowers: Dahlias, sunflowers, mums, and marigolds are in season for fall weddings. Create bouquets, centerpieces, and floral installations with these luxe and vibrant blooms!
String Lights: Hang string lights outdoors for a soft dusky glow, especially as the sun sets. Intertwine with foliage or suspend above the dance floor to create a magical fall setting.
Warm Color Palette: Opt for warm and earthy colors like deep reds, oranges, yellows, and rich browns. Use these colors for your linens, flowers, and other elements throughout your celebration. Here are nine palettes for a romantic fall wedding to inspire.
Vintage Furniture: Rugs, chairs, and lounge areas invite easy conversation and cozy vibes! Look to a few DIY projects to add personality to your space.
Menu Fall Wedding Ideas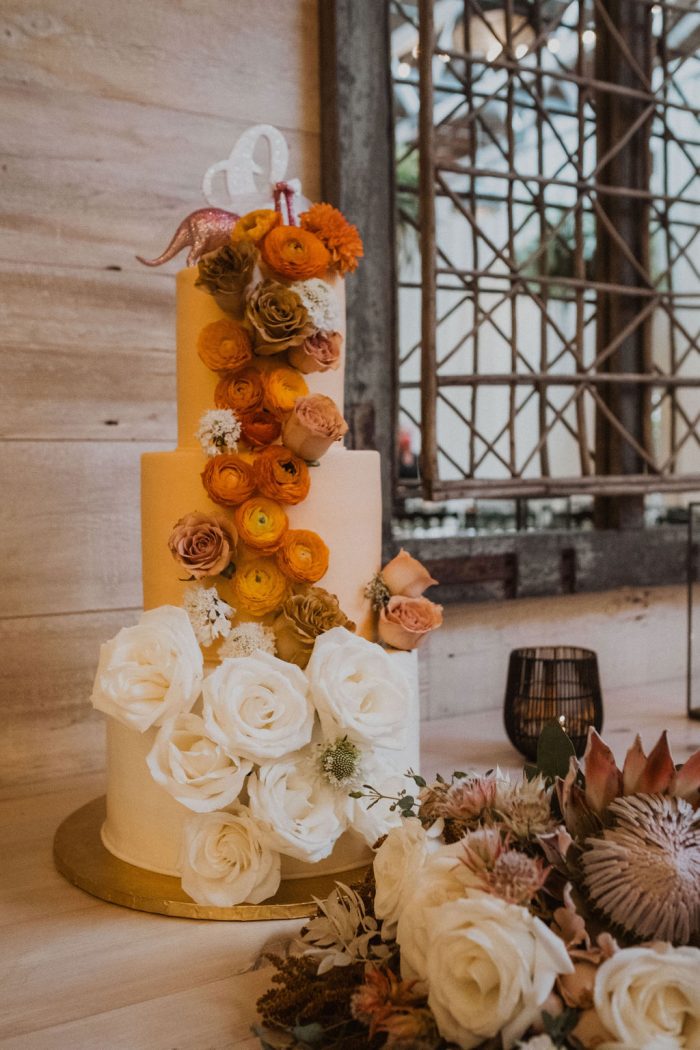 Fabulous food is very much on the menu for a fall wedding… From local produce to decadent pastries and hearty banquets, you have all the options to leave your guests happy and satisfied! A few of our favorite ideas from real brides and wedding experts:
Incorporate warm, hearty, and comforting flavors with pumpkin and squash dishes, soups, chocolates, turkey, and potatoes.
Use seasonal veggies and cool-weather foods like mac and cheese and shepherd's pie to honor the "homespun" fall vibes. (These are also great for feeding a crowd.)
For dessert, a hot chocolate bar or pie table! We've also seen "s'mores bars" for outdoor patio settings — both stylish and entertaining!
Mulled wine and other cozy alcoholic beverages are a crowd-pleaser — and most are easy to transport and set up for self-serve stations.
A luxe wedding cake makes the perfect centerpiece for your reception spread!
How to Incorporate the Fall Wedding Ideas Aesthetic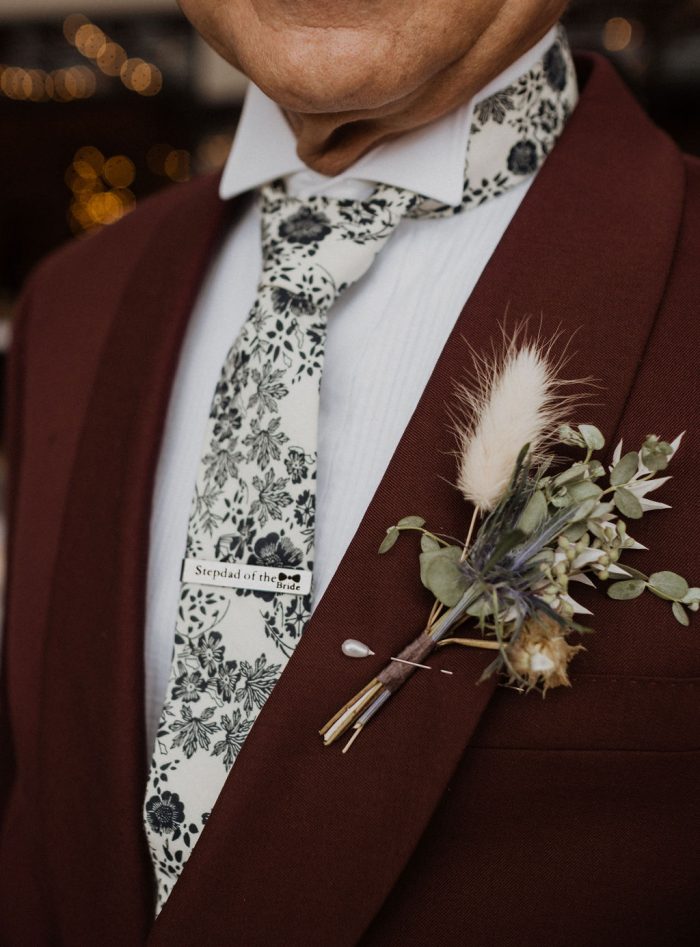 There are endless ways to bring "fall magic" into your celebration… It's all about chic upgrades and a thoughtful instinct for seasonal themes! Start with inspiration from your gorgeous surroundings:
Incorporate fall leaves into your wedding exit by throwing leaves instead of confetti or bubbles.
For the bride: seasonal accessories like a shawl or bolero add a cozy touch to your romantic wedding look.
Groomsmen might wear suits or ties in stylish shades of scarlet, purple, gold, and emerald.
Highlight warm undertones into your look with darker lipstick, moody nail colors, and gold jewelry.
Incorporate fall-inspired motifs like leaves, acorns, pumpkins, or rustic wood-grain textures into your wedding invitations, menus, place cards, and other stationery.
Autumn Wedding Dresses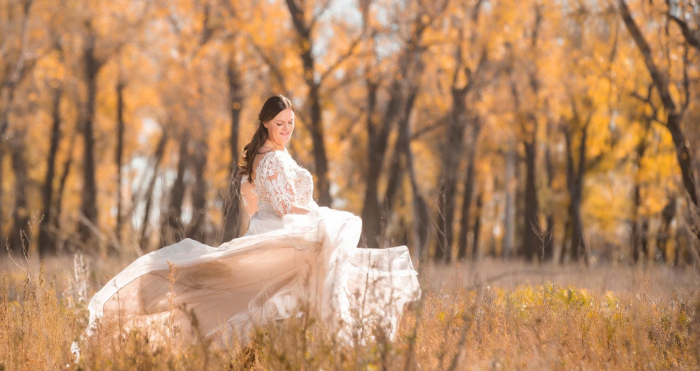 One of our most popular and beloved fall wedding dresses is Zander by Sottero and Midgley — a moody, romantic, and ultra-couture wedding gown that's perfect for cool-weather coverage.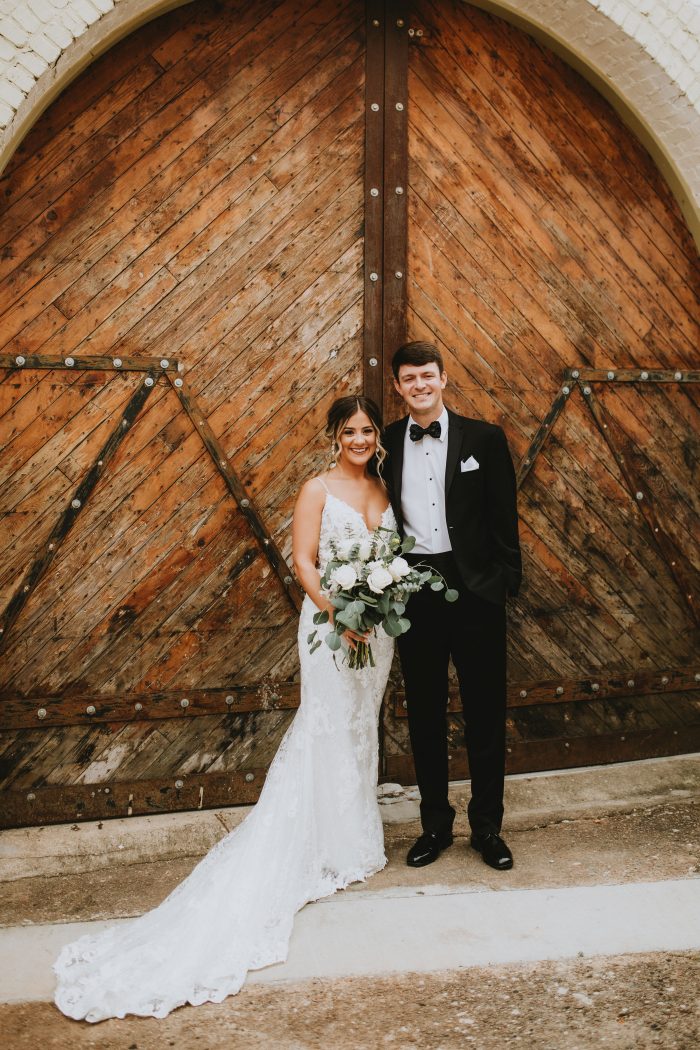 PC: Julie Schandolph
Beautifully tailored and embellished for a fresh and super feminine wedding vibe, Tuscany Royale is designed to show off your curves and flaunt your favorite features. We love this versatile design for an unforgettable fall celebration. (You can also order with sleeves for extra coverage and support!)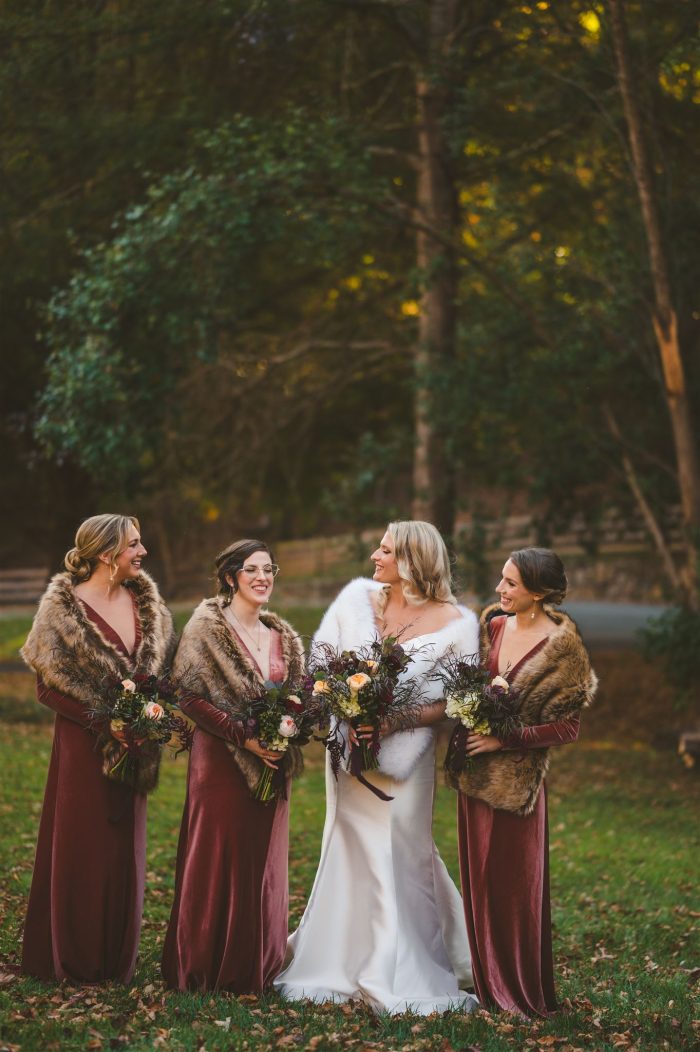 PC: AMW Studios
Luxe Mikado satin makes an exceptional statement in Josie by Rebecca Ingram. This affordable design channels both red-carpet glamor and chic sophistication for your autumn celebration.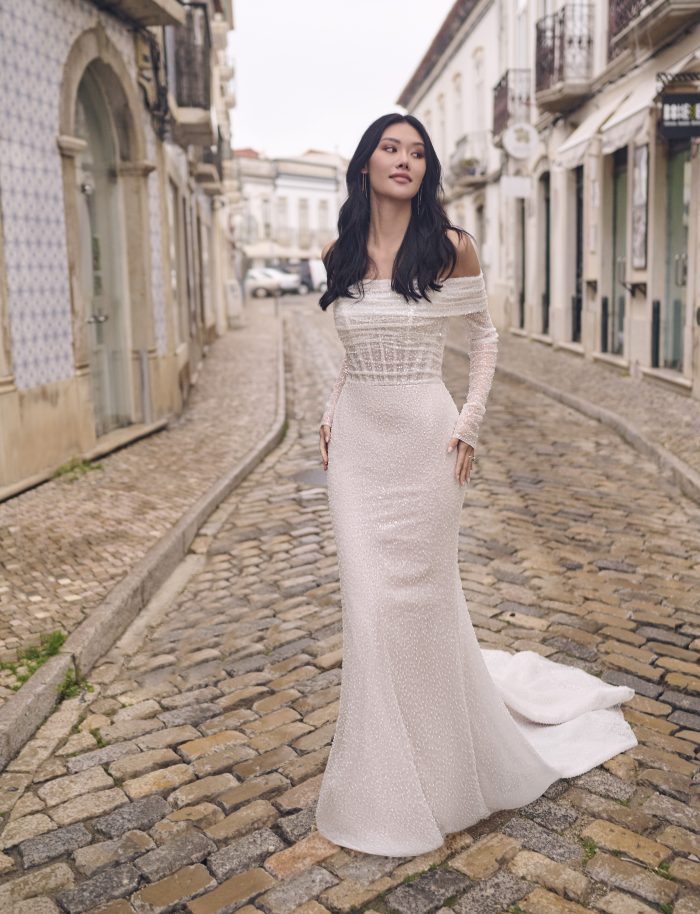 For a sexy, gorgeous vibe for fall, consider off-the-shoulder sleeves and gorgeous texture in a statement-making silhouette. Drew is a chic and daring choice for stylish brides… Explore more beaded wedding dresses with shimmer and embellishment in our gallery of trends!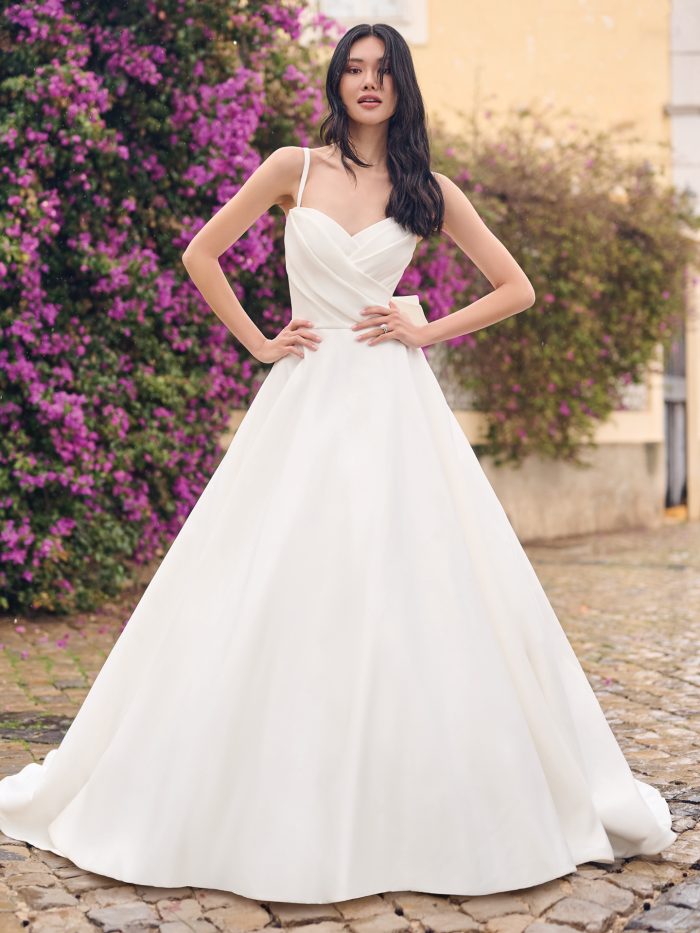 Cooler weather calls for gorgeous fabrics, i.e. luxurious silks and satins that might be too heavy for summer celebrations! Cue this dreamy Ophelia by Maggie Sottero, a pleated satin ballgown designed for a black-tie aesthetic. Add the bow for a chic and stylish statement!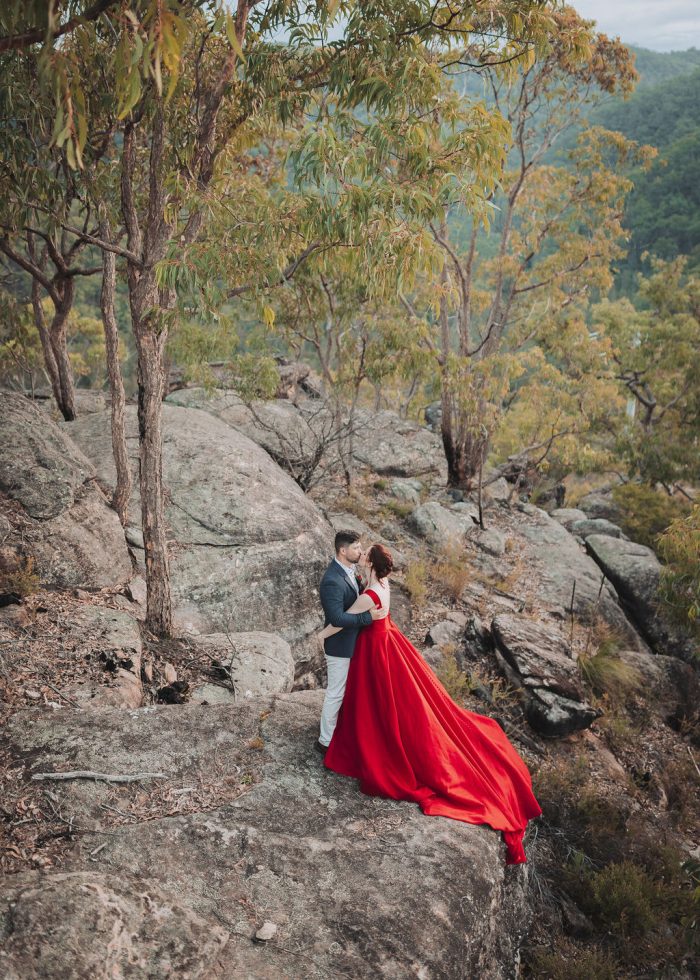 Flirting with the unexpected for your big day? Surprise and delight your guests with a crimson wedding gown in an exceptional satin. Alera makes for an unforgettable couture statement for your fall wedding… Explore more colorful wedding dresses and accessories from our latest collections!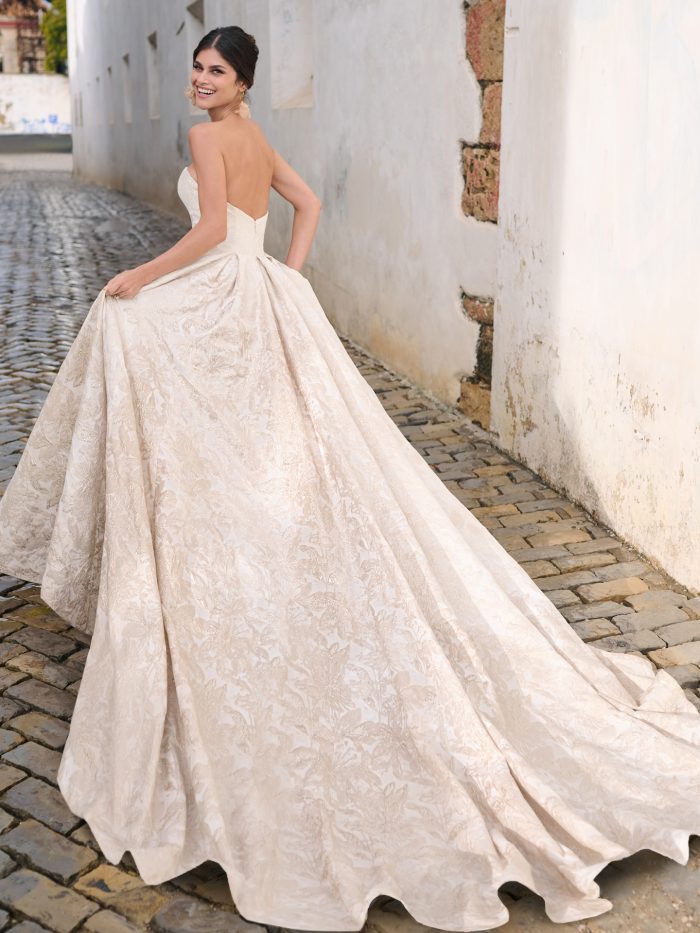 For a truly unique take on satin wedding dresses, look to shimmery, textured Jacquard. This regal fabric is all about lighting and dimension… Fall in love with Cyprus by Sottero and Midgley to showcase the trend!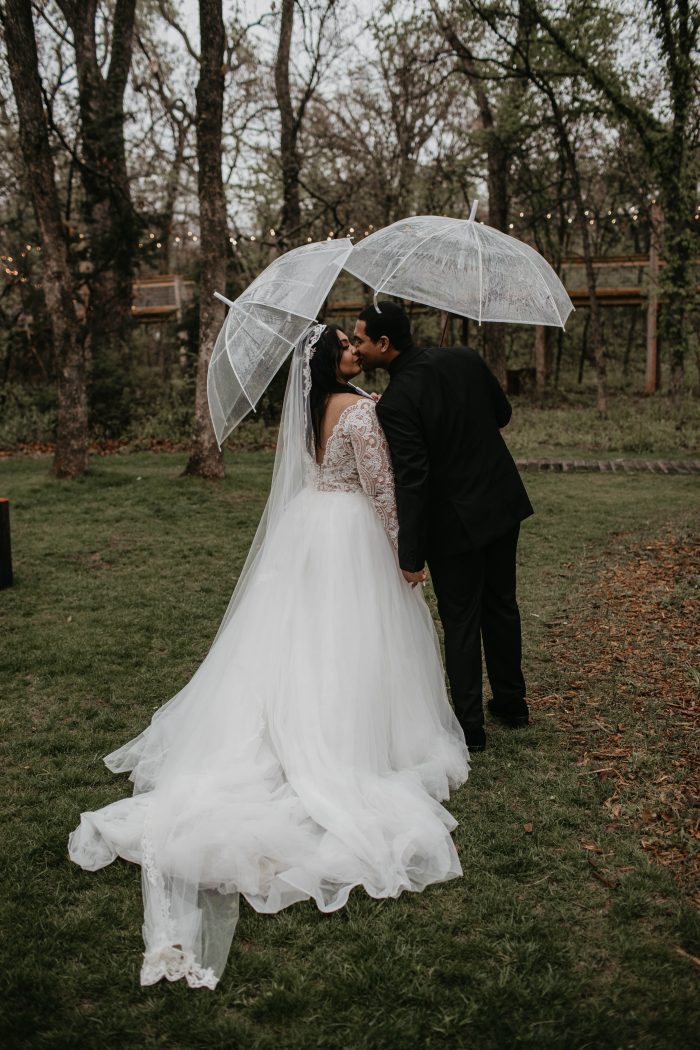 Another beloved wedding dress for fall celebrations is Mallory Dawn by Maggie Sottero, a gorgeous ballgown with dreamy sleeves and illusion bodice details. Our brides adore this classic, chic, and ultra-romantic silhouette!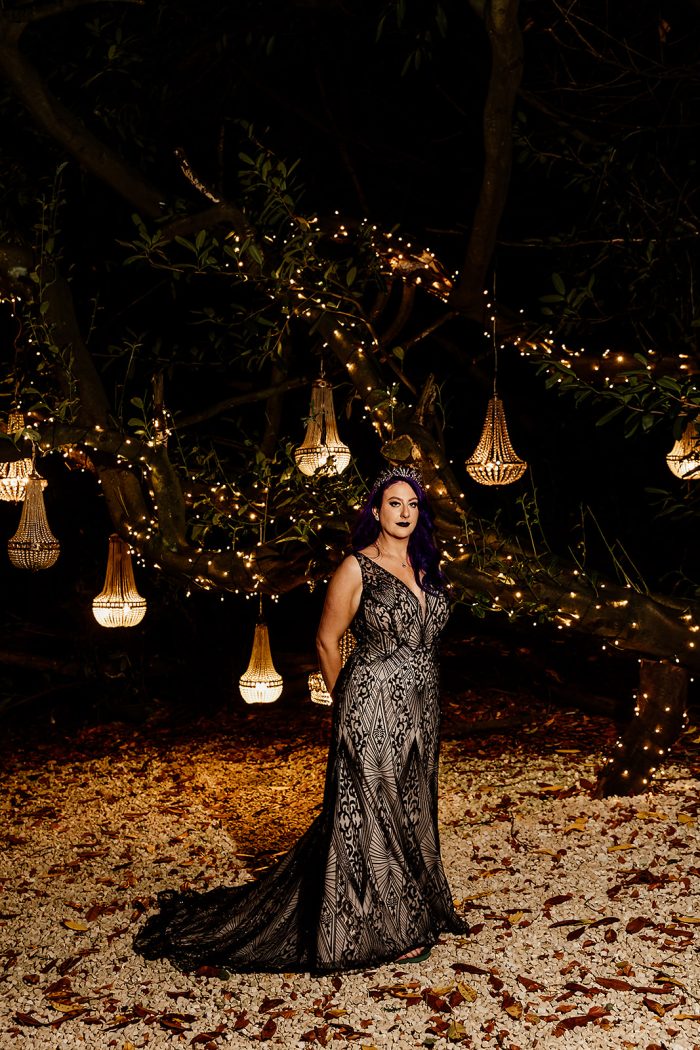 PC: Mark Barns
Fancy a stunning black wedding dress for your Gothic-chic celebration? Bring on major fall vibes with a slinky vintage-inspired style like Elaine by Maggie Sottero. There's nothing like this Gatsby-inspired silhouette to showcase your chic and singular aesthetic.
Dive into more black wedding gowns in our curated gallery.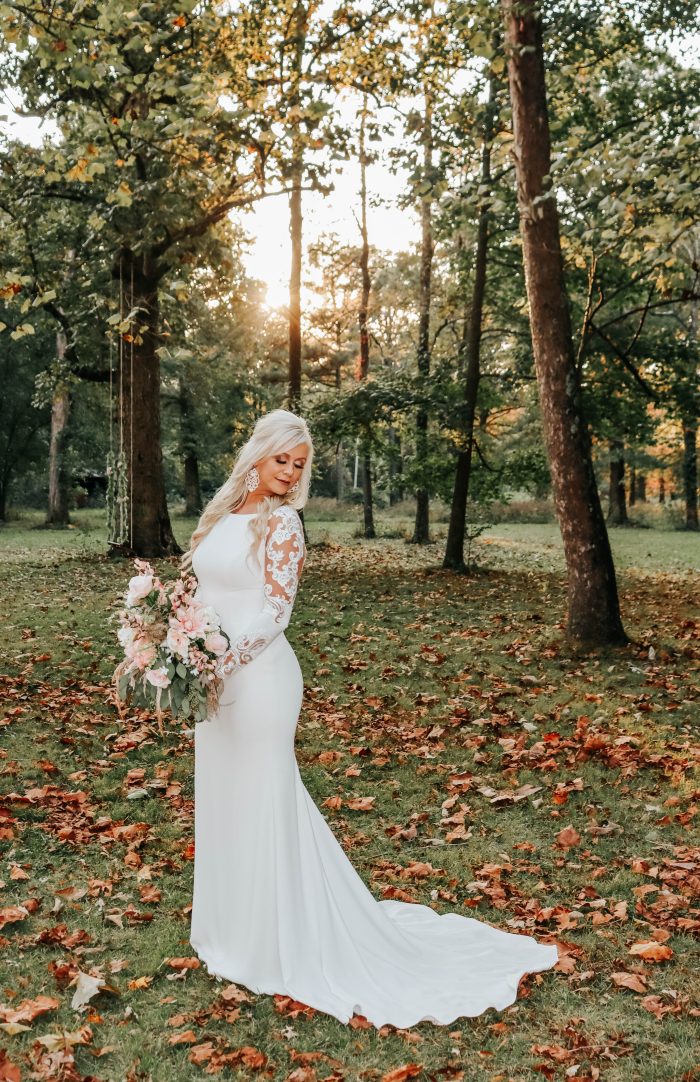 PC: Julie Cole Photography
Elegant, curve-hugging, and perfectly minimalist, Bethany by Rebecca Ingram offers gorgeous tailoring and details for a fall wedding celebration. You'll feel like total royalty in this effortlessly comfortable design.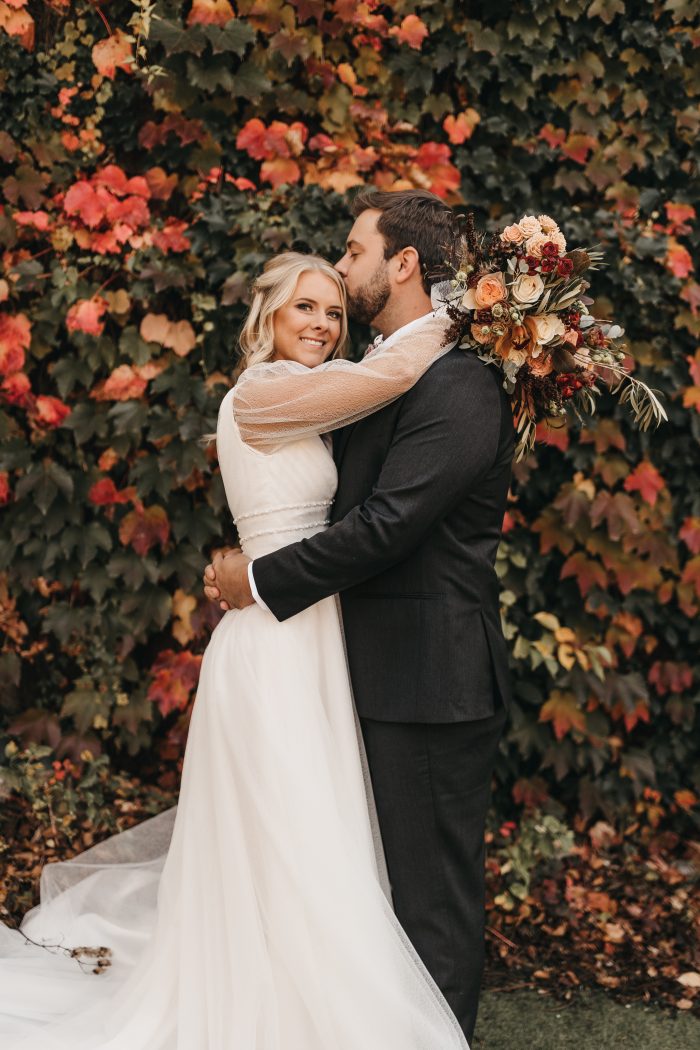 PC: Morgan Manney Photography
Add an ethereal touch to your bohemian wedding celebration with Joanne by Rebecca Ingram. This sleeved wedding gown is a little vintage, a little fairytale, and 100% romantic.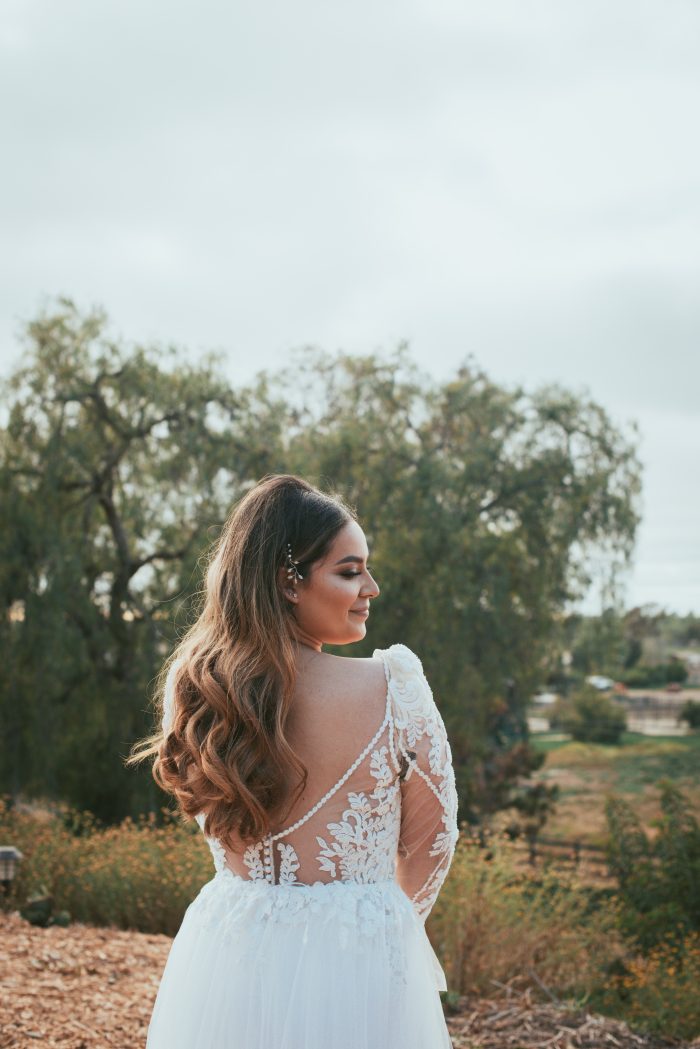 PC: Black Rider Photography
Shopping for something sexy and stylish? Nikki by Maggie Sottero is an exceptional and sultry statement in lace, crepe, and illusion. Personalize with a range of accessories to make this gorgeous design totally unique to your aesthetic.
Love this crepe fabric? Fall in love with more crepe wedding dresses in our gallery.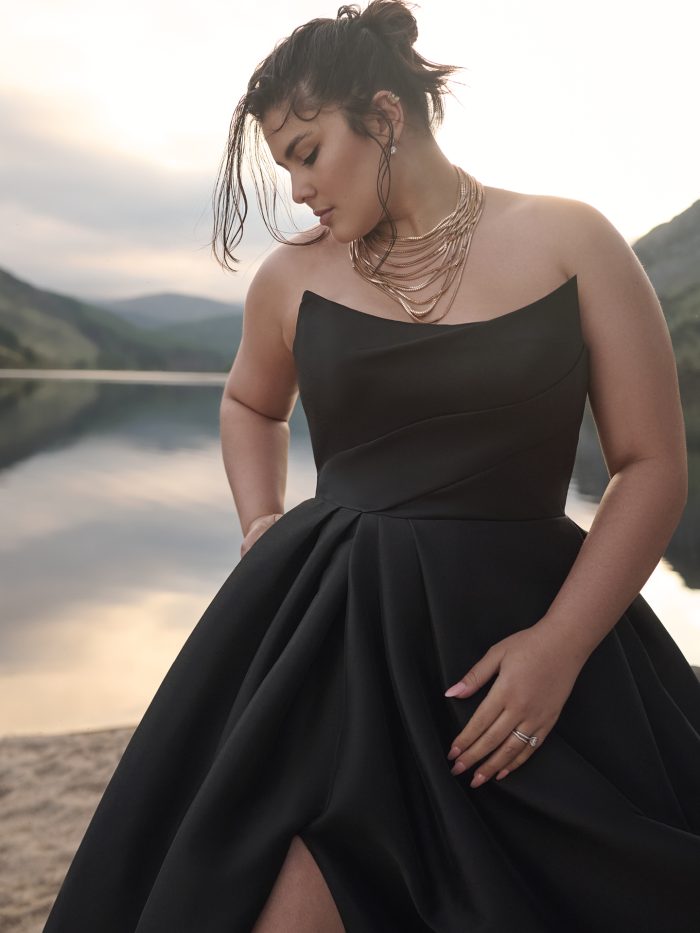 Another stunning ballgown in luxe, layered satin, Aspen by Sottero and Midgley is all about the fabric and construction. The silhouette is timeless, the ruching is elegant, and the tailoring is perfection… What's not to love about this regal and romantic design for a fall wedding?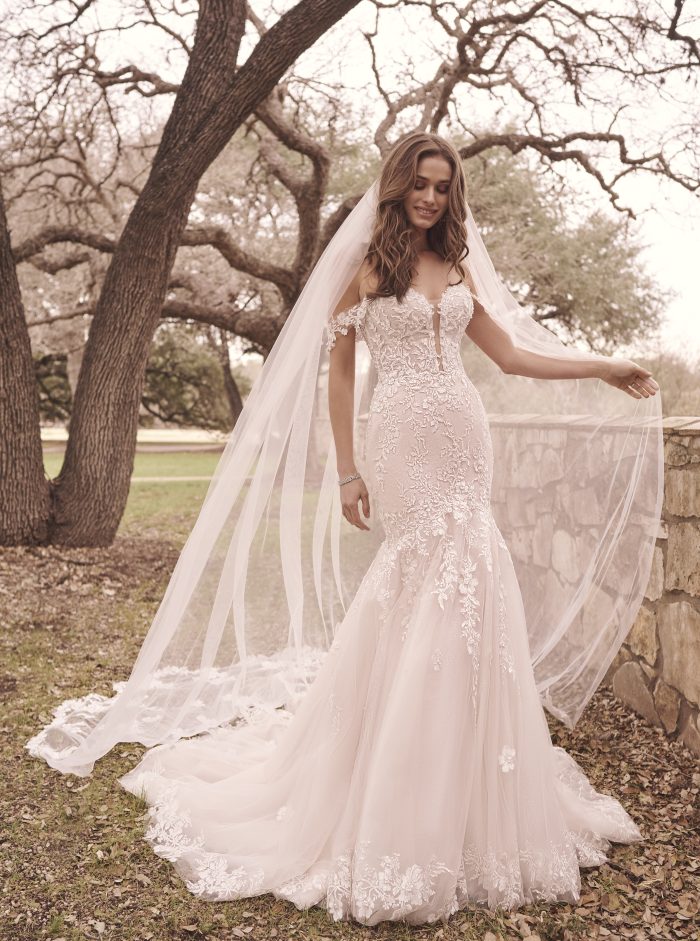 A sexy fit-and-flare makes an irresistibly feminine statement… and Lennon by Maggie Sottero is one of our top choices for fall! This curve-hugging silhouette is sophisticated, lovingly embellished, and perfectly shimmery. There's nothing like it for a glamorous fall celebration.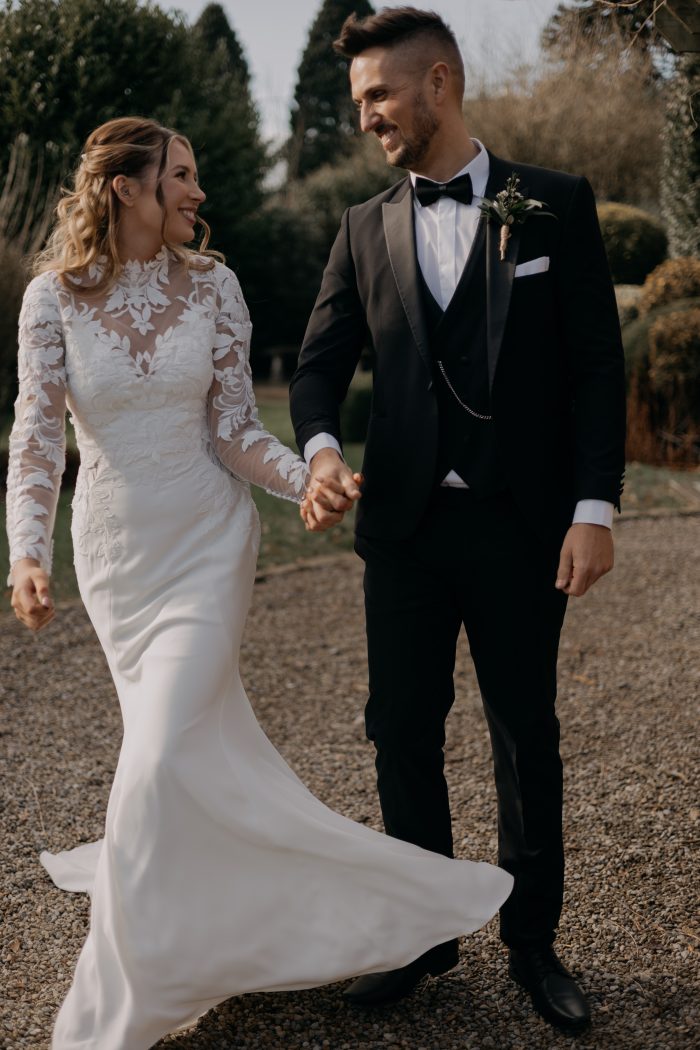 Our final pick for fall wedding dresses is Dionne by Rebecca Ingram, a soft and effortless slip gown with gorgeous accessory potential. From the illusion high-neck jacket to our latest trends for capes, sleeves, and boleros, style this beautiful silhouette up or down for a range of fall-themed celebrations!
Ready for fall magic? Follow our socials for endless styling inspo!
More Blogs Like This:
Add Gloves & Detachable Bridal Sleeves to Complete Your Bridal Look on Your Big Day
The Best Bridal Accessories and Jewelry Styling for Maggie Brides
Winter Wedding Ideas & Gowns for a Chic Celebration
May your celebration be as chic, romantic, and beautiful as the fall season! Best wishes for your happily-ever-after!