Real Weddings
|
June 21, 2017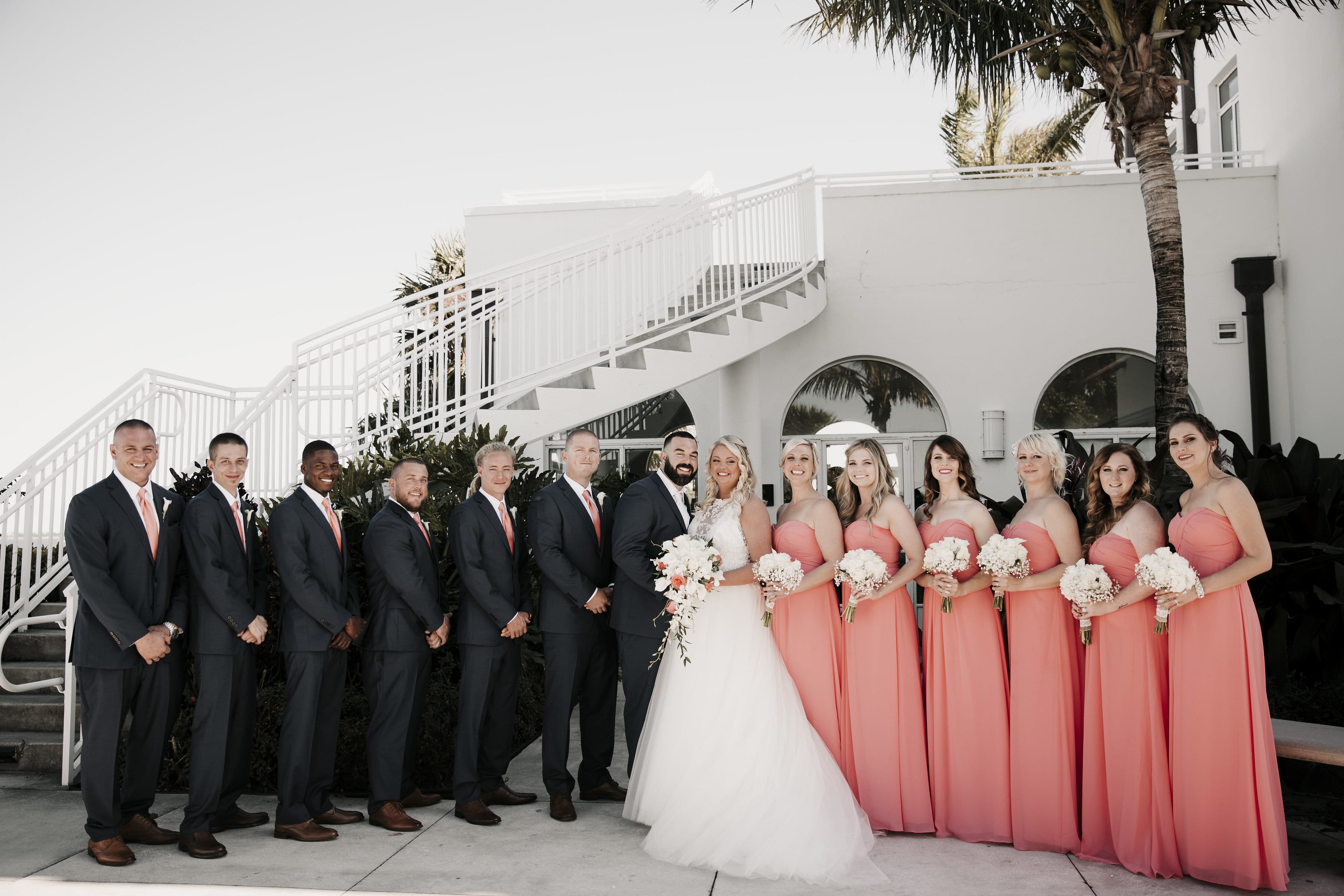 What we love about this real wedding is its fusion of simplicity and glamour. Ashley combined white florals with her crystal-embellished Lisette gown, giving her rustic outdoor occasion an air of polish and sophistication. And best of all, this princess wedding dress features the perfect amount of sparkle and volume for golden-hour portraits!
This summery occasion was shot beautifully by 📷: Zaitography of South Florida.
Love Ashley's modern yet feminine wedding gown? Visit an Authorized Retailer to try on Lisette, or more of our illusion lace wedding dresses by Maggie Sottero!
Which Maggie Sottero Designs gown did you wear?
Lisette by Maggie Sottero
How did you know when you found "the dress"
After going to about five different bridal shops and spending countless hours on The Knot Look Book looking at what feels like a million dresses, I finally found a cute bridal shop, Bellissima Bride, in Deerfield Beach, FL that seemed to have a lot of the designers that I was gravitating toward. I tried on about 30 dresses that day and although the Maggie Sottero Lisette was not one of my choices on the look book app, I ended up trying it on and absolutely fell in love. I tried a couple more on after and kept saying that nothing was as a good as that dress. The day of the wedding I got so many compliments on the dress!
What was your favorite part of the dress?
Everything, but if I had to choose it would be the illusion top.
How did you and your partner meet?
Russell and I met at a local bar in Stuart, FL, after I got off work one day and I was meeting up with some friends for a drink. I saw Russell there with my group of friends and asked my friend Sarah, "Who is that?" She introduced us and since that day, February 29, 2012, both of our lives changed. We started dating and fell in love and have been together ever since. We have two precious fur babies and hope to have children soon too!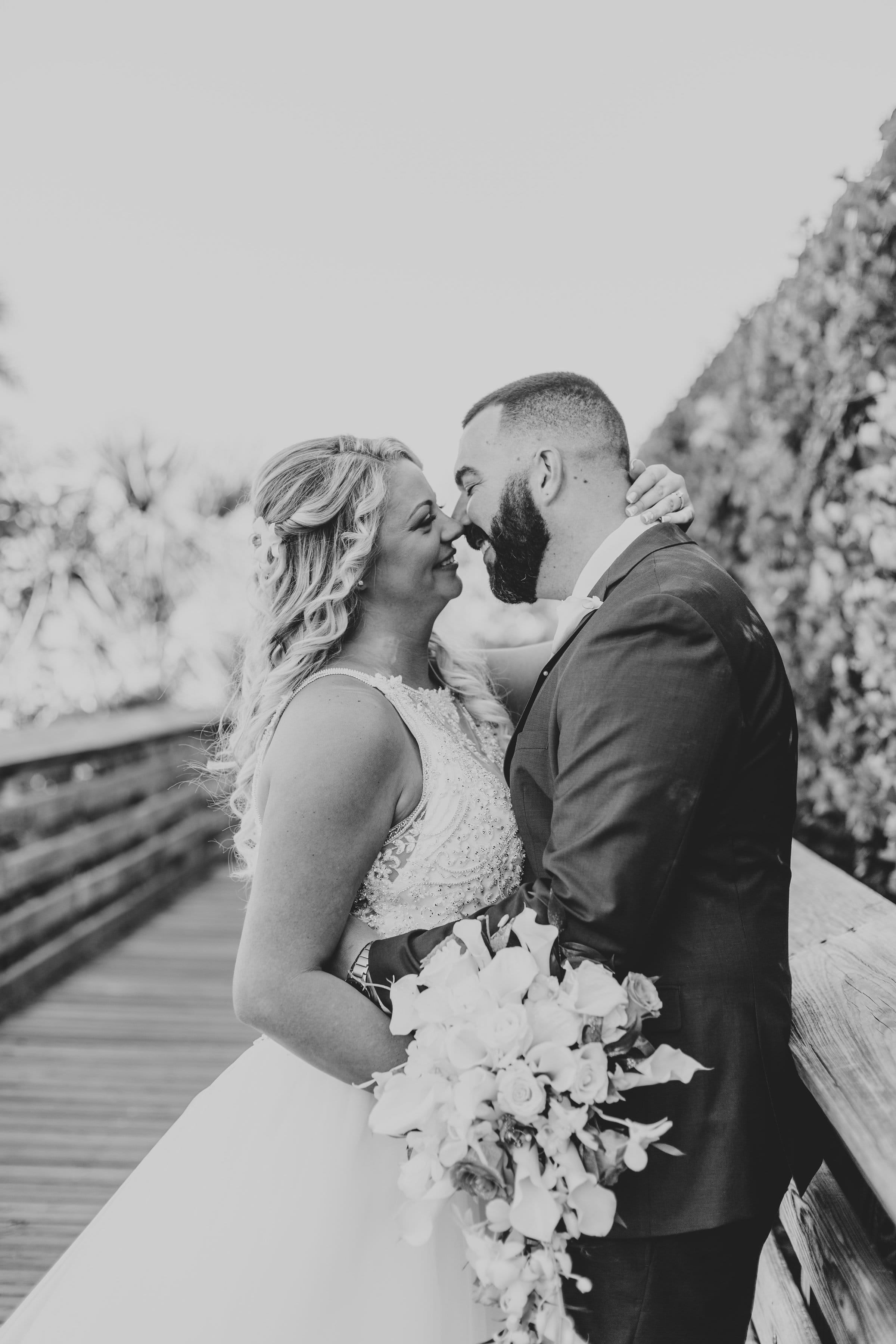 How did he propose?
After 4 years of being together I was getting a bit anxious for a proposal! For Russell's 30th birthday I took him to Key West to celebrate just the two of us. We were having a great day hanging out at the pool and he said that he wanted to go out for a nice dinner. We got ready and headed out to find a place to eat. We stopped at our hotel restaurant and it was very busy and kind of a party atmosphere which is what I thought he might like for his birthday but he insisted that we go somewhere nicer and quieter. We went across the street to another hotel restaurant and sat down and ordered dinner. Russell then suggested that we go take pictures by the water as the sun was setting. He asked the waitress to take some pictures of us and told her to just keep taking pictures. Right as we started to take pictures he dropped down to one knee and pulled out a ring. I was in complete shock as he wanted to do this on his birthday knowing that I would never expect it. I was ecstatic to say the least!
| | |
| --- | --- |
| | |
Where did you get married?
I could not be happier with how everything turned out that day. The weather was perfect, the venue was amazing, and most importantly all our closest friends and family were in the same place to celebrate us. We were blessed to have the best vendors in the area and the most beautiful venue, the Mansion at Tuckahoe.
Did your wedding have a theme?
Rustic.
How did you decide what you wanted your wedding to look like?
I looked at thousands of pictures on the Knot Look Book app.
What was your favorite wedding day moment?
My dad's speech.
Describe your wedding in one word.
Perfect.
What advice do you have for future brides?
Don't sweat the small stuff that you think that everyone cares about, because you are the only one that will notice.