Dresses
Tips and Trends
|
November 16, 2022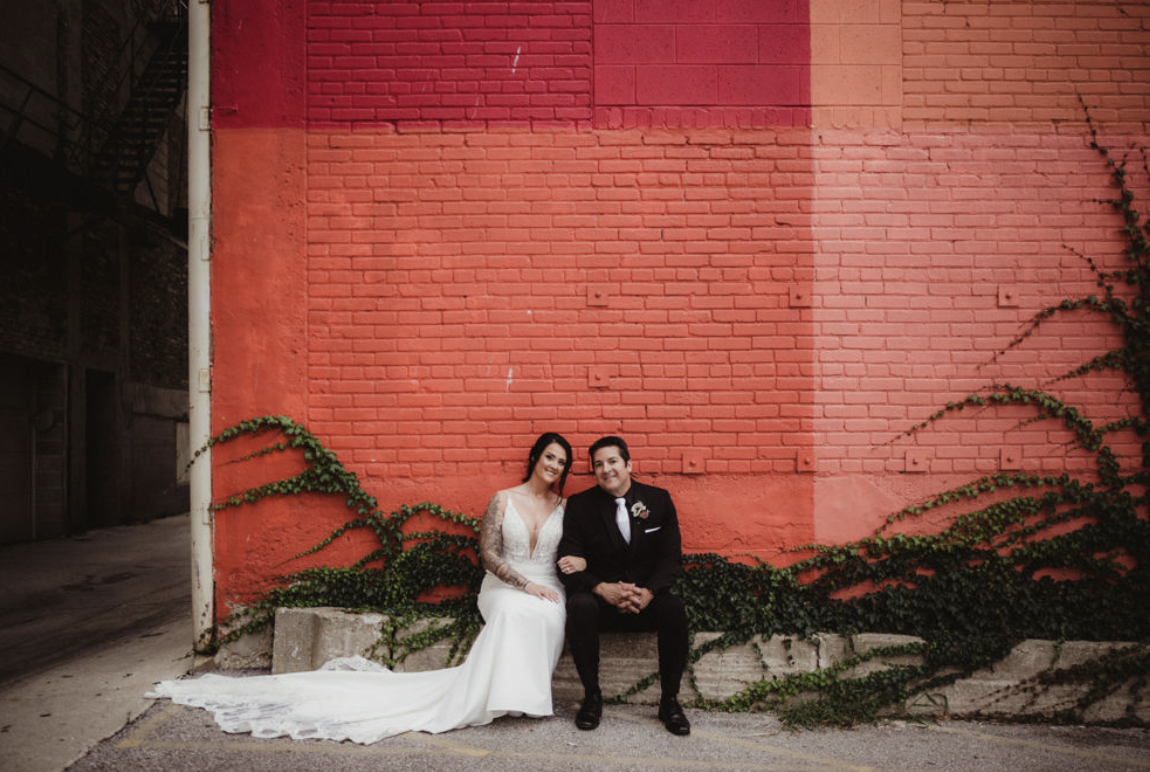 If you've just started shopping for your wedding dress, you may notice an array of sleek, chic, and ultra-flattering crepe styles dominating your social feed. To help you get acquainted with this premium bridal fabric, we've compiled our top FAQs about the crepe fabric and the wedding dresses that go with it; from material to wrinkling to proper undergarments. Keep scrolling and find an Authorized Retailer near you to get one of these crepe wedding dresses pronto!
What is Crepe Material?
PC: Mariel O. Photography
First, "crepe" can refer to a variety of textures, weights, and draping styles. Traditionally these wedding gowns are made from silk but now can be made with almost any fiber. Thin crepe is usually gauzy and crinkled, whereas thicker crepe is smooth and elastic. Whatever its weight or texture, crepe is usually a luxurious fabric choice for wedding dresses, evening gowns, and romantic accessories.
For wedding dresses, crepe fabric is typically smooth and luxurious and used to create long and graceful silhouettes. It can be styled on its own for a clean, bright impact, but is often paired with decorative embellishments with illusion, lace, and shimmer. This type is opaque, medium-weight, and easy to form to the figure.
There are many different types of crepes to choose from, some of the most common types are:
Aerophane Crepe: a delicate, gauze-like fabric used for blouses, dresses, and embellishments.
Canton Crepe: a Chinese fabric used in Asian-style garments.
Crepe de Sante: a rougher, rustic weave of crepe.
Crepe Georgette: a thin, silk-like fabric with an elastic weave. It's commonly used in evening wear and bridal gowns.
Heavy Stretch Crepe: Structured, scuba-like crepe used often in formfitting silhouettes.
Spandex or Scuba Crepe: Similar to a heavy stretch crepe, this smooth crepe is luxe, thick, and elastic.
What is a Crepe Wedding Dress?
A crepe wedding dress is a sleek, often minimalist-style gown made from a smooth and slightly stretchy draping. Crepe fabric is distinguished for its flowy yet striking appearance. Brides love it for its ideal thickness, comfortable elasticity, and versatility for embellishments!
Why Would You Wear a Crepe Fabric Wedding Dress?
PC: Allison Clarke Photography
The real question is why wouldn't you?! Not only is crepe fabric comfortable, but it's also chic as can be. Crepe wedding dresses can also come in almost any type of style from minimalist to fabulous, and summer to winter! This sort of gown is the perfect choice for any marriage celebration. Read our pros and cons of this fabric below though to get a better idea if this is the type of wedding dress for you!
The main attractions of a crepe wedding dress are its cool, contemporary feel and ultra-comfortable fabrication. Brides also love its striking contrast to embellishments, lighting, and venue settings. A crepe gown truly stands out!
Things we love about a crepe style:
Crepe is smooth, chic, and ultra-flattering. Its thick texture makes it ideal for minimalist designs and fit-and-flare silhouettes.
Crepe is light and breathable—perfect for outdoor weddings in warm weather. It's flowy, figure-enhancing, and perfectly cut for relaxed yet formfitting designs.
Crepe is versatile. It comes in a variety of textures and folds styles to fit your vision and aesthetic.
Crepe is a gorgeous choice for embellishments like lace, illusion, and crystals. Shimmery statement backs, bejeweled cuffs, and plunging necklines are often the highlight of a crepe material wedding dress.
However, while there aren't many cons to a crepe fabric wedding dress, brides do tend to favor stiffer fabrics like tulle and lace if they are worried about their silhouette. Though brides love the comfortable stretch of a crepe dress, they may find it's a tradeoff for cinching in their midsections and upper thighs.
The most common concerns of a crepe wedding dress are:
Heavy crepe is better suited for fitted styles like mermaid and sheath, and less suitable for A-lines and ball gowns.
Lightweight crepe tends to be more airy, gauzy, and layer-able. It's less suited for fitted silhouettes and better for fuller A-lines and ball gowns.
Your dress will show creases and imperfections underneath depending on how much spandex is incorporated into your crepe material. Avoid visible panty lines by choosing a stiffer, thicker crepe or by incorporating seamless shapewear.
Some brides dislike the feel of a thick crepe wedding dress for warm-weather weddings. They may prefer a gauzy tulle or airy chiffon.
If you've decided to go the crepe dress route, make sure to read some tips and tricks below!
What Do You Wear Under a Crepe Wedding Dress?
PC: Eagle Vision Photography
Depending on the thickness of the weave, a crepe fabric wedding dress is flattering, but it may need a little bit of support. Thicker scuba-style fabrics are good for that "shapewear" effect, but thin and medium stretch crepes would benefit from a trusty layer of smoothing undergarments.
Our favorite shapewear styles for a crepe wedding dress are:
Shorts: mid-to calf-length depending on your gown's silhouette.
A Thong or Boy Shorts: good for an effortless summer look.
Tummy Control: these help smooth and cinch in your waist—particularly helpful if your crepe wedding dress is a bit looser and silkier.
A Strapless Front Bra: Great for low-back or illusion-back styles.
A Full Catsuit or Bodysuit: An excellent choice for sleeved wedding dresses and cooler temps.
Make sure to read our blog for a full rundown of undergarments for your wedding dresses!
How To Care for A Crepe Wedding Dress
It's easy to de-wrinkle your gown at home with a low-heat iron, garment steamer, or hot shower method if your crepe fabric wedding dress is made of polyester or stretch elastic. The most important part of the process is prevention. If you store your crepe with care, the less it will wrinkle and crease. When the crepe does wrinkle, here are the best ways to restore its silhouette:
Use a Little Steam: If you have one, a small hand-held steamer is all you need to smooth out wrinkles in crepe.
Apply an Iron on Low Heat. Cotton and synthetic crepe (NOT silk) can typically be ironed on a super low setting. Check your clothing label, test a small area, and proceed carefully. Don't Use the Steam Feature on Your Iron.
Hang the Crepe Dress in Your Bathroom with the Hot Shower Running. This is an easy, gentle way to de-wrinkle your crepe. Hang your crepe fabric wedding dress on a clean hanger (preferably a fabric one; wood and plastic may put too much pressure on your gown's straps), place it on the back of your bathroom door, and turn the shower water on high. Don't put the dress on your shower rod. This is likely too close to the water stream and it may get wet. Run the water for about 20-30 minutes for the full steam effect.
Let the Dress Hang. Once you've steamed or treated your crepe wedding dress, keep it hanging vertically. This lets the steaming set in and prevents the fabric from re-wrinkling.
However You Treat Fabric Wrinkles, Avoid Stretching, Twisting, and Overheating Crepe. Wedding dress fabrics are delicate and sensitive to pressure. If you're not careful with your de-wrinkling, you can end up creating uneven sections of color and texture in your gown.
 After your wedding, make sure to take it to a wedding dress preservationist to make it last for years and years to come! Read our blog on the topic for all the must-knows.
Five Crepe Fabric Wedding Dresses We Love
Now that we've covered all the must-knows about crepe wedding dresses let's dive into some of our favorite gowns in this fabulous fabric!
PC: Fresh New Angle
First up is Fernanda by Maggie Sottero! This minimalist fit-and-flare wedding dress is the perfect choice for brides who love the fabric and love to accessorize! With a personalization option of long-fitted sleeves, you're sure to say "I do" to this dress in your next appointment!
Next up is the Dionne by Rebecca Ingram long sleeve crepe wedding dress. This wedding dress is the perfect combination of sexy and sophisticated. With its clingy fabric, sexy cutouts, and open back it screams sultry. However, pair it with its detachable illusion jacket, and you're ready for a modern, more modest celebration.
PC: Lindsey Maree Photography
Alberta by Maggie Sottero is another chic and gorgeous crepe wedding dress to wear on your big day! This minimalistic gown features all the to-die-for features that modern brides want for their wedding dresses: simplistic fabric, detachable cold shoulder sleeves, and an Art Deco beaded back.
PC: Doug Weitteniller at Twig & Olive
Looking for a sexy and sophisticated wedding gown? Check out Bracken by Sottero and Midgley! This dazzling gown is made perfect with a lace and beaded bodice, open back, plunging neckline, and illusion lace train. To make this gown more personalized for your love story, add detachable off-the-shoulder lace sleeves, and lace trims on the train. For additional coverage, shop Bracken Lynette by Sottero and Midgley instead!
Lily by Rebecca Ingram is another wedding gown that has the perfect combination of simplicity and glamour. With a clean skirt, and a whimsical corseted bodice this dress is a great choice for our chic cottagecore brides! Psst… this dress comes with detachable lace cap sleeves!
The Most Common Questions About Crepe Wedding Fabric
Lastly, let's answer some last-minute questions about crepe wedding dresses! First, are crepe wedding dresses stretchy? In short, yes! The heavier crepe fabric made for wedding dresses is usually more elastic and formfitting! However, if you get the more gauzy and silky kind it tends to be a little less stretchy.
Secondly, do crepe wedding dresses crease? Not horribly! A crepe fabric wedding dress may need steaming when you first pull it out of the closet or garment bag, but its heavier weave helps to keep it in tip-top condition all evening long. The same applies to lightweight crepe. Your wedding dress will need some steaming to look photo-ready, but its crinkly texture helps to disguise new creases as the day goes on.
This all being said, the thinner the weave and texture of your crepe, the more likely it will wrinkle and crease—especially if folded away for long periods. Thicker crepe on the other hand holds its original shape and gives you a better chance of avoiding creases and wrinkles.
And that's it! All the must-have information on finding the crepe wedding dress of your dreams! For more wedding dress tips and tricks, wedding education, and #MaggieInspiration for your big day, make sure to follow our BRAND NEW Reddit Community below!
More Blogs Like This:
The Ultimate Guide To Choosing Your Wedding Dress Fabric
10 Wedding Dress Trends In Maggie Sottero's Spring 23 Collection
10 Simple Elegant Wedding Dresses To Channel Your Inner Starlet