Tips and Trends
|
May 6, 2023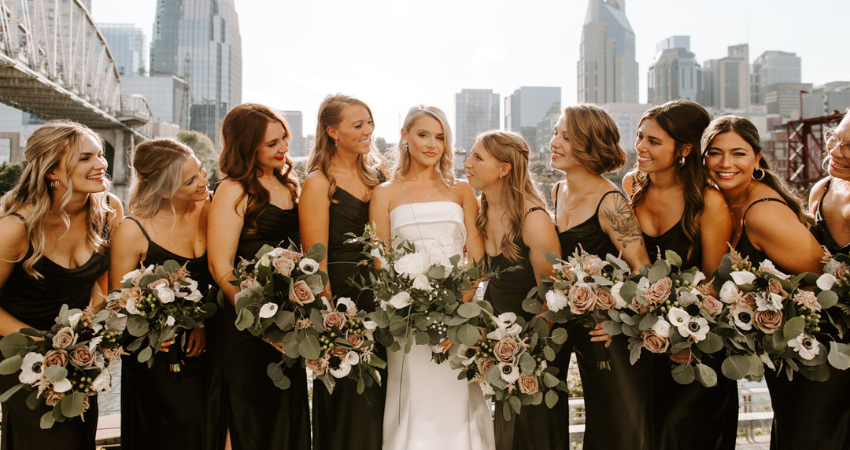 Hey brides! Planning a wedding can be both financially and emotionally stressful. Summer is a popular time to get married, but with the influx of weddings come soaring prices on essential items like flowers, photography packages, catering services, and more. Fortunately, there are some sensible cost saving measures that will enable you to stick to your budget without compromising on elegance or sentimentality as you plan for your special day!
This post will cover five budget-friendly wedding planning ideas couples have used to save money while planning their dream summer wedding. By following these tips and making smart decisions throughout the process, you'll achieve plenty of savings without sacrificing style when it comes time to walk down the aisle!
Before you dive into our expert tips though make sure to sign up for our exclusive Maggie text messages to get more inspo and wedding planning advice!
Cost Saving Measures
Cut Your Guest List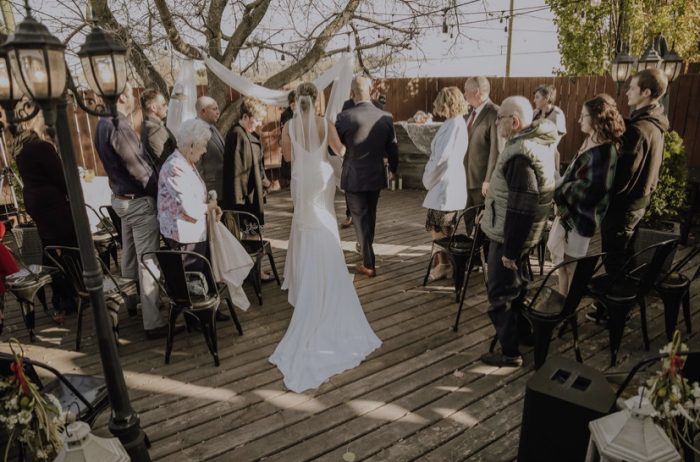 PC: Ashton Rowan
When planning a wedding, you want all your friends and loved ones to share in the joy and celebration. However, remember that each guest adds to the cost of your event! Limiting your invite list to close family and friends will help reduce expenses with catering, decorations, and other aspects of your wedding!
The most effective cost saving solution for reducing your guest list is to allocate a certain number of invitations per family. This way, you can celebrate with all the important people in your life without leaving anyone out.
Psst… Are you a bride who doesn't like the idea of a big wedding at all? No worries! Make sure to read our blog to learn all about micro-weddings and the budget-friendly aspects of them.
Get Creative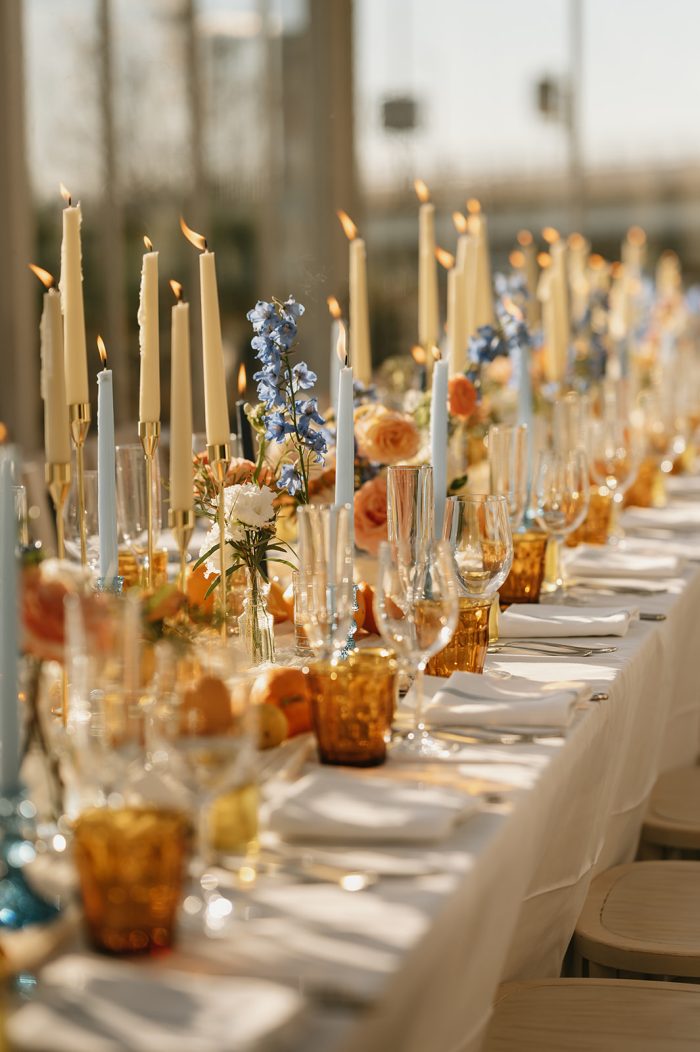 If you're flexible with the vendors you use, don't be afraid to shop around for the best deals! Compare prices on flowers, photography packages, caterers, and more to get the most bang for your buck. Doing a bit of research can help you save hundreds – even thousands! – on your wedding day expenses.
If you're a bride with a creative side, making or thrifting a lot of your wedding décor can also save you a ton of money on your big day. Consider getting crafty with the following ideas:
Make your own bouquets instead of buying overpriced flowers.
DIY or thrift your centerpieces to make a unique tablescape or your guests to enjoy.
Design your own invites! There are many great resources out there you can use to design your own invitations to avoid extra costs from an outside company. If you're feeling really thrifty, consider sending out e-vites instead of paper invitations. Cost-effective AND earth-friendly. What could be better?!
With these wallet-happy ideas, you'll have more room to spend on your dream wedding dress! Make sure to read our blog to get more DIY and thrifting ideas to incorporate into your wedding day.
Create a Budget
On average, couples getting married can spend an average of $29,000. The number is significantly less when you account for the cost of accessories, decorations, and a wedding planner. Having a budget will prevent you from overspending on any item or service.
Creating a budget also helps to prioritize which items are most important to you as a couple. If photography services are high on your list of priorities, you can allocate more funds toward that particular expense! If having your dream wedding dress is your number one priority you can create a budget to allow for that gown! Make sure to take our Style Quiz to find the dream gown for you!  
Getting a loan or using a credit card to finance your wedding is also an option to help you in cost saving. Take time to compare personal loan rates to get the best deal available. The funds you save on interest can then be used to pay for additional wedding day expenses.
Recycle Decorations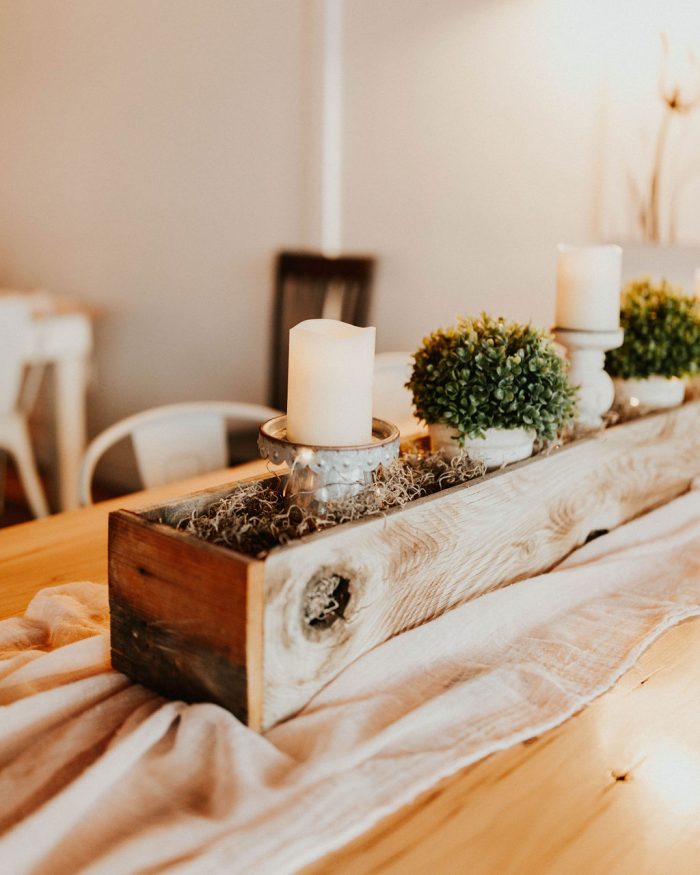 Rather than buying all your decorations from a store, use items from around your home or borrow them from friends and family members to help you in cost saving. Vintage frames, vases, candles, and other decorative pieces can give any space an elegant and timeless look. Just make sure to return the items after your wedding is over.
If you're having a backyard wedding, look for naturally occurring decorations. Fallen branches, wildflowers, and stones are great ways to decorate without spending money.
Get Creative with Food
Your guests will be expecting delicious food at your wedding reception. But that doesn't mean you have to splurge on gourmet catering services. Instead, get creative with food options to cut costs while providing a yummy meal.
For example, you could serve your guests various appetizers or small bites instead of an expensive sit-down dinner. Or opt for a buffet-style meal rather than individualized plates. All these are effective cost saving measures that won't leave you broke.
If you are planning on having a very small wedding, you could even prepare the food yourself with the help of your family members. This would be economical and add a personal touch to the event. For the wedding cake, feel free to forgo the traditional multi-tiered cake and opt for a single-tier cake or cupcakes instead.
Leverage Your Network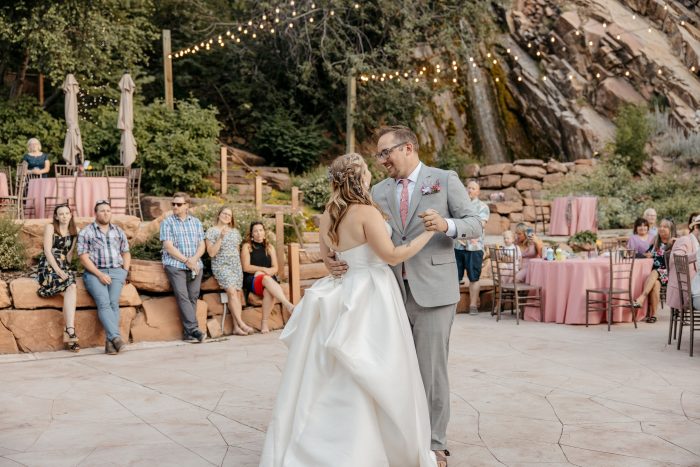 The people in your social circle can help you when it comes to cost saving in wedding expenses. If anyone in your group of friends or family members is a professional photographer, videographer, baker, florist, or DJ – ask them if they'd be willing to provide their services at a discounted rate.
You could also look for vendors who offer free services or discounts in exchange for referrals. Many venues, caterers, and wedding planners may offer a discounted package if you refer them to friends or family members.
Shop Cost Saving Affordable Wedding Dresses
Yes, even getting your wedding dress can be a cost saving measure for your wedding! At Maggie Sottero, our brides happiness is the most important thing which is why we have selection of designer wedding gowns at an affordable price range.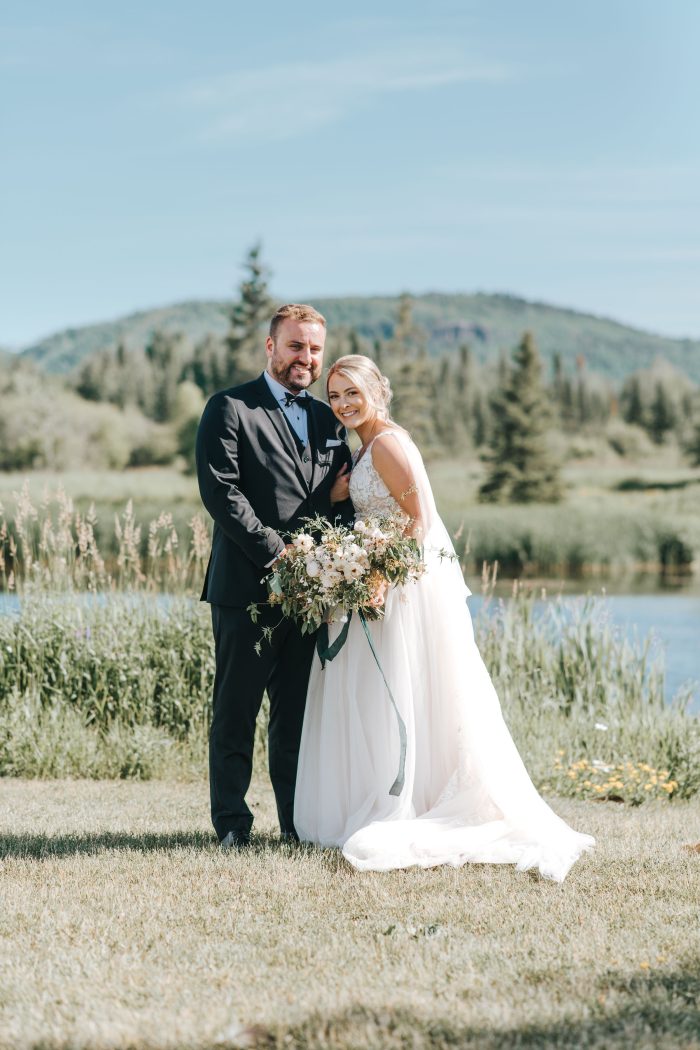 PC: Sarah McPherson Photo
First on our list? Minerva by Rebecca Ingram! This beautiful A-line is not only affordable, but absolutely beautiful as well. With 3D florals, an open illusion back, and flowy fabric, it's hard to imagine you'll find a more romantic option for your wedding day!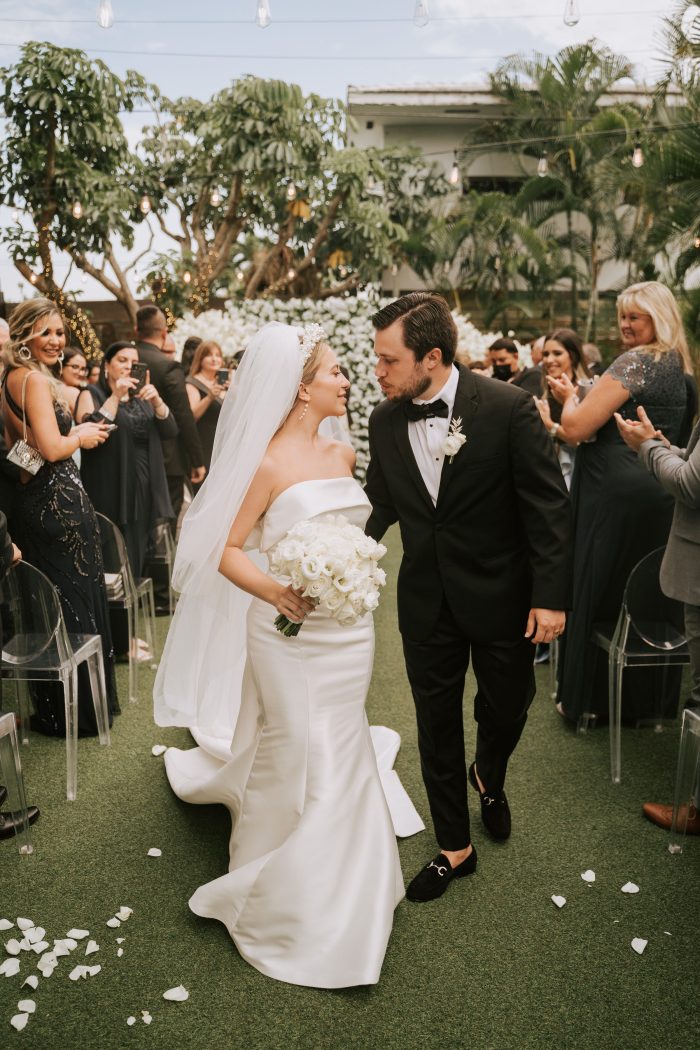 PC: Love Story Films
Next up is Mitchell Marie by Maggie Sottero. This satin mermaid wedding dress is full of elegance and modern simplicity with its strapless neckline and chic construction. If you love this gown but you're looking for something a little different, consider shopping its Sister Style, Mitchell by Maggie Sottero!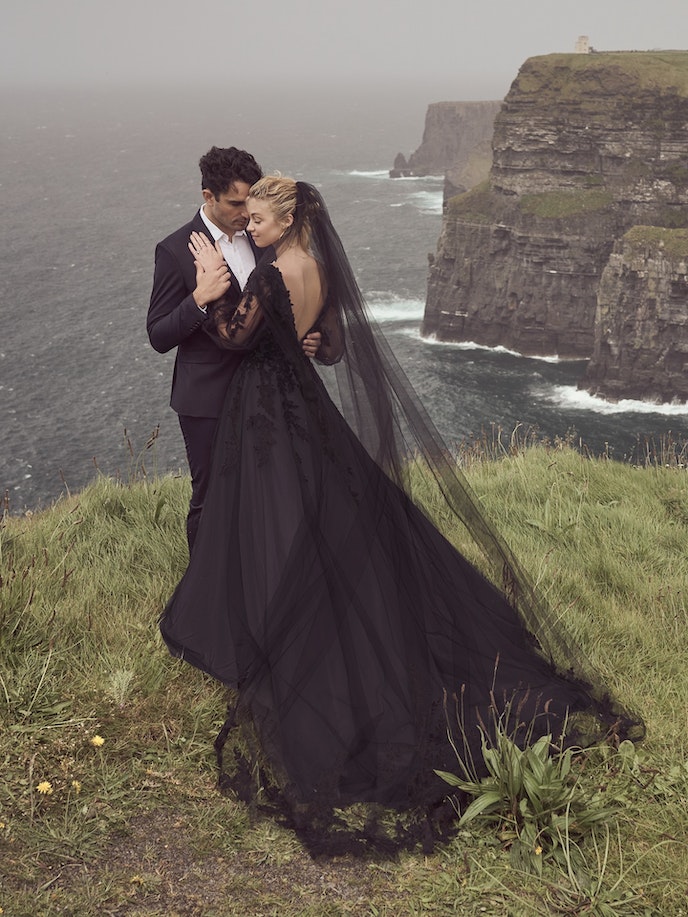 Alexandria is another Rebecca Ingram option that is perfect for our budget-friendly brides who don't want to compromise on romance (or lace!) for an affordable gown. This black wedding dress features many stand-out features including detachable bishop sleeves, a plunging neckline, and a full tulle skirt. On top of all that it is also one of our many Quick Ship gowns so you can get your dream dress on your dream timeline!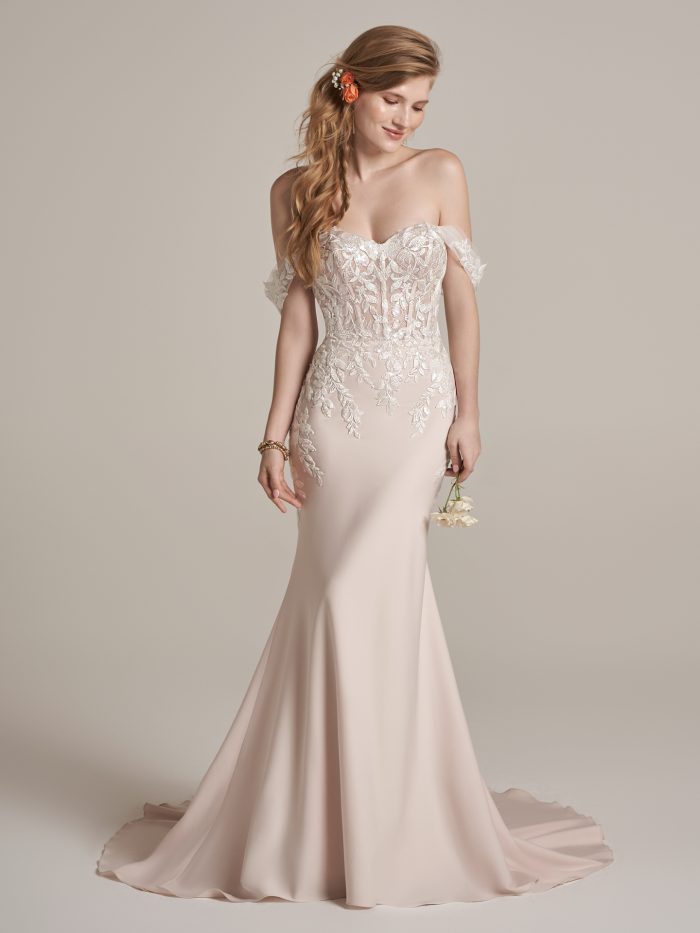 If you are looking for a cost saving wedding gown that leans more towards the comfortable side, consider saying "yes!" to Lily by Rebecca Ingram. This crepe gown is perfect for brides who want a casual, sexy look for an intimate backyard or beach wedding! Psst… If you love Lily consider Sister Style, Lily Lynette by Rebecca Ingram for extra coverage in your gown!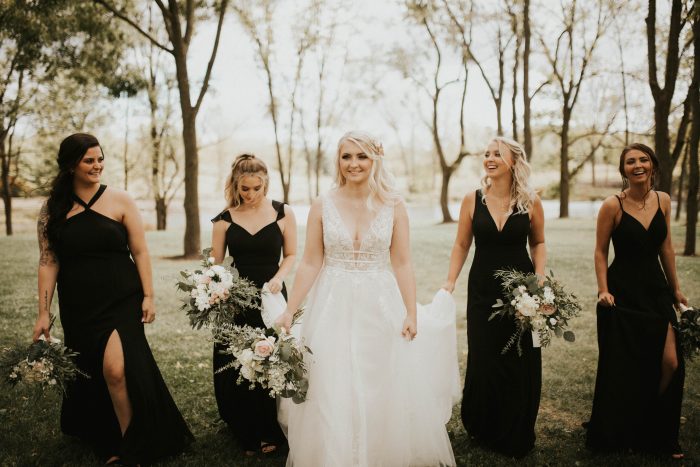 Last but certainly not least, say hello to Raelynn by Rebecca Ingram! This floral A-line is perfect for our Spring and Summer loving brides. With a deep V-neckline and chic straps, it'll be perfect for your budget-friendly wedding!
To see other affordable wedding dress options, make sure to read our blog to see all the beautiful – and cheap – wedding gowns to choose from for your big day!
Just remember: Your dream wedding is within reach! The most important thing to remember when planning a budget-friendly wedding is that you don't have to compromise on quality or style. With a little research and creativity, it's possible to create the perfect wedding day on a budget. And with careful planning, you can have the wedding of your dreams without breaking the bank!
For more wedding planning tips, make sure to follow our Socials below for the best inspo and read our blogs below so you can have the wedding of your dreams!
More Blogs Like This:
How To: Find Wedding Dress Boutiques Near You
How Much Do Maggie Sottero Wedding Dresses Cost?