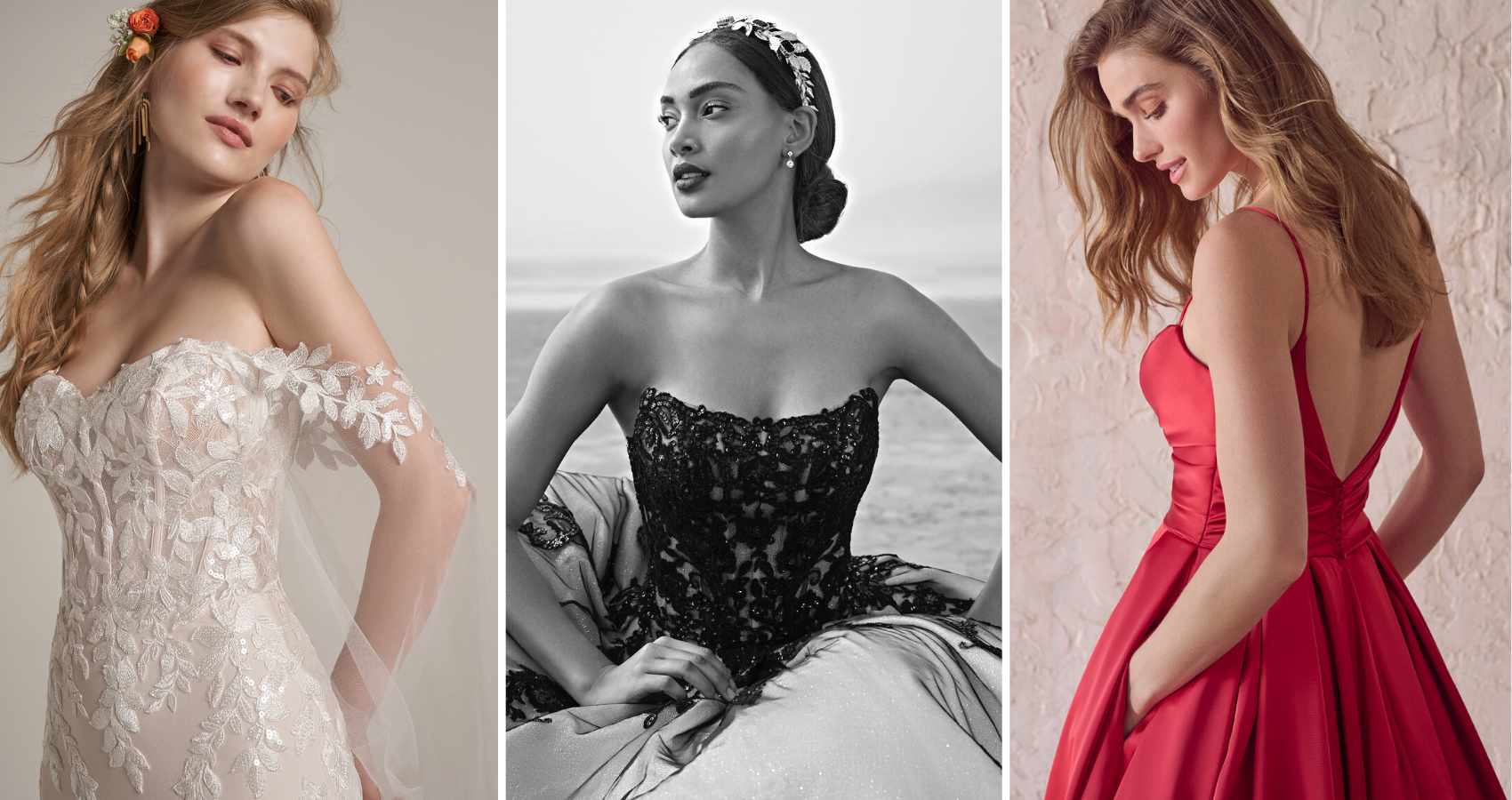 Hi brides! Maggie here! We hear you're looking for the perfect pop of color for your wedding day. Well, you've come to the right place. You might think florals and linens are the only ways to incorporate color into your wedding, but its 2022, and colorful wedding dresses are so in!
Before we get into the gorgeous bridal gowns in color we have to share with you, take our Style Quiz, and Pin these gowns for later!
What are colorful wedding dresses?
In recent years, we've noticed that brides are looking to go beyond the traditional ivory or white gowns and dress in fabulous colored wedding dresses! Brides have the option to personalize the color of their dress with certain styles, like Scarlet by Maggie Sottero. This gorgeous style comes in Diamond White, Red, and now Black! Want to see this colorway in action? Check out our TikTok featuring this show-stopping dress.
Now, let's look at some colorful wedding dresses!
Bold Black Wedding Dresses
PC: Anna Delores Photography
Lately, we're OBSESSED with black wedding dresses, and Zander by Sottero and Midgley is one of THE most popular styles out there! This sexy black ball gown is breathtaking and sure to wow on your wedding day! This gown is part of our Quick Ship program to support our brides with fast-approaching weddings. Did we mention Zander has a matching veil? So swoon worthy! Take a look at how amazing this Real Bride looks in Zander!
Norvinia by Sottero and Midgley is another one of our fave black wedding dresses! This regal ball gown features black lace that will have you feeling like royalty on your big day. Want to personalize Norvinia for your love story? Add buttons down the back or opt for its Sister Style Norvinia Lynette.
If you're looking for more fairytale-inspired wedding dresses, check out our blog!
Are you more of a mermaid bride? London by Maggie Sottero is THE look for you! This colorful wedding dress features shimmery black lace and sweet, off-the-shoulder sleeves, perfect for making a statement on your wedding day. Personalize this gown for your love story by changing the sequin tulle to texture tulle or Chantilly lace or add buttons down the back! This dress also has a matching veil to enhance your bridal look!
PC: Stine Heyerdahl Photo
For an unconventionally chic look, go for Tristyn by Maggie Sottero, a black lace ball gown that also comes in ivory and champagne options! This gorgeous gown is meant for romantic, gothic weddings, so if that's your vibe, this dress—and its matching veil—is for you! Just look at this beautiful Real Bride wearing Tristyn—incredibly dreamy, right?
Last, but certainly not least in our list of black wedding dresses, is Elaine by Maggie Sottero. This gorgeous art deco colored wedding dress comes in several colorways, including Black over Blush. If you're looking to live out your extravagant Gatsby party dreams, Elaine is undoubtedly the one for you! This Real Bride looks stunning in Elaine!
Sultry Red Colorful Wedding Dresses
Since red is SO in, one of our top bridal gowns in color is Scarlet by Maggie Sottero. This absolute show-stopper is a satin A-line gown that exhibits the most regal of vibes. In Red, Black or Ivory, Scarlet is simply destined for brides seeking drama (the good kind!) on their wedding day. Personalize this gown for your love story by extending the train or adding a thigh-high slit!
Alera by Sottero and Midgley is the perfect example of a statement wedding gown in red. This vintage-inspired A-line is just one of our wedding dresses with color, but it is a popular choice among our most chic brides! To personalize Alera, extend the train or opt for its detachable bow for added drama, sold separately. Looking for more simple, elegant options for your wedding day? Be sure to read out blog on channeling your inner starlet through your wedding dress!
Romantic Blush Bridal Gowns
Who doesn't love pink? Who doesn't love colorful wedding dresses? For brides who want to incorporate subtle color into their wedding day look, blush bridal gowns are the way to go!
Lily by Rebecca Ingram is a perfect example of a beautifully whimsical bridal dress featuring just a hint of color. It's sweet, boho, and ready for an enchanted garden wedding, with its floral lace motifs, exposed boning bodice, and delicate, off-the-shoulder sleeves. You can make this look truly your own by shortening the train or opting for a different sleeve type, like Lily's off-the-shoulder cap-sleeves, off-the-shoulder long sleeves, or detachable spaghetti straps.
Want more coverage? Lily's Sister Style Lily Lynette offers just the right amount!
Albany by Maggie Sottero is another example of pure romance in the form of a bridal gown in color! This nature-inspired gown features a to-die-for square neck that we absolutely LOVE. The stunning Ivory over Blush colorway provides just enough color to make Albany's dreamy lace motifs pop. You can personalize this gown by changing the beaded tulle to plain or sparkle tulle, adding buttons down the back, or lining the bodice. If you want even more drama, its matching detachable train is available in sparkle, beaded, or plain tulle to fit your preference.
PC: Rebecca Ashley Photography
When it comes to wedding dresses with color, Hattie by Rebecca Ingram never fails to excite! This dress is destined for the mermaid-style bride who loves wedding dresses with color! With colorways including Ivory over Blush, Ivory over Misty Mauve, and Ivory over Mocha, brides can choose the best color for their skin tone. Not only is Hattie suited for the spotlight, this dress has several Sister Styles for brides to choose from, including Hattie Lane, Hattie Marie, and Hattie Lynette.
Pair any of these fabulous variations with the Faye veil for extra splendor. Want to know the best part? Hattie is one of our beloved Quick Ship styles! If you're a bride walking down the aisle soon, our Quick Ship gowns are the perfect way to wear the dress of your dreams without the stress of tight timelines. Getting married on the beach but want more inspo? Read our blog on sexy beach wedding dresses! Now, marvel in the beauty of this lovely Real Bride wearing Hattie.
PC: Margan Photography
If purely boho is more your vibe, Roxanne by Sottero and Midgley is the boho princess colored wedding dress of your dreams. This gown comes in the Ivory/Pewter Accent over Soft Blush or Ivory/Pewter Accent colorways and features allover sequin lace, a deep V-neck and V-back, and pockets! Roxanne is without-a-doubt the perfect match for boho brides, and it's part of our Quick Ship program, suitable for brides with upcoming weddings. Doesn't this Real Bride look regal in Roxanne?
Multi Colorful Wedding Dresses and Accessories
Are you a cottagecore-inspired bride? If so, Nerida by Sottero and Midgley was designed for you! This dreamy, colorful wedding dress features soft tulle, a fully lined bodice with asymmetrical ruched tulle, a V-neckline, and beautiful off-the-shoulder bishop sleeves. Nerida is as unique as you are. If you're looking for a more casual look, remove the train, or add buttons down the back for a more elevated look.
If the color hasn't convinced you enough, take a look at how this gorgeous gown moves below!:
If you're searching for colorful wedding dresses with vintage-inspired lace, look no further. Louisa by Maggie Sottero is a sweet, sophisticated, simple style with beautiful green 3-D petals. Louisa's matching garden-inspired cathedral length bridal veil adds to the whimsical vibes of the dress. Personalize this gown for your wedding day by adding its matching detachable sleeves.
The trend of colorful wedding dresses doesn't get any better than Kenleigh by Sottero and Midgley. This ultra-unique trumpet wedding dress features colorful floral lace motifs that are delicately charming. Opt for its matching veil or add buttons down the back for a more elevated look.
If you've found the dress of your dreams but want accessories that add color to your look, the Lavinia fingertip veil, chapel veil, and detachable train are beautiful accessory options accented in 3-D flowers that look exception in ivory or color.
We hope that you're feeling inspired by these colorful wedding dresses and accessories! We can't wait to see you shine on your special day.
Be sure to follow our socials to keep up with Maggie online!
For more inspo for your wedding, check our more of our blogs.
What Wedding Dress You Should Wear Based on Your Zodiac Sign
15 Trendy Wedding Dresses From Maggie Sottero's Fall 2022 Collection
6 Black Wedding Dresses To Feel Beautiful & Bold In On Your Wedding Day