Real Weddings
|
April 2, 2018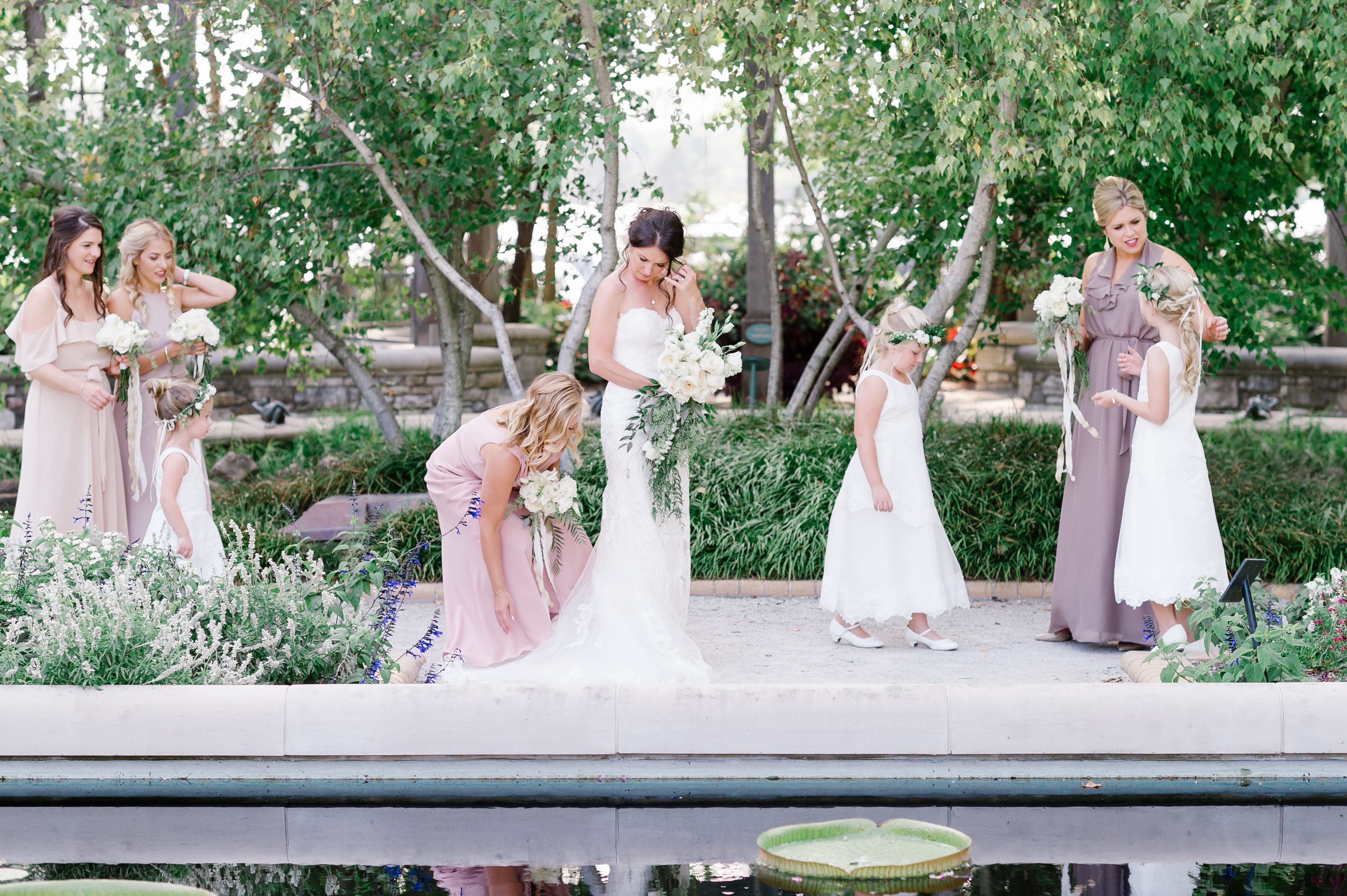 Rebecca Ingram bride Sarah wanted to create a timeless and effortless wedding look, so she focused on romantic lace, fresh greenery, and a sunny outdoor setting. We especially love that the couple celebrated at the Indianapolis Zoo—it gives everything a warm, classy, and sophisticated vibe. Keep scrolling for the full gallery courtesy of Stacy Able Photography!
Love Sarah's soft lace fit-and-flare, Sandra by Rebecca Ingram? Head to a boutique near you to experience our latest budget-friendly stylesbudget-friendly styles.
Which Maggie Sottero Designs gown did you wear?
Sandra by Rebecca Ingram, purchased at Bridal Superstore in Indianapolis.
How did you find "the dress"?
Online!
What was your favorite part of the dress?
The back cut out lace and the irregular sweetheart neckline.
How did you and your partner meet?
On "Plenty of Fish."
How did he propose?
He proposed in our kitchen. He had an elaborate plan to propose around Christmas on a hike to a 90-foot waterfall, but we were iced out a mile away! So he put a GoPro on the refrigerator, handed me flowers, and said "I have something else for you." He got down on his knee and proposed right before all our friends were coming over for New Years! Unexpected celebration party!
Where did you get married?
White River Gardens at the Indianapolis Zoo.
Did your wedding have a theme?
Greenery.
How did you decide what you wanted your wedding to look like?
I love simple and beautiful, so I wanted something timeless.
What was your favorite wedding day moment?
Getting announced and getting to walk down the aisle together… Looking down the aisle at him surrounded by everyone who loves you both 🙂
Describe your wedding in one word.
Effortless.
What advice do you have for future brides?
Don't over complicate what you want to accomplish!
Vendors for the Occasion: Stacy Able Photography / JW Marriott / Indianapolis Zoo / Eddie Curry Officiant / Southern Sky Floral Design / Centerplate Catering / Mike Campbell DJ / Ceremony Music:Elizabeth Ahlgrim and Kathy Hershberger / Bella Bridesmaids / Groom's Attire: Nancy's Bridal and Formal/ Heavenly Sweets Cakes / JL Johnson Rings / Vera Wang Shoes / Vera Wang Shoes / AmeriPRESS Printing Invitations / Cait Albaugh Hair / Kelsi Painter Makeup