Tips and Trends
Wedding Inspo
|
May 5, 2022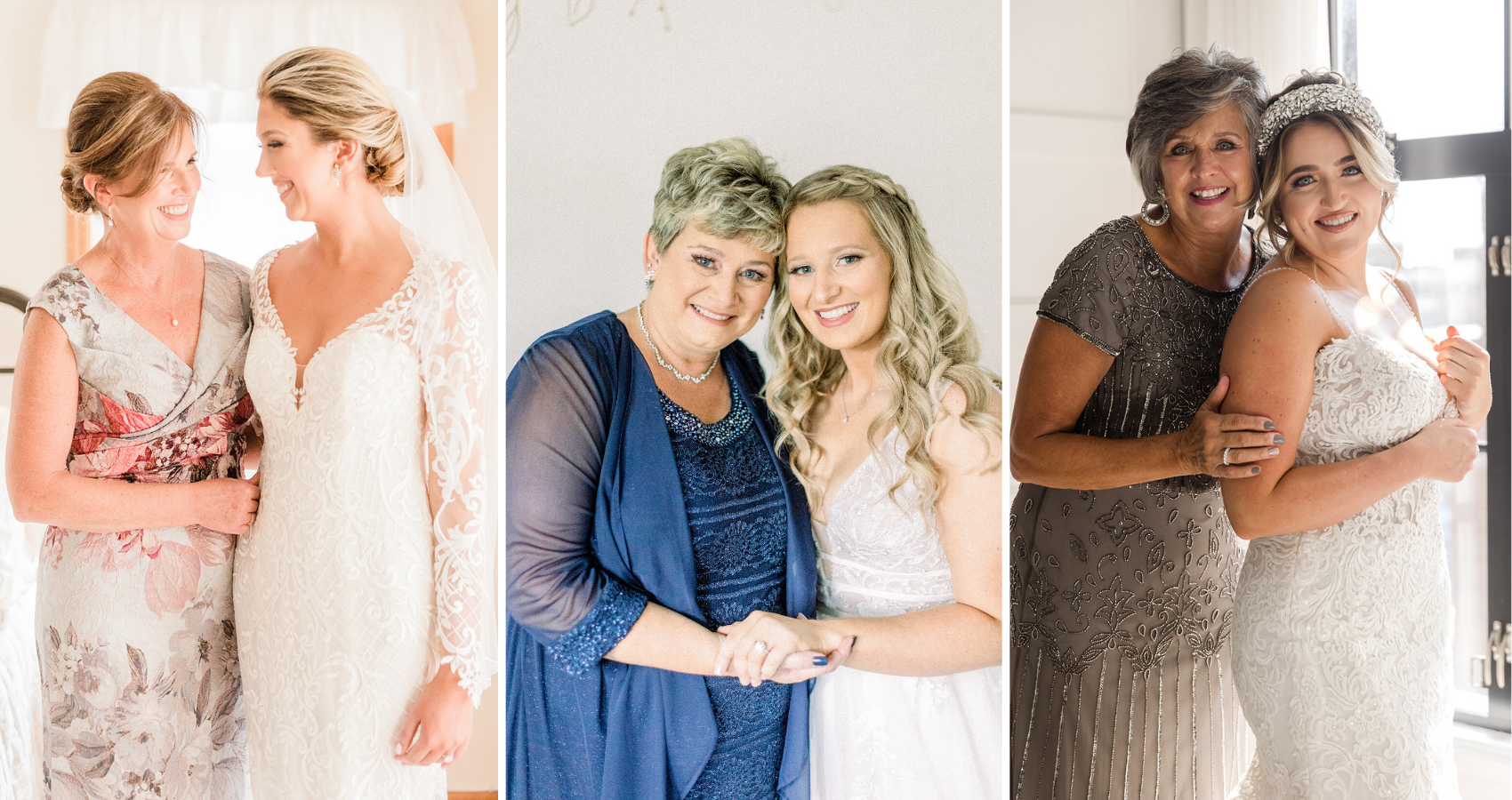 Hey bride! Before we get into all the sweet and thoughtful ways to celebrate the Mother of the Bride (and other special women) on your wedding day, make sure you remember to wish them a Happy Mother's Day! Your day may be all about you and your partner, but it's important to remember to celebrate the special women in your life as well that day. From incorporating a special piece of jewelry or clothing, to setting aside time in the ceremony, to asking your mother to walk you down the aisle, to all the ways you can sync up before the wedding, here are all the perfect ways to include your mom (or your sweetheart's) in your chic and happy nuptials.
A little note from our team: "Mothers" can mean a lot of things, of course… Any motherly figures, same-sex parents, sisters, step-moms, in-laws, friends, and generally inspiring women in your life can be included. We've also added ideas for honoring mothers and grandmothers who have passed. Whatever the journey, it's important to celebrate those you love.
Start incorporating your mother-figure in your life right off that bat by taking our Style Quiz with them!This serves up gorgeous wedding dress inspo you can apply to all style aspects of your wedding: your bridal look, your MOB and bridal party dresses, your venue, and the look and feel of your celebration.
Then, browse our New Arrivals together to see some of our new favorite wedding dresses and Find An Authorized Retailer near you to get your mom and bride shopping day on!
P.S. If you want more tips and tricks and #MaggieInspiration for your big day, make sure to sign up for some exclusive text messages below:
Now, on to ways to honor the Mother of the Bride!
Include the Mother of the Bride in Wedding Dress Shopping
PC: Kyla Jeanette Photography
From the get-go of getting engaged, it's important to include your MOB in your most important planning milestones. And whether your mom is super hands on or a little shy to get involved, wedding dress shopping is the perfect chance to show her that her opinion counts.
Of course, some moms may be extra opinionated about gown styles. If that's the case, don't panic. Get your bridal party on board and assign your most trusted friend to steer the conversation. (Your expert bridal stylists are also great at mediating commentary.)
Be sure to make it an occasion! Meet up with your MOB before the gown shopping appointment for brunch or coffee, or relax and unwind after with a movie and dinner date.
Make Gown Shopping a Personal Experience for Her Too
Keep the happy vibes going by taking your mom shopping for her dresses for the mother of the bride. Make it an occasion even if you're ordering online. Set up a light breakfast with sparkly drinks, invite a couple of besties over, put on music, and get scrolling! (Pinterest is always a great place to start.) 
Get Her in on Party Planning
PC: Jessa E Photography
It's important to invite your mom to be part of the fun pre-wedding stuff, even if it's just a few simple ways to acknowledge or include her in planning. If it works for your planning, have your Maid of Honor include the Mother of the Bride in the bridal shower, bachelorette party, and engagement party. And of course, ask her to help you with wedding planning!
Give a Thoughtful Gift to the Mother of the Bride
PC: Jen Larson Photography
A personalized handkerchief. This can make a sweet heirloom keepsake she'll treasure forever.
A classy picture frame she can use for your wedding photos. This is a simple yet thoughtful gift, no crazy prep necessary.
Jewelry to go with her day-of dress — think an elegant pair of earrings or a keepsake locket. (Or for an especially generous gesture, you could purchase the MOB gown for her.)
A handwritten "thank you" letter. Express your love and appreciation for her help and guidance, and be sure to include an extra note from your sweetheart.
A monthly wine, tea, or coffee subscription. This is a surprise gift that's sure to delight. She'll think of you every time she gets a delivery.
A gorgeous Etsy print featuring you in your wedding dress and your mom in her gown. This Etsy vendor has tons of options to create your one-of-a-kind portrait.
A scrapbook of childhood memories with a space for your wedding photos. This is an ultra-personalized idea for DIY brides. You can put it together with your Maid of Honor before the wedding!
A comfy robe for the getting-ready morning. Need we say more?
A spa day or brunch date. If you plan it before the wedding, this can help you relax and set the tone for celebration. After the wedding, this is a sweet way to wind down and reconnect with each other.
Celebrating the MOB on the Day of the Wedding
PC: Alexa Nahas Photography
Get ready with the MOB. Whether she loves to be part of the getting-dressed chaos with the bridesmaids or prefers something more lowkey, it's easy to give her a spot in the day-of ritual. Pamper her to a hair and makeup session, take some photos together, and be sure to tell her how nice she looks!
Set aside time for a walk, gift exchange, champagne toast, prayer, breathing exercise, or letter exchange with your mom. This will help you both relax and connect before all the guests arrive. (The same goes for any of your parental figures or guests of honor.)
Ask your mom to walk you down the aisle. It's a nontraditional approach you're sure to both love. (And makes a lovely photo op.) It's also especially meaningful if your mom raised you on her own or if your other parent has passed. (You can also ask both parents to escort you if available.)
Take some inspo from this bride wearing Olivia by Rebecca Ingram who had her mother walk her down the aisle!
Incorporate Her Wedding Day Look Into Yours
PC: Tetiana Photography
Wear something of hers on your wedding day as your "something borrowed." You might have jewelry, a hat, a veil, or an engagement ring… Whatever you choose, it's a thoughtful way to honor her style and history.
Incorporate a part of her wedding dress into your bridal look. This is great if your mom's gown is a bit out-of-date, damaged, a different size, or already worn by another family member for their wedding. Some ideas:

Make a necklace out of some of the lace
Wrap a swatch of fabric around your bouquet
Make your garter out of a piece or embellishment
Sew a heart-shaped swatch into your gown.
Dance with your mom! Invite her out to boogie with you and your sweetheart or your bridal party.
Make a special toast to her, or ask her to give a speech or toast. Moms don't get tons of speech time in traditional wedding setups; now is the time to buck tradition and give her the spotlight.
Give her your bouquet instead of tossing it. If she's extra crafty, she'll love to preserve, press, or mount the flowers in a frame or shadow box.
Honoring the Mother of the Bride Who Has Passed
PC: Hayley Moore Photography
Arrange photos and keepsakes on a memory table. You can include other important women as well: grandmas, aunts, family friends, in-laws, and mentors can all be part of the display.
Light a memorial candle for the ceremony and keep it lit for the reception. This is an easy way to include your guests and honor those who have passed. (For longevity, be sure to get photos. You can also save the candle as a keepsake.)
Have a moment of silence during the ceremony or reception toasts.
Reserve a seat in the front row to honor her during the ceremony.
How do you plan to include your mom(s) for your wedding day? However small or big your celebration is, or whether your mom is near or far, there's always a way to celebrate your MOB. We can't wait to see what inspires you!
Ready to call your mom and start shopping? Find A Boutique near you to book your appointment to find the dress of your dreams. (Or dresses for the mother of the bride, of course.)
You can also browse more real wedding inspo from our brides and their guests on our Share Your Wedding | Maggie Sottero page.
For more tips, tricks, and inspiration, sign up for our Newsletter!
And here are more blogs to inspire your shopping and planning:
Happy shopping and best wishes! Say hi to your mom!