Events and Boutiques
Our Heart
|
May 11, 2023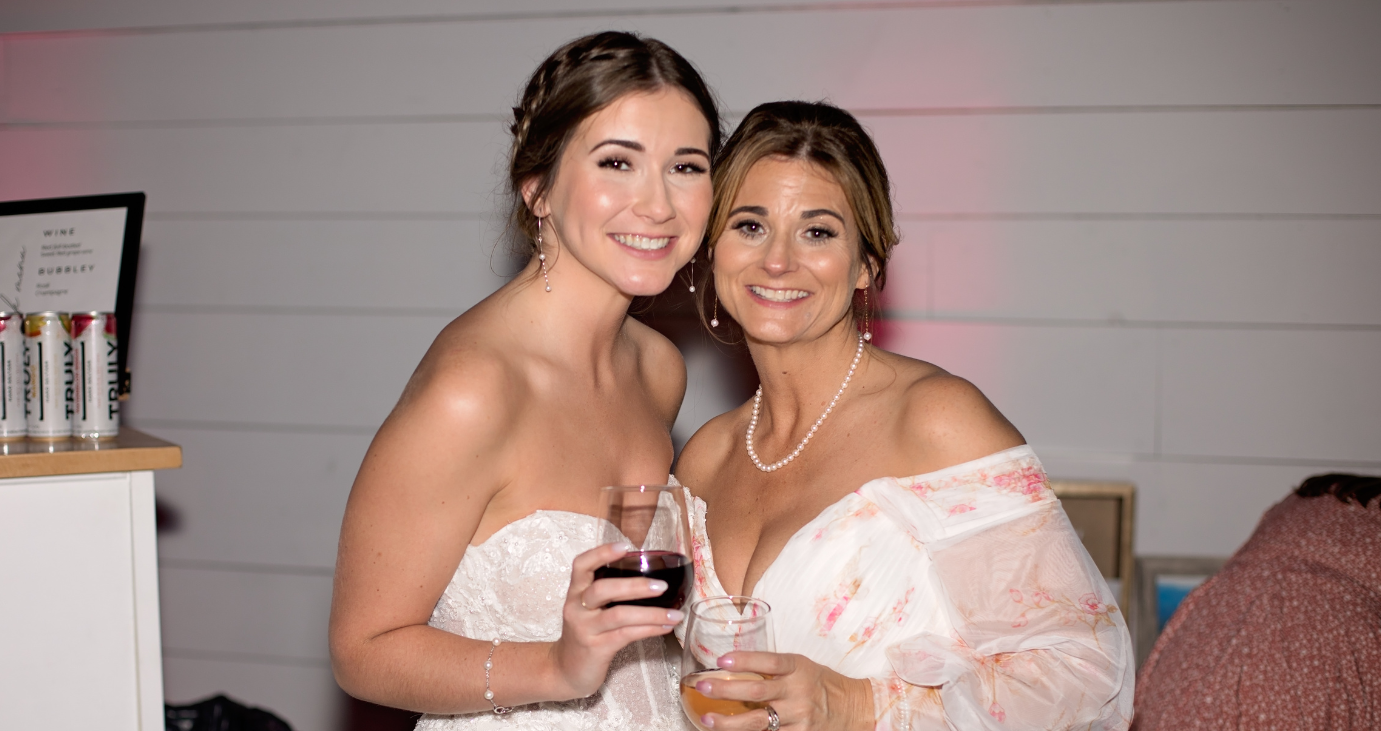 Happy Mother's Day brides and moms! As we celebrate all the mothers (and motherly figures) out there today, we wanted to take a moment to share a Real Maggie Bride and her mom's story (and some of the gorgeous gowns they wore!). Your day may be all about you and your partner, but it's important to remember to celebrate the person who loved you right from the start – Mom! Before you dive into this Mother of the Bride's story with her daughter, make sure to sign up for our exclusive Maggie text messages to be in the know about all things bridal!
Now, say hello to our lovely mom-and-daughter combo, Amy and Hope of Simply Blush Bridal!
Hope, what wedding dress(es) did you wear and why?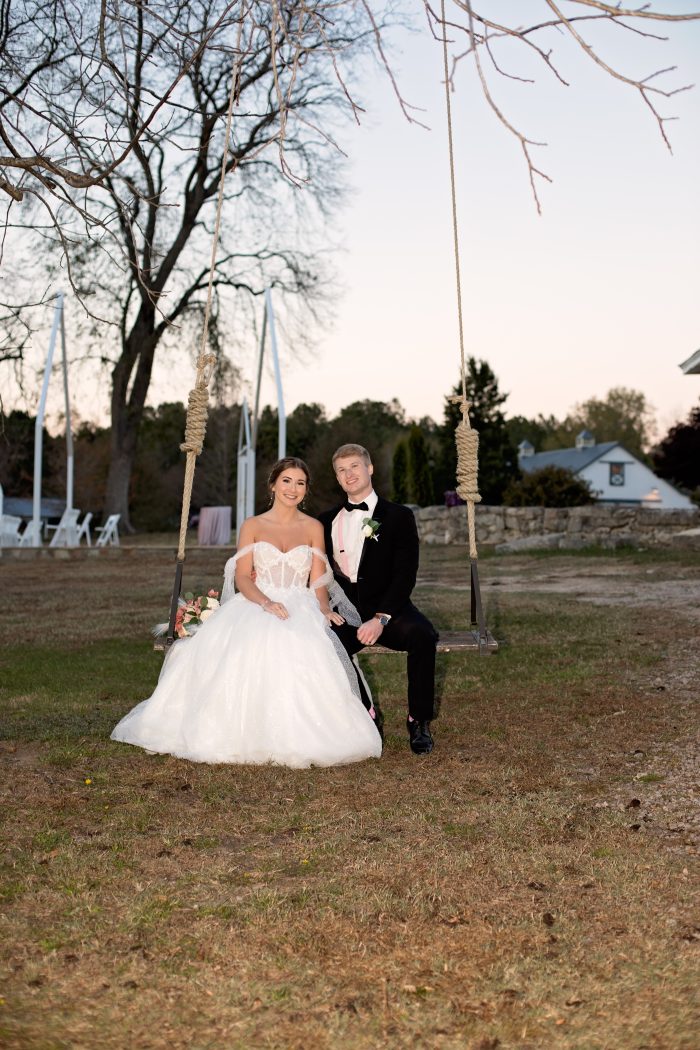 "The first gown was Nikki by Maggie Sottero. I chose this dress because it made me feel beautiful and has the perfect amount of detail for our outdoor fall wedding!"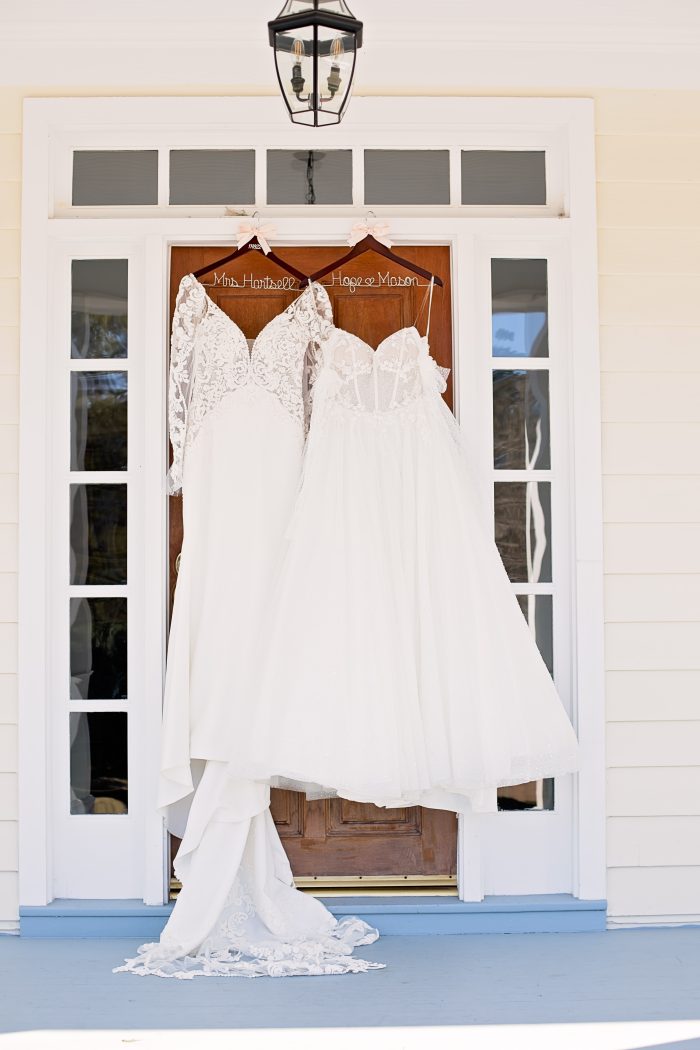 "I also chose a second gown for my reception. Shasta by Sottero and Midgley was the perfect choice because it's such a fun gown that was fun to dance in!"
Psst… Wardrobe changes are all the rage this year! Make sure to read our blog to see more reception wedding dress ideas!
Amy, what Mother of the Bride dress did you choose and why?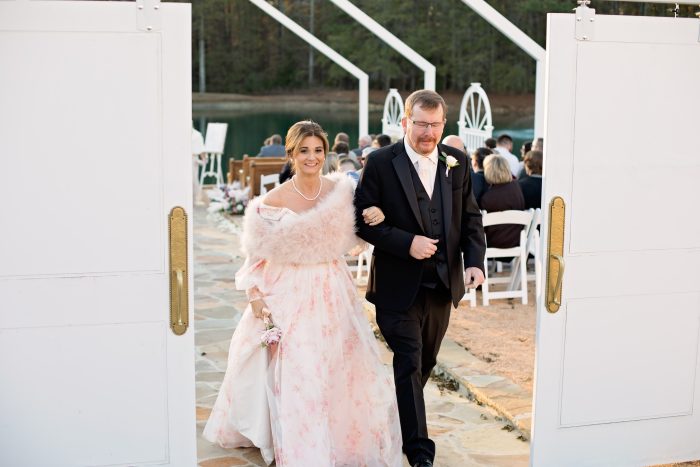 "I chose the Nerida by Sottero and Midgley gown or my Mother of the Bride dress because I had a vision in my head of what I wanted my dress to look like, and when I saw the Nerida images and I knew it was exactly what I wanted. I can't pick one favorite detail, because, for me, that was the perfect dress! There are so many things to love about it from the way the bodice is constructed, to the ruching, to the floral print and thigh-high slit!! Total perfection!"
Yes, that's right! Our gowns aren't just made for brides, they are perfect for any celebration where you're looking to celebrate love. Take a look at a few of our other colorful gowns for more unique inspo!
Hope, what was it like shopping for your wedding dress with a mother in the field?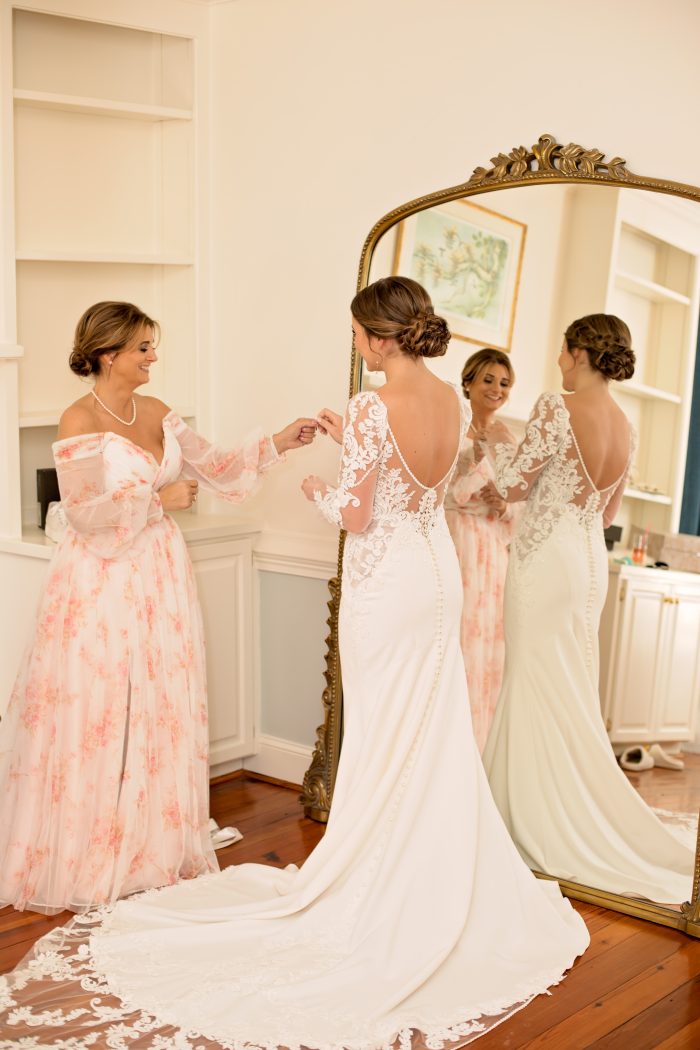 "It was very helpful to have a mother with experience in the bridal gown world because she knew how to listen to exactly what I wanted in a wedding dress. She listened to me as I tried on various dress styles and worked closely with my bridal consultant to narrow down what she knew I would be comfortable in and also highlight my favorite features!"
"My appointment was in the original bridal boutique location in Zebulon while the Wendell location was still under construction. My mother was disappointed at first since the appointment couldn't be held in the new larger building, but I loved it for so many reasons. I thought it was very sentimental since their first store has grown so much since their first day back when I worked there over the summers with my roommate Madison."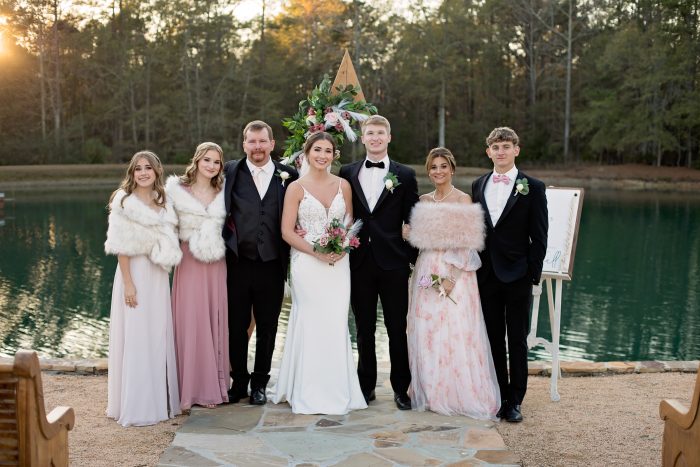 "My now husband and I also cherish our memories at the Zebulon location when the walls weren't finished yet and we walked around writing verses and encouragement on the wooden beams with Amy and Tracy."
"I was so overwhelmed with all of the styles and fabric types so it was helpful to stick with one boutique that had everything in one place! My mom knew which accessories matched everything including my veil with my first dress. It meant a lot to have my mother by my side supporting me along with my mother-in-law and best friends. This day really set the tone for all of the happy wedding festivities following my 'say yes!' moment that was so full of love."
Amy, how were you involved in the wedding planning process? And what was it like seeing your daughter on her wedding day?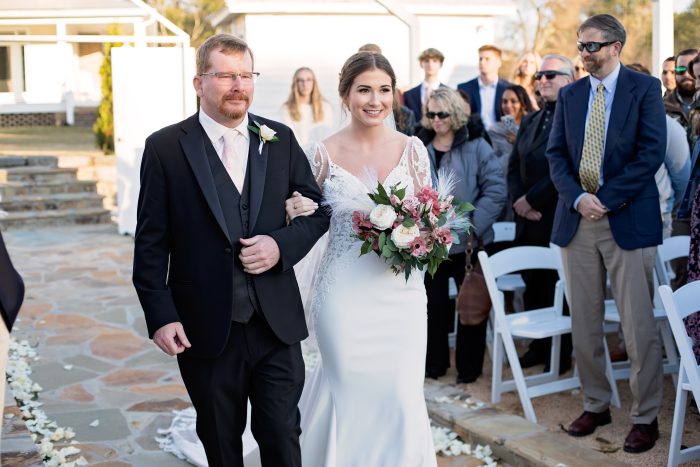 "I was the one with the binder! I wanted every detail to be exactly what Hope wanted (with a little of my wants sprinkled in as Mother of the Bride!). I went on the venue tours with her, rental appointments and meetings with the wedding planner, and researched all the vendors."
"And it was like nothing I had ever expected! I had expected to feel sad-my little girl was growing up and moving on with life, but seeing how happy and confident she was, filled me with such joy, love, and peace for her."
"Seeing her and her husband walk down the aisle was my favorite part really. As a mom, that was a moment that I had always dreamed about. I'm pretty sure all of our guests and the bridal party were in tears, except Hope and me. She was so happy and excited to be marrying Mason and in that moment all I could feel for her was pure happiness and joy!"
Amy, what advice do you have for any future Mother of the Brides to prepare for the wedding day?
"Taking time to relax and getting ahead on planning are my biggest pieces of advice. Because of all the work and planning that had gone into her wedding day, we were both able to relax and actually enjoy the wedding day. Knowing that we had chosen a team to make our dreams a reality was the best decision! Make sure to plan ahead but be ok if something does not go as planned; just enjoy this time with your daughter!"
Hope, how did you include your mom and make her feel special on your wedding day as Mother of the Bride?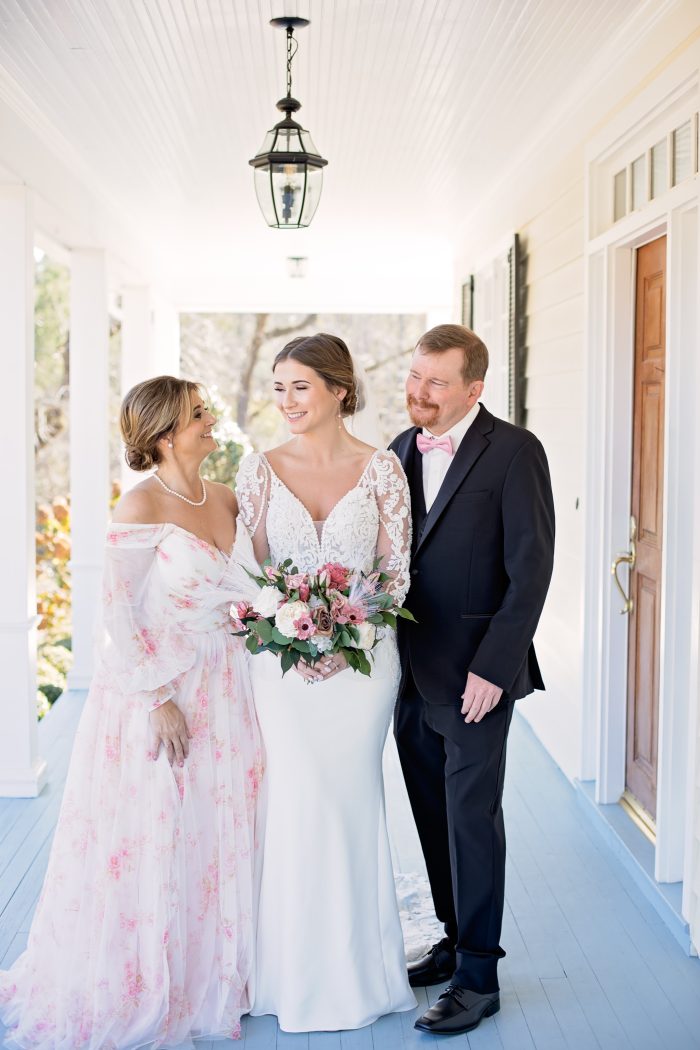 "My mother and sisters helped me get into my wedding dress on my big day which was so memorable. It was such a special moment because we are all so close and I was the first daughter to get married in my family. Having them by my side helped calm my nerves. I also asked my mother to be with my father and me during our first look because it felt more complete with us all together. She also helped me create the custom tie I presented to my father during our first look."
How are you planning on celebrating Mother's Day now that Hope is married?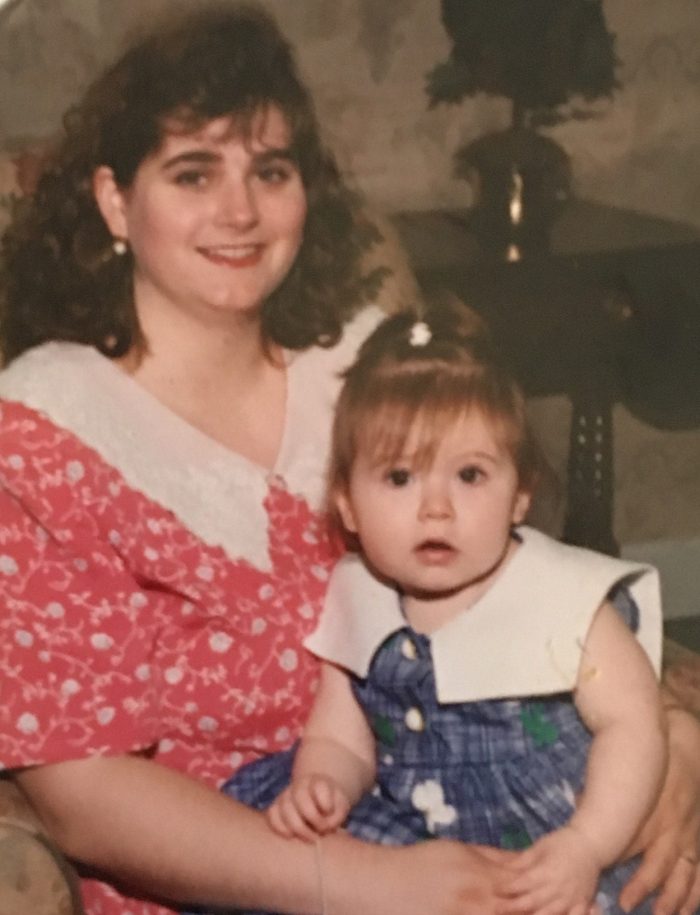 Hope: "Thankfully my next travel nursing contract doesn't start until the day after Mother's Day so we will celebrate with my mom's favorite Sunday activities! After church, we will go to lunch with our family at Raggazzis and make sure she gets her required Sunday nap with her furry grandchildren."
From her days in diapers, to her moody teenage years, to sharing her war stories of late nights at the nursing station, Hope and Amy have always been close and that's why we are so excited to celebrate this Mother of the Bride and Bride combo!
If you're a bride and mother looking for their gowns, consider shopping at Simply Blush Bridal in Wendell, NC! A cute-as-can-be boutique that's been in operation for 5 years and was crated to give all brides the love, attention, and details they desire! When you enter this bridal boutique you'll find Amy and her business partner, Tracy's, hearts front and center!
If you're not in North Carolina, make sure to book your bridal appointment at any of our other fantastic Authorized Retailers all around the world!
Happy wishes and makes sure to read our other blogs for more bridal inspo!
More Blogs Like This:
10 Ways To Celebrate The Father Of The Bride On Your Wedding Day
How To: Find Wedding Dress Boutiques Near You
Celebrating Black History Month: 6 Black Owned Businesses for Brides to Support
All photos courtesty of KStars Photography.