Tips and Trends
Wedding Inspo
|
June 18, 2023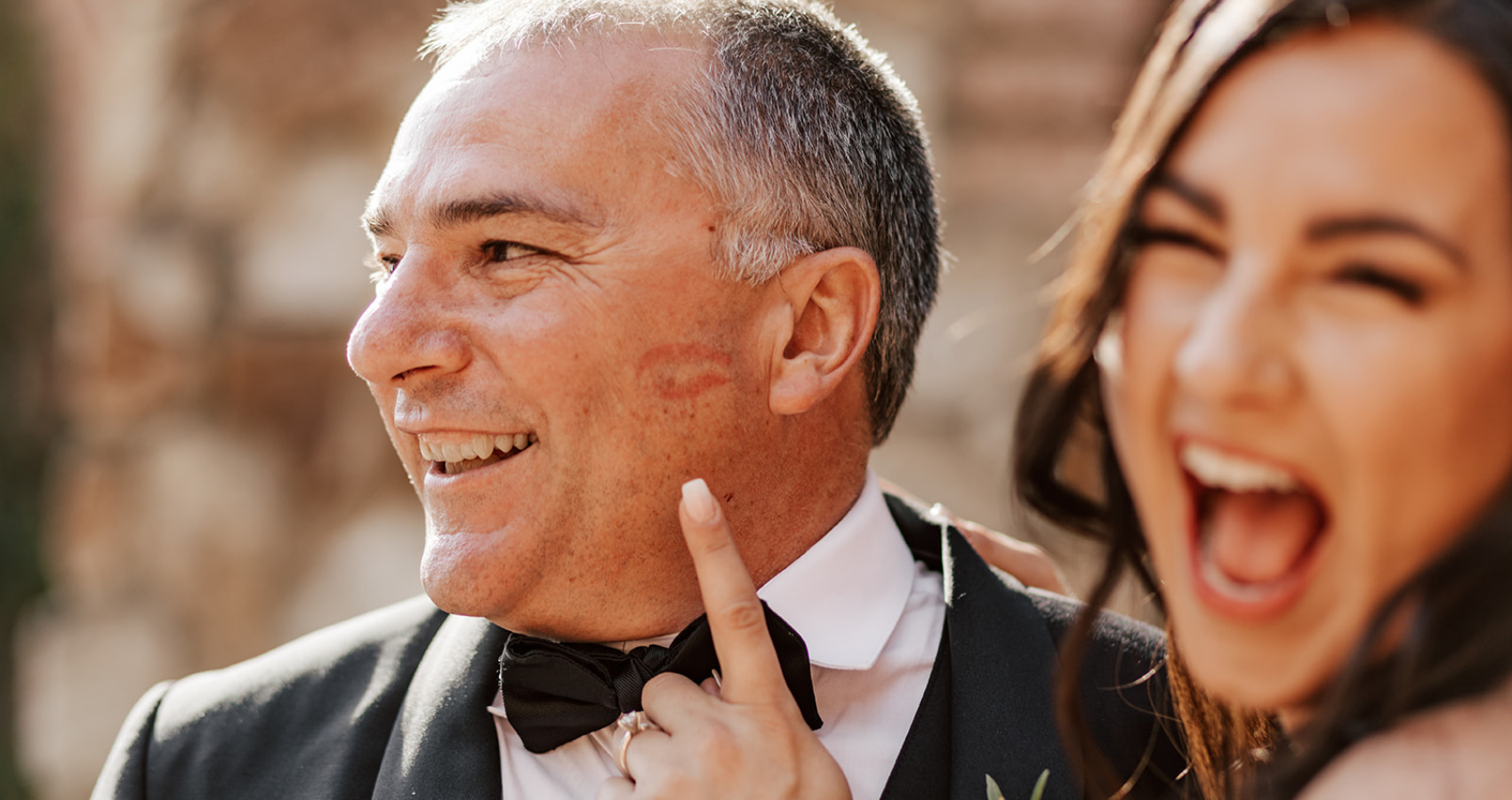 Happy Sunday, brides! With the beginning of summer well underway, this is officially your reminder to wish your dad a happy Father's Day because where would we be without our dads (and the other father figures in our lives)? They've done so much throughout our lives, so why not give a little back to them on your wedding day? From having special moments with them throughout the day to gifting them something a little special before, here are a few ways to include the father of the bride on your wedding day! To make things even better, get some inspo from a real Father of the Bride who got to celebrate his daughter's wedding day with her in special and unique ways!
Psst… Before you get to reading, make sure to sign up for some exclusive Maggie text messages for some wedding day inspiration, and tips and tricks for your big day!
Now read on to get some FOB tips and tricks to keep your father happy on your wedding day!
Father of the Bride Duties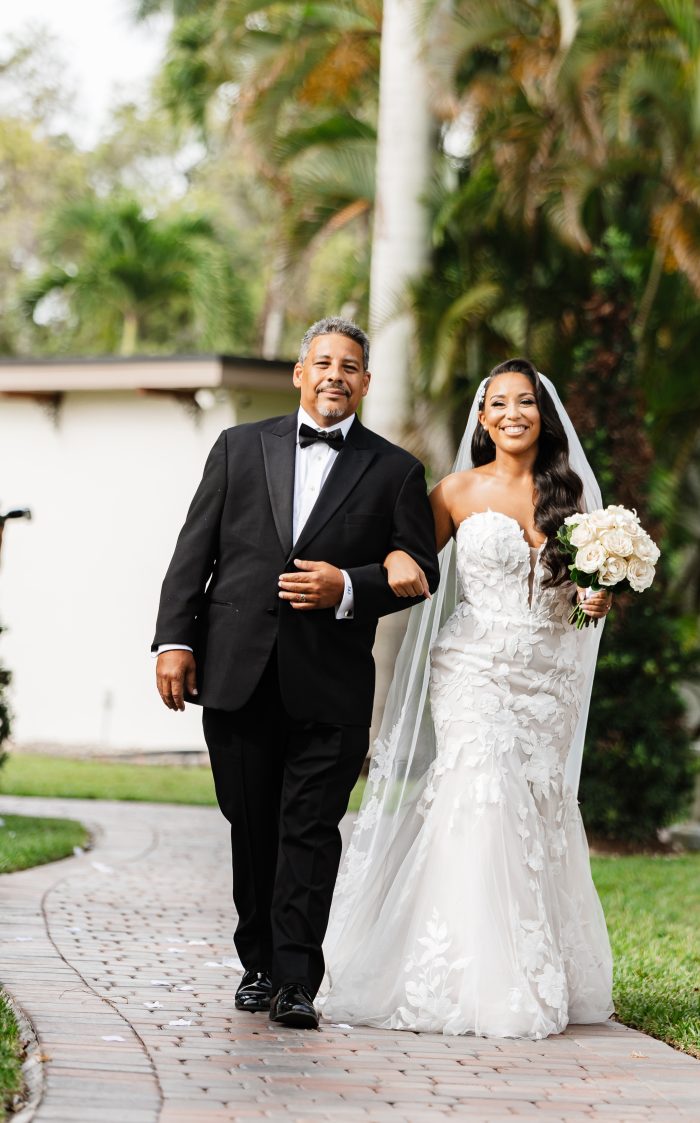 PC: Yes I Do Production
We're all about celebrating our dads and dad-like figures, but we should talk about a few of the ways they are included in the wedding and contribute to getting you down the aisle! Here are some of the different Father of the Bride duties that you'll want your pops to be included in:
Walking you down the aisle
Giving you away
Saying a toast at your reception and/or rehearsal dinner
Helping out financially (if he can of course)
Coordinating with the groom and groomsmen on attire so everyone is consistent.
Being photo ready
Participating in the father-daughter dance
Making sure the wedding is organized and that all the vendors are happy.
As you can see, there are a lot of things dad will be doing for your wedding day! With that said, keep reading to see the different ways you can celebrate him and thank him on the big day.
Unique Ways to Celebrate the Father of the Bride
Include The Father of The Bride in the Dress Shopping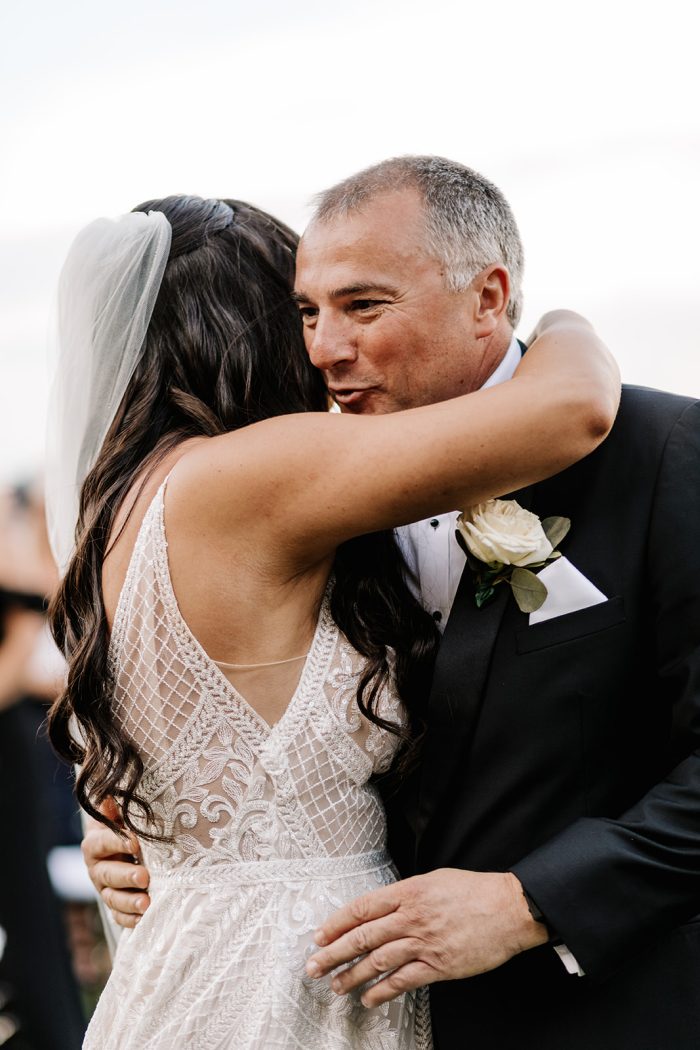 PC: Jessica Jones Photography
Who said that wedding dress shopping was just for the gals? Make your appointment extra special by bringing your father along with you to see you say "yes" to your dream dress! Well, it's your first appointment or your last, not only will you get his unique opinion, but you will get to share a sincere and fun memory with your dad for years to come! For those brides who are being gifted their gown, this will make it a little easier as well.
Make sure to read our blog on the must-have wedding dress shopping tips!
Have A First Look with Your Father-Figure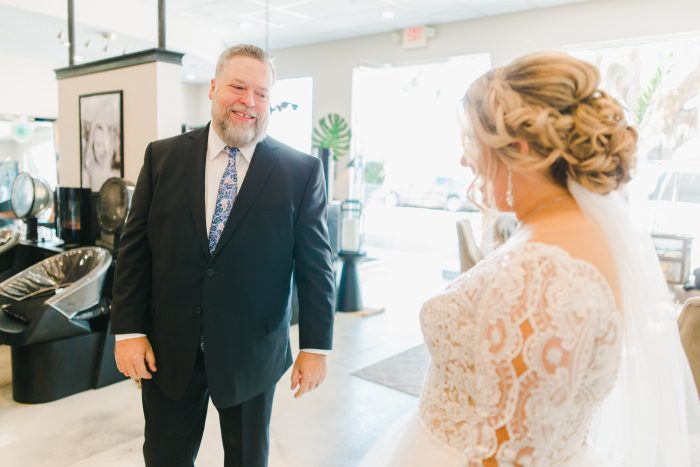 PC: Rachel Laxton Photography
Whether you brought your father figure to your appointment or not, having a first look with him on your wedding day is one of the most heart-warming moments of the day!
By participating in this long-standing tradition, you and your dad will be able to get out any anxiety before the rest of the day starts, and you will also get to share a moment together before you get married one last time! Lastly, this is the perfect opportunity for some sweet photos between the two of you just like our Real Bride in Mallory Dawn by Maggie Sottero had before!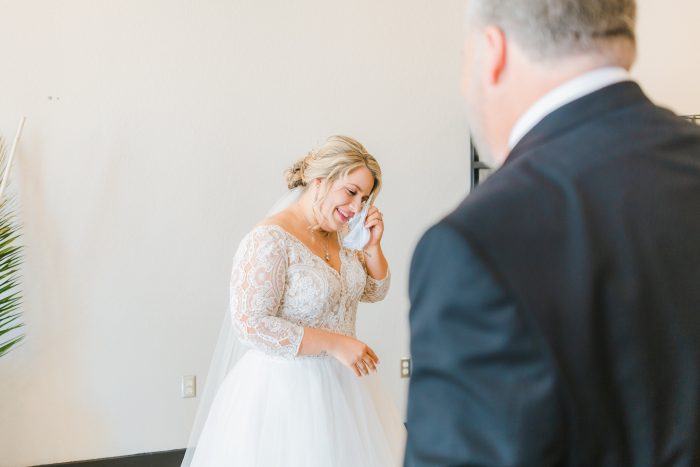 PC: Rachel Laxton Photography
Have Your Partner Invite Him to Get Ready with Him and the Other Groomsmen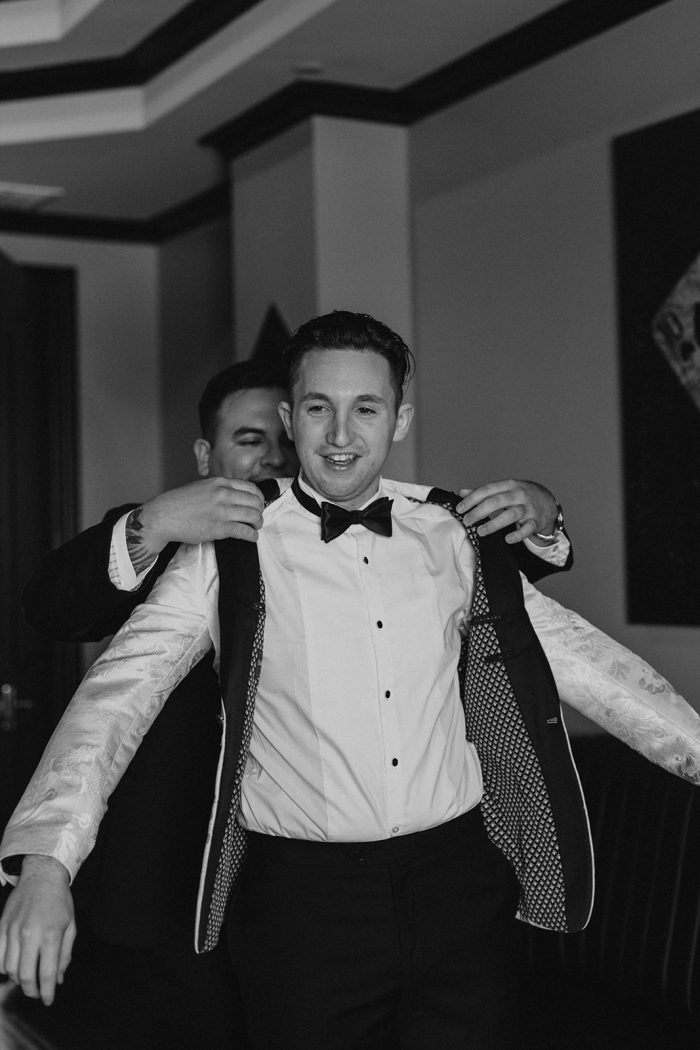 PC: Izzie Cervantes Photography
A good way for your partner to earn some last-minute brownie points with his father-in-law (and make him feel extra special on the wedding day) is to invite him to get ready with the groom and the other groomsmen!
Your partner will not only get some last moments of bonding between the two of them before they officially become family, but they'll get some much-needed words of wisdom from the first man in your life. Additionally, they will get some good photo opportunities, and it will make sure the entire groom's party is uniform!
Ask Your Dad to Officiate the Wedding
Who said your father figure is just there to walk you down the aisle? Another way to make your dad feel special is to ask him to officiate your wedding between you and your partner and to sign the marriage license.
This is a great way to make your story full circle and have a more personal ceremony from someone who knows you best!
Go Suit Shopping with Him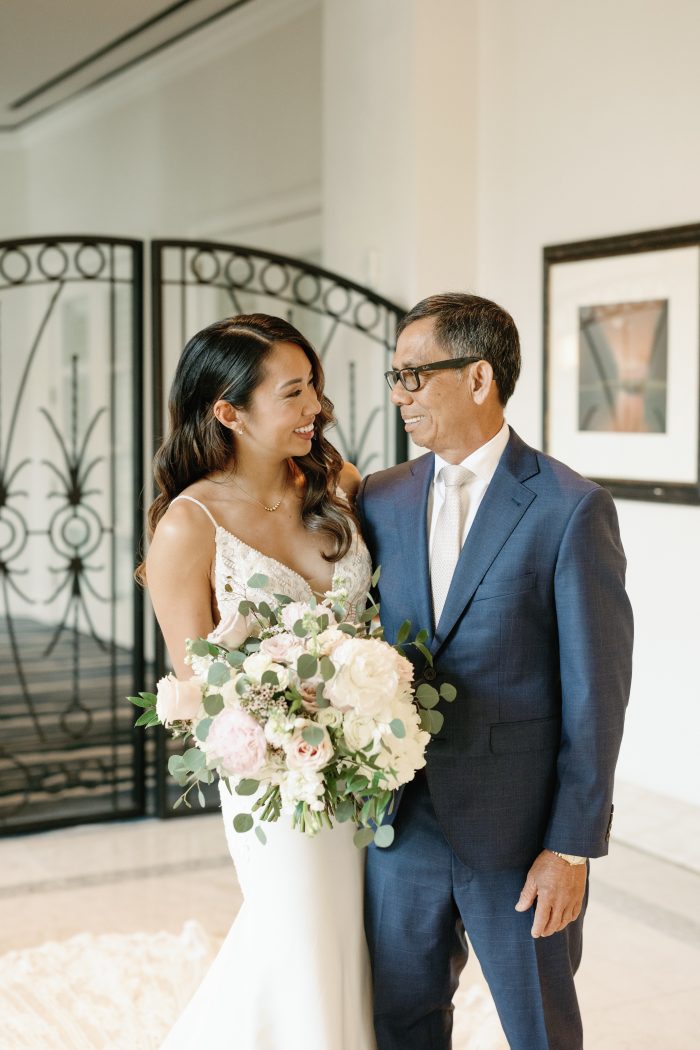 PC: Dewitt for Love Photography
With as glammed up as you plan on being for the big day, it only makes sense to have your dad look just as nice! To treat your dad on your wedding day, consider going with him to pick out his suit, or if you can fit it in your budget, buy him his suit to walk you down the aisle in!
No matter the color scheme of your wedding day, many suit colors will complement the theme, aesthetic, and of course, your wedding dress. Some of the most popular suit colors are navy blue, maroon, tan, and traditional black!
For more inspo, make sure to read our blog about groom's suit colors so you can make sure everyone matches!
Give The Father of the Bride A Gift on the Big Day
Everyone loves gifts, so make sure to buy the father of the bride one to make him feel extra special on your wedding day! The best kind of present is a good mix of fun and sentimental. Take a look at our list of the best father of the bride presents below!
A framed photo of the two of you.
A personalized gift like a pocket square, watch, tie clip, etc.
His tie to wear on your big day! If you're feeling extra cheesy, consider personalizing it like one of our Real Brides did above!
Something to aid in his hobbies like new golf balls, a fishing pole, a deck of cards…
A nice bottle of his favorite liquor.
His favorite cologne.
A record of his favorite band!
There are a ton of different kinds of presents to give your father on your wedding day, and as long as they come from you, he'll love them!
Dance With Him to His Favorite Song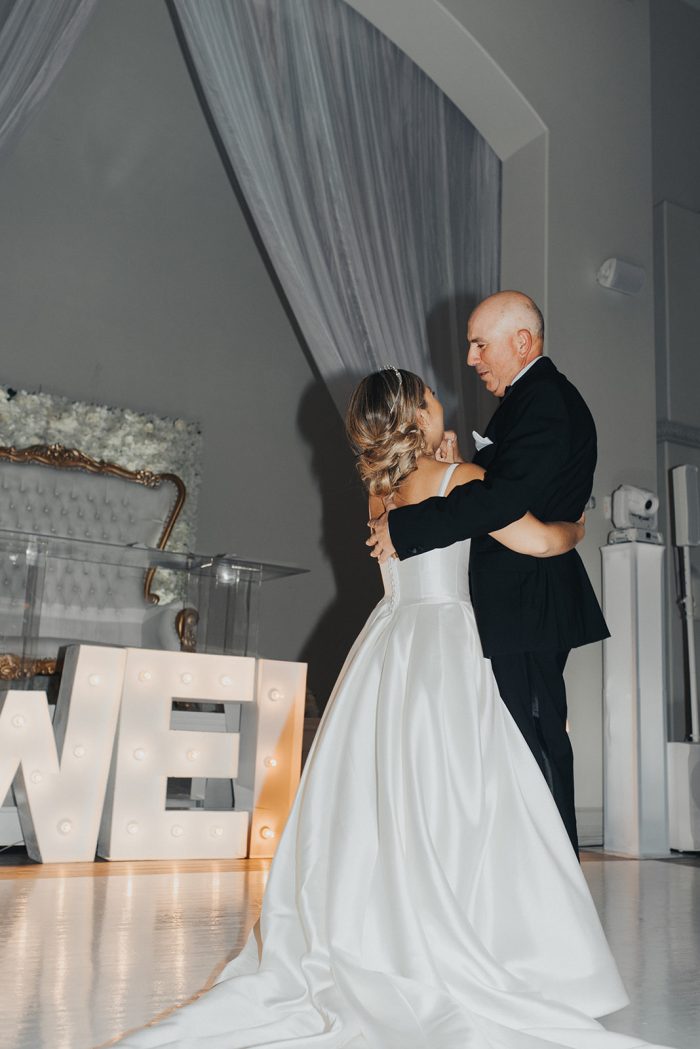 PC: Izzie Cervantes Photography
There's nothing like the father and daughter dance on your wedding day! This dance represents your bond with your father and the love and gratitude you two have for each other so make it extra special!
You can do this by picking a favorite song between the two of you, or dancing to his favorite song! The father and daughter dance doesn't just extend to your dad though! Stepfathers, uncles, grandfathers, and any special father figure in your life can be included!
Have a Moment Alone Before the Ceremony
Quality time is an important part of showing the people you care about love, so make sure to spend some quality time with your father-figure(s) before you walk down the aisle. Consider the following ideas:
Have an early breakfast the morning of the wedding.
Take a sunrise walk before everyone starts getting ready.
Drink a cup of coffee together before you start getting ready.
Have a drink or movie night the evening before the big day, just you two!
Take some time before you walk down the aisle to have a last chat.
Incorporate A Father-Daughter Tradition on Your Wedding Day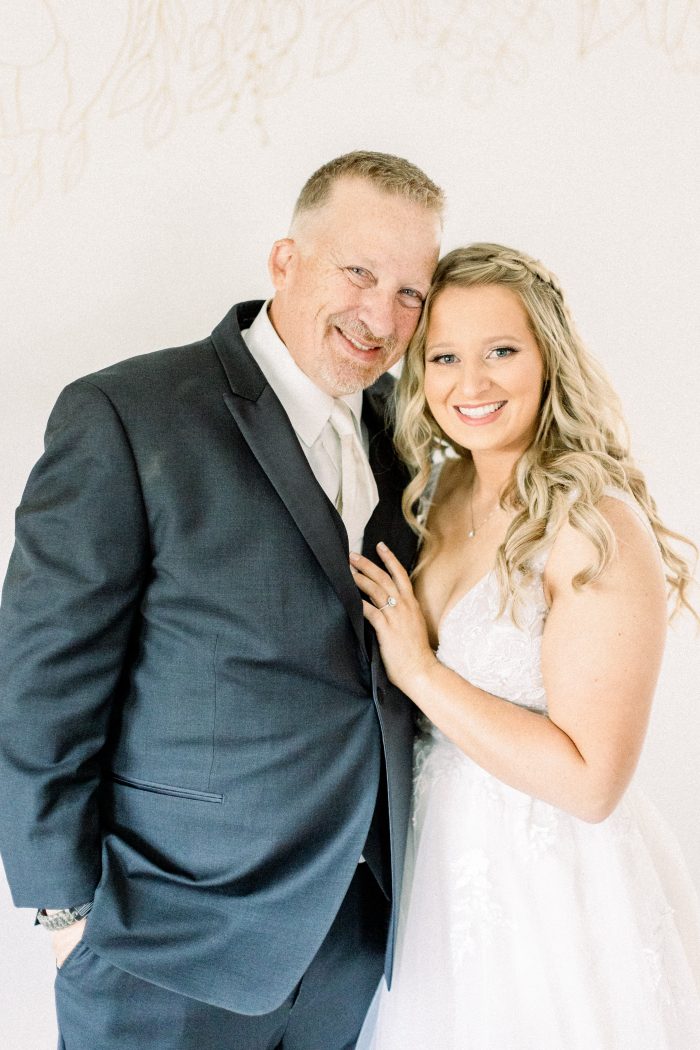 Your wedding day is bound to be a little hectic, so having a nice moment with your dad before all the craziness starts is a good way to make you feel special (and make you ground yourself before the rest of the day).
Consider having an early morning breakfast or cup of coffee with your father-figure. This will reconnect you both before the rest of the day! Other options are going on a walk, play a quick board game or card game, having an morning Bloody Mary or mimosa!
Have Him Dress in Wedding Colors
PC: Audrey Rose Photography
This might be a simple way to make your dad feel special on your big day, but bringing him in on the fun will make him feel more a part of the day (and have his picture-perfect for your wedding photos). While his suit doesn't necessarily need to match the grooms and groomsmen, having his tie and pocket square match the colors is a subtle way to have him match your cohesive look. Another cute way to have him sport your wedding colors is by having a boutonniere to match the groom or match your bouquet!
How To Honor a Father of the Bride Figure Who Has Passed
For our brides out there who have lost their father figure, there are still a lot of ways to celebrate and include your father on your wedding day.
Have a memory table full of some of his favorite things and photos. You can also include other people who have passed on the table like grandparents, in-laws, and family friends.
Toast all the father figures in your life that have passed!
Have a moment of silence to honor him.
Leave an open seat right at the front. This will keep his memory alive!
We could go on and on about all the ways to make your father feel special on your big day, but why not take point from one of our Real Bride's dads, Eddie Meyer! Keep reading to see how this father of the bride celebrated with his daughter on her wedding day!
A Real Father of The Bride's Experience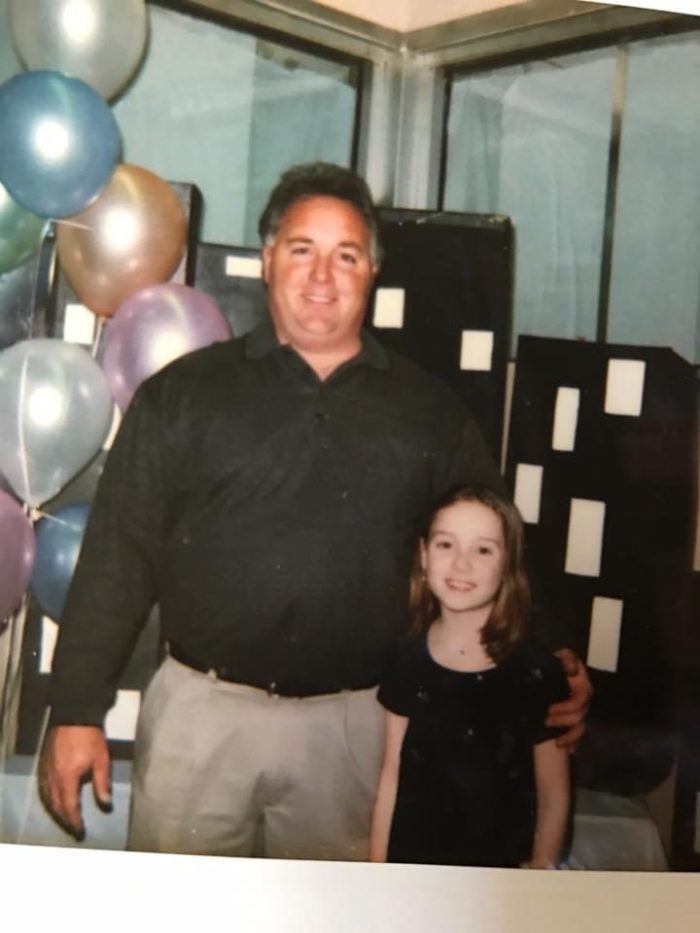 PC: Dean Michael's Studio
Brides, meet Eddie Meyer! Father to Jordyn who recently got married in the GORGEOUS Tuscany Royale by Maggie Sottero in October 2021!
Could you please describe your relationship with Jordyn?
We've always had a very close father-daughter relationship. My daughter is the apple of my eye. We are always joking around with each other and always on one another's team. My daughter is my best friend!
What are some favorite stories that you have of her growing up and as an adult?
When Jordyn was little, she would come home from school with art projects and she would always say "dad I made this for you" and I still have most of them, if not all!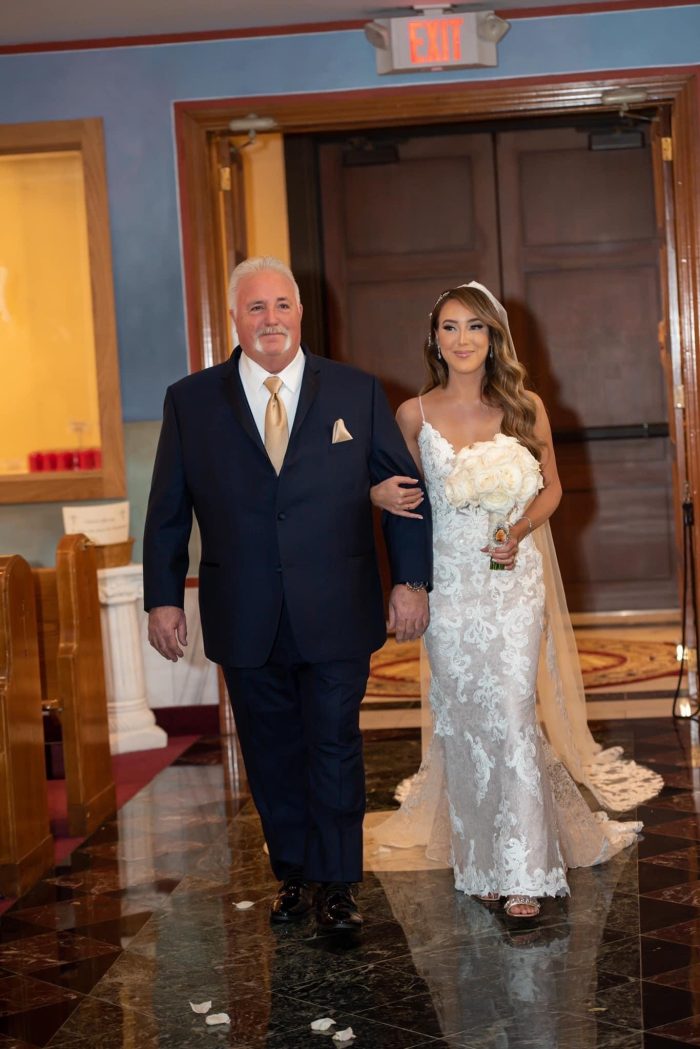 PC: Dean Michael's Studio
How are you and your daughter alike?
Jordyn is very adventurous like me! She always wants to go quadding together or drive my race car. When she was younger, she would follow me around in my garage and want to learn things about cars! We definitely have that in common.
What roles did you have on her wedding day?
I had the honor to of course walk Jordyn down the aisle and dance with her to our favorite song "Forever Young" by Rod Stewart. It was an emotional day, to say the least!
Did she do anything special for you on her wedding day or leading up to it?
Jordyn always has something planned for me by surprise! She had a series of songs played for me from my childhood and growing up. They brought back all the good memories for me… She also gifted me a bottle of Tom Ford cologne and whenever I wear it, I remember her wedding day!
What was it like to give her away and see her in her wedding dress for the first time?
Jordyn truly looked like a princess! I knew that this day would come. But, giving her away to her husband, who has such a great heart, really made it easy for me. Her Maggie Sottero gown was so elegant and stunning! It was a really special moment seeing her in that dress.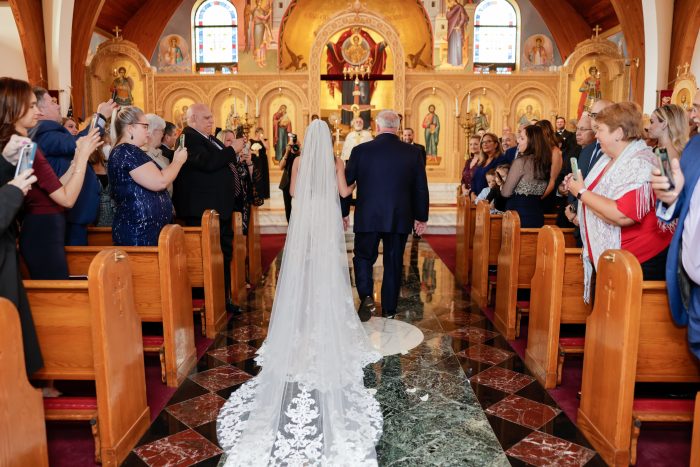 PC: Dean Michael's Studio
There's nothing quite like a father-daughter relationship to truly make your day extra special! Your father is one of the most influential people in your life, so make sure to follow our tips and tricks to make the father of the bride feel extra special on your wedding day!
For more wedding inspo from Maggie, make sure to also sign up for our exclusive Newsletter below!
Get some more inspo for your wedding and how to treat the people you love best in life below!
More Blogs Like This:
How To Celebrate The Mother Of The Bride (And The Other Special Women In Your Life) On Your Wedding Day
How To Support LGBT Wedding Vendors For Your Big Day
10 Tips for Writing Romantic Wedding Vows For Your Wedding Day