Tips and Trends
Wedding Inspo
|
June 18, 2021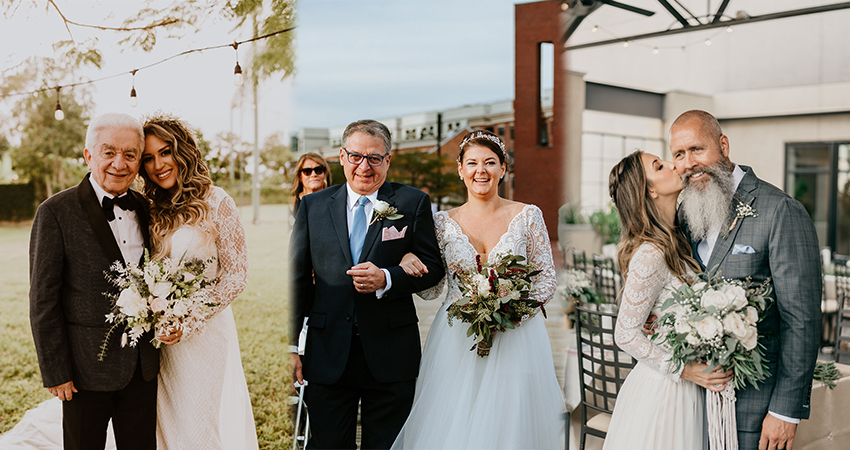 Your big day is approaching, which means your nearest and dearest have been coordinating their fab wedding-day outfits based on your perfect wedding dress, chosen theme, season, and venue. And in honor of Father's Day, we've compiled some of our favorite father of the bride wedding attire ideas for one of the most important of leading men. Get inspired with sharp suits, color ideas, and accessories that will have your dad feeling like a million bucks. Keep scrolling!
Father of the Bride Attire for Spring Wedding: Dark Suit and Lavender Tie
PC: Rachel Laxton Photography
A spring wedding featuring pastels and DIY details calls for an equally classy father of the bride attire look. Luckily, this bride's father wore a dark navy suit, colorful boutonniere, and lavender tie, which were distinguishable from the groom's and groomsmen's attire but didn't draw away any attention.
This bride chose Mallory Dawn by Maggie Sottero for her special day. The scallop lace and lightweight tulle ball gown skirt pair beautifully with her spring aesthetic. And the best part? Her FOB's attire matched perfectly!
Father of the Bride Attire for Boho Wedding: Dark Suit and Black Bow Tie
PC: Erika Diaz Photography
This bride wore Antonia by Maggie Sottero, a soft lace sheath wedding dress, complementing her groomsmen's white tux with black pants combo and her ritzy boho wedding theme. For her father's look, the party kept with the sophisticated vibe of black and white contrast. This is a classic and versatile way to round out the lineup without looking too matchy-matchy.
We love how these looks can be adapted to a variety of wedding aesthetics, from boho to glam to vintage elegance.
Wedding Attire for a Formal Celebration: Black Tuxedo with Bow Tie
PC: Jessa E Photography
If you've got a black-tie occasion in the books, your dad's wedding attire is all about dark colors, sharp lines, and traditional accessories. Get inspired with this lineup of snazzy tuxedos for the groom and fathers of the bride—a timeless and sophisticated statement for a high-class wedding aesthetic!
This bride chose shimmery sheath wedding dress Tuscany Leigh by Maggie Sottero for her glitzy bridal aesthetic, which looks especially fabulous among her wedding party's classic formal wear.
Wedding Attire for Fairytale Wedding: Classic Black Suit
PC: That First Moment Photography
If you have a soft spot for Disney, you can't beat the classiness of a fairytale wedding! Your guests will love the access to parks, events, adventures, and dining options. For the father of the bride and groomsmen, opt for classic black suits to match the bride's princess-inspired look!
PC: Everlasting Photography
This bride wore Sonnet by Maggie Sottero for her Disney wedding—a stunning ball gown wedding dress featuring a beaded bodice and classic satin skirt. It's a dazzling centerpiece for her magical ceremony in Pandora World of Avatar and reception at the Grand Floridian!
Father of the Bride Attire for Rustic Wedding: Plaid Grey Suit with Simple Accessories
PC: Chantel Marie Photography
If you're planning a rustic summery wedding, your groom, groomsmen, and father of the bride are sure to love a greyscale suit palette. This color lends easily to warm season trends, woodsy themes, and casual reception vibes (and not to mention a salt-and-pepper beard!).
Love this wedding look? This bride chose Deirdre by Maggie Sottero for her rustic aesthetic, featuring delicate Chantilly lace in a sweet yet sexy A-line silhouette with sleeves. It's chic perfection in the breeziest of silhouettes!
Father of the Bride Attire for City Wedding: Navy Blue Suit with Soft Accents
PC: Love to the Core Photography
Wanting to say your "I do's" by a lake? How about in the city? Or how about both? This bride and her wedding party looked dapper against the city skyline and shimmer of the water. And her father matched perfectly in his navy suit and light blue tie.
For this city celebration, our real bride wore a lace ball gown wedding dress called Mallory Dawn by Maggie Sottero. The soft lace and flattering silhouette paired well with the classy and industrial-chic vibe, while also contrasting nicely against her father's dark suit. Trés chic!
Father of the Bride Attire for Beach Wedding: White Shirt and Sandals
PC: Melanie Mills Photography
For a breezy and effortless vibe, it's best to ditch the stuffy suits in favor of the semi-casual ensemble. This bride dressed her wedding party in light colors and beachy florals, while the father of the bride looks happy and relaxed in his simple button-up attire and slip-on footwear. A laid back wedding style has never looked so good!
And speaking of beachy celebrations, may we suggest a lightweight lace A-line for an effortless bridal look? Meryl Lynette by Maggie Sottero features classic tailoring and flirty embellishments—the perfect balance for a casual ceremony with romantic accoutrements. Meryl Lynette comes with a sister style, Meryl, featuring polka-dot netting.
Wedding Attire for Outdoor Reception: Dark Navy Suit with Nude Accessories
PC: Partografia Photography
An outdoor wedding may be, well, outdoors, but that doesn't mean it can't be ritzy and formal! For a breezy yet sophisticated vibe, deck your dad out in a navy-blue palette and breathable fabric such as linen or chambray.
This father of the bride attire is handsome and formal enough to complement the bride's simple yet striking Selena wedding dress yet light and casual enough to move from a daytime ceremony to a warm evening reception. Win-win!
Father of the Bride Attire Tips
Once you've decided on the general style of your wedding party attire, consider a few ways to distinguish your dad's look from the rest of the groomsmen. The father of the bride certainly doesn't need to overshadow your sweetheart's attire. However, it's a great idea for his outfit to feel a little special for such an important event.
Perhaps your dad would enjoy a little flair with his tie color and boutonniere? A complementary color scheme to the rest of the crew? A snazzy accessory that doubles as an FOB gift? Slight variations like these can help elevate your dad's suit without detracting from the uniformity of your wedding party (not to mention clutter up your photo ops).
There you have it—versatile, weather-ready, and venue-appropriate father of the bride attire ideas for your best day ever! And while we're on the subject of parents, check out these Mother of the Bride looks inspired by our real wedding galleries, from classic and tailored to trendy and chic.
(And of course, once you've chosen your impeccable wedding attire, be sure to tag us in your photos for the chance to be featured on our blog and social media.) Cheers!