Real Weddings
|
May 22, 2017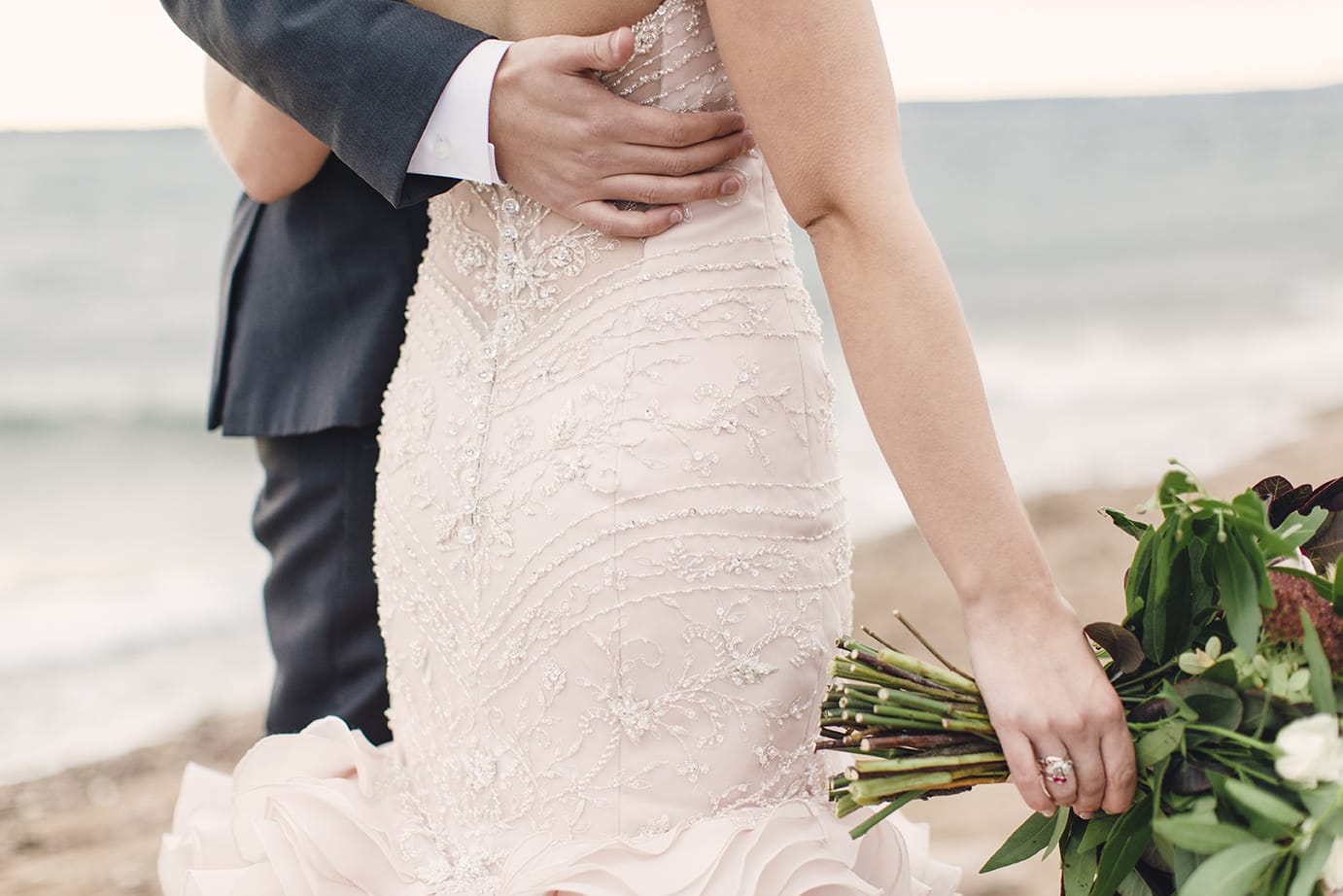 You heard it here first: your wedding dress should be a little fun. And if your ceremony backdrop includes a merry-go-round and New England seascape, Serencia in blush is your go-to fit-and-flare for a sweet and fabulous bridal look! Keep scrolling for Hayley's unique and elegant occasion, shot beautifully by Joanna Fisher Photography.
Find your perfect colored wedding dress at an Authorized Retailer near you!
Which Maggie Sottero Designs gown did you wear?
I wore the Serencia gown in blush.
How did you know when you found "the dress"
I tried on three dresses and it was the only one that made me cry. I loved it instantly. I "just knew" Serencia was the one.
What was your favorite part of the dress?
I love every detail about the dress, but the gorgeous blush pink color is definitely my favorite part.
How did you and your partner meet?
We met at work. I was interning during the summer and Alex had just started working there full time.
How did he propose?
It was our second anniversary weekend and Alex suggested we go for a walk at a nearby state park on the water in Connecticut. We walked for at least an hour before we reached a rocky area by the water. Alex had been waiting for the perfect moment, and when I stopped and said something to the essence of, "This scene – right here – is so beautiful!" and went to look more closely at a beach plum flower, he saw his chance. I heard "So…" and turned around to see him descending to one knee. "Will you marry me?" Of course, I said yes.
Where did you get married?
We got married at Lighthouse Point Park in New Haven, CT.
Did your wedding have a theme?
Our venue has a beautiful carousel that was built in 1916. We used the carousel as inspiration for a whimsical, fun, vintage inspired wedding.
How did you decide what you wanted your wedding to look like?
I knew I wanted the venue to be beautiful (who doesn't?) but when we visited Lighthouse Point we knew instantly it was perfect because of the combination of beauty and FUN. Alex and I love to be the life of the party, and it just felt perfect. Once we had the venue and I had the dress, it was easy to see whether something would fit in at the wedding, and we let that guide our vision.
What was your favorite wedding day moment?
Aside from getting married, my favorite moment was probably when we rode the carousel. It was running all night during the reception and we managed to take a moment from dancing and visiting friends to get on. It was so much fun!
Describe your wedding in one word.
Fun!
What advice do you have for future brides?
There's always more you can do for planning and getting ready for the wedding – more to add to your website, more decorations to make, more contingency planning for things that might go wrong. But no one will know you didn't get a chance to make that sign or add that décor, and no one will know if your centerpieces didn't come out exactly like you wanted them to. Give yourself permission to do less and worry less, and just be excited that you are going to be married by the end of the day. Oh, and DEFINITELY go on a honeymoon!!!