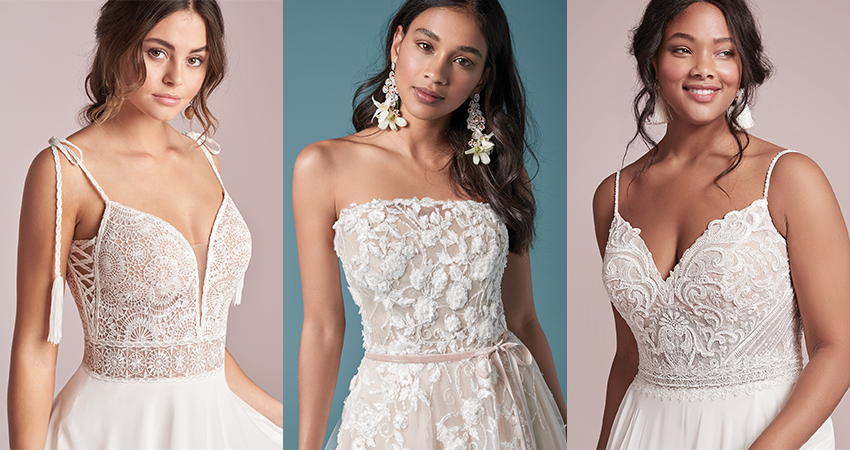 Planning a barbecue bash, barn reception, or woodland dance party? Time to find your sweet, feminine, and super-chic bridal look! We've gathered a few of our top country wedding dresses for a rustic wedding to inspire your shopping. Keep scrolling to find your favorite in our gallery below!
Boho Country Wedding Dress Lorraine by Maggie Sottero
A little boho makes a stylish statement in this simple yet feminine wedding gown, featuring a lace bodice and dreamy chiffon skirt. It's a chic and lightweight country-inspired design for your bonfire party, barn dancing, woodland fairytale, or southern garden celebration!
Planning to incorporate a little leather or lace into your rustic bridal look? Lorraine by Rebecca Ingram is the perfect complement for country-inspired footwear! The skirt features a thigh-high slit to show off your wedding shoes—be it cowgirl boots, floral anklets, or shimmery flats.
Floral Country Wedding Dresses Zareen and Zareen Lynette by Maggie Sottero
Love the aesthetic of a rustic garden? Have a passion for the great outdoors? Time to find the perfect nature-inspired wedding dress for your rustic celebration! Two of our top styles for this trend are sister gowns Zareen and Zareen Lynette by Maggie Sottero. These shimmery and flattering floral country wedding dresses make for a romantic and feminine statement.
Opt for Zareen for an illusion treatment along the back and neckline, or Zareen Lynette for a bit more support and coverage. Pair your chosen style with a flower crown for a rustic boho effect, or glam it up with rose-gold jewelry and a monochromatic bouquet. Either will look like a dream!
Casual Country Bridal Gown Jolie by Rebecca Ingram
If budget is the name of the game, opt for soft fabric and simple yet romantic embellishments. Our sweet yet sexy country wedding dress, Jolie, is part of our affordably-priced Rebecca Ingram collection. Choose amidst these beauties so you can allocate more funds to drinks, dancing, and other country-inspired accoutrements for your big day!
Pair this lovely yet casual wedding dress with a wide-brimmed hat for an Instagram-inspired photo op. Or try big chandelier earrings for a trendy and sophisticated vibe. Ooh la la!
Modest Rustic Wedding Dress Prescott by Maggie Sottero
Looking for country wedding dresses with modest coverage? We've got you covered with our selection of lacy sleeves, soft silhouettes, demure necklines, and sweet embellishments! One of our top modest wedding dresses to complement a country-rustic wedding is Prescott by Maggie Sottero, a gorgeous A-line with jersey lining.
We're especially in love with the scallop treatment along the neckline, sleeves, and train—a charming complement to a woodsy-chic bridal aesthetic!
Halter-Neck Wedding Gown Lexie by Rebecca Ingram
For country gals of the "bride-chilla" persuasion, consider a halter-neck wedding gown in soft lace and layered tulle, á la Lexie from our Rebecca Ingram line.
This affordable wedding dress is designed to show off your shoulders, décolletage, and waistline—all without over-complicating your effortless bridal aesthetic. It's the perfect convergence of comfort and style!
Sparkly Country-Chic Wedding Dress Quinley by Maggie Sottero
Love a little glitz and glam? Say hello to Quinley by Maggie Sottero! This sparkly boho bridal gown fits perfectly into a country-inspired vibe with its rustic floral motifs and soft shimmery layers.
Pair this wedding gown with a chic bun and formal jewelry to amp up the red-carpet factor. Or add a hint of vintage charm with colorful florals and gold jewelry. Gorgeous!
Affordable Rustic Bridal Gown Gabriella by Rebecca Ingram
Another affordable wedding dress with major style? Gabriella by Rebecca Ingram is designed for sweet yet fabulous celebrations!
This gown's unique bodice features a plunging neckline and keyhole back, the perfect complement to the flirty bow accessory. We're smitten!
Country-Chic Wedding Dresses Daphne and Daphne Lynette by Rebecca Ingram
The key to a classy yet sensual bridal look? Optimize those sleeves and neckline! Get inspired with our sister styles Daphne and Daphne Lynette by Rebecca Ingram—featuring subtle cap-sleeves to showcase your collar bones, bust, and neckline.
This flattering wedding gown is the perfect choice for your sweet and flirty country wedding theme—be it fairytale chic, rustic elegance, ranch-inspired, or breezy resort glam. Fabulous!
Inspired to create your own personalized country bridal look? Head to our Trends page on Rustic Wedding Dresses for charming designs from our latest collections and real weddings!
We're also constantly updating our Rustic Pinterest page, which showcases all your country wedding trends, from wildflower bouquets to farm venues and woodsy décor!
And as always, once you've pinned your favorite country wedding dresses, head to our Store Locator to connect with a boutique and experience these country-chic styles IRL. Here's to your rustic happily-ever-after!