Tips and Trends
|
March 18, 2023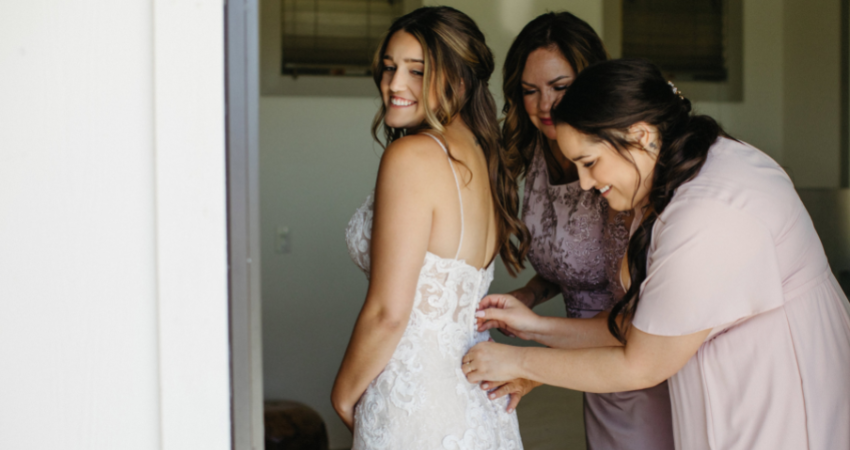 Congratulations on finding your dream dress, bride! The hard part is finally over. You've shopped till you've dropped, cried over your perfect gown, and finally said "yes!" to your dream bridal look. Now it's time to focus on the details. With all the work you've put into your bridal dress, you'll want to put the same amount into finding your wedding undergarments because you want to feel confident from the inside out when you walk down the aisle.
Before you dive into our expert tips on what to wear under your gown, make sure to take our Style Quiz below to find your wedding dress style if you haven't already!
How to Choose the Right Undergarments
PC: Rebecca Ashley Photography
Much like beauty comes from within, confidence comes from what you wear underneath your wedding dress! By choosing the right wedding undergarments, you're not only able to make your dress as comfortable as you can for your body shape and make the dress work for you (not you work for the dress), but you're able to keep the design integrity of a formfitting silhouette, plunging neckline, or statement of your wedding dress.
While purchasing wedding undergarments of any kind, stick to nude or tan palettes and other light colors that disappear under white. And, of course, aim for seamless! Made from hi-tech micro-fibers, nude bridal shapewear smooths your silhouette and eliminates those annoying lines. Plus, seamless undergarments are way more comfortable to wear, allowing you to sit back and enjoy your party. It's your wedding day, after all!
However, we design with our brides in mind! So, you don't HAVE to purchase other wedding undergarments with a lot of Maggie Sottero wedding dresses since many of our styles have them built-in (however do anything you need to build your confidence!).
PC: Anthony Ziccardi Studios
Each of our wedding dresses is optimized for comfort and support. And many of our styles feature a variety of fit, construction, and shapewear options to accommodate your body type and style.
Our signature closure, the corset provides an outer construction ensuring a magical, versatile, and ultra-comfortable fit in a variety of styles.
Plus, it's fun for your bridesmaids to learn how to lace one up in a jiffy. For brides who prefer the fit of a corset without the visible construction, an inner corset will do the trick. This feature is especially conducive to strapless ballgowns and A-lines that accentuate your waistline.
You'll thank us when you're gliding down the aisle (all eyes on you!), dominating the dance floor, and posing for your wedding portraits!
Keep scrolling to see what types of wedding undergarments and bridal shapewear work best for your bridal gown and take a peek at our jobs to learn more about the impeccable fit of our gowns and how to maintain body positivity in your appointment:
5 Romantic Wedding Dresses Our Real Curvy Brides Love
Maintaining Body Positivity In Your Bridal Appointment
A Real Brides Experience In Staying Body Positive During Your Bridal Appointment
Bridal Undergarments for Backless Gowns
PC: Amy Odom Photography
Backless wedding dresses might seem scary at first, but they're only as frightening as you make them. Luckily for you, you actually have quite a few options for this sexy dress! There are many brands out there that carry backless undergarments like silicone cups and adhesive bras, but here's a quick list of some of our favorites:
Niidor: Backless Strapless Silicone Sticky Bra
When it comes to backless wedding dresses, a strapless, adhesive bra is a must! Silicone cups will provide the most natural look and feel while keeping the attention on your gorgeous, dramatic back.
Psst… If you're worried about your underwear peeping through your gown, make sure to wear low-rise panties underneath your wedding dress!
Thanks to the different types of wedding undergarments, there are no pesky bra straps here on our gowns, Dionne by Rebecca Ingram, Zander by Sottero and Midgley, and Kern by Maggie Sottero.
Bridal Undergarments for Strapless Gowns
PC: Meredith Washburn Photography
We've heard your worries and we're here to put you at ease: Yes, even in a strapless wedding dress you can dance the night away comfortably without any slipping.
Since our gowns are made for your body, you will have the support you need to keep everything in place. However, having a strapless bra or waist shaper is always helpful and can help put your at ease! Take a look at our favorite strapless undergarments here:
Wacoal: Red Carpet Strapless Shaping Body Briefer
Bare Necessities: Brassybra Breast Tape
Venus: Deep Plunge Strapless Bra
Most strapless bras will do in a pinch whether you have a plunging neckline, straight across, or sweetheart! By adding these wedding dress undergarments to your gown you'll look flawless for your wedding day like in our Lennon by Maggie Sottero and Shasta by Sottero and Midgley dresses.
Undergarments To Pair with a Fitted Wedding Gown
Fit-and-flare and mermaid wedding dresses are perfect if you want to flaunt your curves, but they also draw attention to your tummy, hips, and thighs (especially gowns with fabrics like crepe or satin). While we think we should flaunt what you've got, we know that this can be a problem area for some of our brides. To take some of the pressure off you, we've compiled a list of our favorite shapewear brands for you to choose for your wedding undergarments:
Classic Shapewear: Shapewear Slips
By using bridal undergarments that fall just above the keens, you're able to better target these areas! These types of wedding undergarments will give your silhouette a smooth finish, which is ideal for a curve-hugging bridal gown. Shapewear will be your partner in crime if you want to flaunt your assets in fitted wedding dresses like Joyce by Rebecca Ingram, Noah by Maggie Sottero, and Aston by Sottero and Midgley.
Wedding Undergarments for a Plunging Neckline
PC: Leesha King Photography
Just because you decide to show a little bit of cleavage on your wedding day doesn't mean you have to sacrifice any support! We've outlined some of our favorite plunge-loving wedding undergarments below:
Shapellx: AirSlim Backless U Plunge Thong Bodysuit
Spanx: Suit Your Fancy Plunge Low-Back Thong Bodysuit
For a plunging neckline (like in our gowns, Hattie by Rebecca Ingram, Tuscany Lynette by Maggie Sottero, Mallory Dawn by Maggie Sottero) look for a bra that has a special cutout in the front to accommodate a low neckline. This type of wedding undergarment will usually have extra support on the side to ensure everything stays put, despite the dip in the middle.
As an alternative option, see if your bridal salon or tailor can sew the bra into your dress to give you built-in support!
Fun & Sexy Lingerie
We've talked your ear off about the different wedding undergarments that shape and smooth and add support, but what about the undergarments that are exciting?? Fun and sexy lingerie is a fun and spicy clothing piece that will add a little bit of spice and confidence to your wedding day. Not only will be these be fun for your partner, but they will that needed bit of self-love and confidence for your big day.
Here are our favorite inclusive lingerie brands to find the best sexy and romantic lingerie for you no matter your price range:
Lane Bryant Plus Size Lingerie
Loving these bridal shapewear wedding dress options? Find a boutique below to experience our selection of structured gowns, fit and flare styling details, and personalization options!
More Blogs Like This:
Finding a Wedding Dress for Your Body Type to Promote Body Positivity
10 Wedding Dress Shopping Tips for Your Bridal Appointment
Seven Types of Lace to Know While Shopping for a Wedding Gown