Wedding Inspo
|
August 29, 2023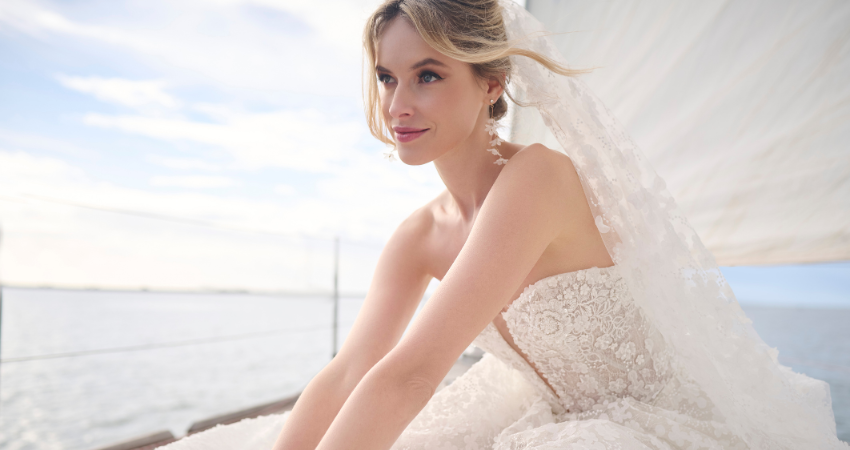 Wedding dresses are the heart and soul of what we do here at Maggie Sottero Designs — but we know dreamy accessories and personalizations are what truly bring our designs to life! Inspired by our latest collection shoots and gown galleries, we've compiled a ton of GORGEOUS styling inspo for your shopping delight… Keep scrolling for the latest jewelry trends, bridal accessories, and head-to-toe wedding aesthetics to create the perfect look! 
Happy accessorizing, brides!
How We Chose Our Bridal Accessories and Jewelry
Accessories are one of the most important elements of a bridal shoot: They add color and flourish to a range of elegant wedding looks, and the possibilities for personalization are virtually limitless. A bridal veil, statement jewelry, or perfect pair of heels are what take your bridal look from classic to fabulous!
This season's collections are all about budgeting and personalization options. While each collection has its own unique vibe, we've curated accessories that can be styled and reimagined to match a range of wedding visions. There are luxe, bejeweled statement pieces; simple and romantic layering options; trendy upgrades; and everything in between!
A few highlights from our brand new collections:
Beautiful pearl pieces for a whimsical vintage vibe.
Juxtaposition of bold details and soft flourishes.
A range of nature-inspired fabrics and shimmer.
Lovely bohemian florals and 3-D embellishments.
And more!
Most of these bridal shoots' accessories are made specifically for our gowns, but we've also chosen other pieces to help you bring your full wedding look to life. Keep scrolling for specific items and shopping inspo from these gorgeous styled shoots!
Maggie Sottero Bridal Accessories and Jewelry Styling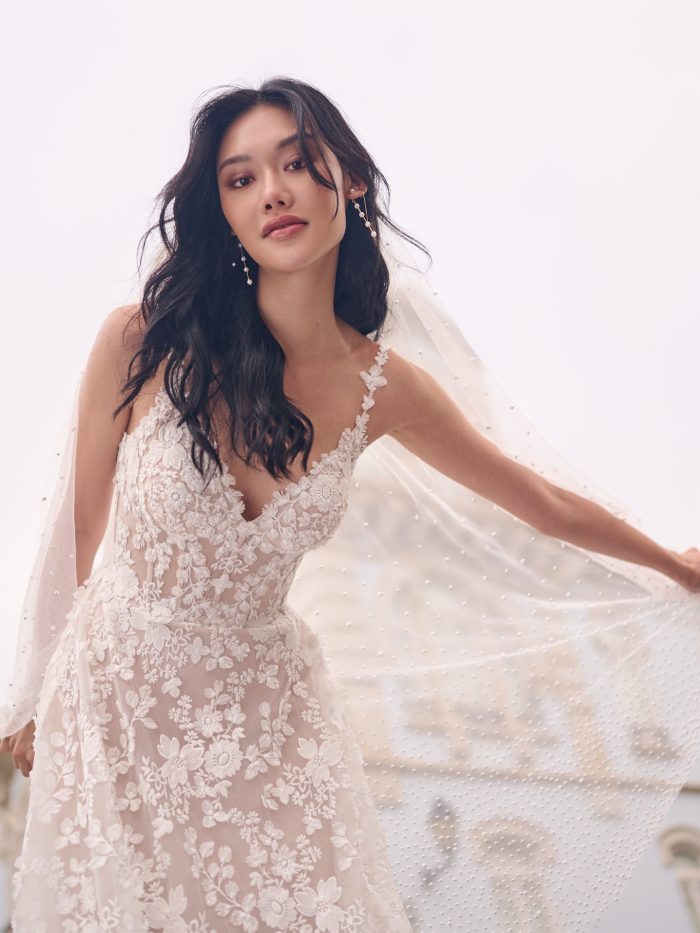 This season's Maggie Sottero collection is all about elegant minimalism, delicate details, sensual lines, and a few dramatic flourishes. We shot this "classic meets modern" vibe in Portugal — a backdrop of "Old World" charm with a warm, romantic vibe.
Whether or not you're jet-setting to Europe for your wedding celebration, there are plenty of ways to elevate the "rustic charm" of your timeless aesthetic:
Choose a historic venue with plenty of airy lighting — it's perfect for a bright, summery, and mellow wedding aesthetic.
Choose lush florals, nature-inspired palettes, and soft metallic embellishments. It's a gorgeous blend of luxe and organic vibes.
Embrace the 3-D trend with soft lace motifs and illusion details. These make for stunning upgrades to your gown's bodice, veil, and train.
Consider adding color to your bridal look. You might make a statement with a dramatic shade of black or crimson, or you might add a pop of subtle color with your jewelry, accessories, and hair and makeup.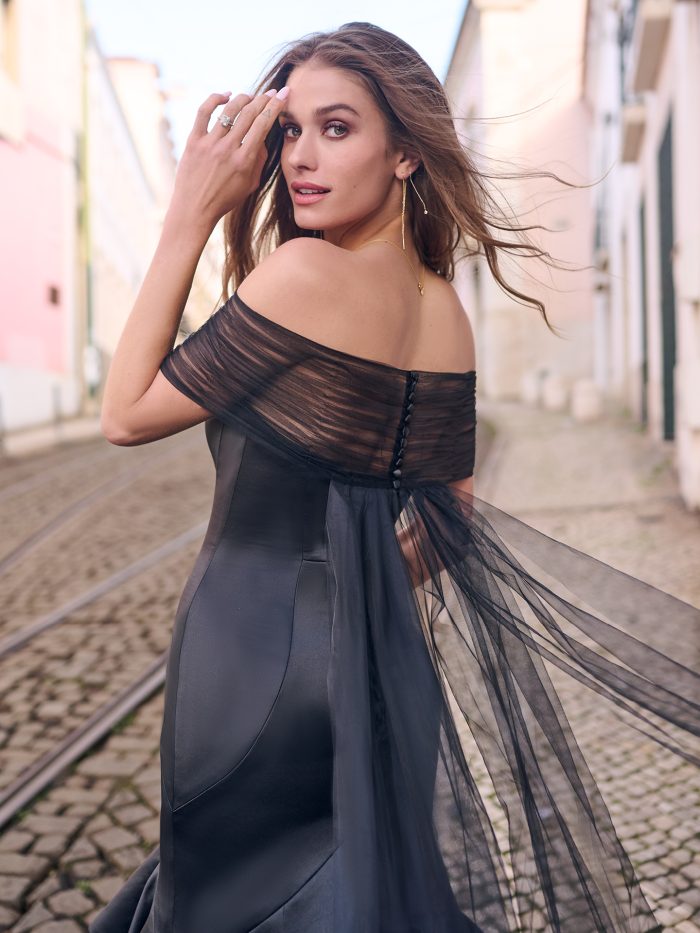 We chose this season's jewelry to match the delicate beading and shimmer in the collection. You won't find anything too flashy or dramatic here — these are chic, graceful, and feminine pieces that play up the natural beauty of your wedding gown.
A couple of jewelry highlights from the collection shoot:
These pieces are soft gold with lots of movement. We also focused on earrings more than necklaces so as not to detract from the collection's gorgeous necklines and bodices.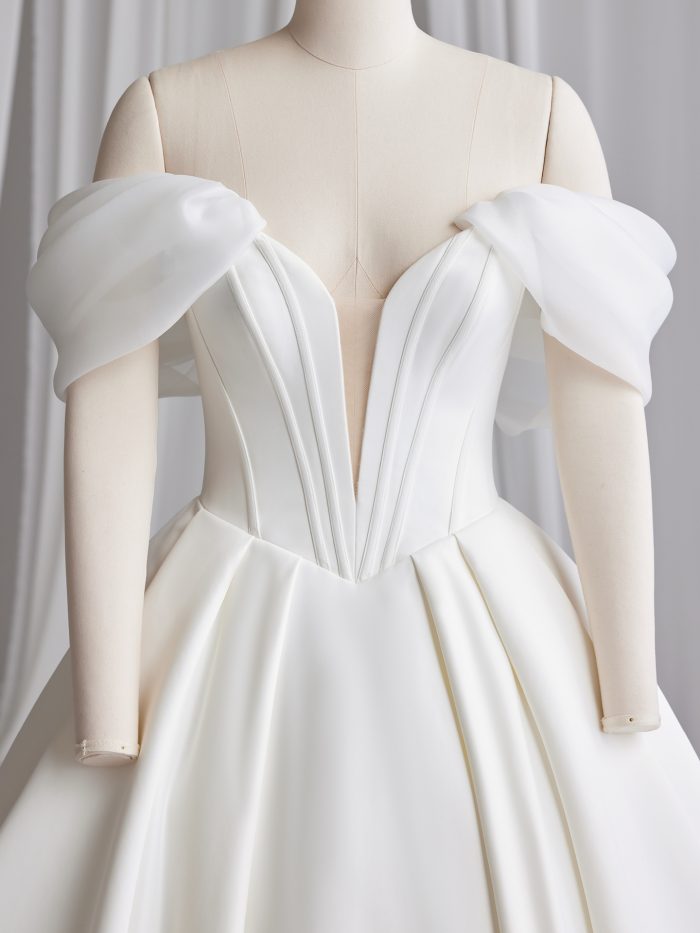 Accessories designed specifically for the collection:
Rebecca Ingram Accessories and Jewelry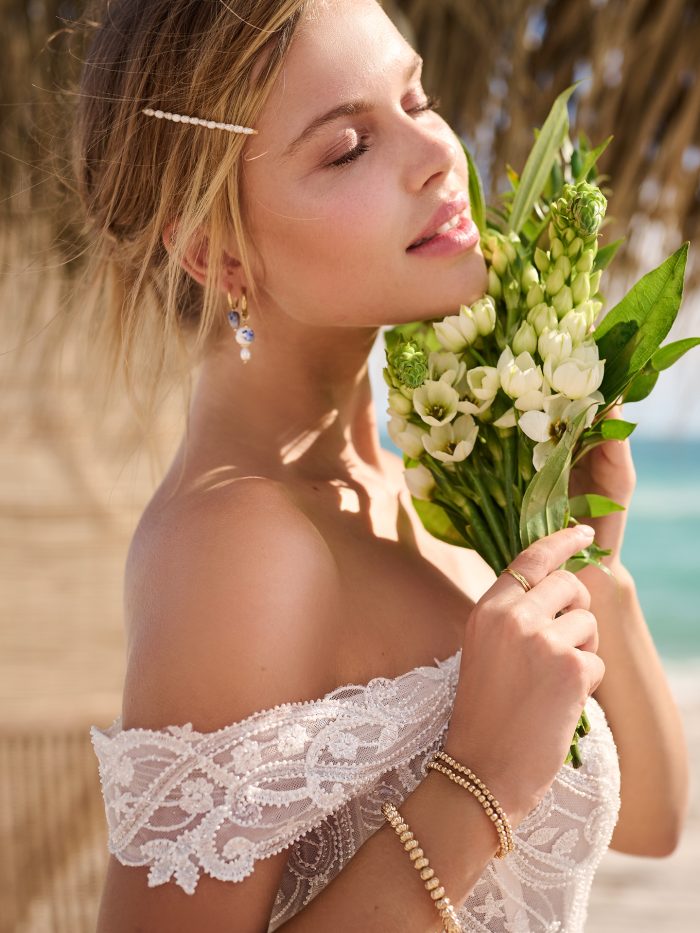 Our next photoshoot highlight is from Rebecca Ingram: a fun, flirty, and effortless collection of romantic wedding dresses at budget-friendly prices. We adore this season's lineup of jewelry and accessories — we want to show off all the ways to curate a stunning look without breaking the bank!
The inspiration for this season's Rebecca Ingram collection is all about unique combinations: soft and flowing yet bold and sexy, fun and flirty yet chic and stylish. Organic lines play up your natural beauty — plenty of air, light, warmth, and nature-inspired flourishes.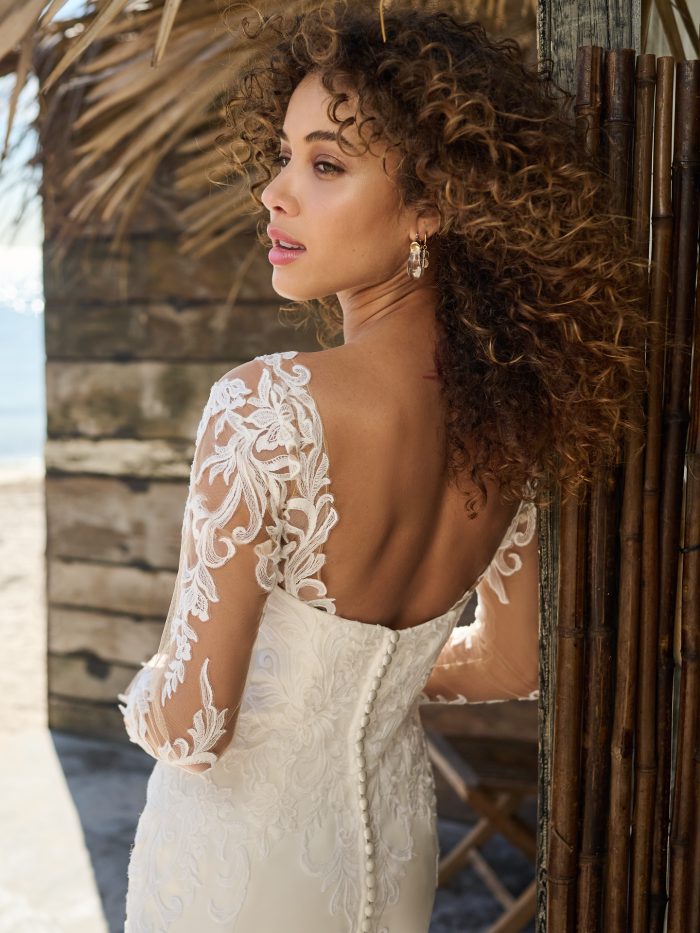 Jewelry-wise, we've chosen plenty of warm gold and sunny crystals to represent the natural brilliance of an outdoor setting. These pieces are fun, flirty, and youthful — nothing too serious or formal, and picture-perfect for a wedding on the beach. Layer up necklaces, earrings, and rings for an effortless boho vibe, and play up the personalizations with vintage heirlooms and offbeat treasures.
Here are a few places to shop our collection shoot: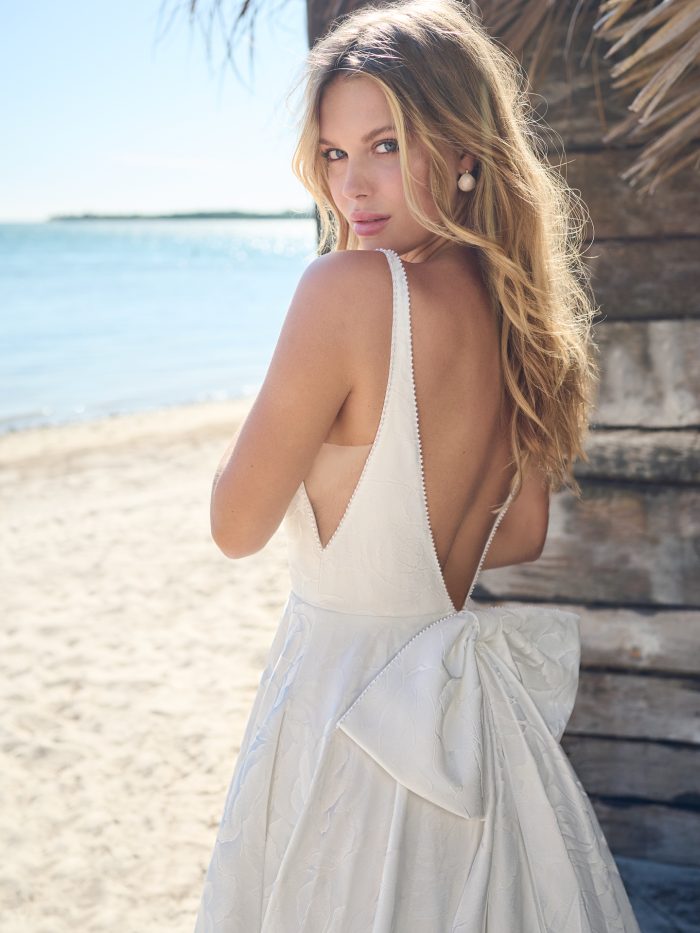 As for accessories from the Rebecca Ingram collection, here are some covetable highlights:
These pieces are soft, versatile, and perfectly on trend for your dreamy wedding aesthetic!
Sottero and Midgley Accessories and Jewelry Styling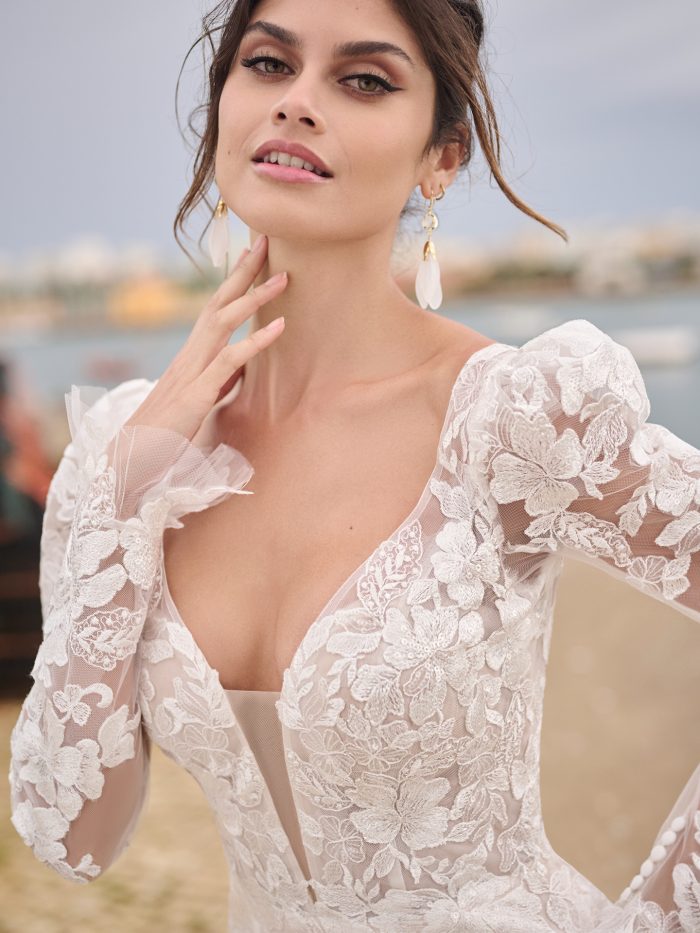 Wedding gowns by Sottero and Midgley are designed to be "as unique as the bride who wears it" — a statement-making declaration of your love and adoration! This season, we played with bold fabrics juxtaposed with soft laces, a fusion of minimalism and maximalism with covetable details throughout. For styling and accessories, we channeled the adventurous spirit and natural beauty of a dramatic outdoor setting, from bold, feminine jewelry to sexy, couture flourishes and layers.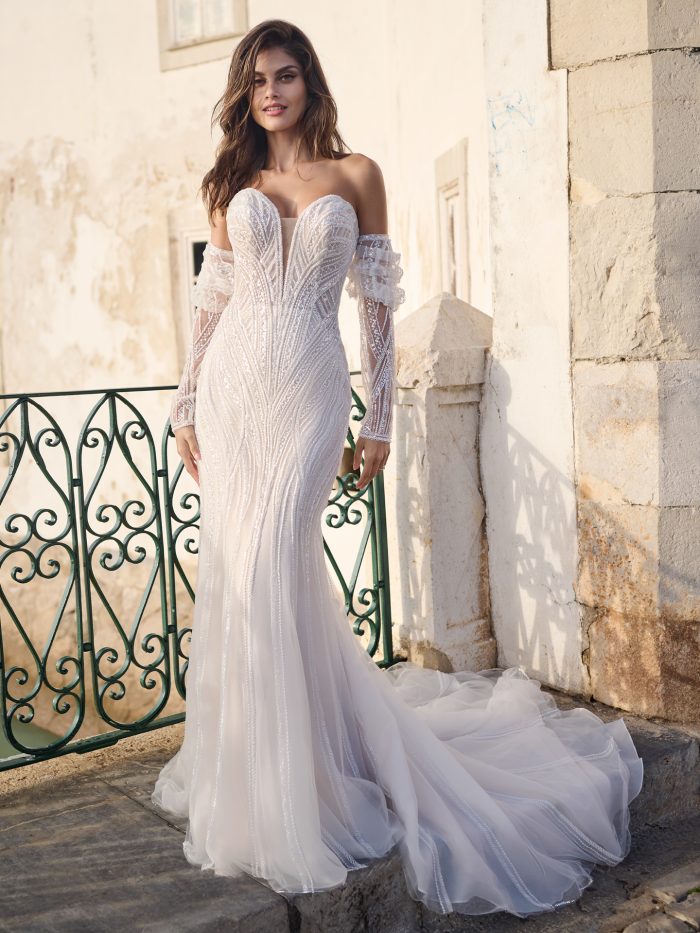 A few pieces we selected for this collection shoot:
A few of our favorite accessories from the Sottero and Midgley collection: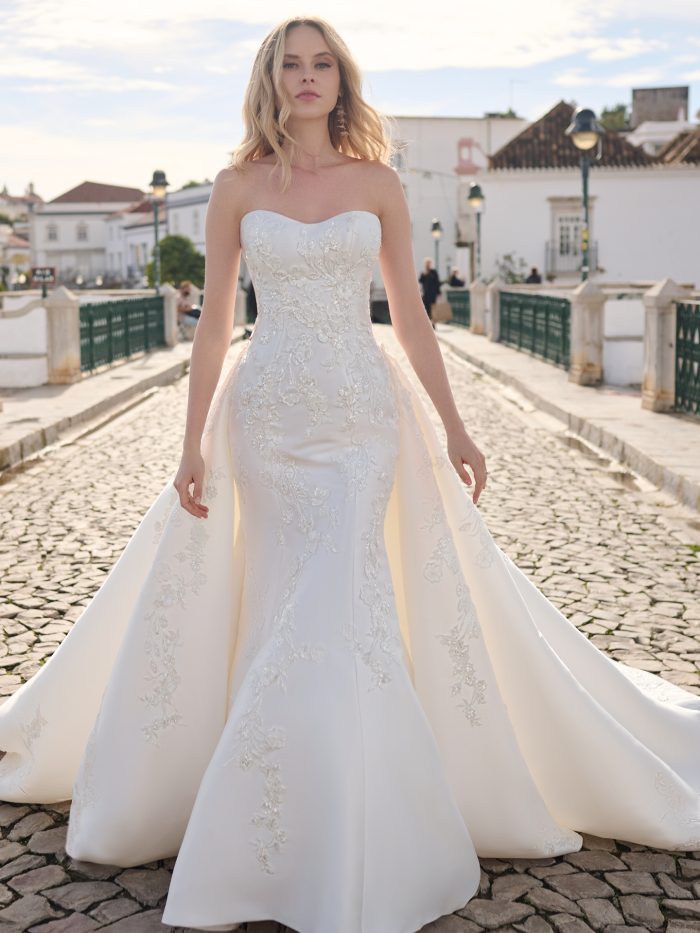 How To Style Your Wedding Dress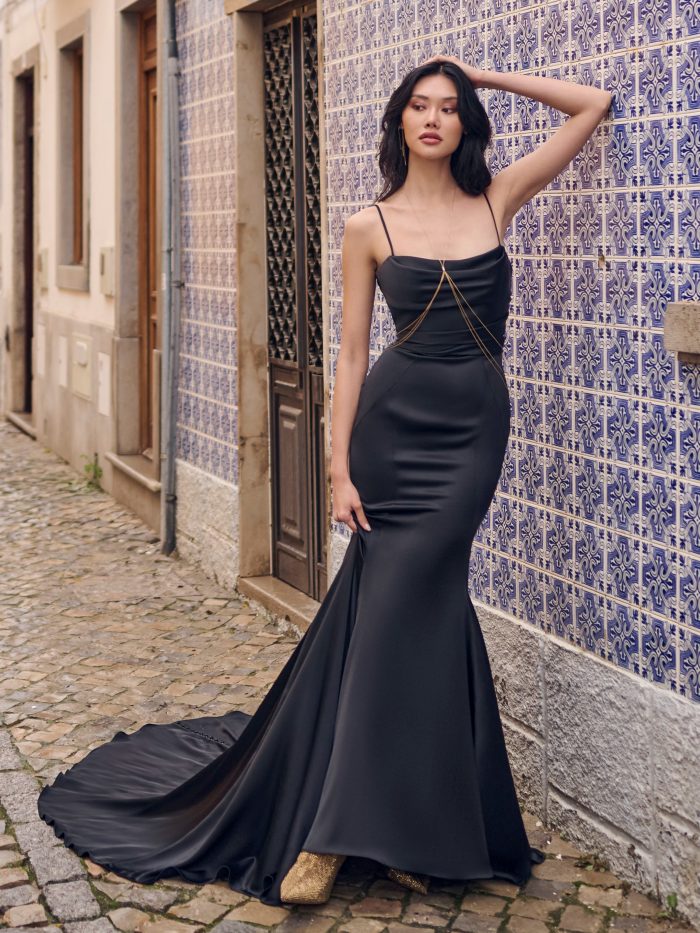 First up, jewelry! Start by shopping for pieces that highlight your personal style and match your everyday vibe — then turn them up a notch to make it bridal-ready. If you love earrings for everyday home and office looks, find a snazzy pair with a flourish that matches your wedding theme. Add razzle-dazzle with unique stones or longer lengths, or layer up with multiple pairs of metallic, crystal, and floral variations.
For sleeved dresses, we recommend focusing on earrings and necklaces over bracelets and cuffs. These are more suited for the silhouette and easier to highlight in your bridal portraits.
As a general rule, pick a necklace that follows the neckline of your wedding dress. A V-neck, for example, pairs beautifully with a pendant necklace, while a sweetheart or straight-across neckline complements a choker or shorter statement necklace. The trick is to not overlap the gown and the necklace— keep the jewelry sitting directly on your skin.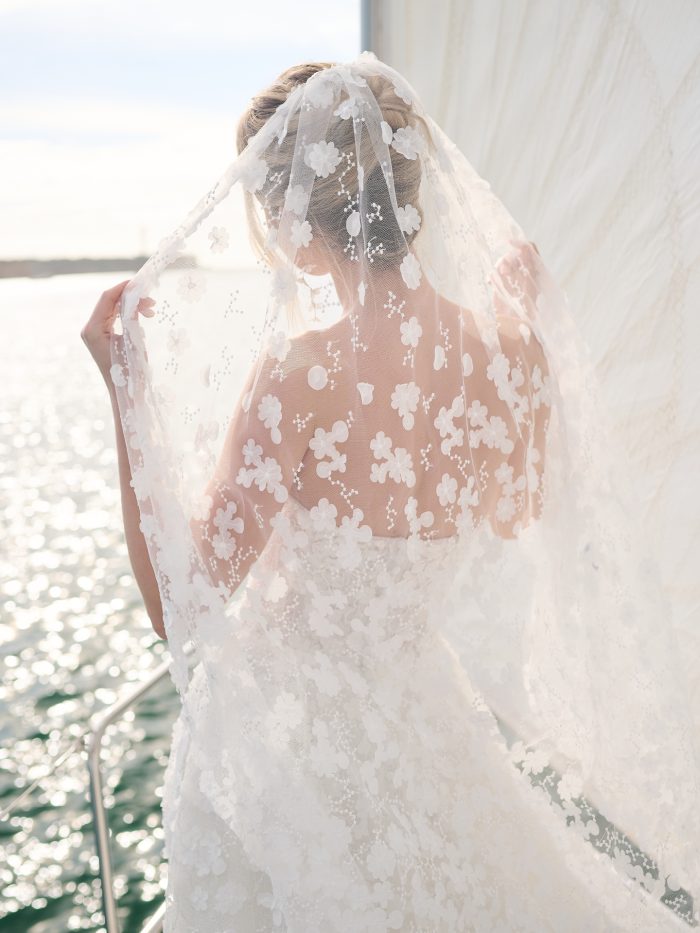 If you love a veil accessory, start with styles in similar laces or minimalist embellishments. Simple pearls and beading are always a good choice, as they add a bit of magic without overpowering or clashing with the gown. Pro Tip: If you choose a longer veil and are getting married outside, make sure to weight it down on the edges a bit so it doesn't fly around in the wind!
We also offer a range of detachable sleeves and jackets. These help to add dimension and visual interest to simple, elegant silhouettes. Whatever you choose, be sure to match the shoulder lines and silhouette so it looks as naturally as you can — e.g., a strapless sweetheart bodice with off-the-shoulder bands; bell sleeves with a plunging neckline; or a long, angel wing cape with a bateau design.
Adding a sleeve or jacket accessory is the perfect way to create a "Second Look" wedding dress. Wear the accessory down the aisle and then take them off for the dance floor — an easy way to wear a more conservative look for the ceremony while having an effortless variation for the party.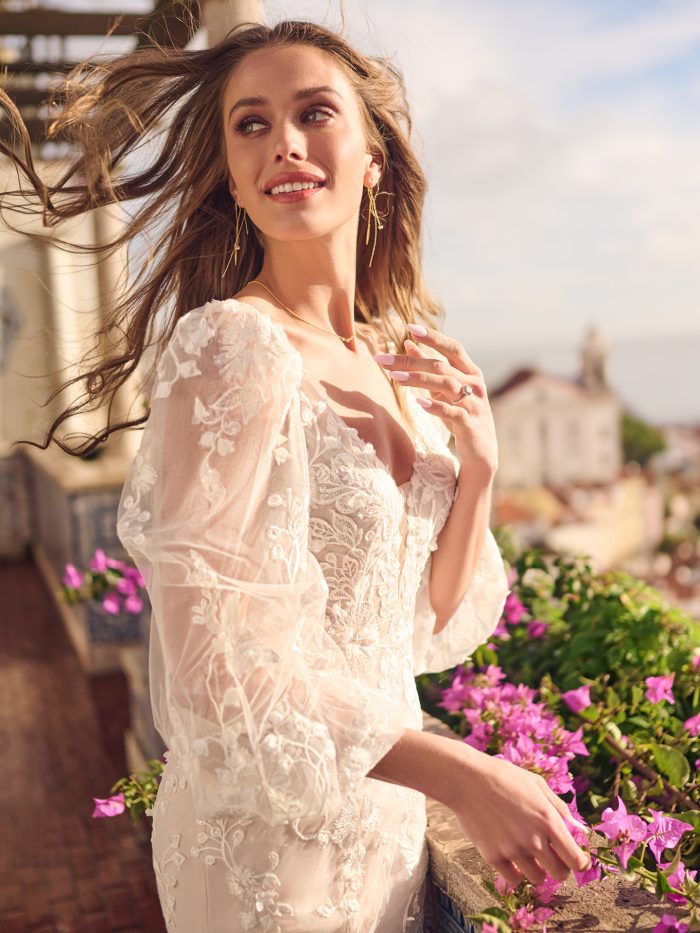 We offer a variety of sleeve lengths to personalize your wedding gown, including:
Straps
Cap-sleeve
Off-the-shoulder
Long sleeve
Puff sleeve
Bell sleeve
Flutter sleeve
Bishop sleeve
Next up, gloves! These are a fun way to bring some vintage elements into your wedding day look — just consider the fabric, weather conditions, and sleeve style when picking your perfect pair.
Bows are another ultra-stylish way to add dimension and drama to your gown. These statement pieces can be integrated into a variety of wedding dress silhouettes — just make sure your chosen accessory doesn't overwhelm your dress or distract from your overall vibe.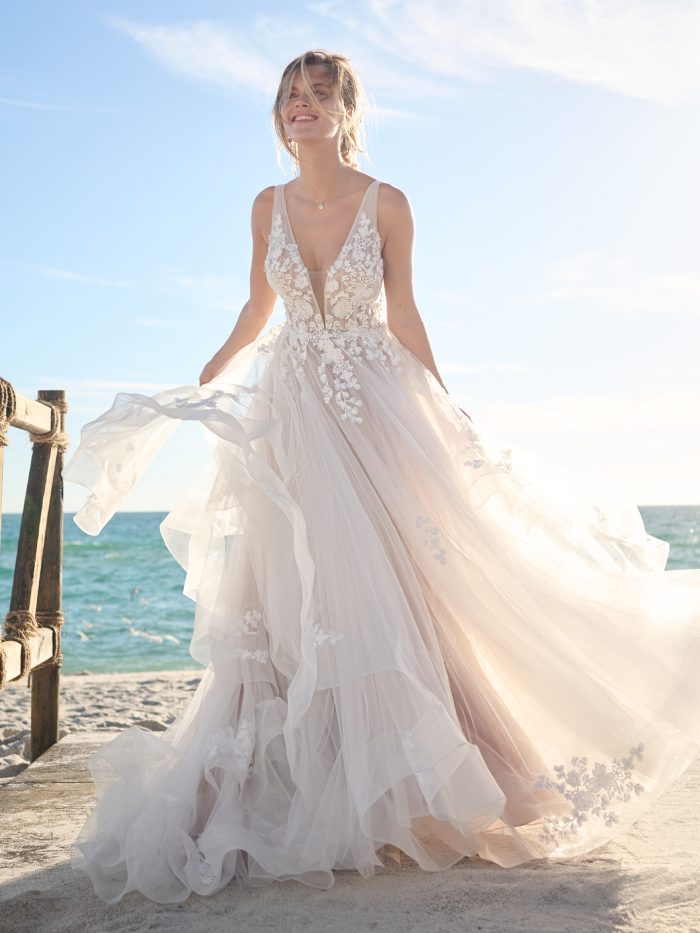 And finally, belts! From delicate beading to bold metallics, these add a touch of glam to your dress while highlighting your waist and bodice. Choose a style to match the fabric and design of your wedding dress before you add it. You can wear it so you can take it on and off for your wedding day, or have your seamstress sew it on directly.
There you have it — stunning bridal accessories for a range of aesthetics, seasons, venues, and budgets! We hope you find something you love for your perfectly personalized wedding-day look. Visit an Authorized Retailer near you to start curating your head-to-toe details:
More Blogs Like This:
20 Quick Delivery Wedding Dresses For The Soon-To-Be Bride
15 Affordable Wedding Gowns for Stylish Brides on a Budget