Tips and Trends
Wedding Inspo
|
April 29, 2023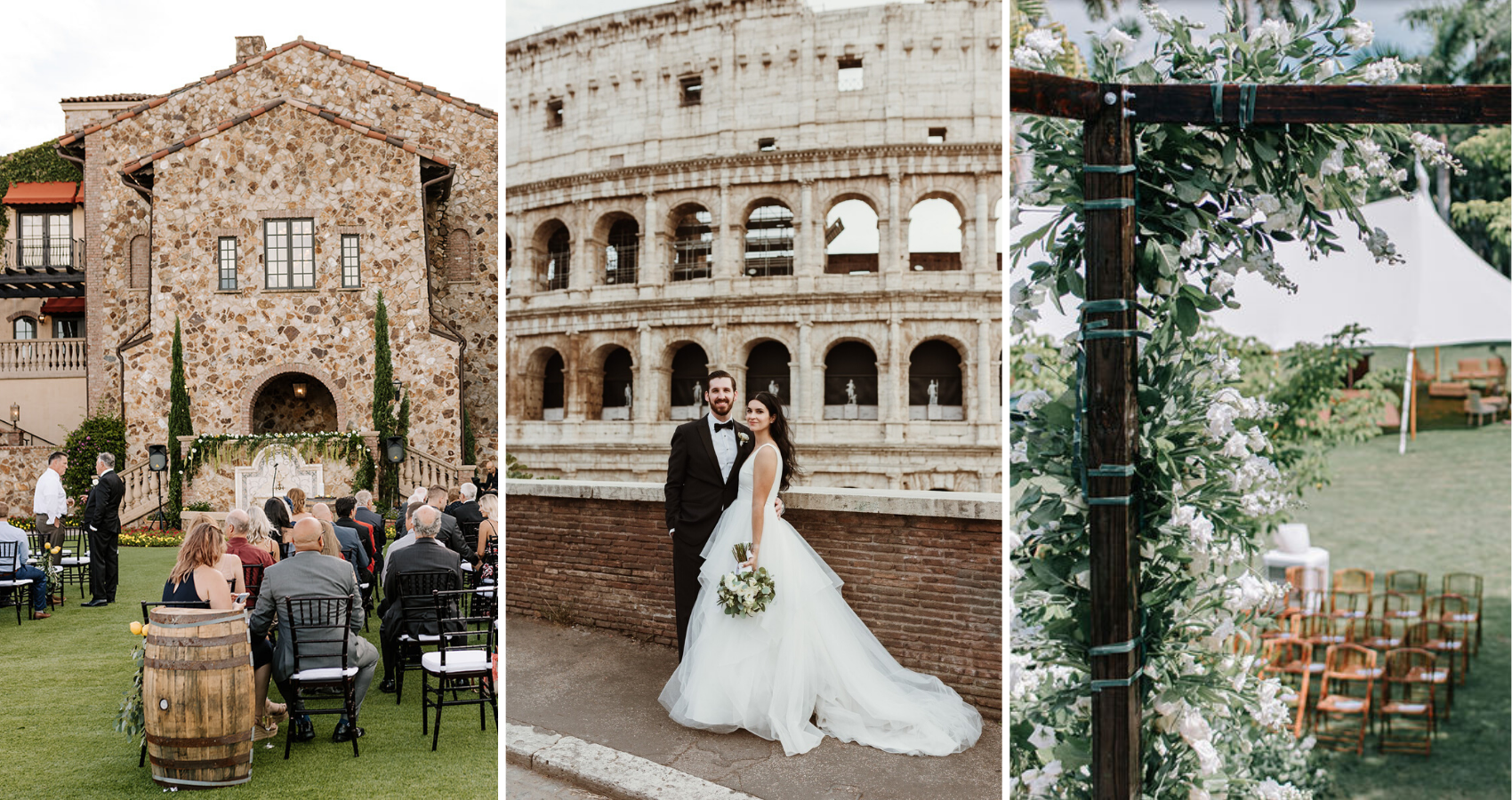 Any bride-to-be in the first wave of wedding planning knows how important a wedding venue is. It's the backdrop, the photo op, the atmosphere, and the keynote. It's the investment that determines all other investments! It makes the biggest impression on your guests and the most lasting effect on your photos. So, without further ado, here are some of our favorite wedding venue ideas for the season. From chic outdoor backdrops to snazzy manors and art galleries (and the wedding dresses to match), you'll feel inspired for your big day.
However, before you start scrolling, make sure to take our Style Quiz below to narrow down your dream gown so you can get started on planning the rest of your wedding day!
How to Choose Your Wedding Venue
While sorting through wedding venue ideas and booking a venue seems like an overwhelming process, it's important to keep a few simple things in mind:
What is your budget? (If you need help figuring it out make sure to read our blog for the best tips!)
What time of the year are you getting married?
What is the aesthetic that you're going for?
How many guests are you planning on inviting?
Is the type of venue you are interested in available?
Once you answer those questions, you'll be set on finding a wedding venue to host your love-filled celebration! In the meantime, keep scrolling to get some venue inspo!
Outdoor Wedding Venue Ideas
Seaside Wedding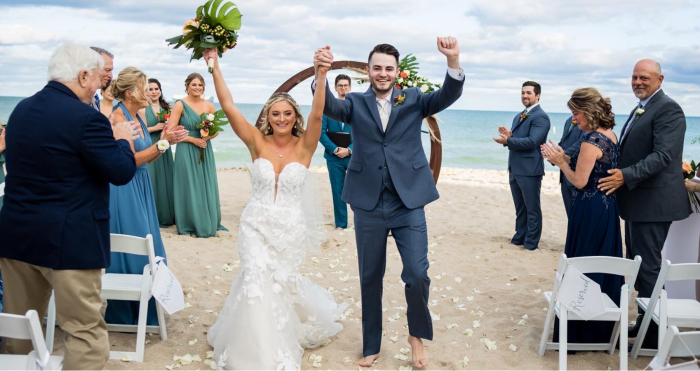 Our unofficial (official) prediction: This summer will be all about beachside celebrations! As Spring florals bloom, intimate outdoor weddings with nature as your backdrop are becoming more favorable than larger, indoor affairs. There's no question this year's celebrations will likely take place in smaller outdoor locales. You'll find wedding celebrations from beach town to shoreside—from New England to Florida, Mexico, and beyond.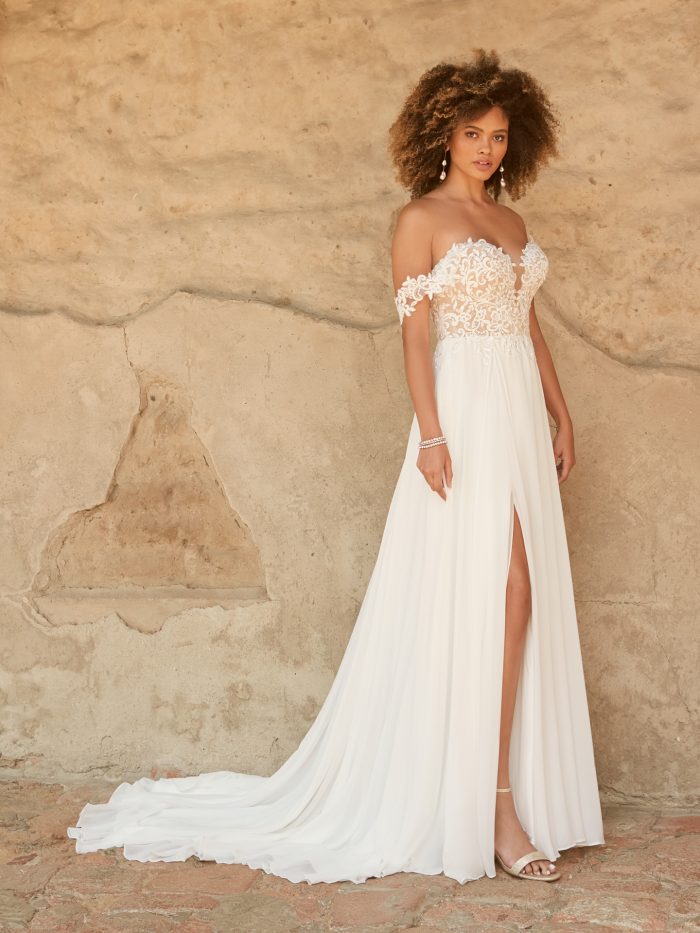 With more luxe and unique options available than ever before, these breezy celebrations are sure to be stunning! Our wedding dress pairings to go along with this beautiful venue? Consider the following gowns:
Hattie by Rebecca Ingram: Complete with beach-inspired tropical flowers, this mermaid wedding dress is the perfect option for a sexy beach wedding dress look with its plunging strapless neckline and fitted silhouette. Not digging this specific look though? Make sure to look at Hattie's other Sister Style's for more options with this lace!
Chantal by Maggie Sottero: If you're looking for a flowier wedding dress option for your beach ceremony, say hello to Chantal! This A-line gown is full of beautiful ease with its chiffon skirt (complete with a thigh-high slit!), lace illusion bodice, and off-the-shoulder sweetheart neckline. The perfect gown for a beach vibe!
Woodsy Wedding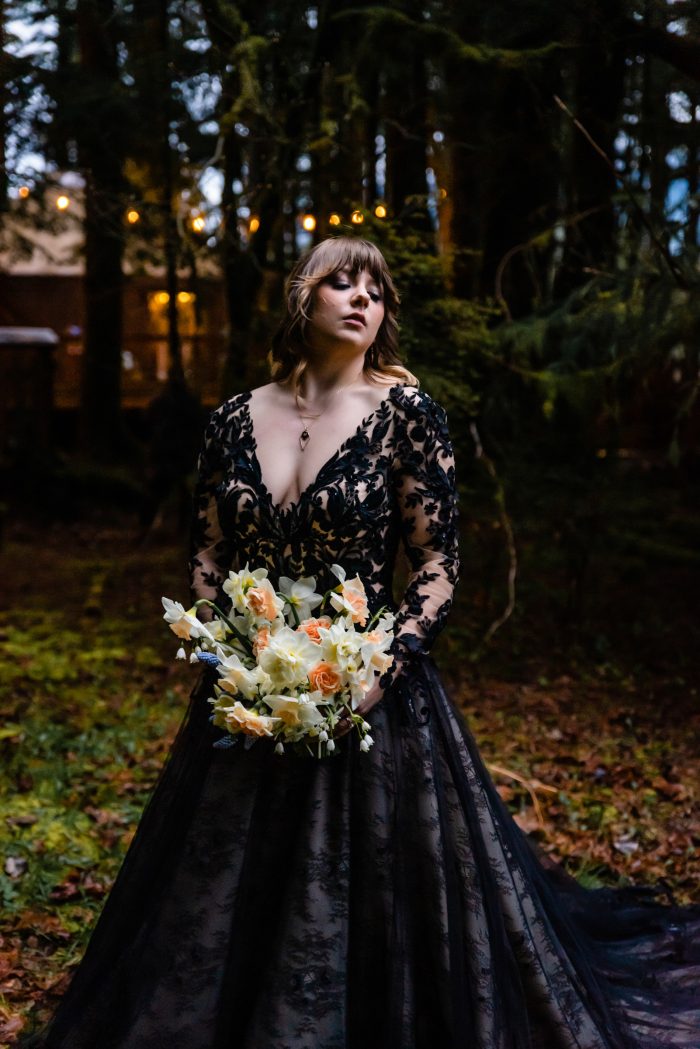 PC: Wander and Bloom Photography
Full of sunny greenery, fairy lights, and cool breezes, forest weddings are an irresistible venue trend for the new decade! More and more couples are loving this casual, cozy, and enchanting outdoor idea. It's all about turning your outdoor wedding venue ideas into magical safe havens—straight out of a "midsummer night's dream."
If you love the woodsy venue idea, find your gown inspiration with bohemian gowns Zander by Sottero and Midgley and Keisha by Maggie Sottero! These floral A-line wedding dresses are both flowy and nature-inspired. The perfect choices for brides who want their gowns to tie into nature just as much as their wedding venue!
National Park Wedding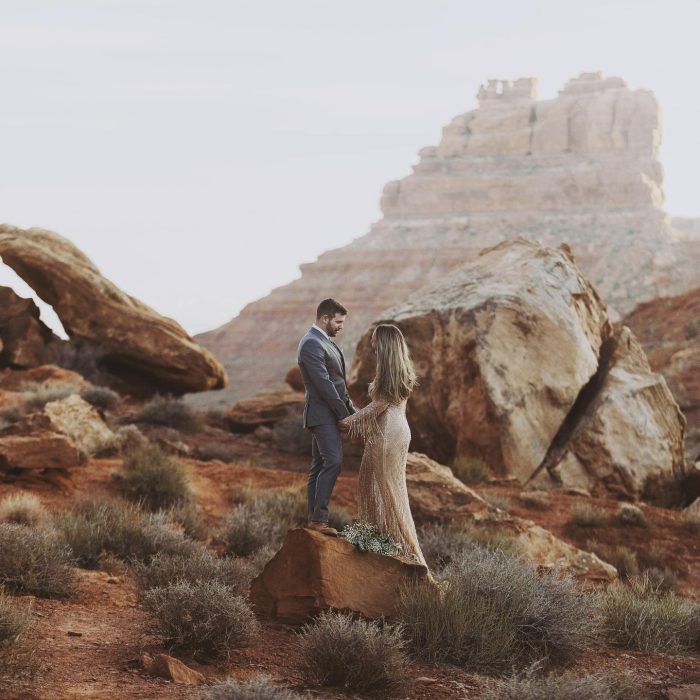 PC: Haley Nord Photography
The beauty of National Parks? The diversity in environments! Whether you're looking to have a beach wedding, mountain wedding, or desert wedding there's nothing like a natural backdrop to elevate your bridal portraits. Near or far, your guests will love the idea of celebrating in the breathtaking scenery and unique landscapes of a National Park.
Take our beautiful bride in Andrew by Sottero and Midgley for starters. Pairing your gown with the dazzling beauty of the landscape around you is the picture-perfect way to celebrate your future life with your partner. The dazzling and intricate beading of this gown perfectly coincided with the breathtaking features of the Utah desert and couldn't be a better choice for this National Park-loving Real Bride!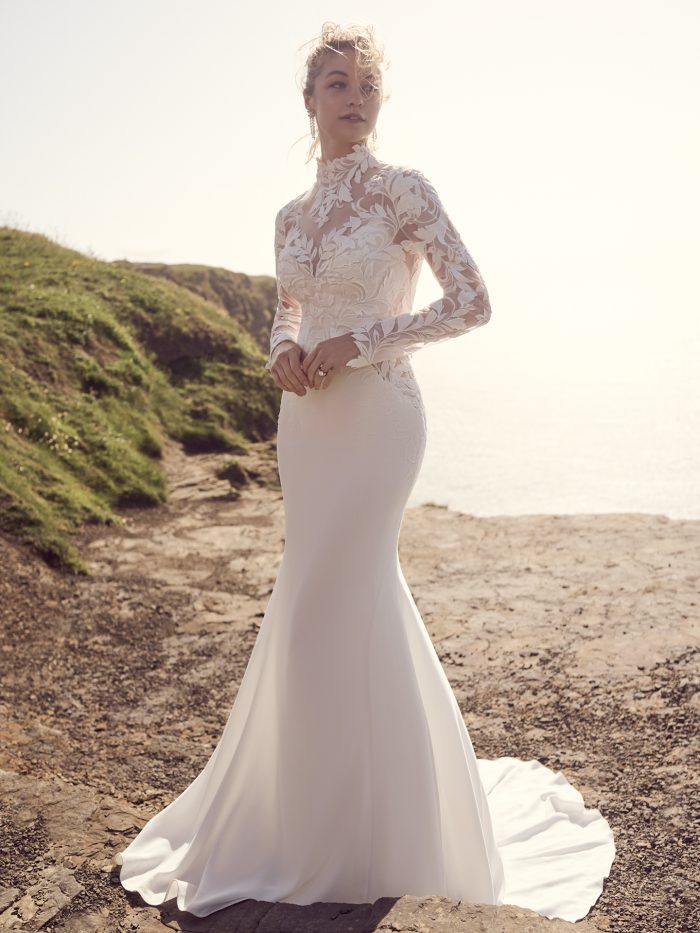 Dionne by Rebecca Ingram is another beautiful option for brides who crave adventure on their wedding day! This crepe wedding dress is sexy, sleek, and comes with a detachable floral lace jacket to personalize it for your love story. AKA, the perfect, comfortable gown to pack for your National Park elopement.
Psst… National Parks are not only a gorgeous venue option but an affordable one as well!
Ranch Wedding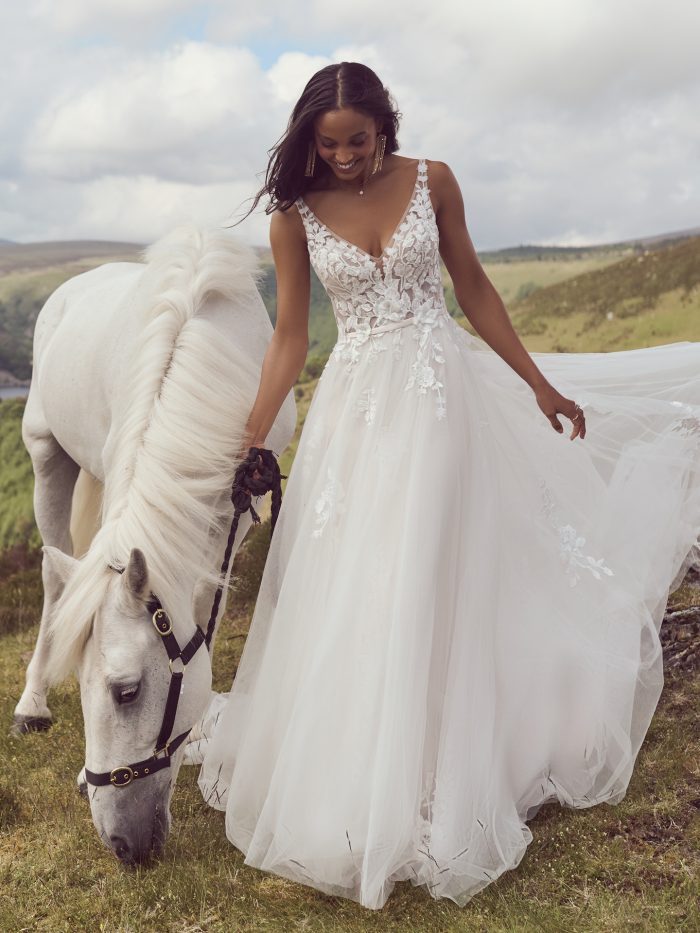 PC: Megan Taylor
Ranch weddings have made a big splash in the last couple of decades, and this rustic trend isn't going anywhere! We imagine this outdoor venue decorated with a nature-inspired arch that highlights the beautiful plains, natural wood features throughout the reception, and yards of neutral linens to go along with the natural beauty of the property!
We dove into our rustic and Western wedding dress collections for some bridal gown inspo to go along with this beautiful wedding venue idea. Keep scrolling to see our choices:
Matilda by Rebecca Ingram: Is there anything that says "rustic ranch wedding" more than a floral A-line? This romantic dress is full of natural details from its airy tulle skirt to its floral bodice. And can't you imagine this style with a cute pair of cowboy boots?!
Kevyn by Sottero and Midgley: While Matilda is all about that girlish charm, Kevyn is all about that modern sexiness. A modern style will certainly translate to a chic ranch wedding though! This fitted crepe gown features a high neckline, intricate lace pattern, and will go perfectly with your turquoise jewelry.
Psst… Love the look of a Western wedding dress? Make sure to read our blog to see more options to match this rustic aesthetic!
Traditional Venue Ideas
Vineyard Wedding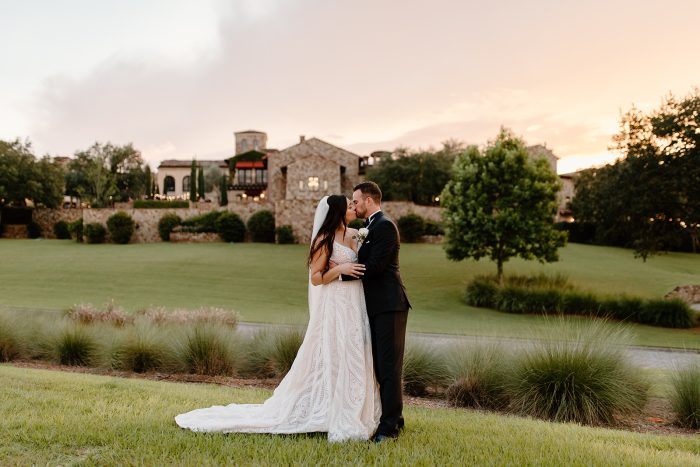 If you've got elegant taste, but you don't want to get married somewhere stuffy or overly formal, look to a chic and stylish vineyard! This is a go-to choice for West Coast brides, however gorgeous vineyards can be found all over the world! Find your dream venue in Napa to upstate New York, Tuscany to Australia, and beyond.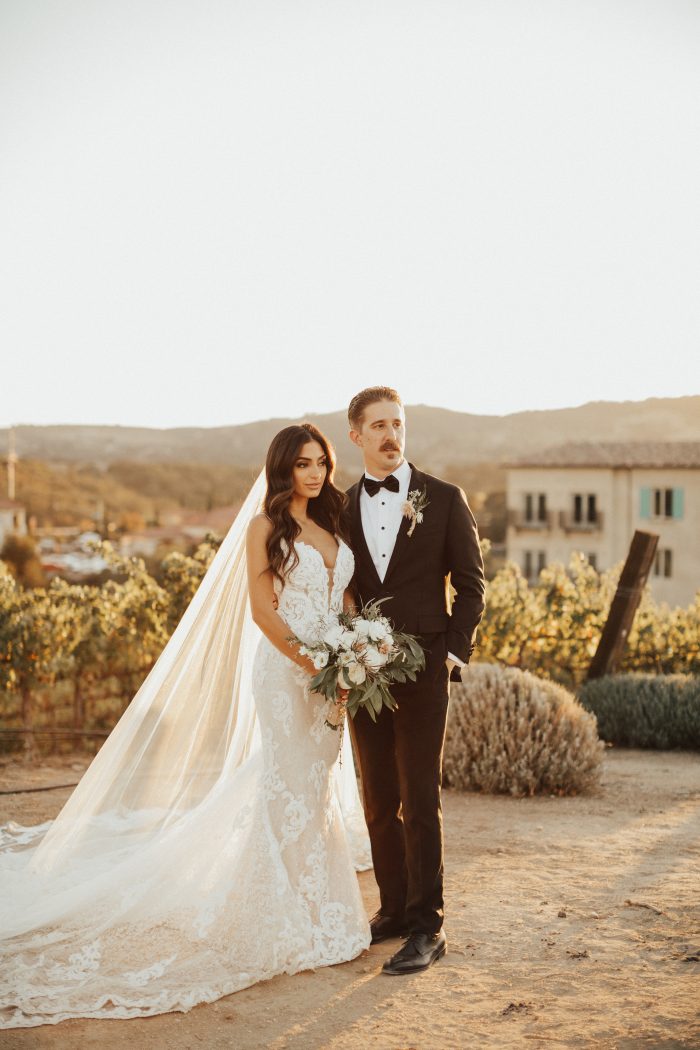 PC: Heirlume Photography
Roxanne by Sottero and Midgley and Tuscany Royale by Maggie Sottero are great wedding gown choices to pair with this high-end venue! Both gowns feature intricate lace, artfully designed bodices, and plunging necklines. The perfect bridal looks to match a chic and modern venue full of beautiful and class.
Church Venue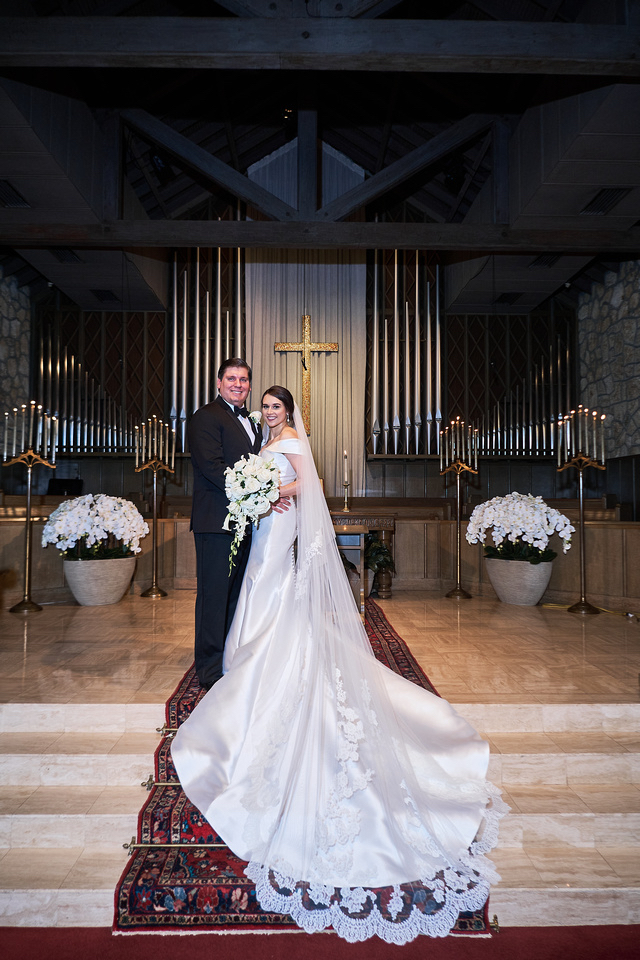 PC: Simply Captivating Photography
If you've got your heart set on a classic church ceremony, look to unique and meaningful wedding location ideas in your area. Stained glass windows, mid-century architecture, peaceful gardens, beautiful light displays—even the smallest towns are sure to have a gorgeous piece of religious history tucked away.
For this venue we picture classic and feminine silhouettes, rich laces and satins, and our touches of modern modesty. Our first potential church gown is Josie by Rebecca Ingram. This old-Hollywood inspired wedding dress is classic, romantic, and full of traditional details to go with this traditional venue. Psst… If you're worried about having exposed shoulders in the ceremony, consider a cathedral-length veil to add some coverage and drama to your bridal look!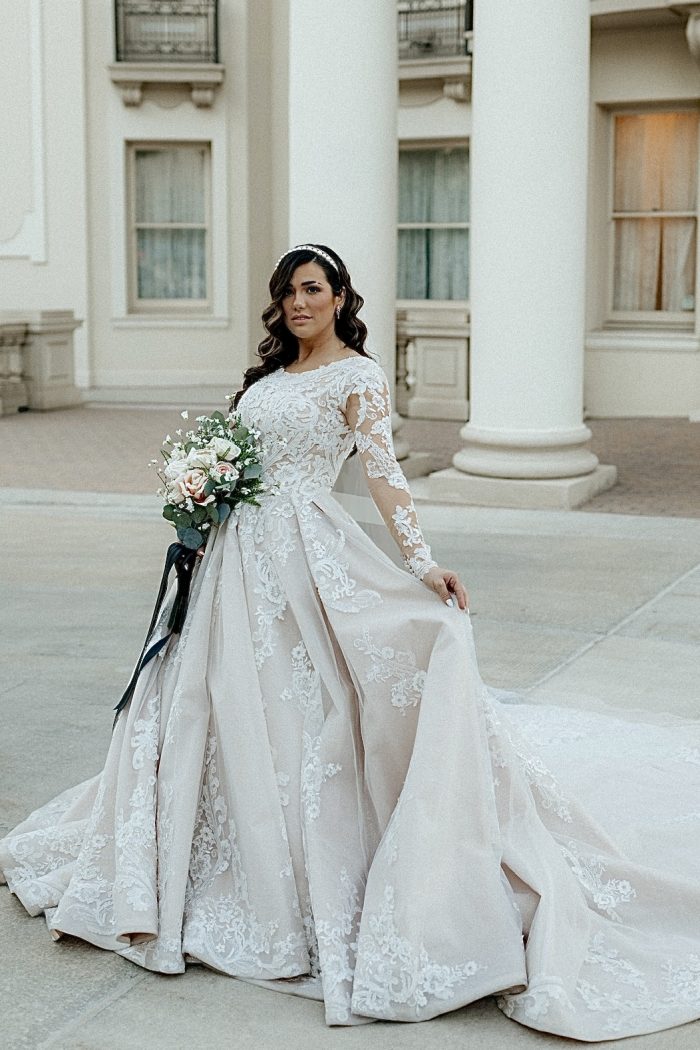 PC: Haley Folkman
Norvinia Lynette by Sottero and Midgley is another romantic and feminine bridal gown that would match the classic details of a church wedding venue idea. This gown features intricate long lace sleeves with regal embellishments like a full skirt, shimmery fabric, and layers of romance. It's giving Kate Middleton meets Disney princess.
Hotel, Mansion, or Country Club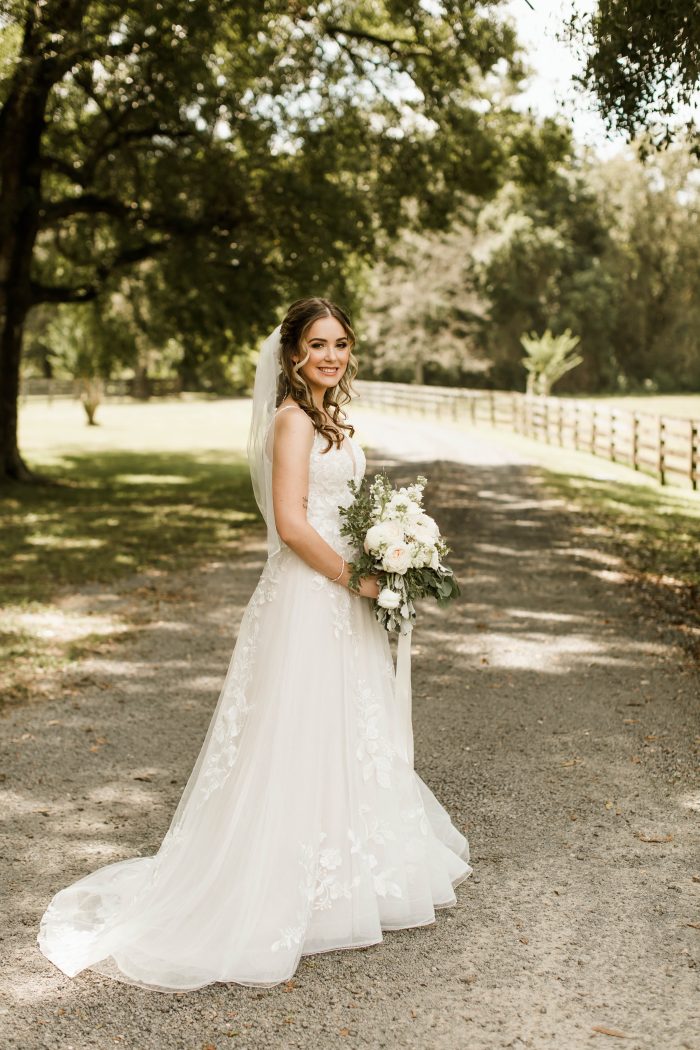 PC: Cole Lo Curto Photography | PC: Crystal Satrianno
If you're on the venue hunt, you've likely come across several exceptional options for mansions, hotels, and country clubs. These wedding venue ideas provide timeless and ultra-romantic settings for your celebration and it doesn't hurt that they are always a hit for your guests!
Beautiful venues like these require beautiful wedding dresses as well! We took some inspo from two of our gorgeous Real Brides who wore Ellen by Rebecca Ingram and Selena by Maggie Sottero. These timeliness A-line wedding dresses were designed with classic details in mind like luxe fabrics, fitted bodices, and full skirts. AKA, the perfect wedding dresses to wear to your swanky event.
Garden Wedding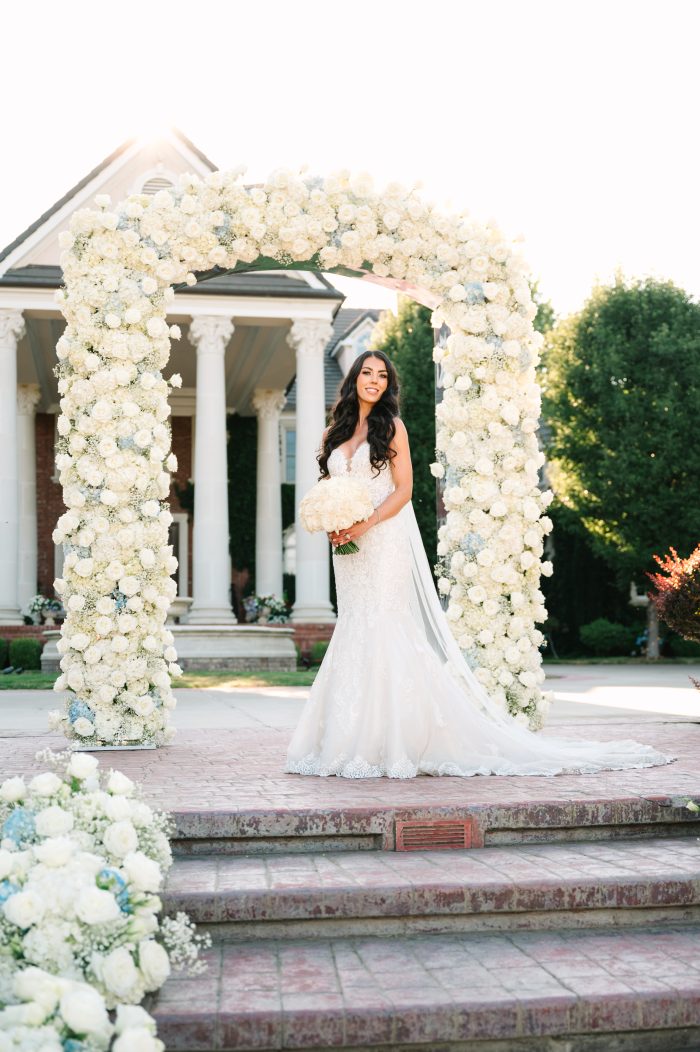 PC: Misty C. Photography | PC: Courtney Lynn Photo
We all know gardens are foolproof for weddings. From the natural décor and sunshine to the charming reception potential, there's nothing like nature to throw an easy-breezy celebration. This year's trends are all about maximizing the space and adding thoughtful touches. From unique food carts and botanical spirits to elegant tents, outdoor dance floors, and more your wedding will be head-to-toe dreamy.
For our first bridal look or this cute wedding venue take some inspo from our bride in Raelynn by Rebecca Ingram who chose to match the florals in her gown to the florals at her garden wedding! In a whimsical and dreamy venue like a garden, you have to pair it with something just as dreamy!
Fiona by Maggie Sottero is another option. This lace fit-and-flare wedding gown is an ideal romantic choice for brides looking to feel sexy and romantic one their wedding day. Just look at our gorgeous Real Bride!
Wedding Venue Ideas for a Destination Celebration
Romantic European Elopement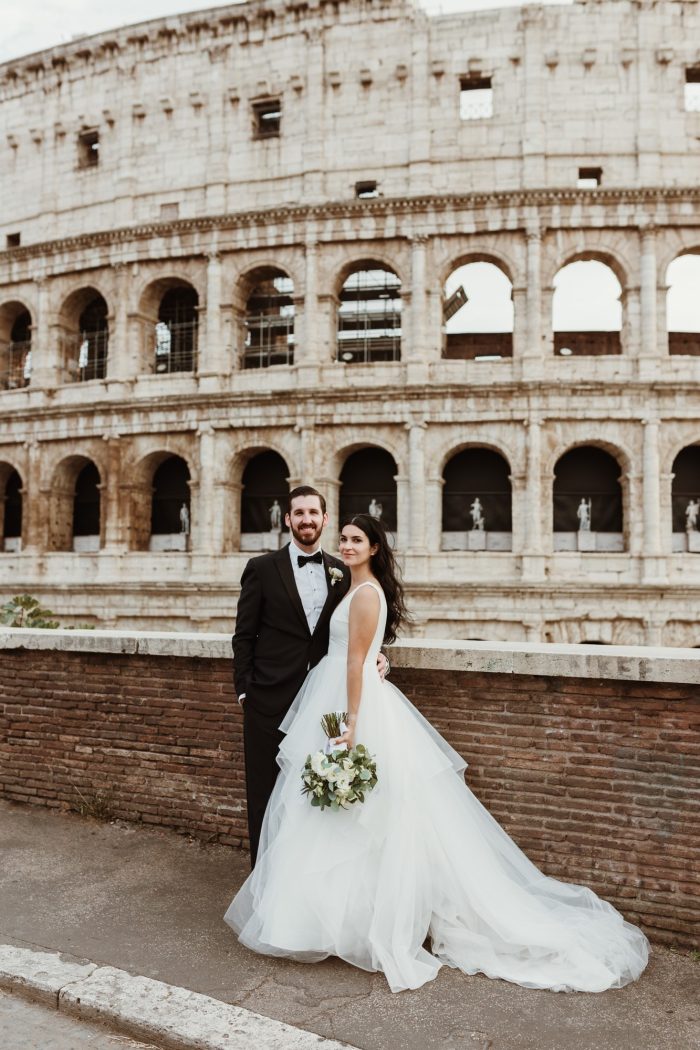 PC: Sarah Joy Photography
Ok, it's really hard to top the charm and adventure of a European wedding! As industry experts, we've seen it time and time again: Couples who choose to skip the big to-dos and expenses of a large wedding and jet-set to Paris or Barcelona… there's just nothing like it!
If you're on board for a once-in-a-lifetime trip with your loved ones, then get inspired by this real bride's gallery from her wedding in Rome, Italy. If you're wondering about what she's wearing, it's our chic and minimalist wedding gown, Fatima by Maggie Sottero. A stunning choice for an adventure abroad!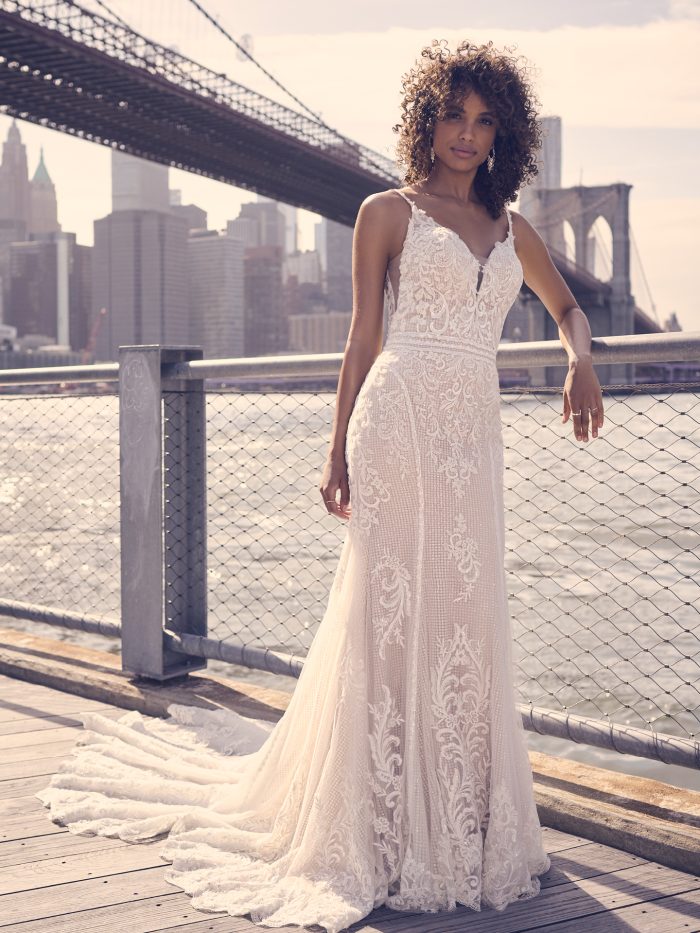 Veronique by Maggie Sottero is another gorgeous choice for brides who are hoping to say "yes" in a glamorous European city. With gorgeous lines akin to the timeless architecture, lace as whimsical as the fairytales inspired by these cities, and sexy chic details to make you stand out, you can't find a better option for your next big adventure – marriage!
Love the idea of a romantic elopement as your wedding venue idea? Read our blog for more elopement wedding dress options!
The Mountains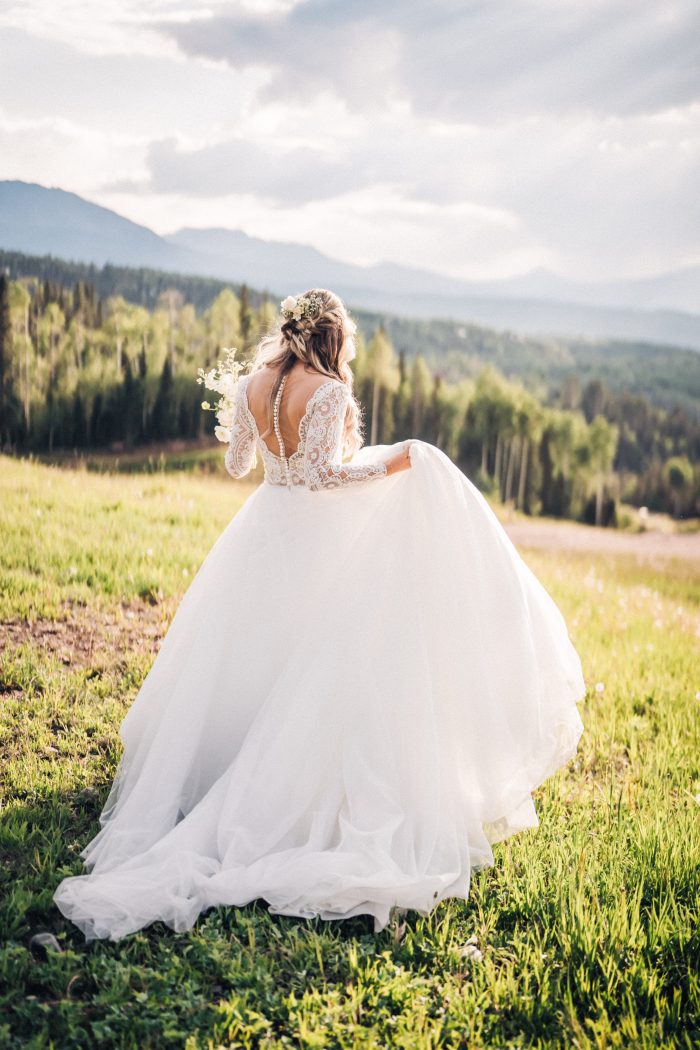 PC: Jason Hicks
If a European elopement isn't in the budget for your upcoming nuptials, consider staying statewide and eloping to one of our beautiful mountain ranges! For adventurous brides like you though, make sure to find gowns that carry the same spirit (and are easy to hike in). Our favorite choices? Mallory Dawn by Maggie Sottero and Alexandria by Rebecca Ingram!
Ready to start shopping for venues and dreamy wedding dresses? Find a boutique by clicking the button below to discuss accessories, delivery dates, and ways to customize your bridal look and make sure to take a look at other blogs like this for more bridal inspo!
More Blogs Like This:
Find Wedding Dress Boutiques Near You
How Much Do Maggie Sottero Wedding Dresses Cost?
Choose the Right Wedding Undergarments for Your Wedding Dress