Dresses
|
February 18, 2023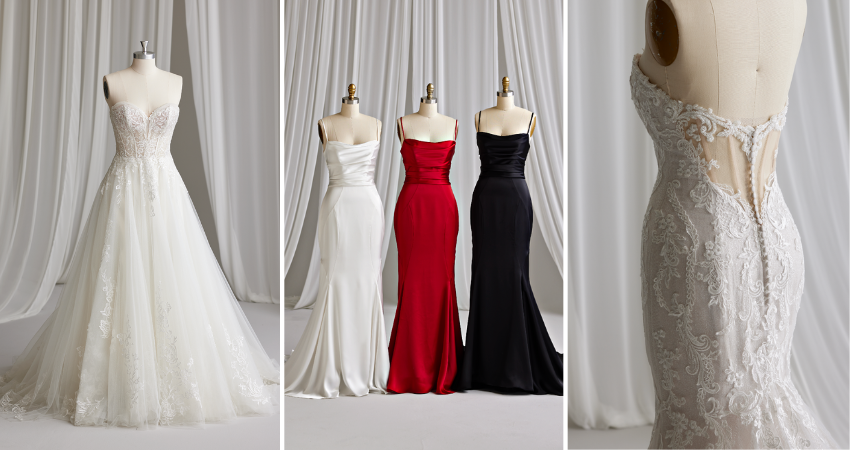 Shopping for a chic, modern, and undeniably beautiful wedding dress that feels completely yours? Say hello to our range of sister styles! To get you started on all your shopping magic, we've compiled our latest sister-style "mini drop" — irresistible wedding dresses available at a boutique near you. Keep scrolling for all the newness!
But first, make sure to sign up for our exclusive Maggie text messages to be first-in-the-know about all thing bridal!
What are Sister Style Wedding Dresses?
What we call "sister styles" are all about choices, and here's the perfect Maggie Sottero Designs formula: Start with an original (ultra iconic) design, then evolve that design over various collections to accommodate new trends, requests, and options for silhouettes and details. Eventually we end up with a mini capsule of gown variations to fit a variety of brides' styles and sensibilities.
To help you shop our sister styles, here are a few naming conventions that match to specific style features. There may be some exceptions to the categories, but here are a few guideposts:
"Lynette"—typically these styles feature more coverage and support for plus size brides
"Anne" usually means it has a longer train
"Leigh" refers to a fully modest style
"Dawn" typically to the option to change up the sleeve length
"Louise" usually gives you the option to change the fabric
"Marie" gowns typically have the option to change the sparkle and sequined fabric
"Lane" gowns most often have the personalization for silhouettes
We've compiled our latest design additions here… Head to a boutique near you to discuss orders, accessories, pricing, and more!
Maggie Sottero: Beautiful Wedding Dress Sister Styles
Let's start off with pops of stunning color: Scarlet and Scarlet Lane, two nontraditional wedding dresses in the most delectable shades of red, black, and white. Choose from a dramatic ball gown silhouette or sexy fit-and-flare — both Old Hollywood inspired with long, sumptuous lines and chic draping.
To further personalize Scarlet:
Choose slit or no slit in the skirt.
Opt to shorten the train (also an option on Scarlet Lane).
Add a bridal veil or bridal cape to either of the amazing wedding dresses.
Have your eye on this classic, shimmery, and ultra-luxe fabric? You'll love our roundup of simple satin wedding dresses and their chic accessories.
One of our most iconic mermaid styles is Danielle by Maggie Sottero, a sexy red-carpet style that's picture-perfect for a black-tie celebration. For our latest collection drop, we added Danielle Lane, a lush ballgown with layered illusion, exposed boning, and subtle shimmer throughout.
To personalize either of these gorgeous wedding dresses, you can:
Change the sparkle tulle to plain tulle.
Opt to shorten the train.
Add hem lace to the train.
Order with a lined bodice.
Add the detachable off-the-shoulder ruched tulle and lace cap-sleeves, sold separately.
Add the long fitted illusion lace sleeve armbands, sold separately.
Add the cathedral length tulle veil edged with lace motifs sold separately.
Use the extra lace motifs included for minor neckline alterations.
PC: Marcus Jones Photography
One of our top-reviewed wedding gowns is Fiona by Maggie Sottero, a glamorous fit-and-flare with oodles of lace and sparkle. Fiona Royale is our newest sister style to Fiona — a slightly different fit-and-flare with a unique low back detail. Both of these amazing wedding dresses feature lovely ways to customize:
Choose among glitter and plain tulle combinations.
Extend, shorten, or remove the train.
Add buttons down the back for a vintage vibe.
Detachable train with lace motifs over glitter tulle, sold separately.
Detachable train with lace motifs over sparkle tulle, sold separately.
Detachable train with lace motifs over tulle, sold separately.
Cathedral length veil embellished with lace motifs sold separately.
Royal length veil embellished with lace motifs sold separately.
Extra lace motifs included for minor neckline alterations.
PC: Blink and Company Photography
Loved fit-and-flare beauty, Frederique by Maggie Sottero? Meet Sister Style, Frederique Royale by Maggie Sottero!
Both of these beautiful wedding dresses have all-over beautiful lace and a sexy sweetheart neckline. The big difference? The gorgeous corset illusion back to keep all eyes on you on your wedding day!
PC: Crystal Satriano Photography
One of our most popular wedding dresses is Selena by Maggie Sottero, a minimalist ballgown in a truly timeless silhouette and fabric. This gown is elegant, regal, and sophisticated, from the clean tailoring to the lush satin layers. (You can also order Selena without a strapless neckline if you love the vibes.)
A fresh update to Selena is sister-style Selena Lane, a sexy mermaid silhouette with a glamorous trumpet train. Stunning!
Rebecca Ingram: Beautiful Wedding Dress Sister Styles
PC: McKenna Shannon Photography
One of our most beloved (and budget-friendly) wedding dresses is Iris by Rebecca Ingram, a sleeved style with lace and illusion to spare. This sweet and feminine design is a little Renaissance-y, a little regal, and 100% romantic. We're especially fond of the delicate lace scalloping along the neckline.
As a sister style, Iris Leigh preserves all the charm and detail of Iris — but with a little extra coverage for modest brides. Opt for this style for a fully lined bodice, cap sleeves, and a slightly raised neckline. (A perfect addition to our lineup of celebrity-inspired modest wedding dresses inspired by real celebrity weddings!)
PC: Alexis Christine Photography
Sweet meets delicate meets sexy in Carmen by Rebecca Ingram, a lightweight, ultra-touchable lace wedding gown featuring a sheer bodice and ballerina-inspired skirt. We gave Carmen a slight variation with sister-style Carmen Lynette, featuring a touch more coverage and support in the bodice. Here's how to personalize either style:
Extend or shorten the train.
Add the long sleeves with beaded lace appliques, sold separately.
Add the beaded tulle jacket with godets, sold separately.
Add the unembellished tulle jacket with godets, sold separately.
Add the detachable tulle skirt with beaded lace waistband, sold separately.
Featured exposed boning in the bodice and irresistible lace motifs, Lily by Rebecca Ingram is a whimsical floral bridal dress — refined enough for the ballroom yet perfectly boho for an enchanted fairy forest.
If you're inclined to shop silhouettes with a bit more coverage and support, get your eyes on Lily Lynette by Rebecca Ingram. Easy breezy!
"Beachy boho" makes an ultra-chic statement in Lorraine by Rebecca Ingram, a simple yet lovingly embellished A-line with a lace bodice and chiffon skirt. These little details also come together in sister-style Lorraine Anne — equally chic and featuring a tad more coverage in the lined bodice. You'll find your perfect fit in one of these effortless designs!
PC: Blue Earth Creative Photography | PC: Jenna Dailey Photography
For a gorgeous hourglass effect and equally gorgeous ways to customize, explore our range of wedding dress variations for the Hattie gown from our Rebecca Ingram collection. These amazing wedding dresses include a range of personalization options for style features, including:
Sleeve styles
Necklines
Bodice coverage
Silhouette
Length
And more!
Our latest addition? Hattie Lane Lynette Marie, a chic A-line wedding dress with sweetheart neckline featuring extra support in the bodice.
Sottero and Midgley: Beautiful Wedding Dress Sister Styles
PC: Haley Folkman Photography
It's all about the drama in Norvinia by Sottero and Midgley, a lush and covetable ballgown with three one-of-a-kind colorways. We loved this style so much we added a second variation: regal Norvinia Lynette, featuring long illusion sleeves and a chic bateau neckline.
Royal wedding vibes? We certainly think so. DIve into more glamorous ballgown wedding dresses for more inspiration.
PC: Sufia Huq Portraits
Featuring a range of colors in a breathtaking silhouette, Zander by Sottero and Midgley is one of our most unique, glamorous, and spotlight-able wedding gowns. The long, lush silhouette is the perfect balance of dramatic and demure — a little mysterious, yet perfectly chic.
Zander Lane makes the perfect counterpart to Zander. Featuring a curve-hugging fit-and-flare silhouette and strappy bodice, this slinky silhouette feels like red-carpet magic.
Love these beautiful wedding dress designs with color? Dive into more bold black wedding dresses from our latest collections.
Exquisitely tailored and embellished, Thomas by Sottero and Midgley offers a unique spin on the traditional princess silhouette. A few features we adore:
The soft shimmery lace motifs.
The lush, graceful silhouette.
Unique neckline with off-the-shoulder straps.
Thomas Marie captures that same charm and tailoring in a mermaid silhouette: a curve-hugging, ultra-feminine design with that same gorgeous bodice. Which of these sister styles catches your eye?
PC: Kennedy Miller Photography | PC: Taylor Tolbert Photography
"Beautifully bohemian" may be an understatement in Finley by Sottero and Midgley — a decadent wedding gown made with a vintage-inspired lace motif and unique illusion details.
For an equally effortless vibe with summery details, get inspired with sister-style Finley Dawn by Sottero and Midgley, featuring:
Beautiful illusion and nude details.
A strappy bodice.
Allover lace in a bold, eye-catching motif.
Our last two gorgeous wedding dresses are Dublin and Dublin Lynette by Sottero and Midgley — delicate lace fit-and-flares with beautiful ways to personalize. First up, options for Dublin:
Change the sequined Chantilly lace to classic Chantilly lace.
Extend the train for added drama or remove the train for a more casual look.
Add covered buttons down the back for a vintage vibe.
Add the detachable illusion lace cap-sleeves, long bell sleeves, or long illusion lace sleeves, sold separately.
And for a raised back and non-stretch lining, opt for sister-style Dublin Lynette. It features a touch more coverage and support in the bodice and neckline.
Falling in love with these beautiful wedding dress trends and sister-style variations? Head to an Authorized Retailer below to try these styles on IRL!
More Blogs Like This:
Everything To Know About The Tuscany Bridal Collection
The Ultimate Guide to Setting Your Wedding Budget
15 Quick Delivery Wedding Dresses for the Soon-To-Be Bride
As always, best wishes for your best day ever!