Dresses
Tips and Trends
|
July 21, 2023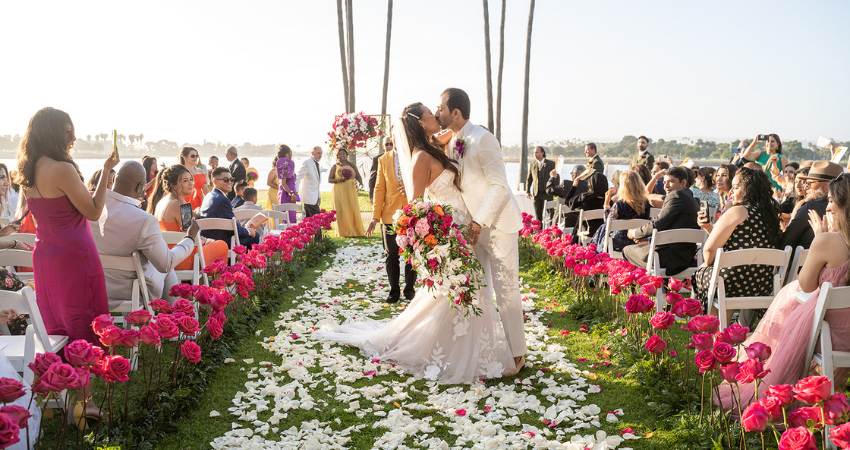 Ok, so unless you've been in complete denial about all the MAGIC and MYSTERY and UNDENIABLE FABULOUSNESS of the summer-movie-phenomena that is Barbie, we're here to serve up gorgeous new styles to make all your Barbiecore wedding dreams come true for your happily ever after. Barbie herself (AKA the lovely Margot Robbie) is currently on world tour; she's delivering irresistibly chic and feminine looks at every premiere; and we are 100% HERE FOR THE NEXT CHAPTER of this iconic fashion legacy. Keep scrolling for our take on Barbiecore bridal and make sure to Pin these gowns for later!
What is Barbiecore?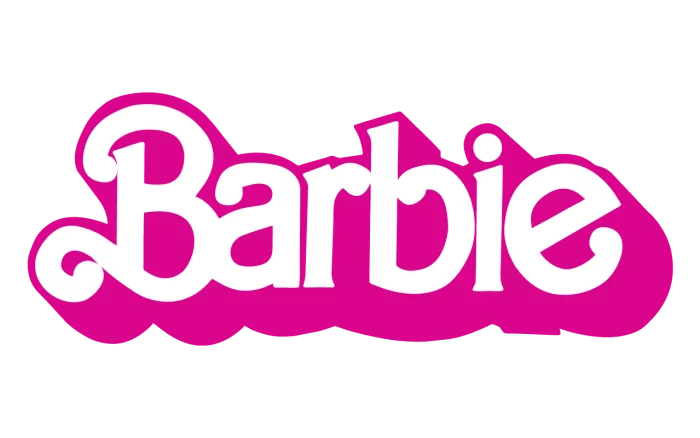 So — what's this "Barbiecore," you ask? Exactly how it sounds: a style or aesthetic that draws inspiration from Barbie dolls, their prolific fashion, and the popular culture surrounding them. Pieces associated with this phenomenon typically feature vibrant colors, exaggerated femininity, and a nostalgic, playful vibe. The possibilities are as limitless as any themed consumer trend — Barbiecore could be used to create clothing, jewelry, hair and makeup, home decor, car colors, vacation rentals, pop-up shops, cocktails, and everything in between.
Notable examples popping up this year:
TikTok filters and cosplay trends
Vibrant runway colors
Themed restaurants and boutiques
Limited release dolls inspired by the movie
Skincare and cosmetic lines
And so, SO much more
When it comes to bridal, Barbiecore dresses include fresh updates to well-loved classics: pastel or vibrant-colored wedding dresses, whimsical accessories, retro-inspired hairstyles, and an overall feminine and glamorous look. Some of our favorite inspiration includes:
Playful and feminine silhouettes
Statement pink, black and white, or a pairing of both
Lots of nostalgic throwbacks
Sequins and fun outfits
Anything that references the fabulous world of Barbie!
The trend is certainly making a splash for 2023 and 2024 celebrations… If you love the vibe and fantasy of this iconic childhood nostalgia, you're sure to find the perfect wedding dress from our latest collections!
Barbiecore Wedding Dresses
1950s Barbie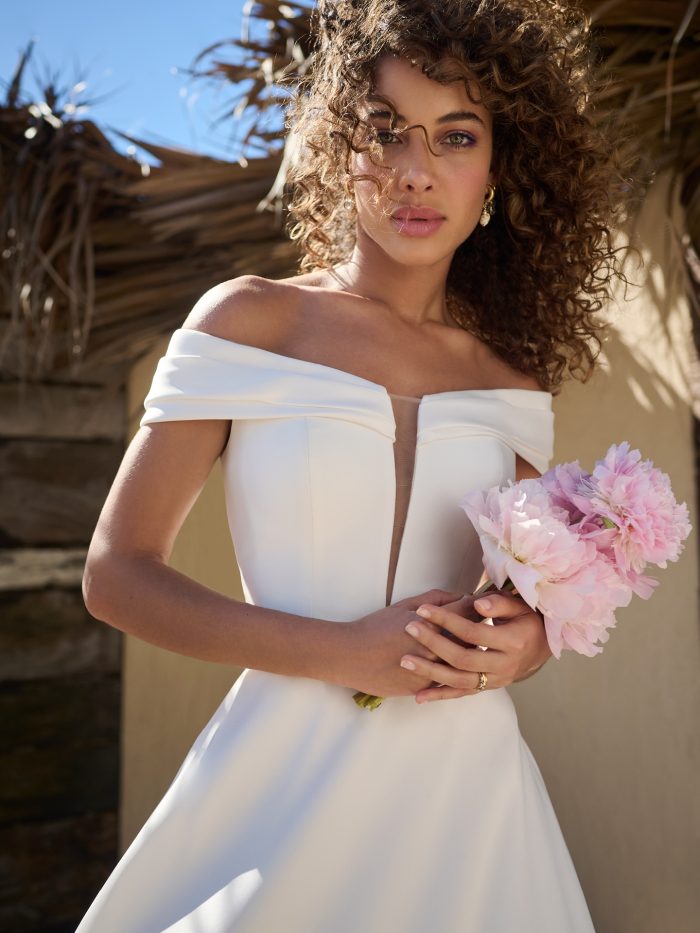 Let's start with the decade of OG Barbie perfection: the glamorous 1950s. To channel the style, sophistication, and tailoring of midcentury Barbie fashion, look to an elegant silhouette like Patience by Rebecca Ingram. This off-the-shoulder ballgown is made with Mikado satin… It's soft yet luxurious, easy to move around in yet perfectly poised for portraits.
Looking for 100% Barbie approved accessories? Here's how to turn up the style:
Add long evening gloves in matching satin.
Add a choker. (Very black tie.)
Personalize with a long, romantic bridal veil.
Shop for whimsical heels or platforms.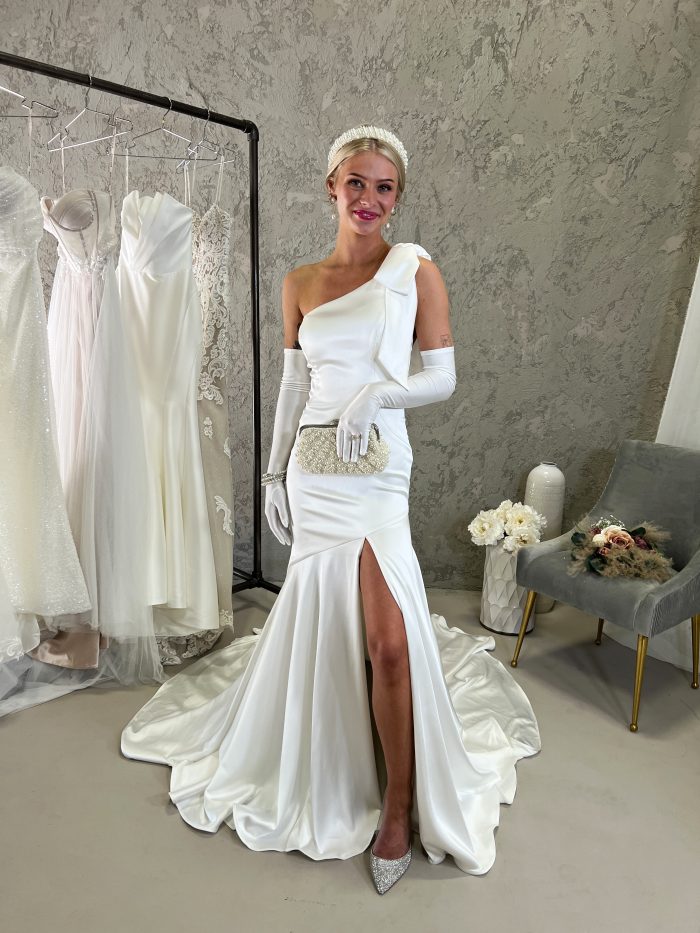 Vintage styling meets modern inspiration with Saratoga by Maggie Sottero. This one-shoulder wedding gown (also in luxe satin) is all about a "1950s Hollywood" vibe for Barbiecore. The tailoring is perfect, the details are divine, and the personalization options make this totally your own:
Available with a thigh-high slit or without
Add or remove the oversized bow on the shoulder strap
Add a bridal veil in your choice of length
Ask your retailer for options to create a matching train or overskirt
We're smitten with this covetable silhouette and dreamy styling!
Malibu Barbie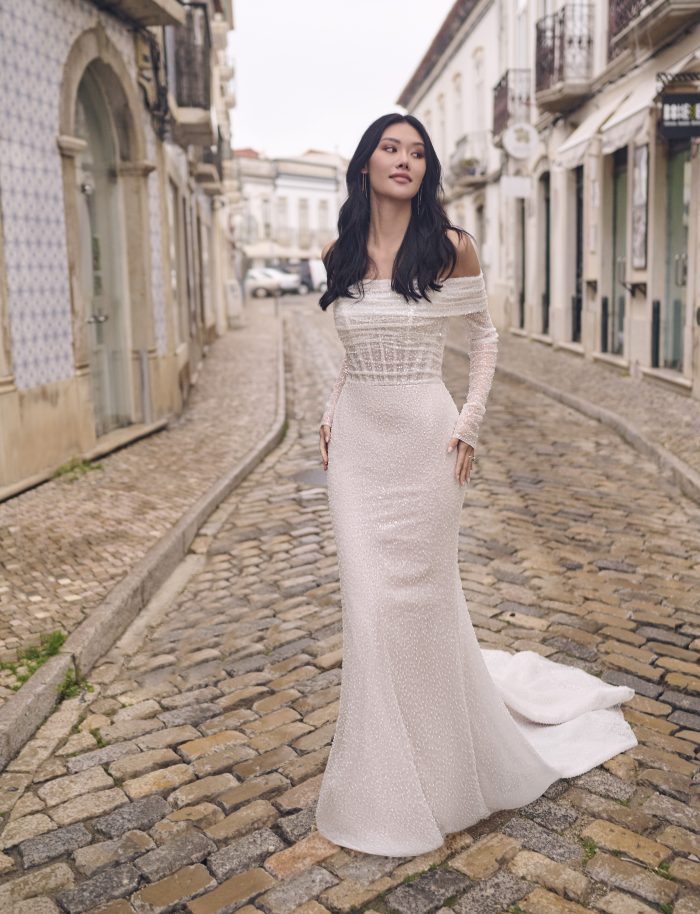 "Malibu Barbie" is arguably the most girly and glamorous of Barbiecore trends, so we've chosen two gorgeous silhouettes to live up to the name. First up is Drew by Maggie Sottero, a sexy, sultry, and shimmery fit-and-flare with a one-of-a-kind sleeve accessory.
Start with the exposed corsetry in the bodice: It's a nod to boudoir while still feeling classy and sophisticated, with just the right amount of sheer to keep everything soft and ethereal. From there, get inspired with the all-over beading and textured tulle. It's the perfect way to highlight your curves and create a glowy, luminous bridal effect with the fabric.
To personalize Drew, add the unique off-the-shoulder sleeve accessory. These add a touch of regal drama to your sexy, ultra-feminine silhouette.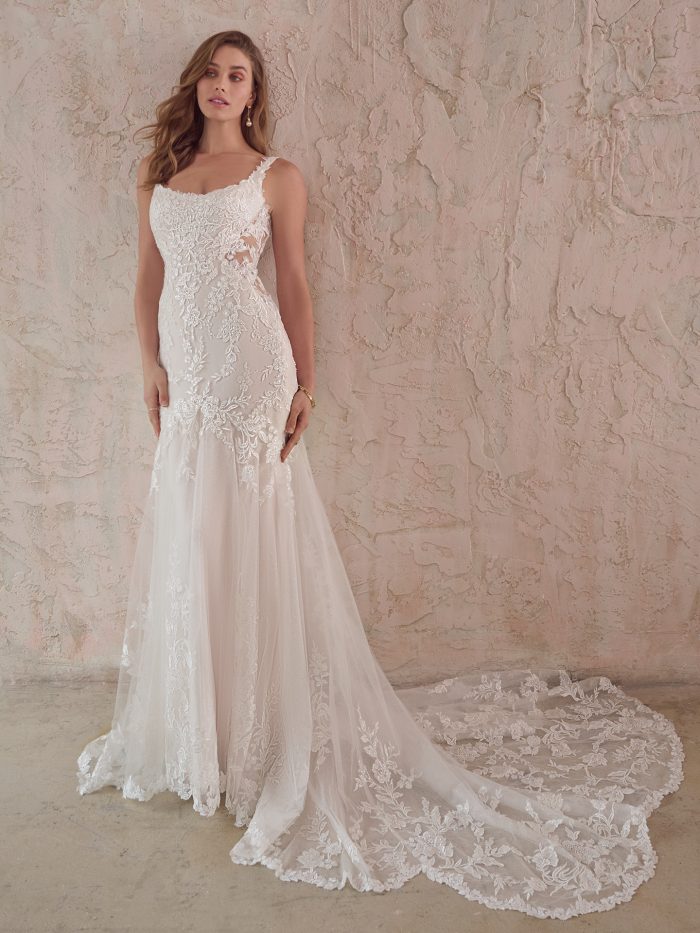 Malibu-inspired fashion is all about showing off your curves — and one of our favorite form-fitting styles, Samantha by Maggie Sottero, is made for exactly that. Pay attention to the placement of lace and illusion in this covetable design… It's all about playing up your effortless and feminine style.
Ways to personalize Samantha:
Change the sparkle tulle to organza
Add the covered buttons down the back
Also available with a lined side bodice and back illusion detail
Cowgirl Barbie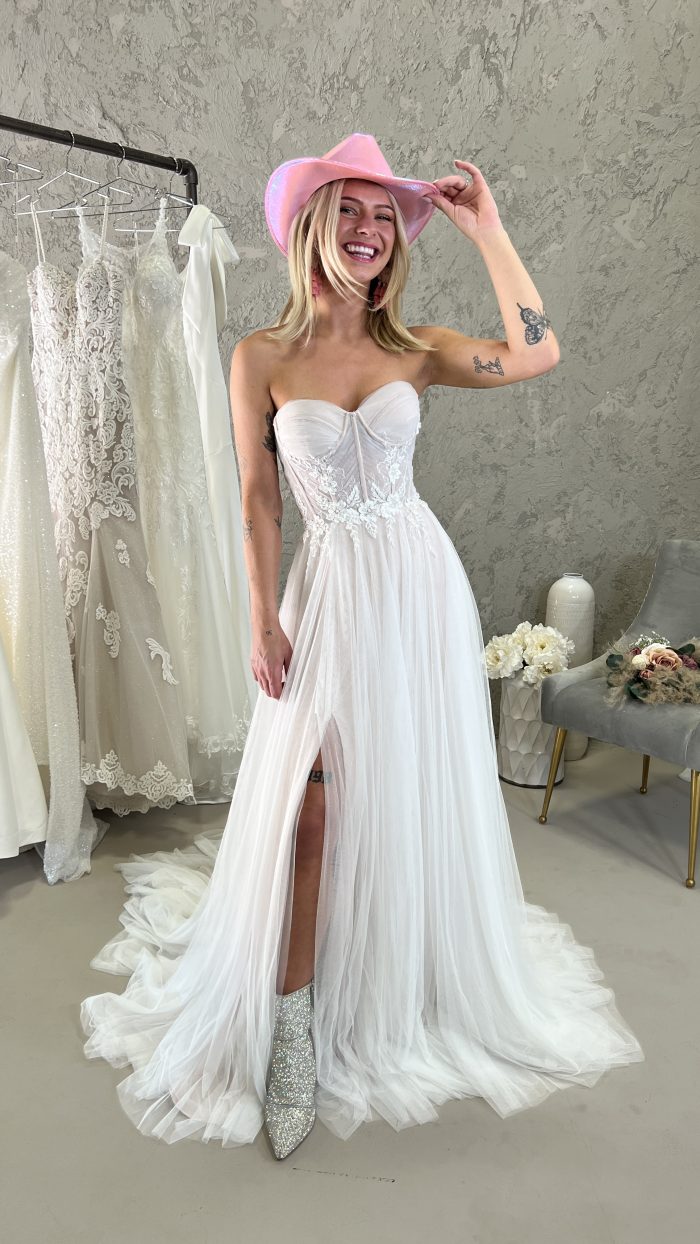 One of our personal favorites in Barbie's themed fashion is "Cowgirl Barbie" — what we've chosen to interpret as the rustic, whimsical, and free-spirited trends dominating this year's bridal runways. Our first choice? The lovely Gwen by Maggie Sottero, a soft, flirty, and undeniably romantic A-line with Western-inspired details. Corsetry? You got it. Soft tulle? Totally. Lovely lace? 100%! This bridal dress is the perfect choice for a Western-inspired, home-on-the-Barbie-range kind of magic.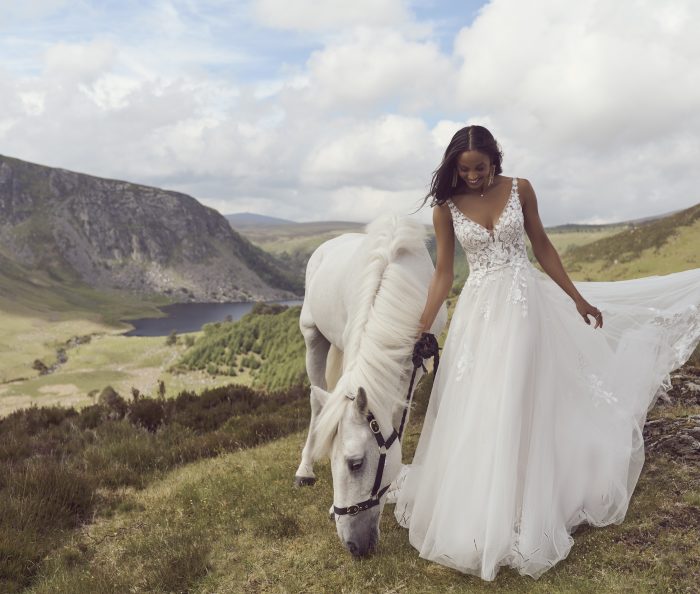 Another cowgirl-chic wedding dress is Matilda by Rebecca Ingram, a soft lace and tulle A-line with subtle illusion. This dress is all about the bodice: It plays up your romantic sensibilities without looking too fussy or manicured. "Cowgirl Barbiecore" is all about those playful yet effortless details.
Matilda can also be ordered with a fully lined bodice. Add a bridal veil, jacket, or cape to personalize for your unique wedding vision. Explore similar rustic wedding dresses and accessories in our gallery of latest trends.
1970's Barbie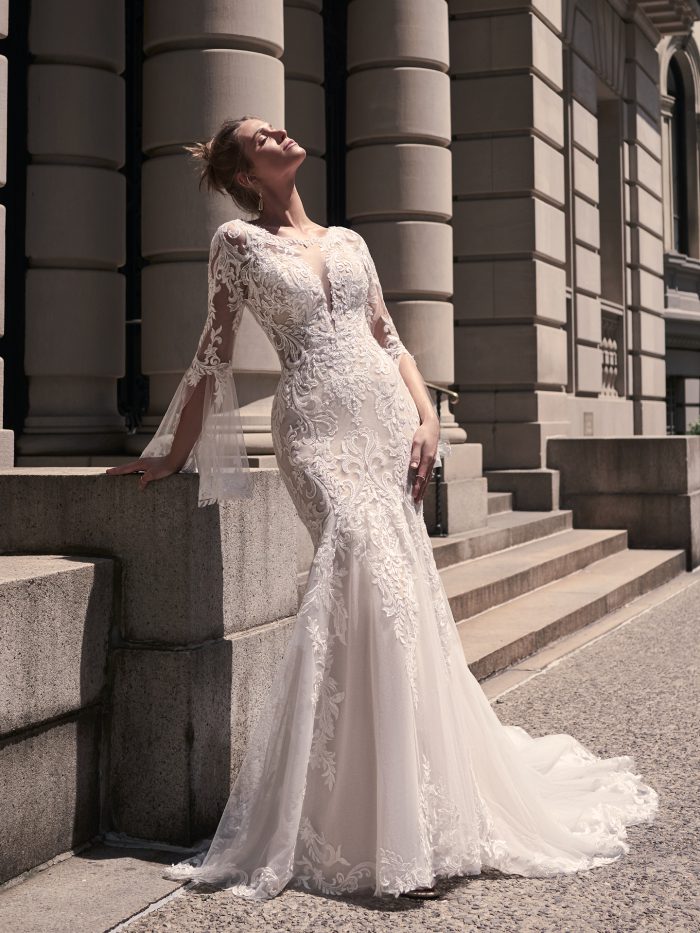 If you love a little boho mixed with a little Glamazon, then 1970s Barbie might be your perfect vibe. Channeling trends inspired by Cher, Donna Summers, and Raquel Welch, this bridal capsule is all about long, svelte silhouettes, billowing sleeves, and shimmery details.
Our first pick? Groovy-chic Saige by Maggie Sottero, a halter-neck and bell-sleeved beauty with tons of illusion and lace. We're smitten with this curve-hugging silhouette, plunging illusion bodice, and long, floral-shaped train treatment. 
Here are the personalization options for Saige:
Change the sparkle tulle to classic tulle
Also available with a lined to back princess seam
Add or remove the detachable long illusion lace flare sleeves, sold separately
Add or remove the detachable long illusion lace fitted sleeves, sold separately
Extra lace motif included for minor neckline alterations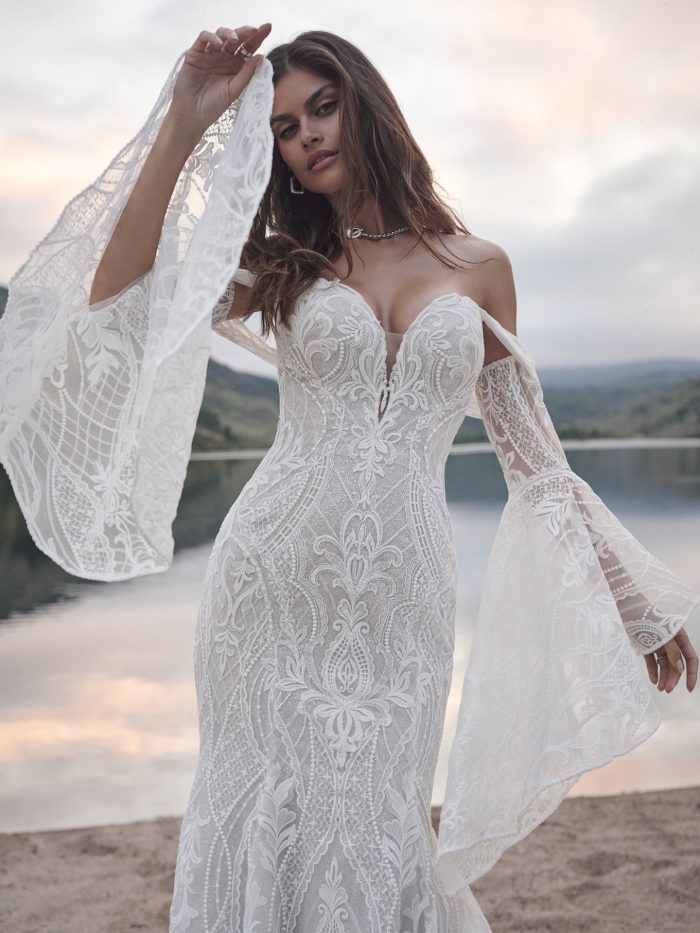 All things bold, sexy, and fabulous come together in Bronson by Sottero and Midgley, a stunning mermaid style with lace and flourish to spare. You can't get more "70s Barbie" than this lush and glamorous design.
Inspo for how to style and personalize Bronson:
Change the glitter tulle to classic tulle
Also available with a lace up corset closure
Add the illusion lace cap-sleeves, sold separately
Add the long illusion lace bell sleeve armbands, sold separately
Mermaid Barbie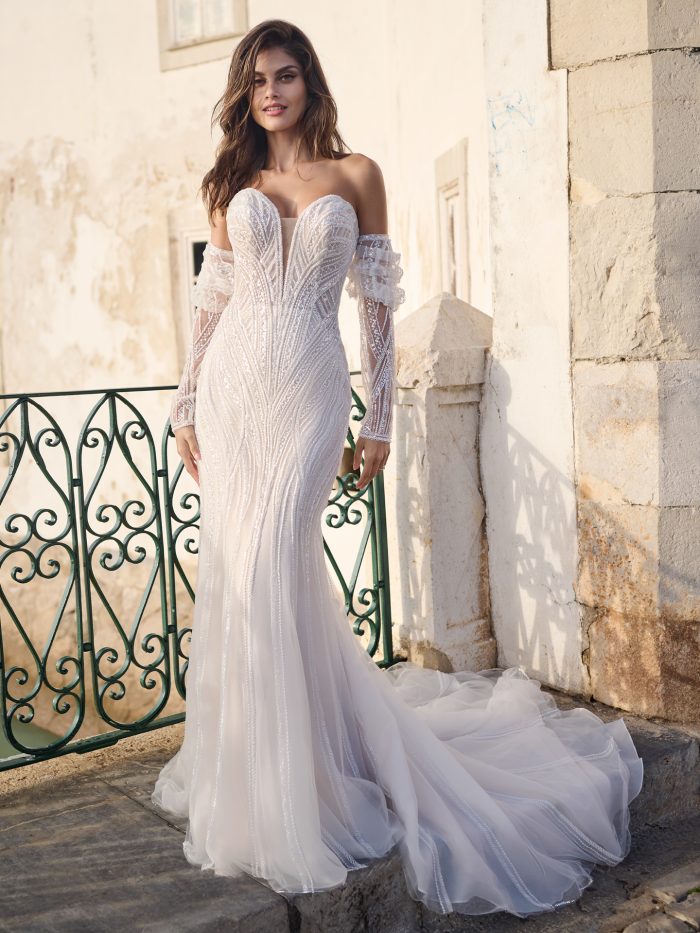 "Mermaidcore" is also having a major fashion moment this year, with dreamy, shimmery, over-the-top mermaid styles like Positano leading the pack. This gilded red-carpet style is moody, artistic, and a little big edgy — the perfect fusion of style and sophistication for "Mermaid Barbie" magic.
Picture all the ways you can make Positano your own:
Add crystal buttons down the back
Style the detachable beaded embroidery off-the-shoulder puff long sleeves with crystal buttons, sold separately
Add the detachable train with beaded embroidery over organza, sold separately
Add a classic or embellished bridal veil in any length you desire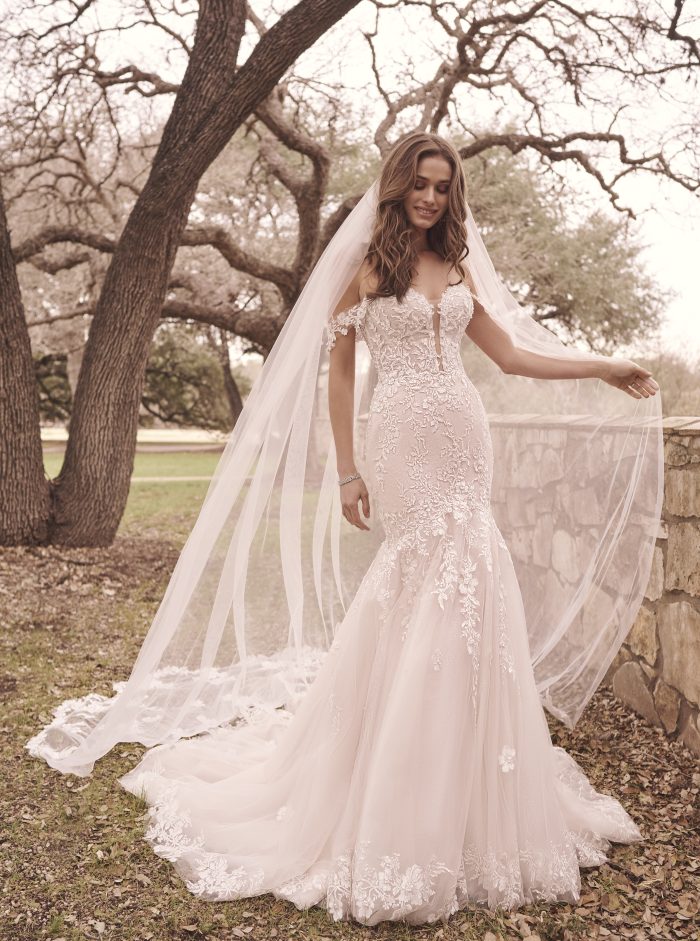 "Mermaid Barbie" gets a fresh and beachy upgrade with Lennon by Maggie Sottero. This mermaid silhouette features soft motifs, dreamy shimmer, and summery embellishments in the loveliest layers of lace, tulle, and organza.
Lennon features subtle variations to match your vision:
Remove the train for a more casual look, through special request
Add covered buttons down the back
Also available with a raised front neckline without the illusion plunge
Detachable cap-sleeves with beaded lace sold separately
Add the matching bridal veil with floral-shaped train
Love this vibe? Dive into more sexy mermaid wedding dresses in our trends report. 
Astronaut Barbie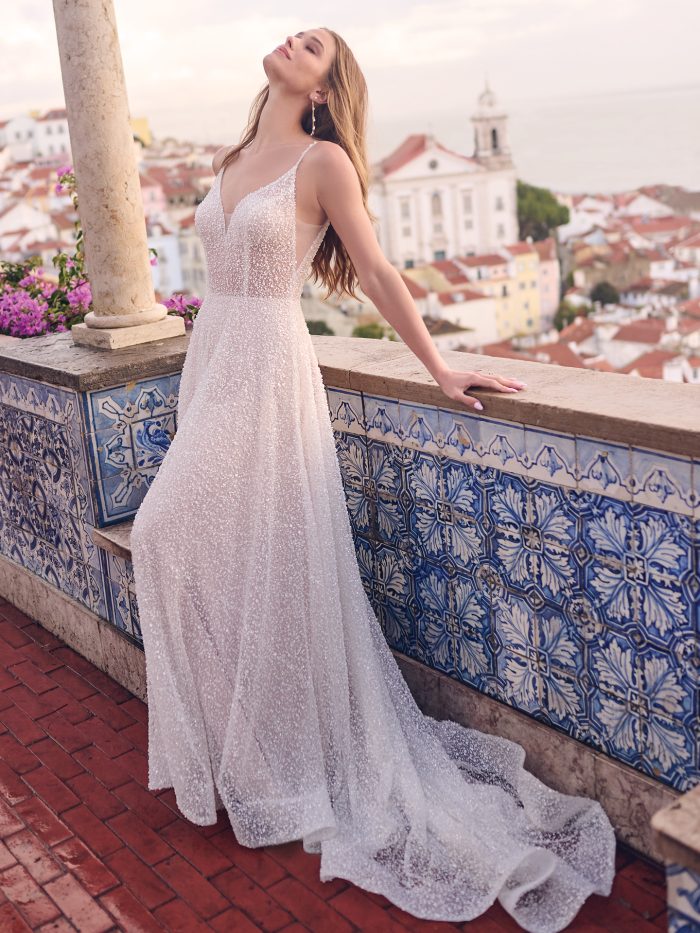 "Astronaut" is an unexpectedly fabulous trend for bridalwear… Think starry nights, celestial shimmer, and all the cosmic mystery of "Barbie Goes to Space" — but in gorgeous wedding dress form! We're all in for this chic and whimsical trend.
Our first pick: Abrienna by Maggie Sottero, a dazzling beaded style with an effortlessly sexy silhouette. This gown is decked out in pearls and shimmer over a gorgeous sweetheart bodice and swishy skirt. It's perfect for all-night dancing under swirling stars.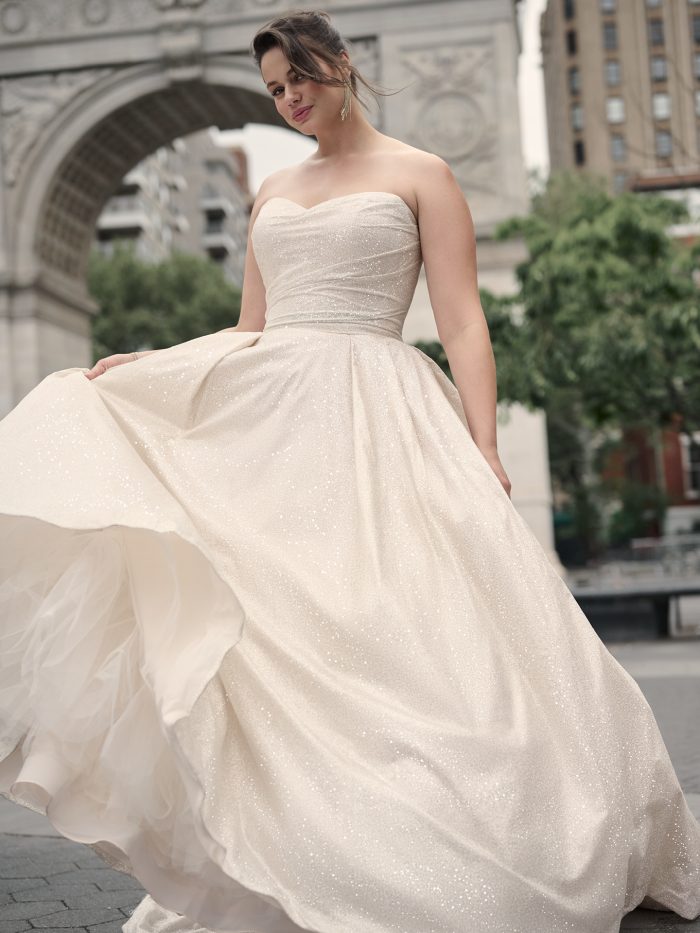 Another heavenly design? The perfect layers and all-out shimmer in Anniston by Maggie Sottero. It's sweet, chic, and perfectly timeless — yet fresh and flirty for a modern wedding theme. What's not to love?
Business Barbie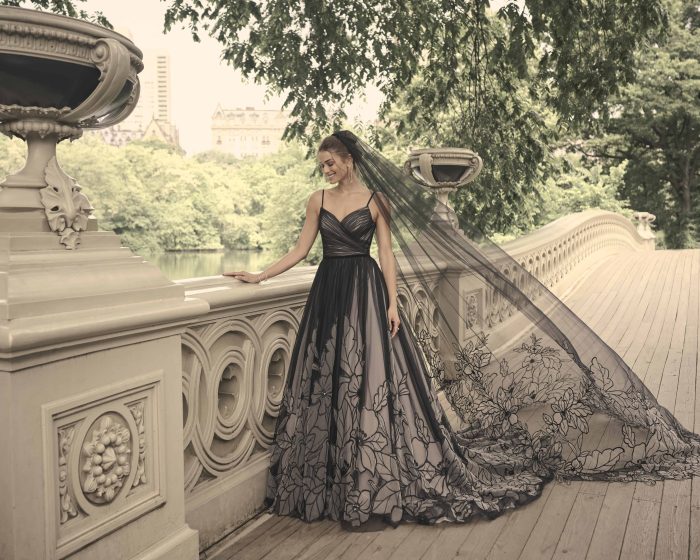 "Business" might not be top on your list of trends for Barbiecore dresses, but hear us out. Imagine walking down the aisle in a sophisticated and unexpected style like Watson by Maggie Sottero. You'll feel bold and powerful, your guests will swoon, and your sweetheart will be head over heels that you've chosen something totally unique to you and your love story.
Personalize Watson like so:
Remove the train through special request
Add the matching lace bridal veil
Opt for bold black or go traditional with white or champagne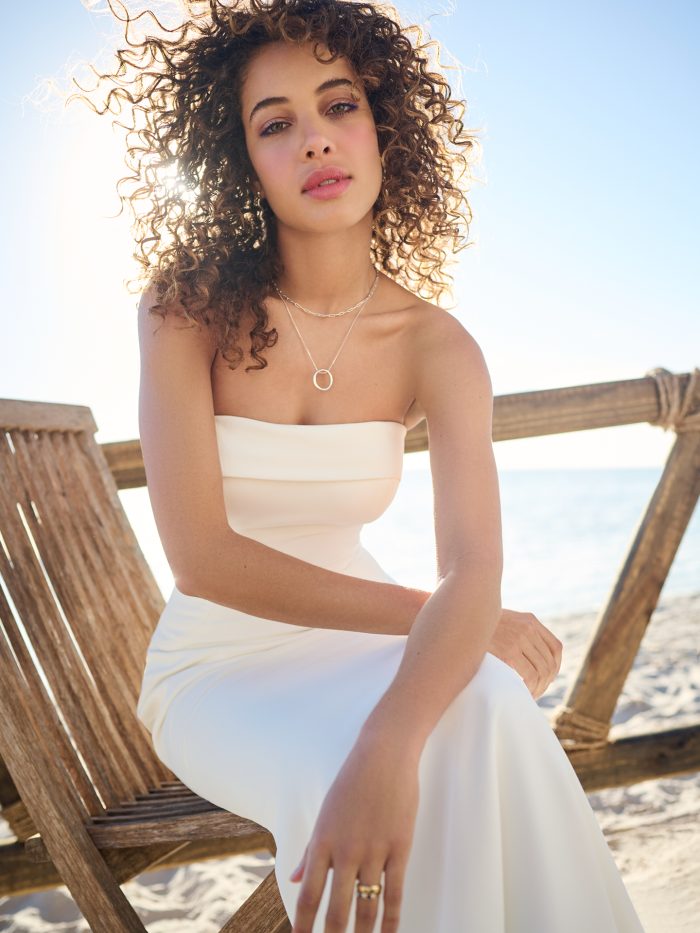 Finally, for a smart and totally timeless Barbiecore trend, look to the minimalist style and figure-flaunting silhouette of Francine by Rebecca Ingram. We totally picture this look on an elegant Barbie from any era… It's pretty, stylish, and functional all wrapped in one!
How to Incorporate Barbiecore into Your Wedding Day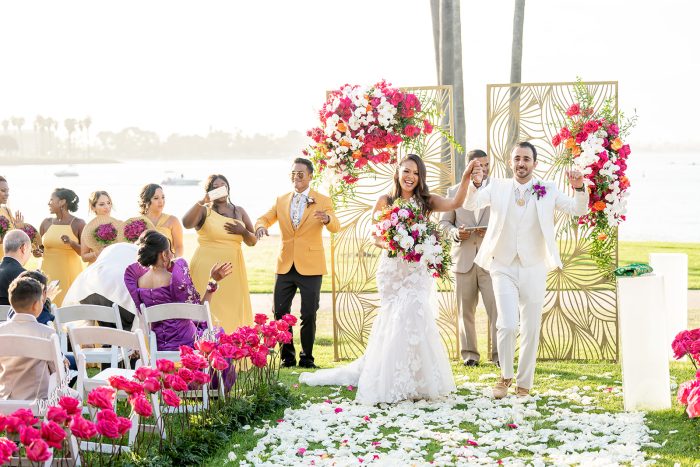 PC: Eddie Sadiwa Photography
Love these Barbiecore dresses? Looking to take the theme to the next level? Here's what we recommend:
Add pops of pink to your florals, table settings, invitations, nails, and accessories
Dress your bridesmaids in the perfect shade of Barbie pink
Play with voluminous hair and glamorous makeup
Plan an outfit change to something shorter and sexier for your "Second Look" reception
Style with cutesy high heels featuring bowls, pearls, and gems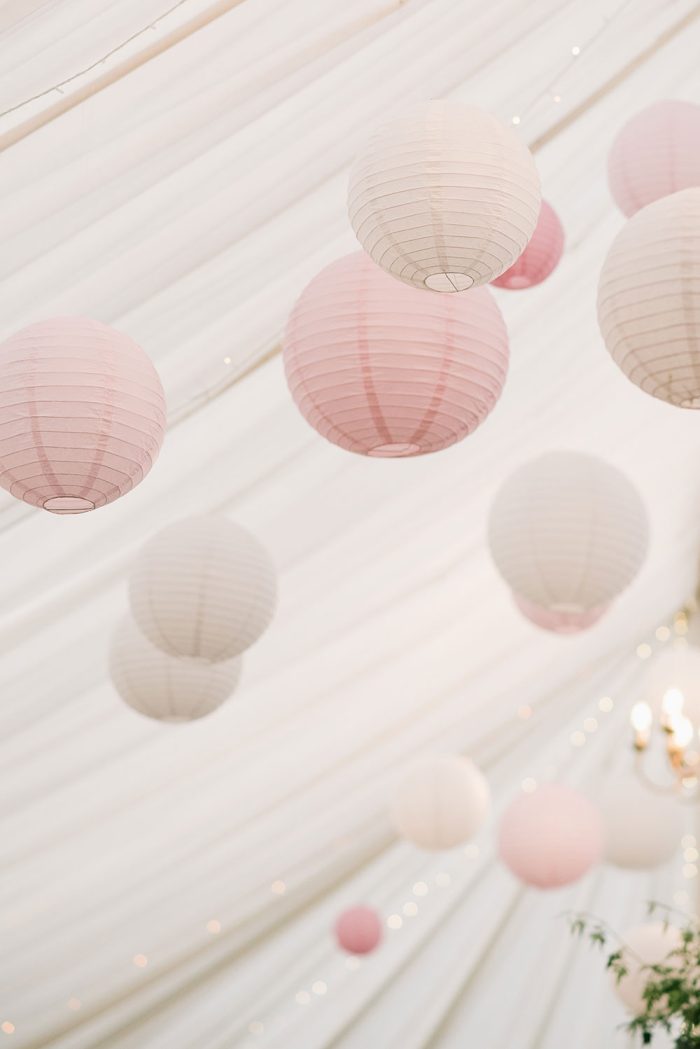 PC: Danville Bay Area East Bay Wedding Photographer | PC: Georgina Harrison
Incorporate Mattel-inspired shimmer and sparkly details throughout your wedding
Give unique Barbie-themed party favors
Plan a themed cocktail
Hit the dancefloor with a Barbie-approved playlist!
Ready to curate your bridal look IRL? Head to an Authorized Retailer to shop and plan with the experts:
More Blogs Like This:
Barbie fashionistas, unite!