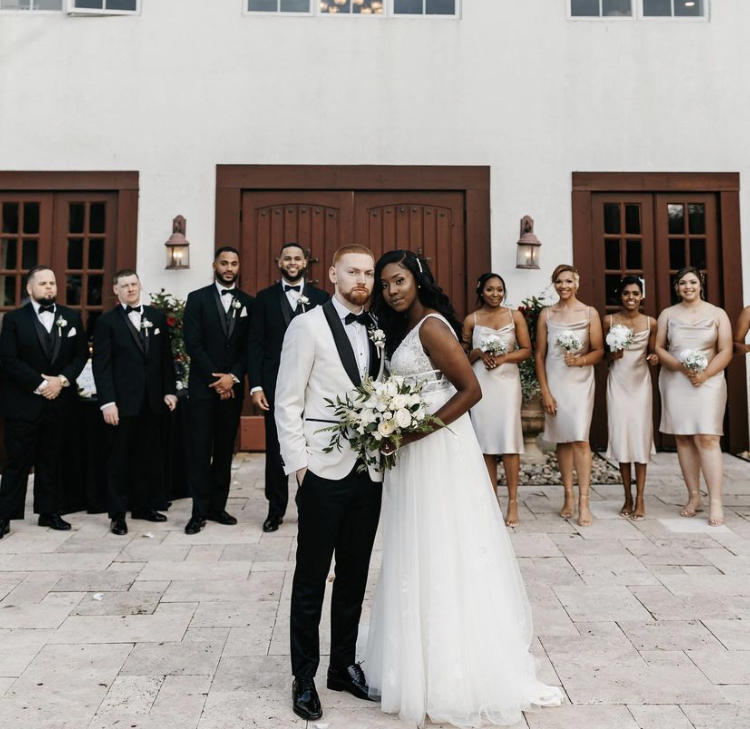 *Sighs* — it seems like everything is crazy expensive these days, and it might seem like planning your fantasy wedding without spending, like, six gajillion dollars is, well, a fantasy. And we totally get it… We see firsthand how brides can get seduced by flashy add-ons and big-ticket indulgences, and unwittingly sabotage their wedding budget. But fear not! As dress designers, our top priority is creating gorgeous, versatile, and beautifully tailored styles for any bride's budget and vision. In other words, we are 100% HERE FOR YOU, and we can't wait to connect you with our latest affordable wedding gowns from our latest collections. Keep scrolling and make sure to take our Style Quiz below to get started on your wedding dress journey.
How Much Are Affordable Wedding Gowns Typically?
The term "affordable" depends on what your personal budget, but we're here to give you some price tips. At Maggie Sottero Designs, we define "budget-friendly" as romantic styles in the $900-$1500 range. Most often featured in our Rebecca Ingram line, these gowns are the perfect combo of style, quality, and affordability. Whatever your vision or budget, you're sure to find an irresistible style in this range.
Ready to put together your full bridal look? Keep in mind that while you can shop a range of budget wedding gowns, you will need to also allocate funds for personalizations, delivery fees, accessories, and alterations. Speak to your Authorized Retailer for details!
We've curated 15 inexpensive wedding dresses to get the inspiration rolling, but you can dive into our full selection of styles using our search filters. You can also explore our Rebecca Ingram and Maggie Sottero styles on their respective collection pages.
Now, on to budget wedding dresses with major romance!
Rebecca Ingram Affordable Wedding Gowns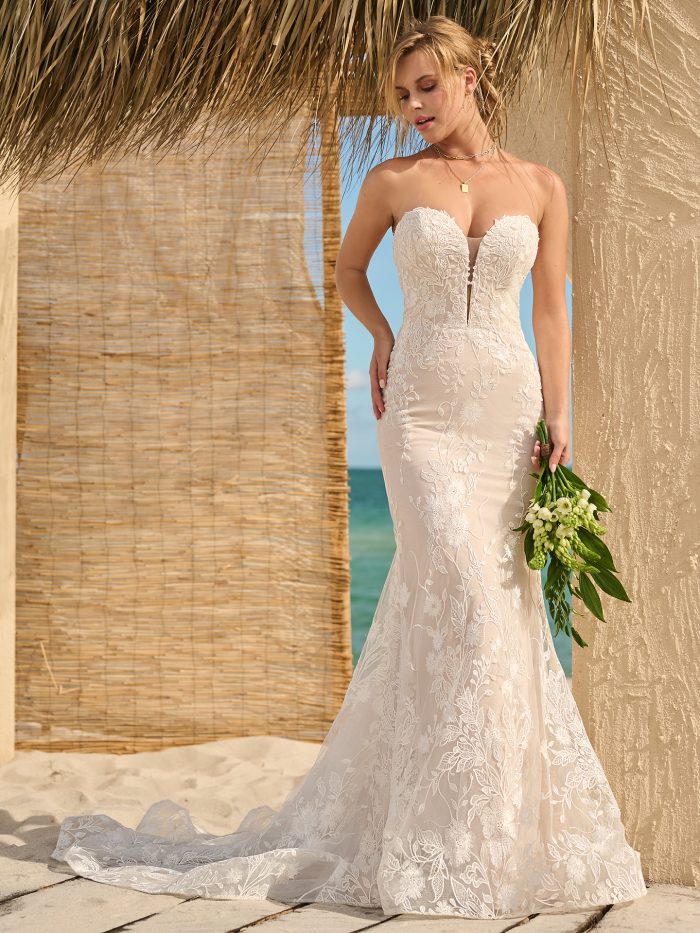 Our first affordable pick is Nelly by Rebecca Ingram, a fit-and-flare wedding dress with details and personalizations. This style is perfect for elegant casual ceremonies like minimonies, elopements, or garden celebrations.
If you want to add an extra touch of glamour to this look, make sure to add buttons down the back for a vintage vibe, and add detachable off-the-shoulder cap-sleeves!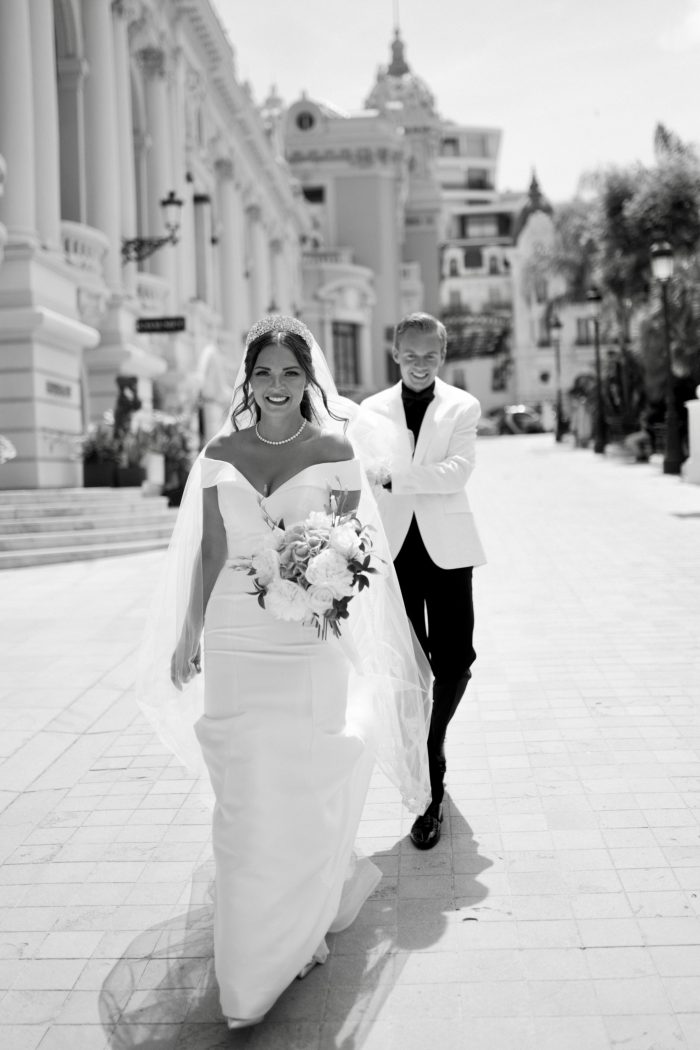 PC: Gabriella Vanstern Photo
Looking full luxe, Old Hollywood elegance on a budget? Get inspired with Josie by Rebecca Ingram, a classic silhouette featuring:
Head-to-toe Huron Mikado satin.
A sweetheart neckline with off-the-shoulder sleeves.
A formfitting bodice and skirt.
Covered buttons running down a long train.
Josie is also a Quick Ship wedding gown, meaning it's available for fast-approaching wear dates. You can order this classic sweetheart neckline style or with a plunging illusion neckline. Speak to your Authorized Retailer for details!
Shop more satin wedding dresses in our latest collections.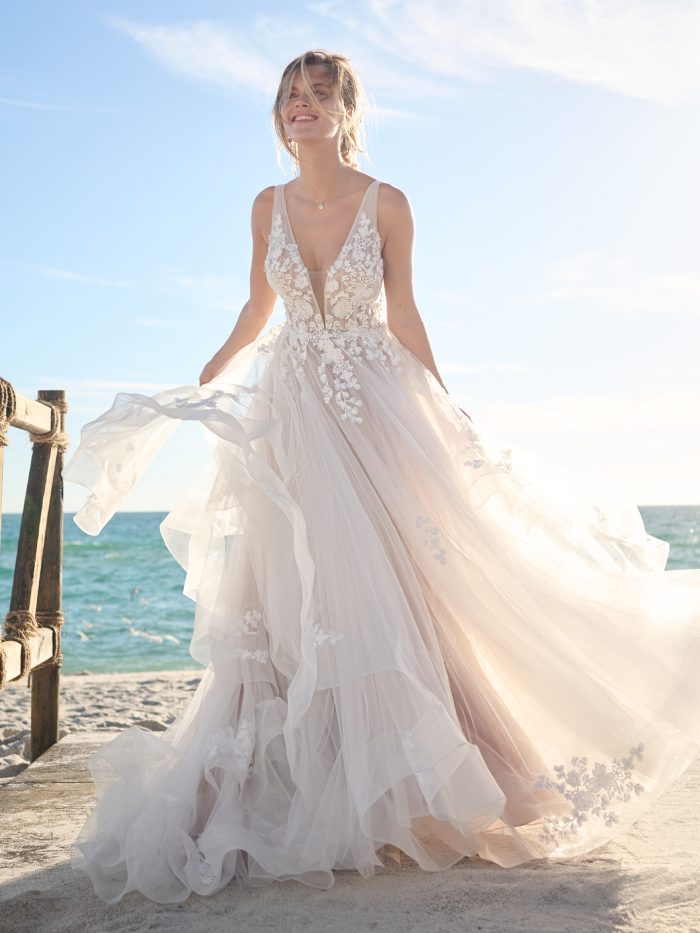 Are you looking to be a princess on a budget? You'll love our ruffled ballgown wedding dress, Winona by Rebecca Ingram. With a plunging illusion V-neckline and 3D floral lace you'll be perfect for a high-end location with a low-end budget.
Psst… Love ruffles? Make sure to read our blog to see more gowns that feature this whimsical trend.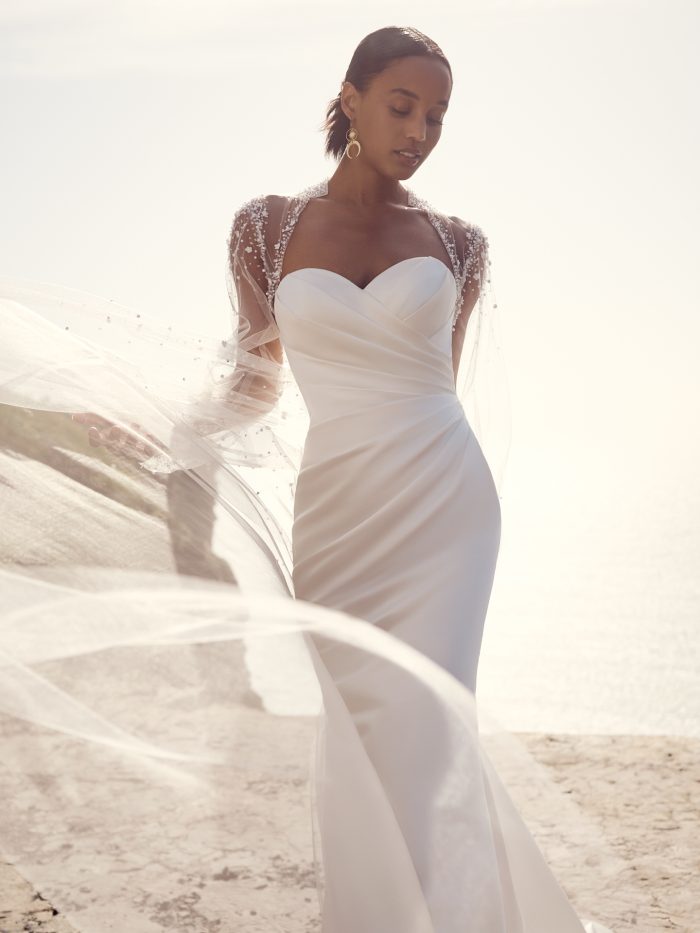 If you're looking for something luxurious and enchanting yet simple and chic, we have the perfect affordable wedding dress from our Rebecca Ingram line. Lucky-charm Clover features a curve-hugging silhouette with ruched satin. The asymmetrical bodice and lace-up corset help to define and highlight your figure, and the stunning illusion accessory adds detail and flourish. Here's how to personalize:
Add the soft tulle jacket with 3D florals and bishop sleeves for extra shimmer (sold separately).
Add a bridal veil of any length.
Opt for a covered button closure instead of a corset.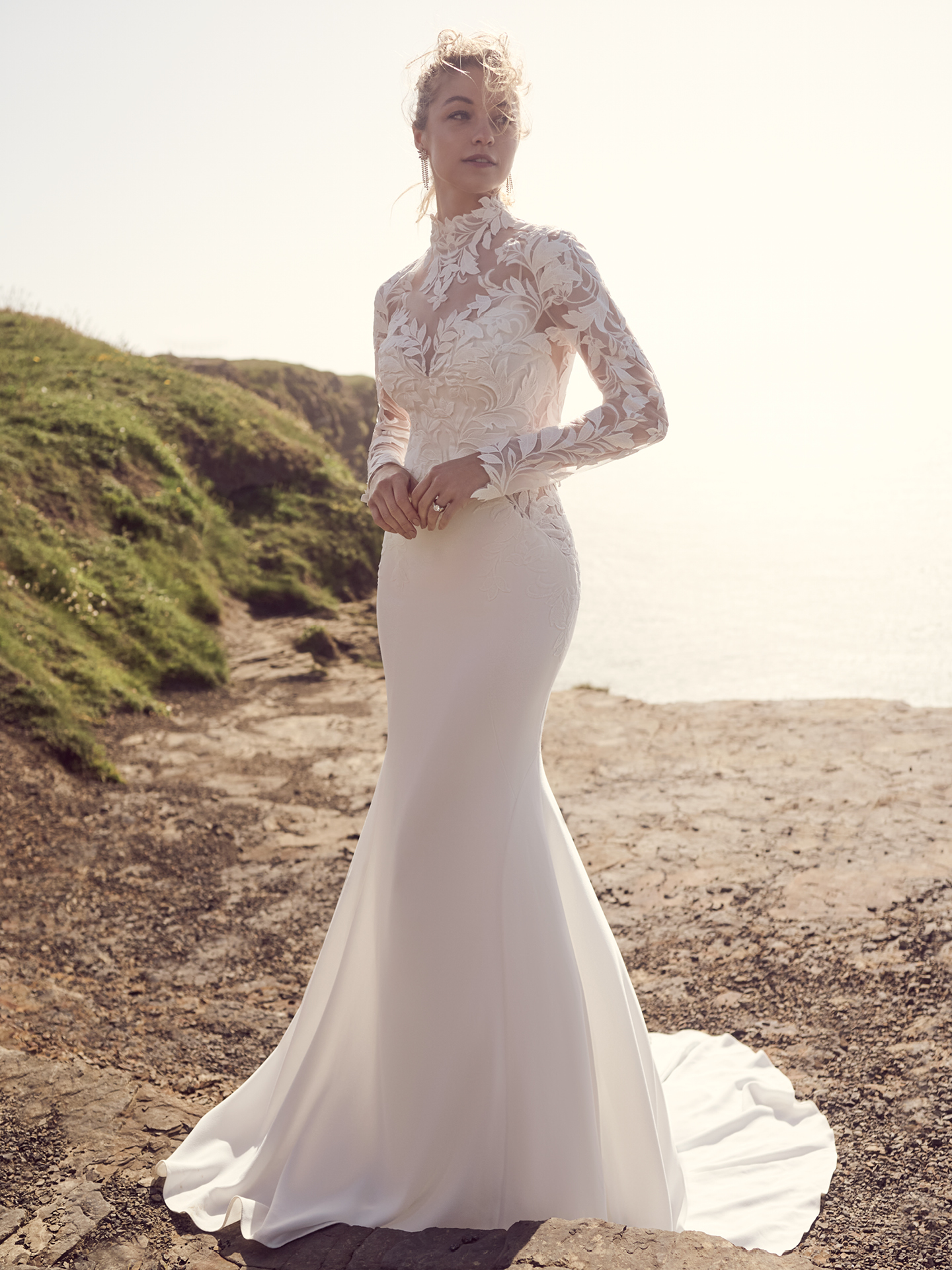 There's nothing we love more than a sexy crepe lace with illusion lace. That's why we are head over heels for our fit-and-flare gown, Dionne by Rebecca Ingram!
This is the perfect wedding dress if you're a bride who wants to switch up their look a bit on their wedding day. As you walk down the aisle, wear the regal-inspired lace jacket, and then take it off for a sexier look for the reception!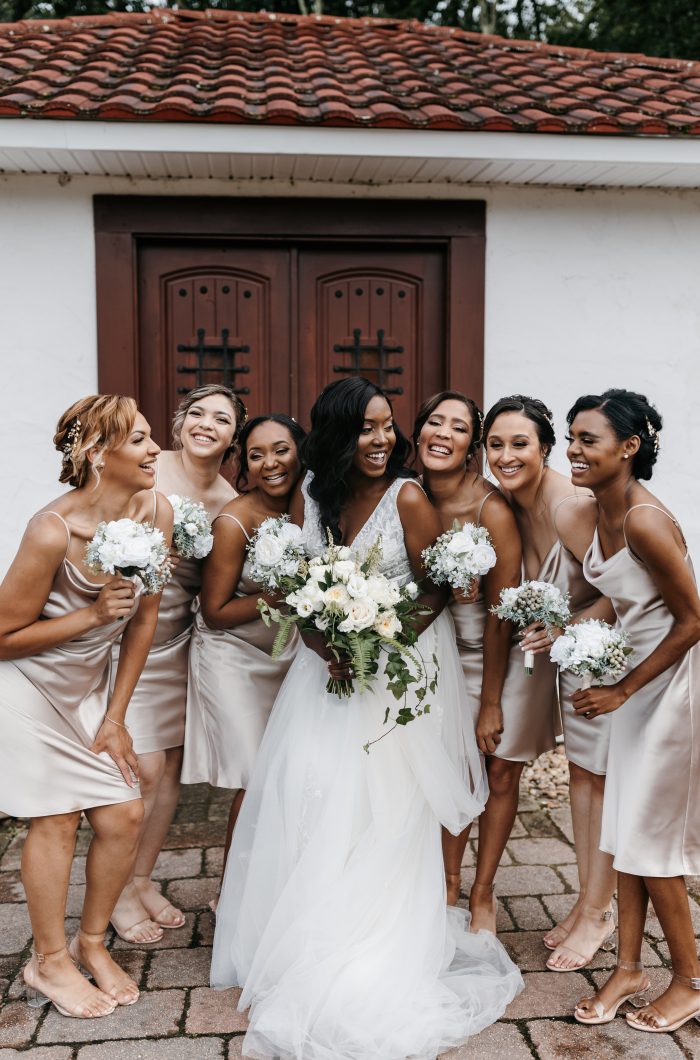 PC: Micaela Grace Photo
Our next pick for inexpensive wedding dresses is Raelynn by Rebecca Ingram, a sweet silhouette with a hint of sexy. This lace style is all about the silhouette — a classic A-line with a V-back, plunging neckline, and gorgeous bodice details.
Here are a few reviews from our real brides who wore Raelynn for their wedding day:
"I felt like a princess!" — Melissa
"The whole dress was beautiful and fit my personality perfectly! I loved the flower details, train length, and the waistline." — Madison H.
"I felt like the best version of myself! This dress is an absolute showstopper, but I felt like I was wearing the dress rather than the dress wearing me." — Rebecca M.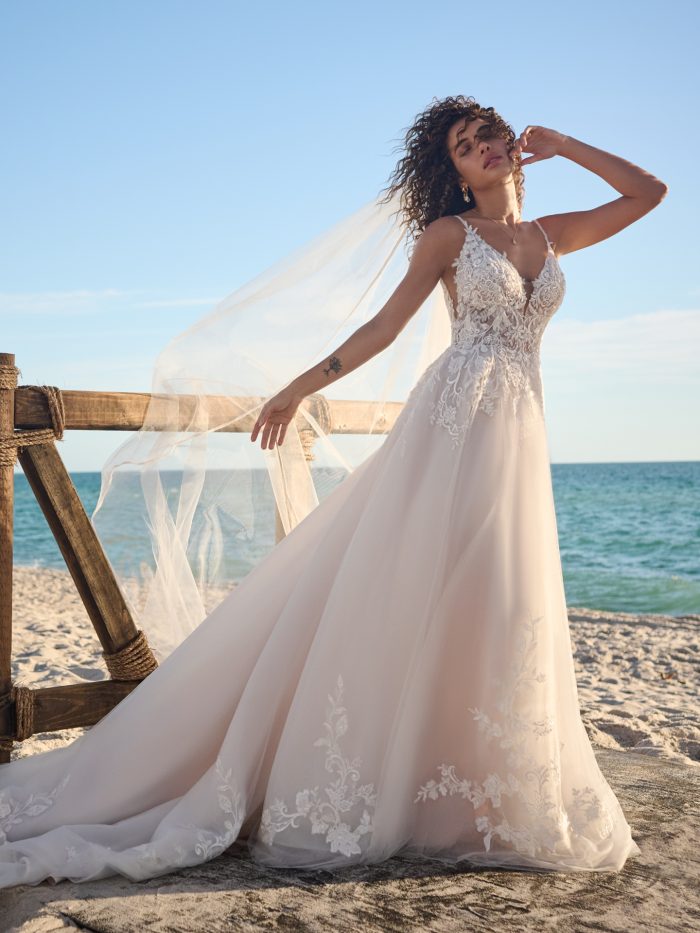 Another affordable wedding dress option for your wedding day is Lizzy by Rebecca Ingram. We can't get enough of this whimsical A-line gown with its 3D floral lace, open V-back, illusion bodice, and plunging V-neck. To see how to personalize this gown for your love story, take a look at the following options:
Pair this gown with its matching chapel-length veil.
Add covered buttons down the back for a vintage vibe.
Add extra lace motifs to the neckline.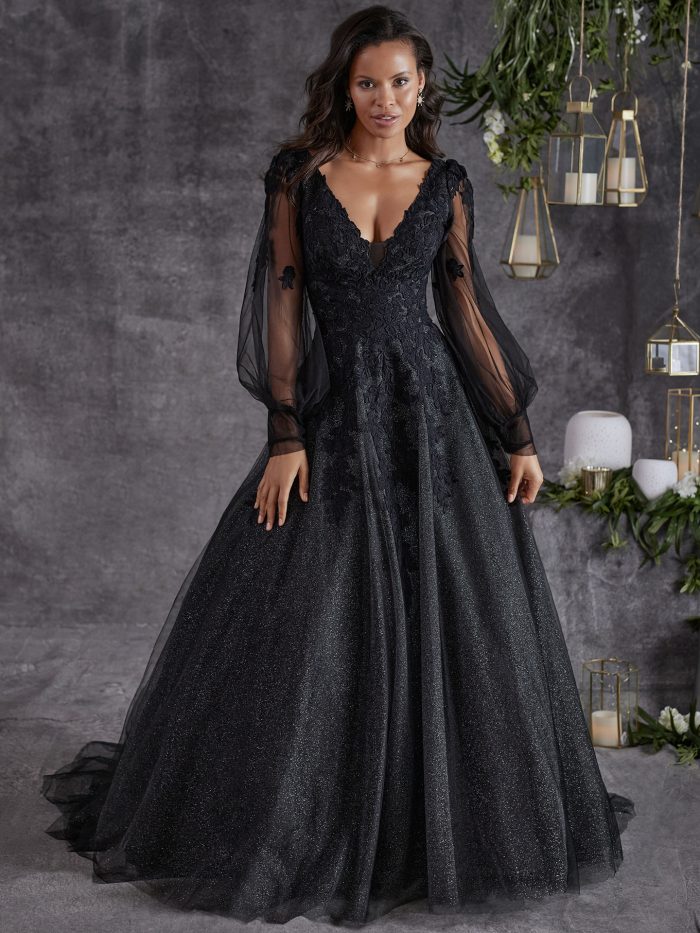 For a bold and unique, yet super affordable wedding dress, look to the modern color and silhouette in Alexandria by Rebecca Ingram. This Victorian-inspired silhouette is all about the drama and detail, from the illusion bell sleeves to the lace bodice and lushly layered train.
And the options don't stop there. Alexandria also features a matching bridal veil to personalize your look.
Love this nontraditional bridal look? You can find more black wedding dresses in our curated gallery.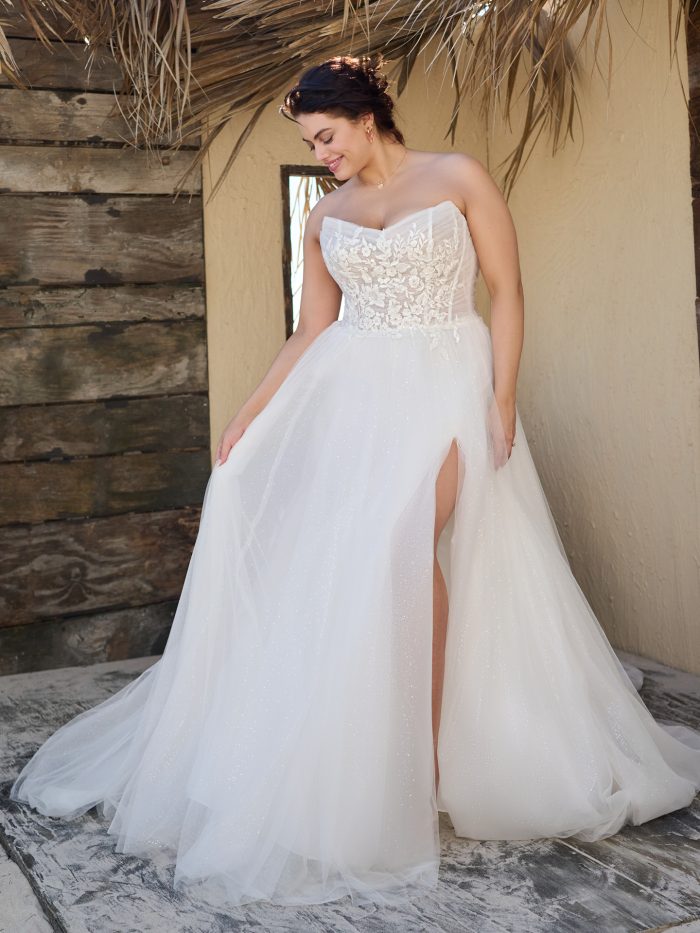 Are you a trend-setting bride? Then you'll love Kiandra by Rebecca Ingram. This strapless wedding gown hosts many popular details right now that brides are falling head over heels for:
Exposed corsetry.
An untraditional cat-eye neckline.
Chic floral lace.
A sexy thigh-high slit.
Maggie Sottero Affordable Wedding Gowns
Though Rebecca Ingram features our most inexpensive wedding dresses, you can also find chic and magical styles at exceptional price points from our Maggie Sottero collections. To help you narrow your shopping, we've collected a few of our most popular styles below.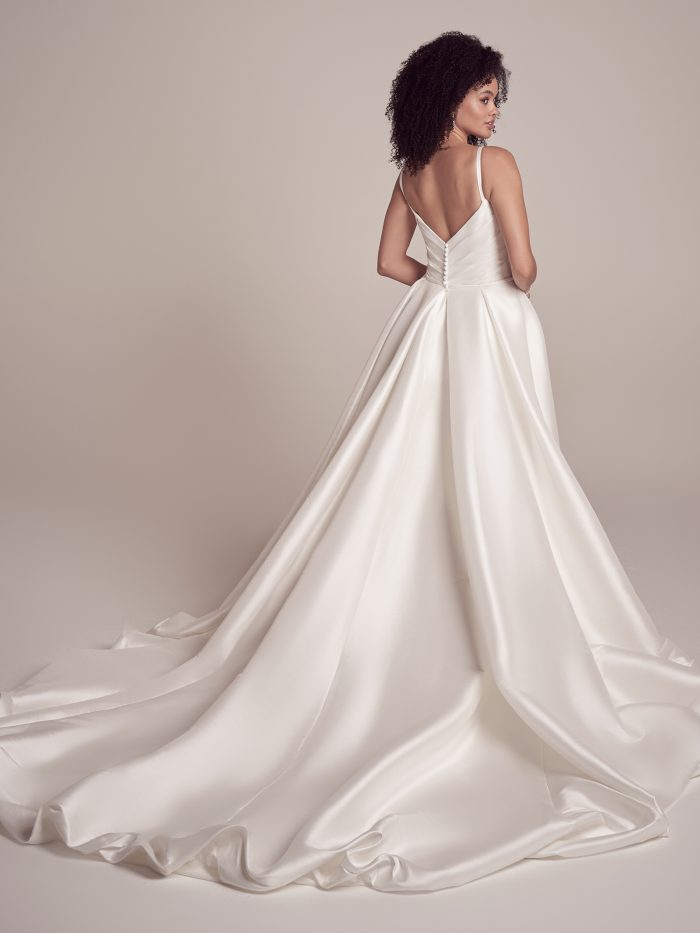 In keeping with our "covetable minimalism" trends, Foster by Maggie Sottero is all about the elegant silhouette and figure-enhancing construction. This red-carpet-inspired fit-and-flare silhouette is designed to show off your curves, show off your natural beauty, and complement a range of accessories. Here's how to make it your own:
Add the detachable overskirt for extra volume and dimension, sold separately.
Add the statement bow detail in the back, sold separately.
Add a bridal cape, veil, or gloves.
Accessorize with statement jewelry and heels, or keep it simple with natural hair and makeup and delicate shimmer.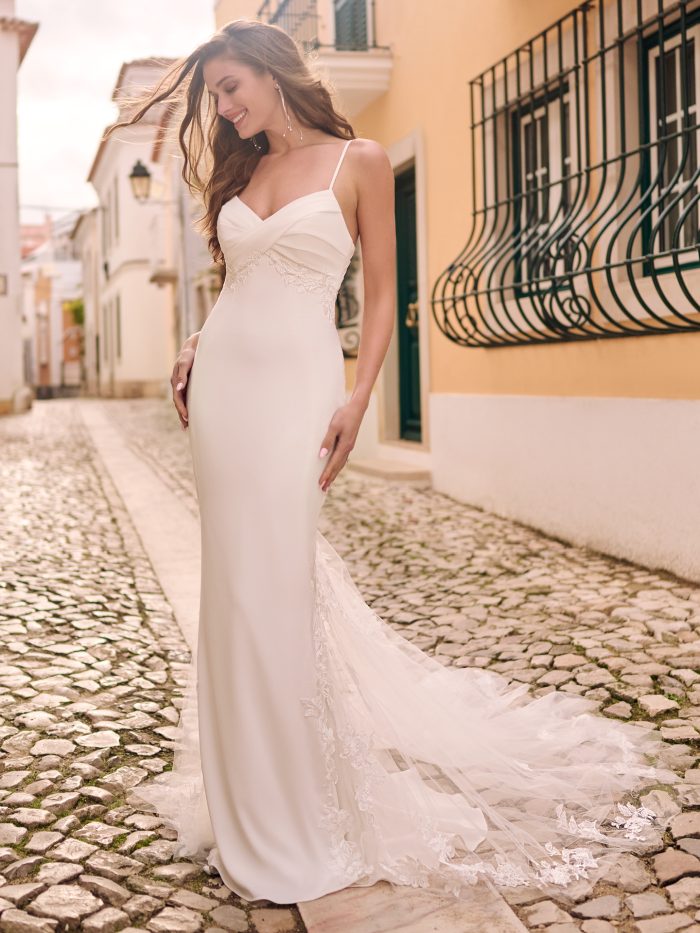 If you're looking for a simple romantic option, Darcy by Maggie Sottero is the gown for you! We can't get enough of this 90s-inspired gown with its empire waist lace gown, keyhole back, chic lace, and ruched bodice.
We can imagine this gown at a beach wedding ceremony at sunset – the perfect romantic gown to wear for your perfect romantic wedding!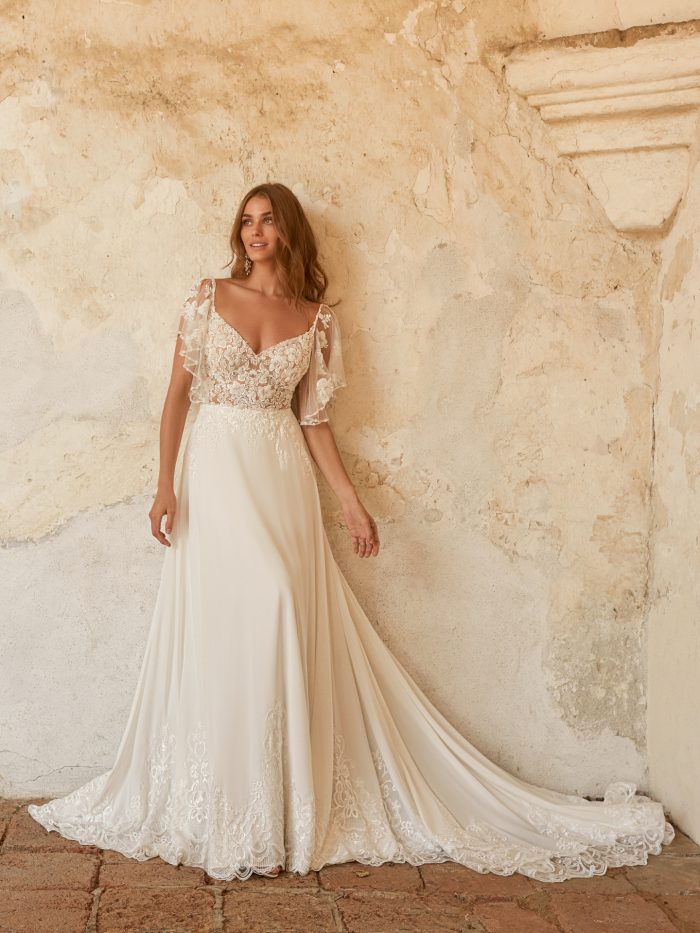 As its name suggests, Primrose by Maggie Sottero is all about bright, lush, and blooming details. Delicate beaded lace motifs cascade over the illusion bodice, while a lush, embellished train gives us "walking through wildflowers" vibes. We're smitten!
To personalize Primrose, consider: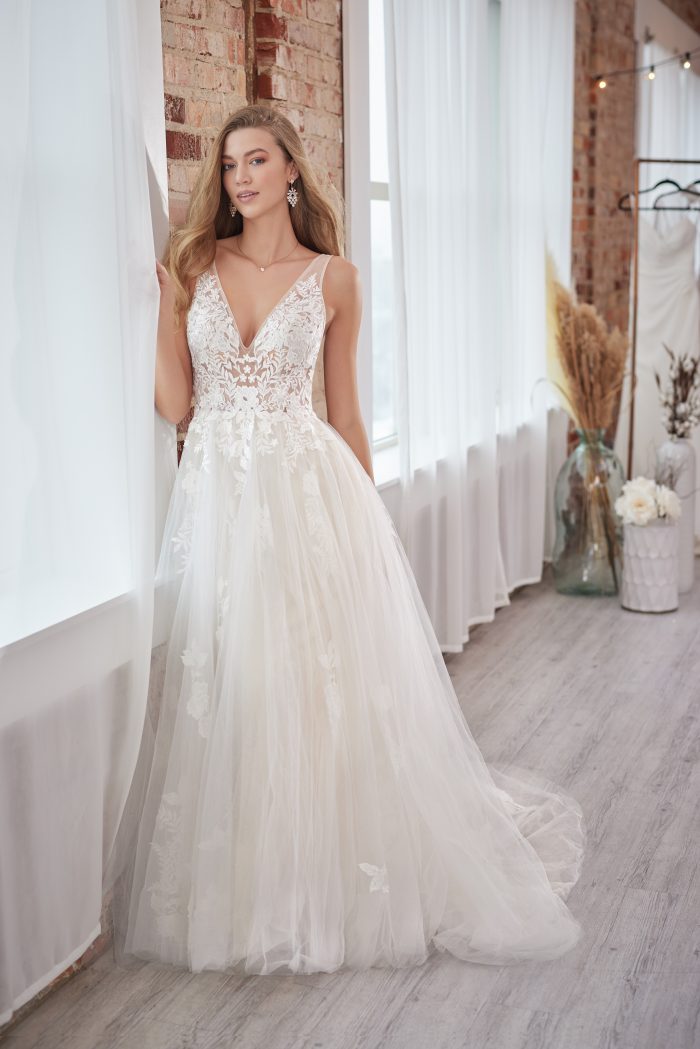 Illusion lace is effortlessly cool in Greenley Lane by Maggie Sottero, a relaxed A-line style with oodles of boho charm. Getting married outdoors? Greenley Lane is sure to make a chic and timeless statement for summer.
Customization-wise, Greenley Lane is also available to order with a lined bodice in the front. You can also order as sister-style Greenley, a soft and sexy sheath silhouette.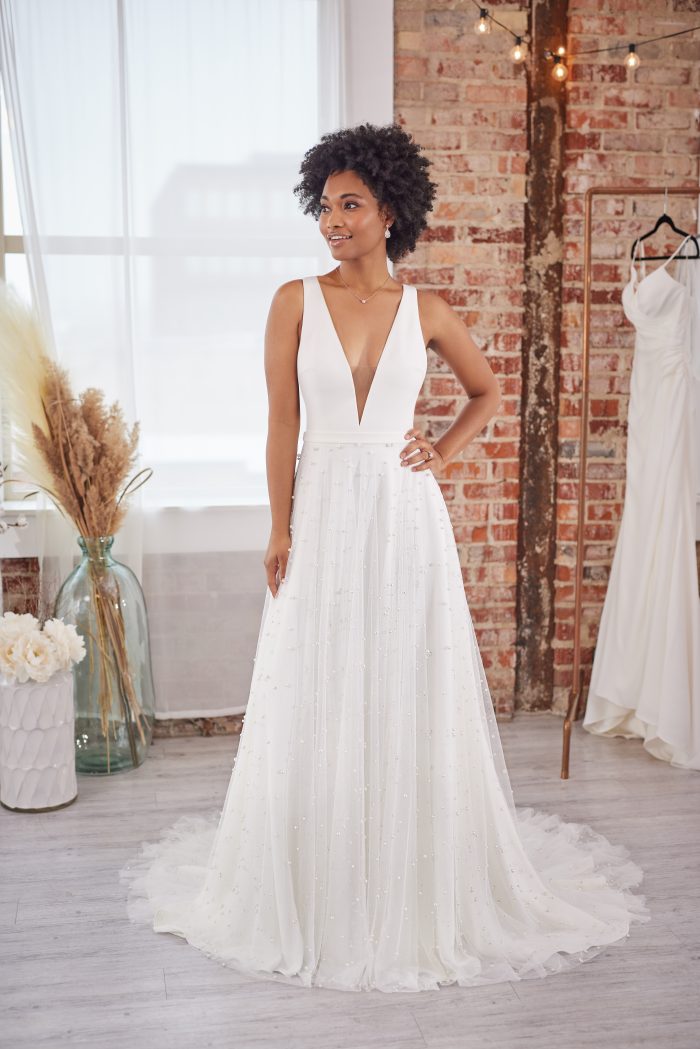 Effortless meets couture in Sahar Marie by Maggie Sottero, a minimalist bridal dress with lovely pearl detailing. This style manages to look both simple and exquisite, a sophisticated choice for a variety of celebration aesthetics.
This unique and affordable wedding dress is also available as a modest variation, Sahar. It's a gorgeous choice for full coverage and cool-season wedding dates.
Excited to rock the pearl trend for your bridal look? Dive into this gorgeous vintage-inspired embellishment in our style report.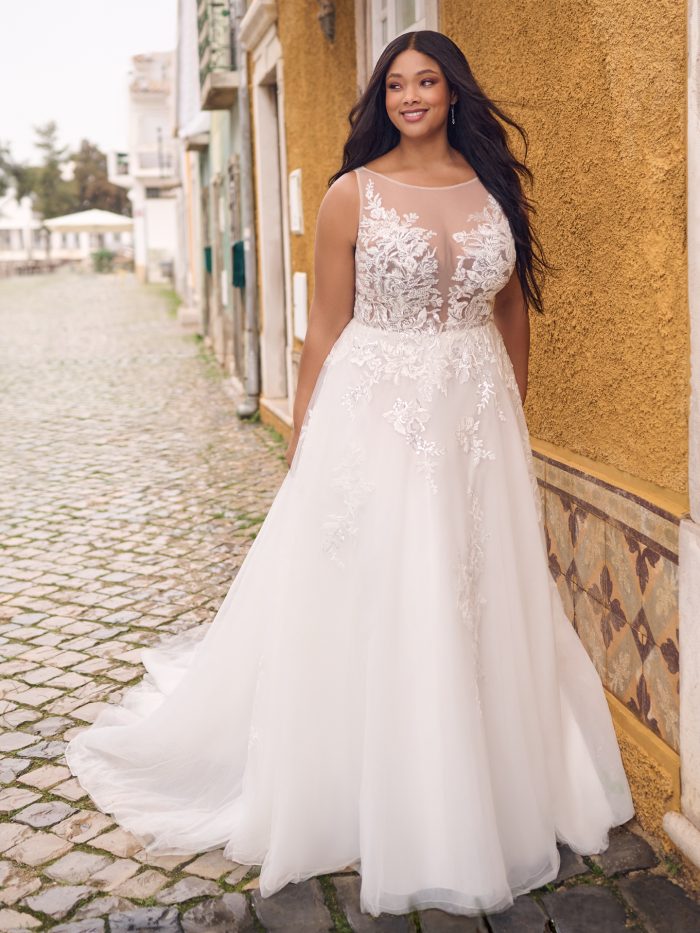 Sexiness and romance comes together in Lindsey by Maggie Sottero. This illusion lace plus size bridal gown features a full tulle skirt and an illusion lace halter neckline and back. It also hosts a myriad of chic details:
Sequins throughout the gown.
Vintage-inspired lace.
Chic buttons down the back.
That's our latest selection of affordable wedding gowns! To find the perfect design for your budget, head to an Authorized Retailer near you by clicking the button below to discuss styles, pricing, personalizations, delivery, and alterations.
More Blogs Like This:
How Much Do Maggie Sottero Wedding Dresses Cost?
The Ultimate Guide to Setting Your Wedding Budget
10 Wedding Dress Shopping Tips for Your Bridal Appointment
Have the BEST time shopping for your romantic, stylish, and affordable wedding dress! We can't wait to be part of your happily-ever-after.