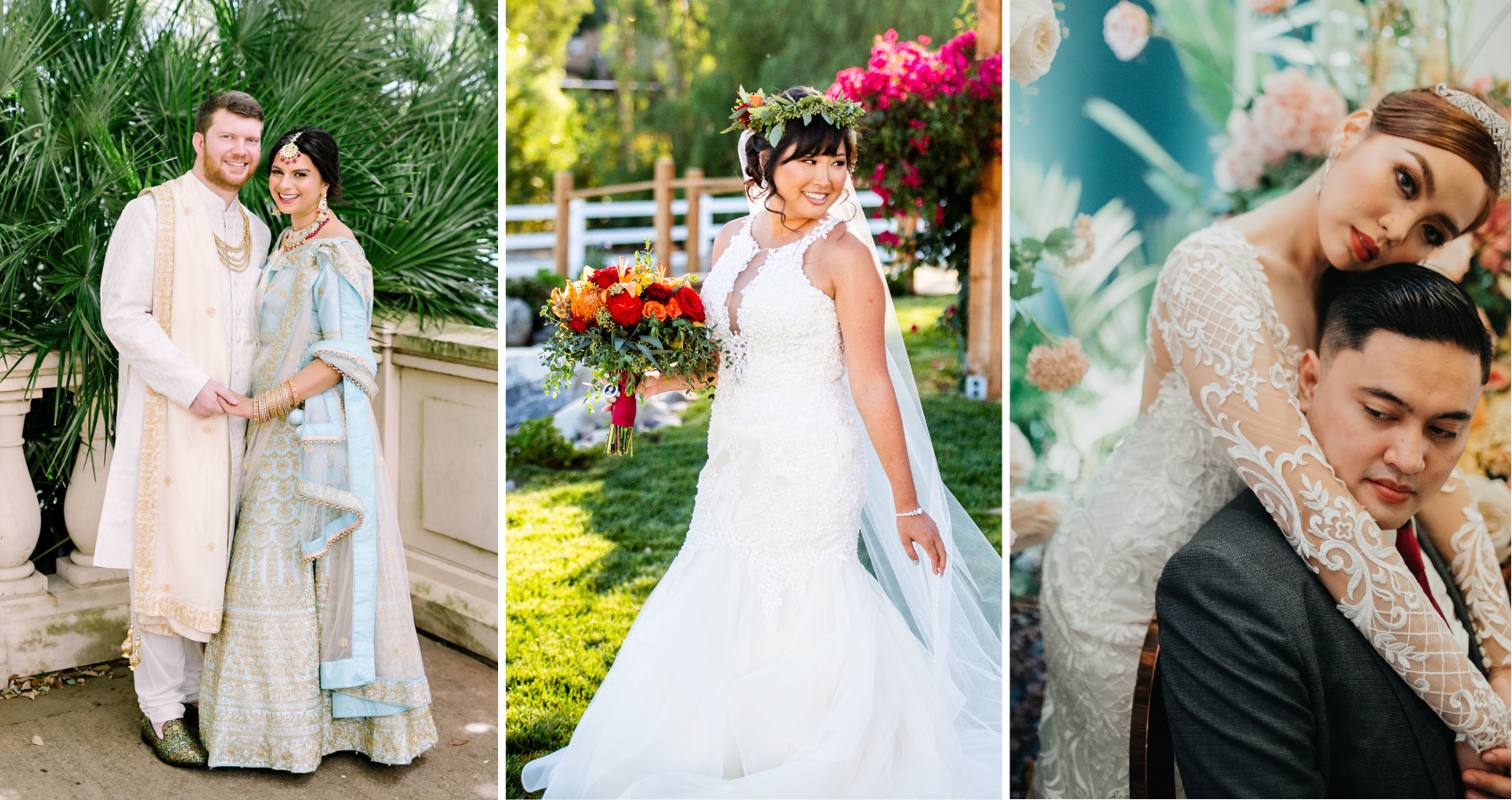 Happy AAPI Month from Maggie Sottero Designs! We're so excited to share some incredible cultural traditions from our Asian American and Pacific Islander brides in its honor. Whether you're an AAPI bride, marrying someone with Asian American or Pacific Islander heritage, or simply love learning about cultural AAPI meaning and inspiration, keep scrolling…
But first, if want more tips and tricks, wedding education and #MaggieInspiration for your big day, make sure to sign up for some exclusive text messages below!
What is AAPI Heritage Month?
AAPI Month is an annual celebration of Americans with Asian and Pacific Islander heritage to honor their artistic, cultural, intellectual, and historical contributions. "AAPI" is a broad umbrella term, of course, and spans cultures from the entire Asian continent — East, Southeast and South Asia, as well as the Pacific Islands of Melanesia, Micronesia, and Polynesia. It also includes a wide range of cultures, ethnicities, traditions, iterations, and histories. Simply put, it would be impossible to cover them all in one wedding article, but we do have several stunning brides to lead the way.
Keep scrolling for gorgeous, sweet, and meaningful wedding traditions inspired by our real brides and wedding research!
AAPI: Asian American and Pacific Islander Wedding Traditions
PC: Ian Andrew Photography
Samoan Wedding Traditions
First up, Samoa, a beautiful island nation located in the Pacific Ocean. Samoa is made up of two major islands and four smaller ones — all with a volcanic origin. This gorgeous island system is unlike any other place on earth!
Migration from Samoan Islands to the U.S. mainland started in the 19th century. Samoans were part of the first Mormon Polynesian colony in the U.S., which consisted of Samoans, Hawaiian natives, Tahitians, and Maori people. American Samoa officially became a U.S. territory in 1900.
Modern Samoan American traditions center around family, celebration, art, music, and community. Samoan weddings are a true highlight of that tradition. Here are a few ways Samoan American couples celebrate:
Receptions are usually held at the bride's family home. It's typically open to anyone in the community — officially invited or not! Party crashers aren't typically frowned upon in a Samoan wedding.
The wedding favors are big. It's customary for Samoan couples to give out luxe gifts to their guests (often according to their social status).
The wedding party is big. Samoan brides may have one or two dozen bridesmaids, and her partner often matches that number.
Learn more about Samoan traditions and their AAPI meaning!
Tongan Wedding Traditions
PC: Ian Andrew Photography
Another beautiful archipelago system is Tonga, 150 islands made up of volcanic mountains, coral reefs, and beaches in the South Pacific.
Previously under British and Dutch colonialist rule, Tonga became a fully independent nation on June 4, 1970. Immigration to the U.S. rose significantly in the 1980s, as well as continued immigration to the Hawaiian Islands. Tongans have primarily settled on the west coast and Utah.
Tongan Americans are mostly Christian, and as such celebrate religious holidays like Easter and Christmas. Art, dancing, poetry, and music play a central role in celebrations. Parties are big, multigenerational, and community oriented. Family plays a major role in throwing a party!
Tongan weddings generally take three days. Part of this tradition is Fakalelea, the celebration and gathering before the wedding so guests can show they're truly excited about the couple.
Like big Western celebrations, the actual wedding day is a big undertaking. The reception includes speeches, dancing, singing, gifts, and tons of food, drinks, and dessert — maybe even a roast pig!
Learn about Tongan traditions and how they celebrate the happy couple!
Native Hawaiian Traditions
PC: Ian Andrew Photography
Like other Pacific Islander traditions, Native Hawaiian traditions center around big fanfare, family ties, and multiple-day celebrations. Here are a few ways to mark the big wedding day:
The "Blowing of the Pū" is an ancient Hawaiian tradition to build up fanfare and anticipation. Native Hawaiins use the conch shell horn to announce an arrival or call attention to a significant event!
Exchanging Leis: In Hawaii, the lei represents a gesture of Aloha (love) and in a Hawaiian wedding, it's common for the couple to exchange leis after the ring ceremony
AAPI: East Asian Wedding Traditions
PC: MyioOkamoto Photography
Chinese Wedding Traditions
Chinese American weddings are a celebration to behold! These are a few of our favorite traditions:
Red and gold play a symbolic role in traditional Chinese wedding decorations. Red symbolizes luck, joy, and happiness, and gold symbolizes wealth and prosperity.
Psst… Make sure to check out our red wedding dresses Scarlet by Maggie Sottero and Alera by Sottero and Midgley!
Chinese American weddings may feature a hair combing ceremony. This is a short but meaningful tradition of parents combing their child's hair while reciting a short verse. This symbolizes the couple's coming-of-age as they prepare to marry, taking place during an auspicious time at the couple's respective homes.
Korean Wedding Traditions
PC: Dream Catchers Photo Cinema
The most common gift at a Korean wedding is cash in white envelopes. (Woohoo!)
A Hapgeunrye ceremony is when the couple drinks from the same copper cup. Either each will drink from two separate halves connected by a thread, from the same cup, or a combination. The halves symbolize how the individuals are becoming one whole entity, but it may also represent relationship and interchange. Afterwards, each bows to the other to show respect — as well as to their parents, ancestors, and guests.
Paebaek is a private or public ceremony and is often the most memorable part for the couple and their parents. The simplest way to describe tradition is a food, tea, and gifting ceremony. You can read about the full ritual (and other Korean traditions!) here.
Japanese Wedding Traditions
PC: MyioOkamoto Photography | PC: Dream Catchers Photo Cinema
Japanese wedding traditions are less strict than they used to be, however the sake-sharing ceremony is still an important part of Shinto ceremonies! Exchanging sake cups between the bride and groom is San San Kudo.
The bride and groom aren't the only people celebrated on the wedding day! The bride and groom typically give their guests gifts, hikidemono, to express their hospitality and gratitude!
Read more about unique Japanese wedding traditions!
AAPI: South Asian Wedding Traditions
Indian Wedding Traditions
PC: Julie Wilhite Photography
Did you know Indian Americans (often referred to as Asian Americans or Asian Indian Americans to avoid confusion with Native Americans) are the second largest group of Asian Americans in the U.S.? Here's a quick window into some Indian American wedding traditions:
Like many traditions around the world, Hindu weddings also have a pre-wedding to-do. In Hindu ceremonies they perform Haldi. During this, turmeric paste is applied to the couple — it looks lovely AND it's good luck!
Henna is also a pre-wedding tradition. This is typically referred to as mehndi.
Learn more about Indian wedding customs here.
Bangladesh Wedding Traditions
Bangladesh is a densely populated country between India and Myanmar in Southeast Asia. A few traditions from this country include:
Aashirvad is a formal time set aside for the couple to meet their in-laws, elders, and extended family to seek blessing for their union.
Excited about lots of family gatherings for your wedding? Read more about engagement party ideas here!
Learn more about Bengali weddings and other unique ways they celebrate engaged couples!
Nepal Wedding Traditions
PC: Julie Wilhite Photography
Similar to other Asian wedding traditions, Nepalese weddings treat red as a symbol of joy and prosperity. In the Nepalese tradition, it's specifically associated with purity, love, and fertility.
Nepalese American brides may also follow the pre-wedding mehndi henna tradition.
Diyo is a silver lantern with oil and a cotton wick. This is lit during the wedding ceremony to represent prosperity, purity, good luck, and power.
Dive into more Nepal wedding traditions!
AAPI: Southeast Asian Wedding Traditions
PC: Reamazonas
Vietnamese American Wedding Traditions
Most Vietnamese couples take engagement photos while wearing their actual wedding attire.
A traditional Vietnamese wedding day starts with the groom's family and friends forming a procession line at the groom's house, then parading to the bride's house. (What an arrival!)
Learn more about Vietnamese wedding traditions here!
Filipino Wedding Traditions
Filipino couples following traditional wedding customs may center around the bayanihan tradition — small, heroic acts for the good of the community. This usually takes place a day before the wedding.
In some Filipino traditions, godparents drape a ceremonial lace veil over the couple's shoulders to symbolize being clothed as one. A ceremonial cord called a yugal is wrapped around the couple in an infinity-like figure eight.
Learn more about Filipino wedding traditions here.
Thai Wedding Traditions
PC: Shuttered Light Photography
One Thai American wedding tradition is receiving a monk's blessing. This is an important pre-wedding step for couples who exchange traditional Thai nuptials.
After the engagement ceremony, some Thai American couples will hold the Sai Monkhon ritual. This is when the couple is symbolically joined by a thread and conducts a water blessing ceremony, the 'Rod nam sang.
Learn more about Thai wedding traditions and the ways they honor a new couple!
While these are just a few wedding traditions from different AAPI cultures, there are a ton more out there! We cannot encourage you enough to read even more about these gorgeous and wedding traditions! And if you have some wedding traditions of your own, make sure to share them with us and our other brides!
You can also sign up for our Newsletter to read more about different wedding traditions in the future.
And of course, here are a few more blogs to help you plan your celebration:
Good luck on your perfect day! Happy AAPI Heritage Month!