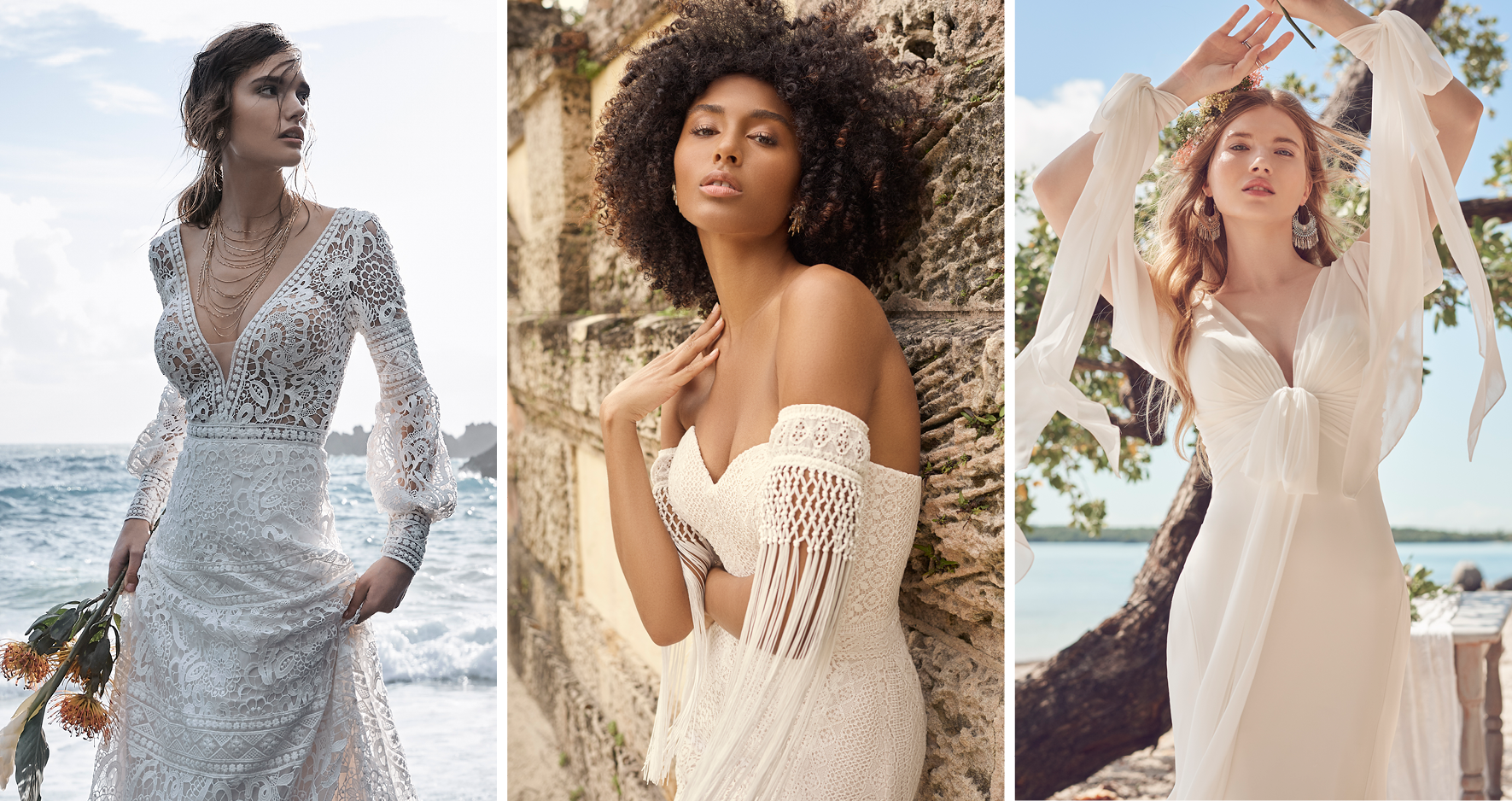 One of the grooviest and most unique style decades of the 20th century, the 1970s are making a major comeback in 21st century bridalwear! If you're totally smitten with the bold, romantic, and rebellious aesthetics of style icons like Cher, Bowie, Stevie, and Diana—here's a rundown of our favorite vintage aesthetics and 1970s wedding dress trends for the modern decade. Keep on steppin!
First, What Is 1970s Fashion Style?
Fashion-wise, the 1970s were a unique and eclectic time to get all dressed up. On one hand, there was a clear continuation of popular 60s trends, from bell-sleeved silhouettes to patchwork knits and groovy prints and textures. On the other hand, the decade proved to be entirely new. Women enjoyed more androgynous looks than ever before (e.g., Patti Smith), and the end of the decade brought about never-before-seen aesthetics like punk, glam, and disco (think Debbie Harry, David Bowie, and Donna Summer).
What Did Wedding Dresses Look Like in the 1970s?
70s wedding dresses from the actual decade range from prim Gunne Sax designs (a throwback Victorian look even for that era) to bombastic pantsuits (Bianca Jagger's iconic moment), simple beaded styles to over-the-top lace and sexy boho styling. There's no one singular look to unite the decade's fashion, but there's something inimitably fabulous about its most iconic details. Some recurring trends and features of a 70s wedding dress may include:
Mock necklines
Plunging necklines and low backs
Armbands and off-the-shoulder sleeves
Billowing sleeves and fluttery layers (think bell or bishop sleeves and ruffled necklines)
Grecian and Renaissance nostalgia
Unique embellishments like feathers, crochet, or fringe
Floral embroidery
Disco-inspired sequins
Bohemian lace motifs
Long, slinky silhouettes
Whatever style details you're attracted to, an authentic 70s wedding aesthetic is all about that perfect balance of laidback and luxurious details. It's casual yet glam, nostalgic yet fashion-forward, playful yet sophisticated—a one-of-a-kind formula for an unforgettable party vibe!
Ready to browse our grooviest lineup of vintage bridal gowns to date? Scroll on for 14 exceptional 1970s wedding dress styles to inspire your disco, boho, glam, or punk wedding aesthetic on your best day ever!
If you love the more bohemian side of 70s wedding glamour, opt for soft lace, an effortless silhouette, and rustic embellishments like fringe and eyelet. Dover by Maggie Sottero gives us the perfect dose of modern style while channeling the laidback and sensual vibe of the "Me Decade"—a deceptively simple wedding gown that's ready for the dance floor.
Intrigued by the accessory potential of your 1970s wedding dress? Head to an Authorized Retailer to discuss your full range of personalization options, from armbands and bridal veils to fabrication and embellishment options.
Another soft lace wedding dress that channels the dreamy "moon child" side of 70s fashion (think early Stevie Nicks or Goldie Hawn) is Keating by Rebecca Ingram.
This affordable bridal dress is sweet, simple, flattering, and super easy to accessorize with a veil or shawl. It channels your groovy vintage vibe without feeling gaudy or costume-y—the perfect balance of old meets new.
For organic lace motifs in a vixen-y silhouette, get inspired with Grayson by Sottero and Midgley. This wedding gown features two iconic 70s trends: a soft, bohemian lace pattern contrasted with a long, slinky silhouette featuring cutouts along the back and waist (think red-carpet 70s icons like Cher and Diana Ross).
Dress up this style with statement earrings and stilettos for a foxy movie-star vibe, or go chic and couture with a middle-part low-bun hairstyle and minimalist accessories.
One of our favorite icons of 60s and 70s fashion is the bishop sleeve wedding gown; this foxy silhouette burst on to hippie "Renaissance" scene in the mid-60s and has remained steadily on trend ever since! A look like Azarliah by Maggie Sottero is striking, stylish, and ultra-romantic—not to mention an iconic match for vintage accessories like flower crowns, statement earrings, and lace-up gladiator sandals.
Looking to accessorize your 1970s wedding dresses? Azarliah is a perfect silhouette to mix and match with veils, overskirts, capes, and extended trains. We have an extensive selection of bridal accessories to inspire your head-to-toe bridal look; get started on our bridal veil gallery in the link.
There's something so irresistibly nostalgic about the daisy lace pattern on this sweet and sexy silhouette by Rebecca Ingram! Lovely lace Esmeralda is equal parts chic and whimsical—a romantic nod to popular 70s floral motifs that still feels totally on-trend for the 2020s.
Accessorize this pretty lace style with a floral crown for chic festival vibes, or go soft and simple with gold hoop earrings, loose curls, and beachy leather sandals. Divine! Love what you're seeing from our Rebecca Ingram line? Check out more affordable wedding dresses and accessories on our full collections page!
For a vintage statement with couture styling, get inspired by Finley by Sottero and Midgley. This dress pairs an iconic bishop sleeve (very popular with 60s and 70s-era French actresses like Brigette Bardot and Jane Birkin) with a striking lace pattern and quintessentially bridal vibe.
It's a chic and romantic throwback for your impeccable and ultra-stylish wedding aesthetic.
If you're looking for 70s glamour with modest coverage, Garnett by Maggie Sottero offers the perfect blend of romantic and demure styling. This elegant style is decked out in exquisite beading and shimmery embroidery—a little bit Gatsby-inspired, a little bohemian, and 100% divine.
Shopping for our full range of modest wedding gowns? Head to our Trends page for all the details and silhouettes we love.
Grecian glamour was having a big fashion moment in the 1970s, from Oscar de la Renta's flowy maxi dresses to Stevie Nick's eclectic boho ensembles. To channel this ethereal goddess vibe for your wedding, look to soft and classical gown details: soft and sumptuous layers, organic ruching, asymmetrically wrapped bodices, and breezy chiffon sleeves, to name just a few.
Bobbi by Rebecca Ingram is a silhouette that's stood up to virtually every fashion era, from Ancient Athens to 1970s cinema to 21st century nouveau-classicism—and beyond!
No gallery of 1970s wedding dresses would be complete without a shimmery disco style! Andrew by Sottero and Midgley is the perfect blend of 1920s glitz and 70s-inspired glamour—a showstopping bridal dress that's guaranteed to look exceptional in photos.
(Next up: hang a few oversized disco balls, add some lavish Studio 54 backdrops, and turn up the nightclub-inspired lighting, and yours will truly be a "Disco Inferno" reception to remember!)
Another demure style with classic styling and ultra-feminine details, Adele by Maggie Sottero proves the "less is more" mantra can apply to even the most lavish and eclectic decades in fashion. The highlight of this relaxed fit-and-flare silhouette is the fabrication: a luxe and comfortable crepe designed to flatter your curves while playing up your natural silhouette.
It's simple, chic, and divinely comfortable—a 1970s wedding dress that will continue to look stunning for decades to come.
Two of the most ubiquitous knits of the 1970s, crochet and eyelet details are making a major comeback in boho bridal fashion and vintage-inspired accessories. We're super excited to showcase the trend in Benson by Sottero and Midgley, a unique lace wedding gown with playful embellishments and a sexy lace-up back detail.
The lace is nostalgic; the silhouette is modern—together they're flirty, chic, and totally one-of-a-kind. Want to try this style on IRL? Shop unique lace bridal gowns and vintage trends at an Authorized Retailer near you.
If you're loving these 70s knit details but looking for modest coverage, check out Marietta by Maggie Sottero. This effortless sheath wedding dress is comprised of head-to-toe lace and stretch jersey
This gown has a soft yet tailored style that echoes the simple mod and bodycon silhouettes popularized in the late 60s and early 70s.  
Lavish beading, groovy lace motifs, a slinky red-carpet silhouette—Daxton by Sottero and Midgley is as psychedelic and 70s-inspired as they come!
We imagine this shimmery vintage wedding dress would be perfect for a 70s muse like Cher or Anjelica Huston—pop culture goddesses that helped to define the era's daring, playful, and over-the-top glamour.
One of our favorite trends for 1970s wedding dresses that has stood the test of time is the Cali-girl surfer style—a chic and simple hippie aesthetic that lends perfectly to beach soirees, backyard celebrations, and laidback garden venues. To channel this trend, look for flirty bridal dresses with simple yet unique details, á la Jolie by Rebecca Ingram.
This relaxed A-line wedding gown features a gorgeous chiffon skirt and romantic lace bodice; tie shoulder straps and lace-up "corset" details add the perfect dose of sexy to this sweet and sunny design.
How Do I Style and Accessorize a 70s Wedding Dress?
Accessories for a 1970s wedding dress are as diverse and fabulous as the decade! Here are some of our favorite examples from different 70s-era aesthetics and celebrities:
Channel Ziggy Stardust with statement earrings and velvet heels.
Bring the "Studio 54" vibes with loose, feathered hair and glitzy jewelry.
Go sweet and feminine with lace gauntlet gloves and a beaded headpiece.
Embrace your inner Cher with a mock or plunging neckline and a sequin wrap.
Channel Jerry Hall's supermodel glamour with sky-high stilettos and jewel earrings.
Go full flower-child glam (i.e., a little more 60s) with a floral crown and dainty back jewelry.
Opt for playful color and texture with an embroidered bridal veil.
Experiment with chic Cleopatra eye makeup for a mod-inspired twist on 70s glamour.
Ready to boogie down in any of these iconic 1970s wedding dresses? Shop these chic and groovy styles at an Authorized Retailer in your area! If you're especially grooving on these lace and embroidery styles, head over to this post on lace wedding dresses inspired by more throwback eras and vintage aesthetics, from Victorian-era glamour to 1950s ball gowns to slinky 70s wedding dress silhouettes like the ones we've included above. Happy shopping!