Dresses
|
February 17, 2020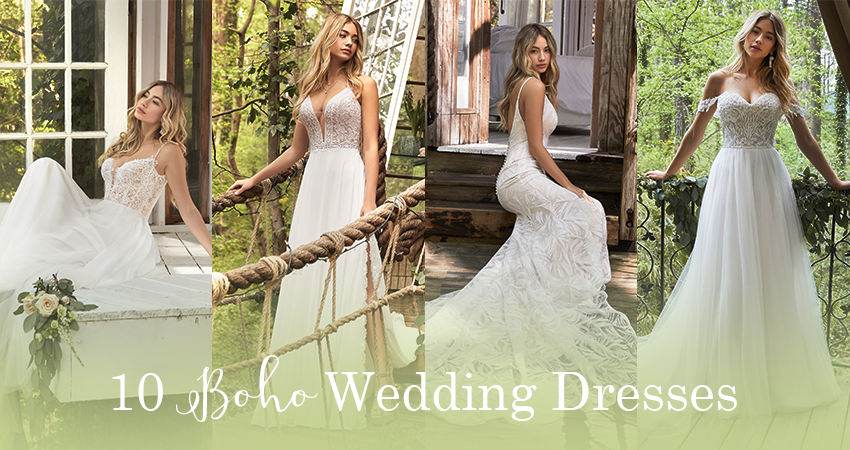 "Boho" can mean many things, but when it comes to bridal, we take a few parameters extra seriously. First, a boho gown must be stylish. It can't be anything too traditional or too conservative, because what is your free, wanderlust spirit for if not a sartorial adventure? Second, it should be easy to wear. This could mean lightweight, effortlessly smooth, or perfectly tailored—whatever the variation, it just has to be comfortable!
And lastly, your stylish, unique, and super luxe boho style should spell out R-O-M-A-N-C-E in a big and dreamy way. Some examples, you might ask? We invite you to dive into all things enchanting, heart-fluttering, and fanciful with our 10 boho wedding dresses by Rebecca Ingram below!
Boho Keyhole Back Wedding Dress: Gabriella
Soft lace is sweet and bodice details are sexy in this boho keyhole back wedding dress Gabriella—a chic and flirty choice for the budget-conscious bride. We're especially fond of the almost-sheer lining along the plunging neckline and open back.
Boho Lace Fit-and-Flare Gown: Daphne Lynette
You're a boho goddess. Amp up your curves with a formfitting wedding gown in allover lace and illusion details, á la this fit-and-flare favorite, Daphne Lynette. Your wedding portraits will be a sight to behold.
Beach Wedding Dress: Adelaide
Presenting the perfect-est of boho beach wedding dresses: Adelaide, a fit-and-flare designed for ease and wearability, but with zero compromises on style and romance. (Plus, a jet-set-ready price tag to boot.)
Chiffon Gown with Lace: Nicole
You love chiffon. You love lace. Nicole by Rebecca Ingram features a bodice and skirt combo to showcase both, plus a unique + lace-trimmed + thigh-high slit—to show off those hard-earned gams, of course.
Sexy Boho Wedding Dress: Greta
It's time to get in touch with your inner fairy princess. She's dying to try out this illusion-lined, floral-inspired, ultra-whimsical and super sexy boho wedding dress Greta. Designed in the dreamiest of lace and chiffon combinations, it was made especially for that enchanted-forest venue you booked last month.
(And speaking of greenery, this soft style would pair perfectly with a lush, all-green flower crown, or a halo of boho-chic blooms and whimsical embellishments.)
Unique Boho Wedding Gown: Meadow
Turn the flirt factor to 11 with this unique boho wedding dress, featuring an eye-catching lace motif, floaty chiffon skirt, and subtle geometric embellishment along the bodice.
(Psst… many Rebecca Ingram boho wedding dresses, including Meadow, feature a stretch jersey lining—a super luxe and comfortable way to smooth your curves and enhance your best, waistline, and curves. Head to an Authorized Retailer near you to experience this premium fabrication for yourself!)
Vintage Mermaid Wedding Dress: Elsie
If you've always been a sucker for statement prints, you'll love Elsie, a vintage boho mermaid wedding dress featuring a gorgeously-unconventional sequin motif. Think Old Hollywood meets modern boho glamour, with an easy price tag to boot.
Like Meadow above, Elsie is lined with stretch jersey, which helps to tailor your silhouette while preserving texture and illusion effects along the bodice and waistline. We promise you'll be pleased with this comfy and flattering underlay feature!
Modest Boho Bridal Gown: Mercy Leigh
Opt for full coverage and demure styling in this modest boho bridal gown—a divine choice for a rustic barn celebration or summery garden soiree. The floral-inspired motifs are especially lovely when paired with a hand-tied bouquet or a loose cascade of wildflowers.
Love these motifs but not necessarily the coverage? Mercy Leigh is the modest sister style to Mercy, which features the same dreamy florals and beading, but with an illusion neckline and open back. It's a flirty and enchanting choice for your garden/forest/beachy boho celebration!
Curvy Boho Wedding Dress: Corrine
If fit is your focus, opt for our fit-and-flare Corrine. Featuring an illusion plunging neckline, beaded lace motifs, and a swishy chiffon skirt, this curvy boho wedding dress is designed to enhance your figure from every angle.
Off-the-Shoulder Beach Wedding Gown: Nia
Last but certainly not least, we present you with Nia. There's pretty, then there's flirty-beachy-relaxed pretty. This chic A-line wedding dress is definitely the latter! And the best part? It doesn't break the bank!
Love these Rebecca Ingram boho wedding dresses? Keep the inspiration rolling with our boho wedding gown trends page, or dive into our boho wedding dresses on Pinterest. Each of our styles is designed to complement your boho wedding vision—be it nature-themed, Renaissance-inspired, flower-child chic, and everything in between. Cheers!
Don't forget to check out these related posts for some MAJOR boho wedspo:
OUR 13 FAVORITE BOHO WEDDING ACCESSORIES