Real Weddings
Wedding Inspo
|
November 26, 2018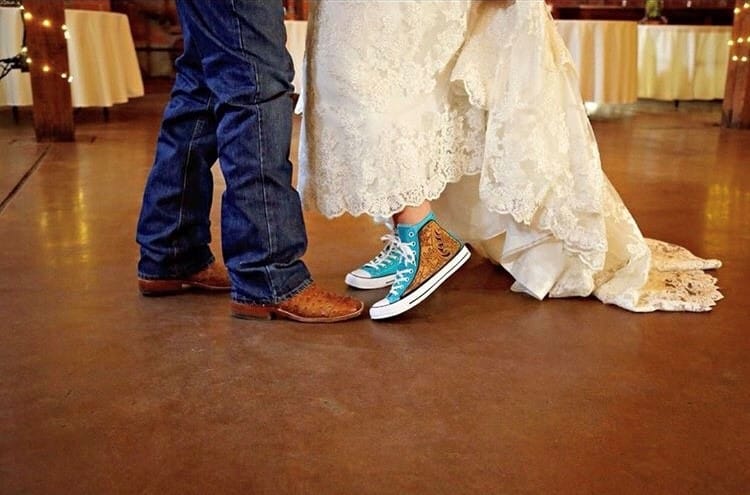 We asked our gorgeous Midgley bride Jena, Wrangler model and ranch-wedding extraordinaire, to curate some woodsy-chic-cowgirl wedspo for our brides! Check out Jena's original wedding post here, and keep scrolling for her rundown of 10 accessories for a ranch wedding, including jewelry, boots, and more.
10 Accessories For A Ranch Wedding
Hello, brides to be! When it comes to choosing accessories for your big day, the possibilities are endless, especially when it comes to ranch weddings. From your jewelry to your shoes and even accessories for your hair, you can incorporate the perfect western twist to fit your style for your ranch wedding.
Your dress is the biggest part of your wedding day ensemble, so once you've chosen your dress, you can decide on the accessories that will bring it all together. Or if you already have a few pieces you'd like to wear on your wedding day, bring them to your bridal appointment. I had ideas in mind for accessories when I was dress shopping, but once I found the one for me, selecting ranch wedding accessories for my wedding came easy.
BOOTS
Footwear is one of the most important decisions for your wedding day. It's also important to think about the environment you'll be getting married in, and the amount of time you'll be on your feet socializing and dancing. Boots are a great option if you're getting married outdoors, especially if you'll be walking down an aisle with uneven ground. For me, comfort was key, and I knew a good pair of cowboy boots could carry me through the night—bad dance moves and all. I also got married outside, and our aisle was gravel, so I wanted to make sure I could make the walk without twisting my ankle or getting a rock in my shoe.
I chose this beautiful pair of red Old Gringo boots.
TOOLED LEATHER SHOES
If boots aren't your thing, or you want to be more casual with your footwear and enjoy the comfort of a pair of tennis shoes, tooled leather Converse are an excellent choice. The leather adds the perfect western touch, and you can customize them with your wedding date, your new last name, or really anything you can dream up!
If heels are more your style, but you still want that western element to fit your ranch wedding, tooled leather wedges are classy and (might I add for those of you having an outdoor wedding) easier to walk in grass and dirt than traditional heels. Like the converse, you could add initials, your wedding date, some wedding bells, or a pop of color. A great leather artist can whip up just about anything you can imagine, from colors to designs!
TURQUOISE
Nothing screams western fashion like a great piece of turquoise – and an excellent choice to take care of your "something blue." Turquoise is beautiful and classic and will really pop with that white dress.
I chose the stunning Bexley dress, so I knew I wanted to make sure my jewelry was somewhat simple, and didn't take away from the incredible detail of my dress. On my wedding day I wore a pair of turquoise cluster earrings, and a cuff bracelet.
(Fun Fact: My bouquet is made out of wood! I couldn't bear the thought of spending hundreds of dollars on a bouquet that is just going to die. I stumbled upon www.ecoflower.com and they made all the bouquets for my wedding for much less than the cost of real flowers, and they last forever!)
EAR CUFFS
I cannot get enough of ear cuffs right now, and these turquoise cuffs are absolutely stunning. These make great ranch wedding accessories if you choose to wear your hair up, or styled to one side. They are a statement-maker pieces!
NECKLACES
If you want to wear jewelry that is a little simpler or if you're planning on wearing a large pair of earrings or a bold bracelet, a small turquoise necklace is a great option. I love these dainty little turquoise bar necklaces.
SQUASH BLOSSOM
A squash blossom necklace is the ultimate statement piece. Paired with the right dress, a beautiful, bold piece like this will really make you shine on your big day!
BOUQUET WRAP
One of the latest trends in ranch weddings is bouquet wraps—a beautiful piece of tooled leather, with your initials, your wedding date, or just a simple floral design. These will make your bouquet pop, and can really add to it if you choose a simple arrangement or white flowers.
HAIR JEWELRY
Hair accessories are a common addition for brides, from flower crowns to pearls hair pieces to hair clips. For a western twist, these little silver pieces are simple, and would be beautiful with a braid.
ENGRAVED SILVER
Engraved silver never goes out of style and many silversmiths can create custom pieces. One of the things I love about silver, is you can wear a big, beautiful detailed cuff, but it's not distracting and won't take away from you or your dress.
LEATHER JEWELRY
Tooled leather jewelry is another trend that I am a huge fan of, and it's also not going out of style! What better way to add western accessories to your wedding gown than with leather?!
There are so many different ways to incorporate a touch of the west into your wedding—I hope these ideas help you decide on the perfect accessories!
One last thing to remember: this is your big day, and the only time you'll get to wear that gorgeous dress! Make sure you choose ranch wedding accessories that complement your dress, and don't take away from it. Also, if you choose to get custom pieces – make sure to order these items a few months in advance to ensure the artist has time to bring your vision to life, and they arrive on time. Lastly, enjoy every second of planning your wedding day!
Be sure to catch me on Instagram! @jena.knowles
I'd love to help you find the perfect accessories for your big day, and feel free to reach out with any questions!
Happy planning! – Jena